18 inspirational​ eggplant recipes for awesome lunch and dinner are dedicated to people who love eggplant (aubergine) but want to upgrade their skills or try something new.
Here are the lists: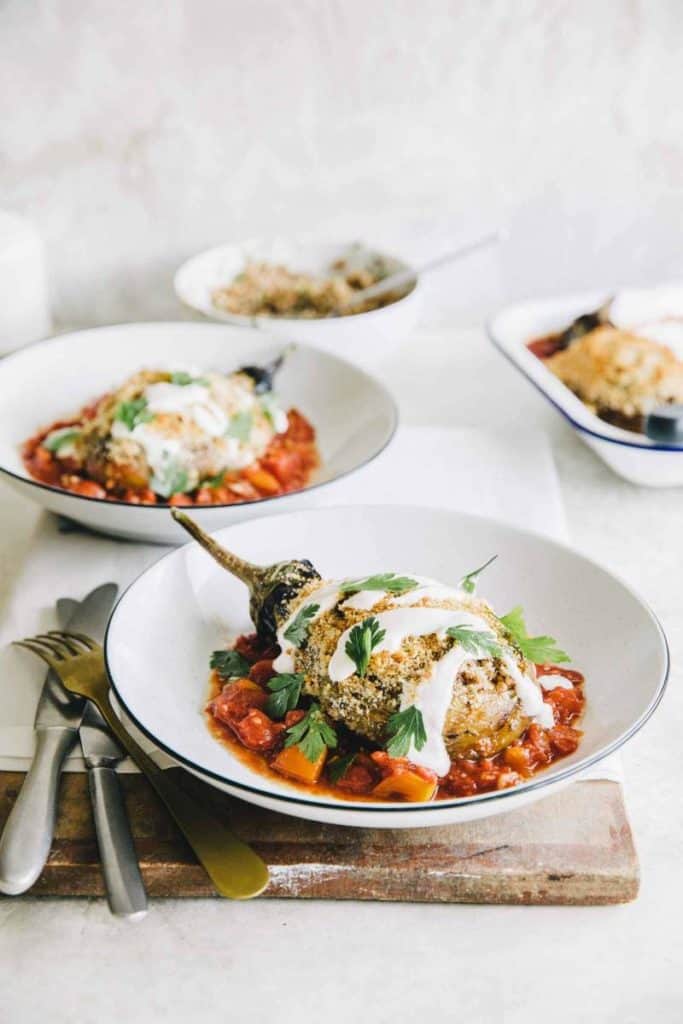 Eggplant stuffed with buckwheat, feta cheese and served with light tomato sauce. Wonderful, healthy vegetarian main dish recipe that's easy to make.
Healthy Quinoa-Stuffed Eggplant, a delicious appetizer that is low carb, low calorie and gluten free. Super simple to make, these stuffed eggplant is a must-try recipe.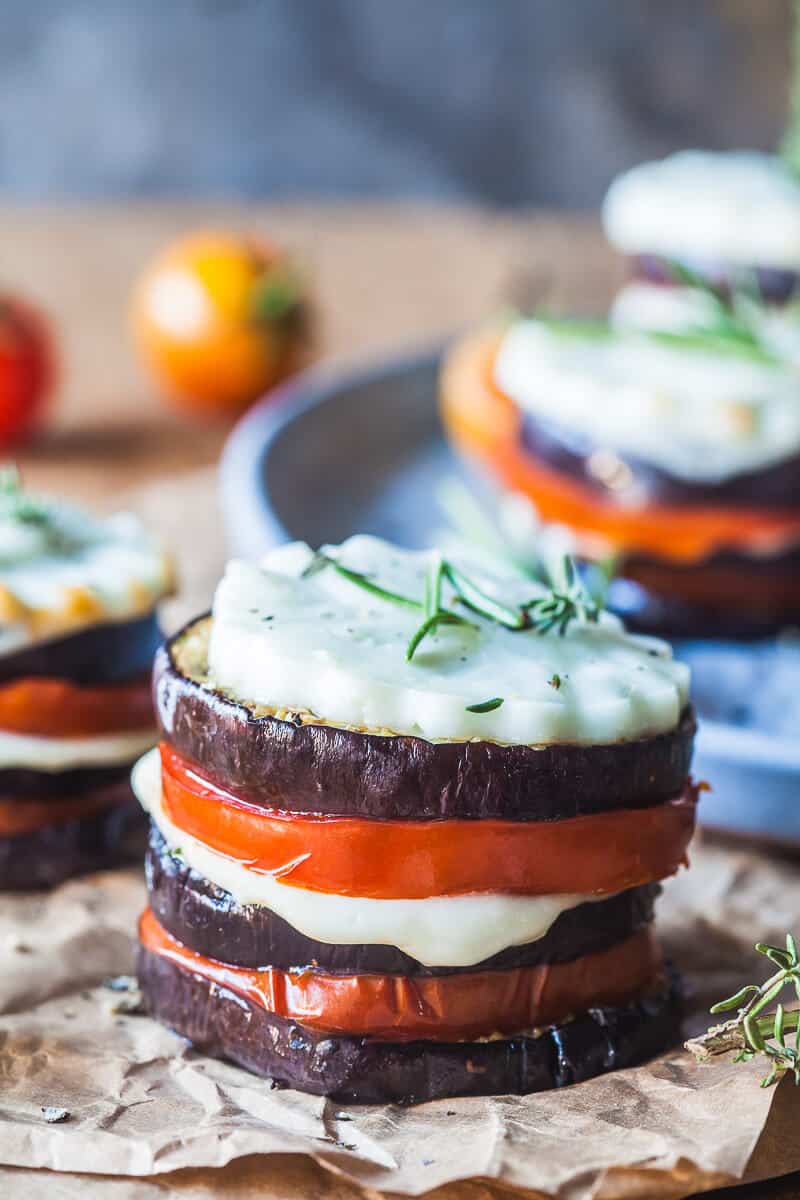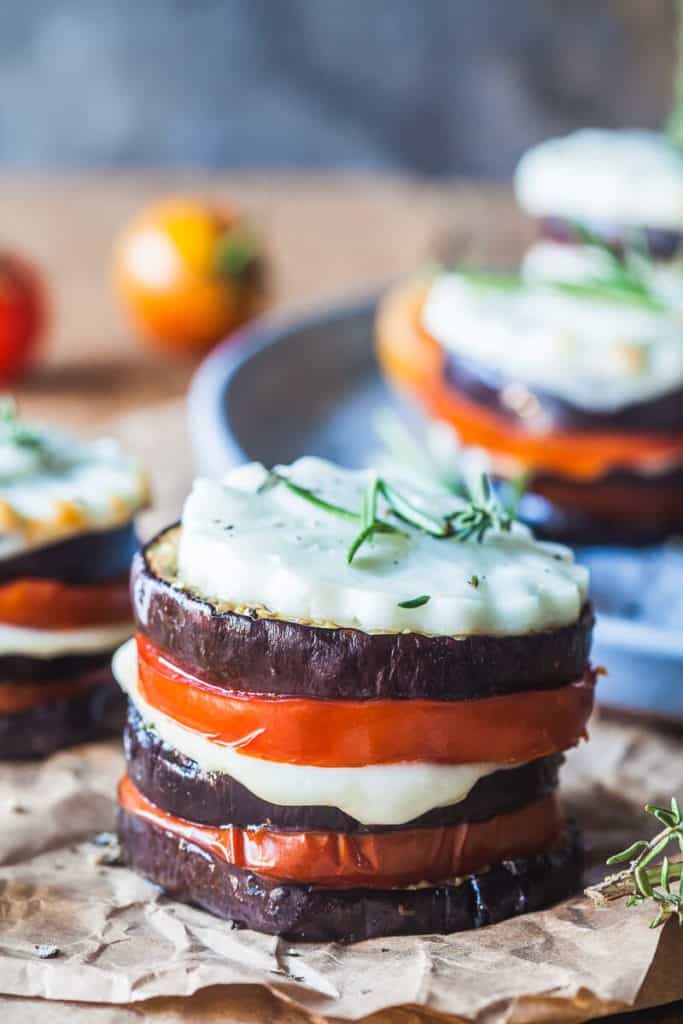 Eggplant Tomato Caprese Stacks is a lovely low-carb and gluten-free vegetarian dinner, perfect for summer night entertaining!
This rich and tasty vegetarian rigatoni pasta alla parmigiana recipe from Southern Italy is made with the same ingredients as eggplant parmigiana and tastes just as wonderful! It can be baked or eaten without baking.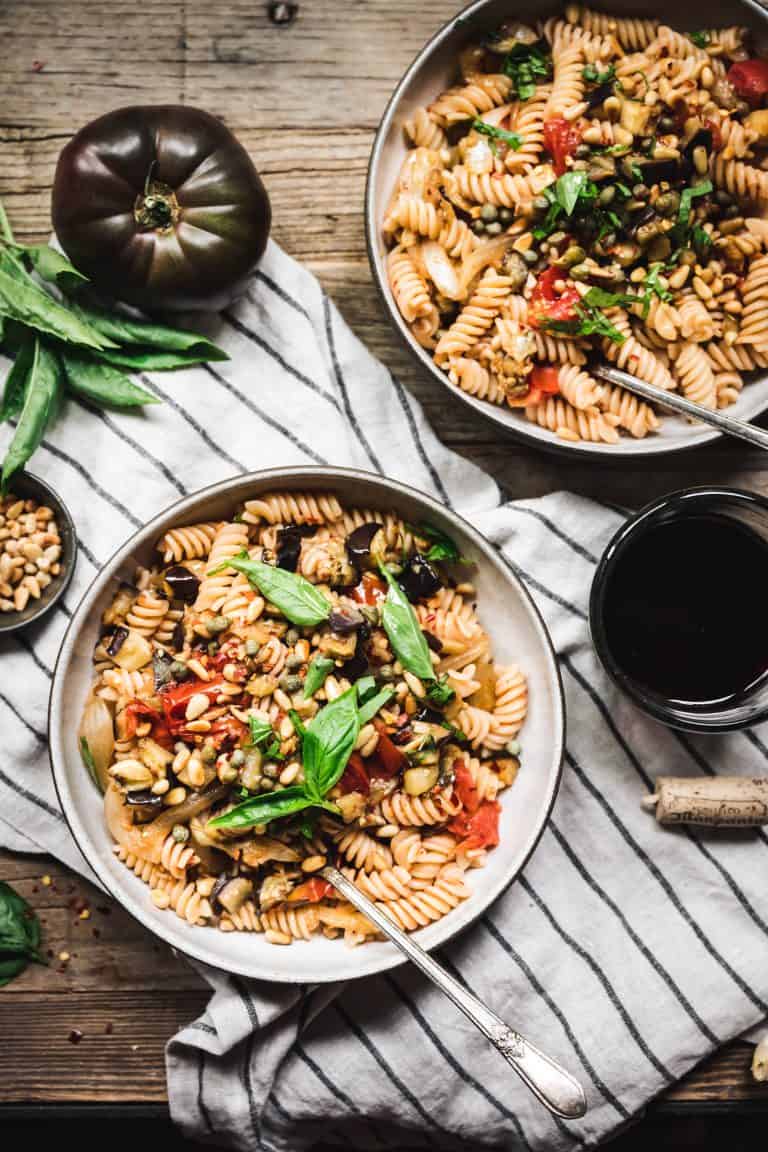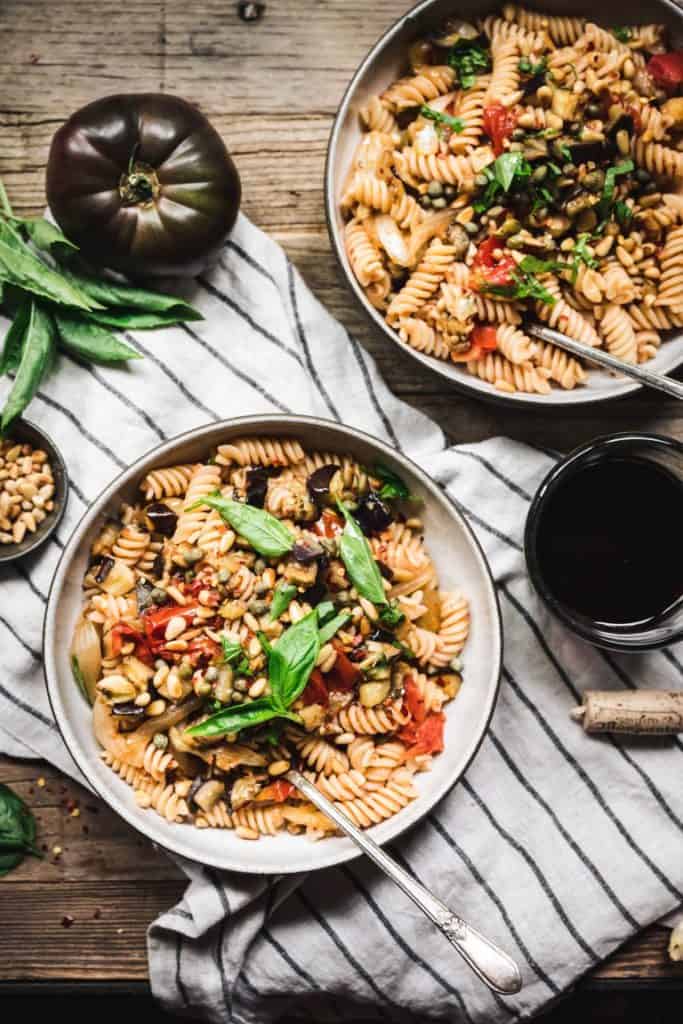 Savory roasted eggplant, umami-rich roasted tomatoes, briny capers, and sweet caramelized onions make this comforting veggie-packed pasta a must-have weeknight dinner.
Roasted eggplants have this amazing texture and fairly neutral flavor, so with proper seasoning they can be turned into many tasty things. If you would like to try eggplants for the first time or just looking for recipes using eggplants, this vegan meatball recipe might be exactly what you need.
Baba Ganoush is a delicious Mediterranean style vegan roasted eggplant dip. It is a perfect dipping sauce for vegetable sticks, pita bread or any deep-fried snacks. The smoked flavor and smooth texture of Baba Ganoush along with its earthy, natural ingredients make the dip our all-time favorite.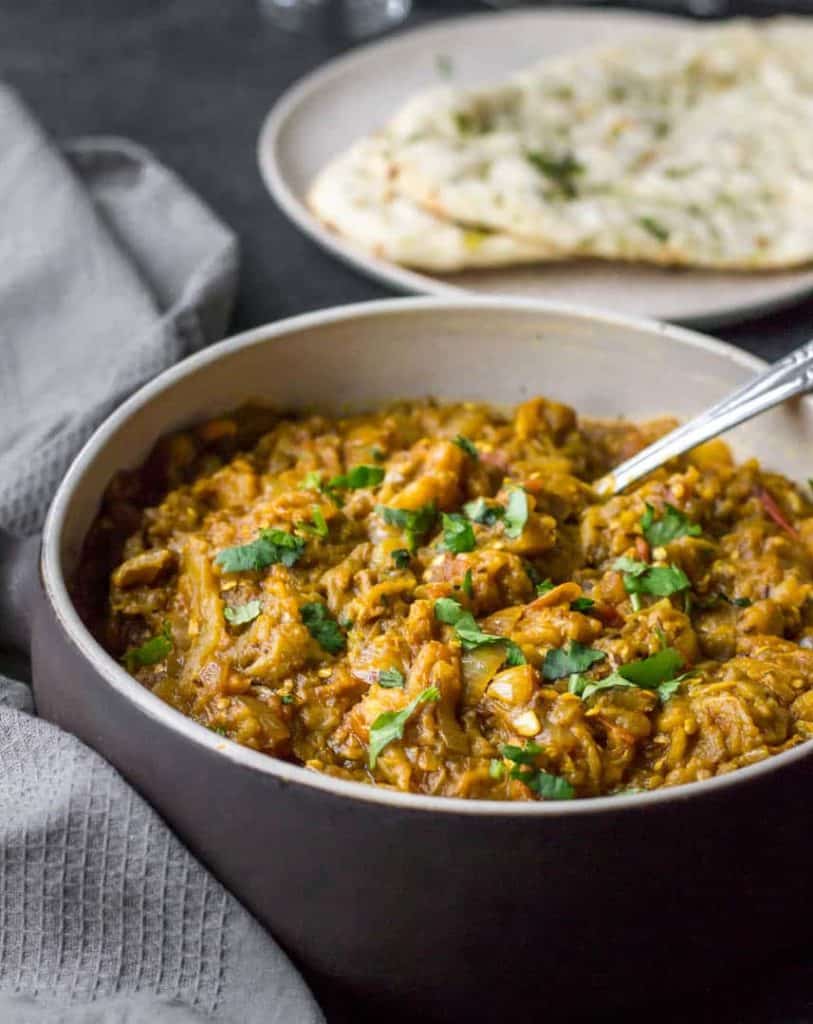 Baingan bharta is a smoky-flavored curry made by mashing fire-roasted eggplants and cooking them in a rich onion-tomato gravy. A popular North Indian dish, Baingan bharta pairs well with roti or rice.
This simple recipe for eggplant noodles is tossed with a quick tomato basil sauce and lots of parmesan cheese for a fresh summer meatless meal.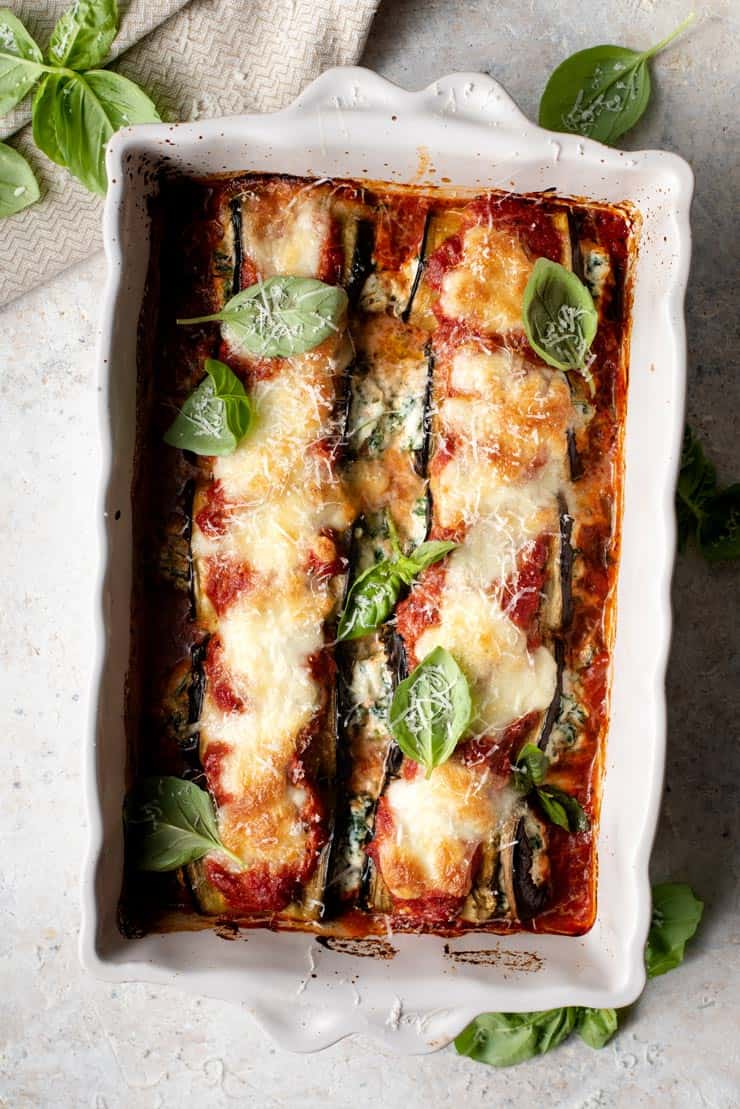 Eggplant rollatini stuffed with a creamy spinach and ricotta filling and baked in the most delicious tomato sauce and topped with mozzarella cheese. A light and easy meal that's sure to impress!
Healthy and delicious Tofu Eggplant Curry is a tasty recipe that you can feel good about eating, plus it's vegetarian and vegan-friendly. Made with curry powder, coconut milk, and spinach, this is a great weeknight dinner that comes together in 30 minutes.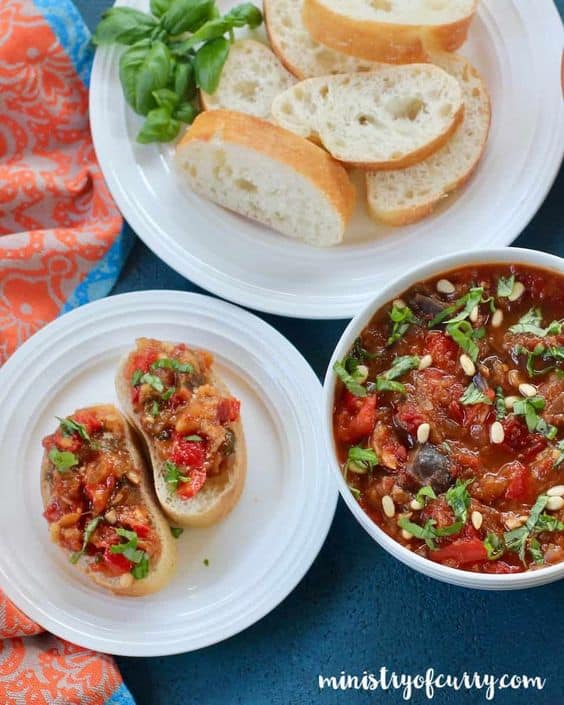 Eggplant and red pepper spread is a piquant ratatouille of soft-cooked eggplant, red peppers, and tomatoes with a perfect balance of spicy-tangy flavors and a hint of sweetness.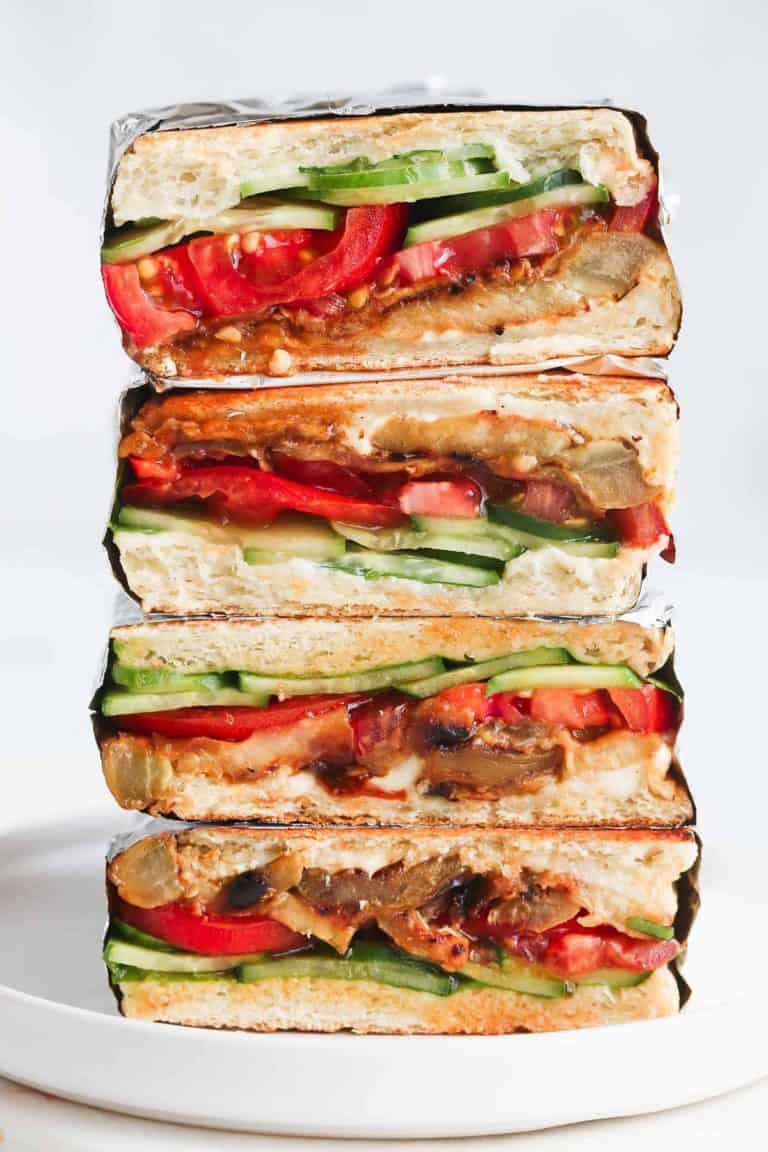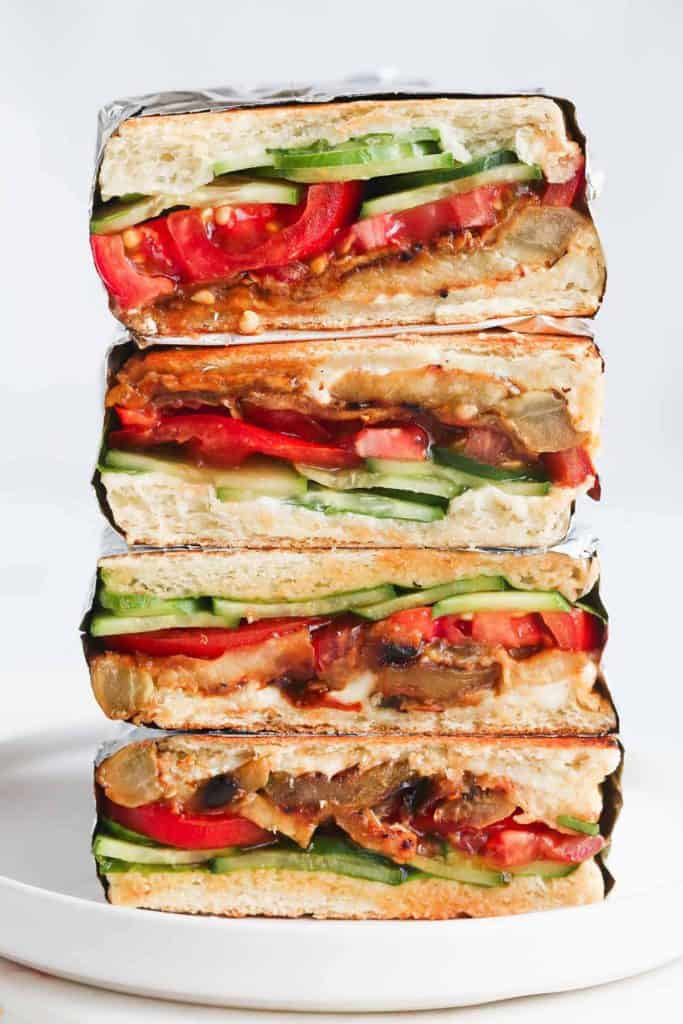 This vegan eggplant sandwich is so delicious that you'll keep making it over and over again. Layers of smoky and fresh vegetables are packed in panini bread, then toasted till perfection! Ideal for lunchboxes, picnics, and lunches on the go!
This recipe for Eggplant Caponata is a delicious, non-traditional Italian appetizer made with roasted eggplant, olive oil, honey, balsamic vinegar, pine nuts, and capers. This baked Eggplant appetizer provides a different take on the Sicilian classic -simultaneously sweet and sour, with just one bite, you're hooked!
Paleo Chinese Eggplant in Garlic Sauce with buttery and melt-in-your-mouth eggplants, braised in a garlic sauce. This eggplant recipe is vinegary, naturally sweet, and savory, plus it's Paleo, Whole30, and gluten-free.
An easy Savory Pie, the perfect way to use up summer eggplant. Layers of eggplant, two types of cheese, spices and dried tomatoes. The perfect combination for an appetizer or main dish.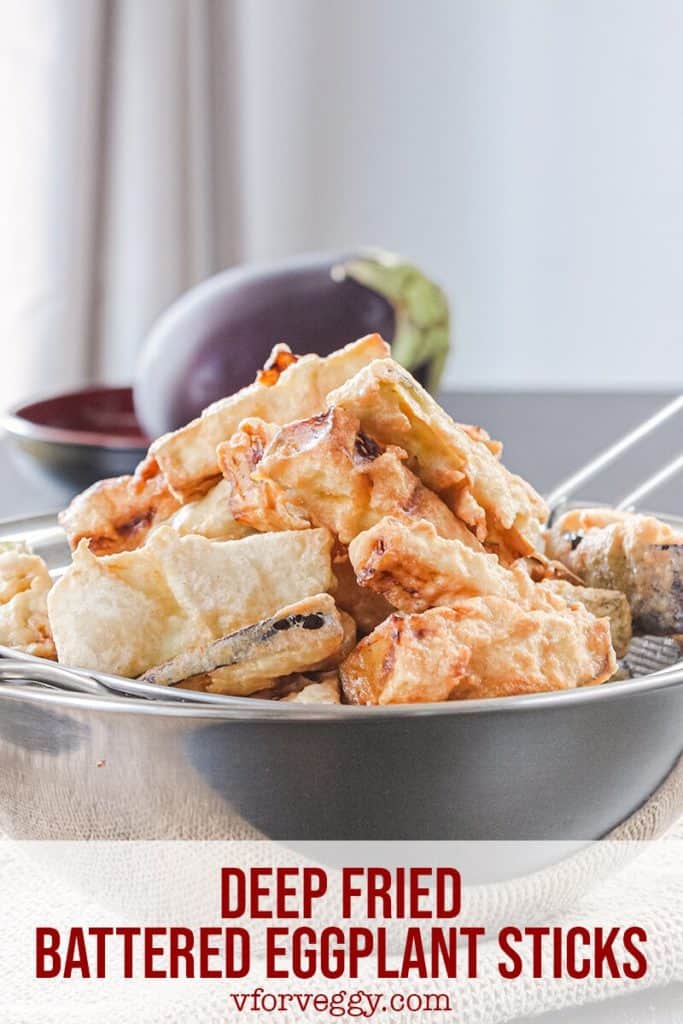 Another favorite vegetable of mine for summer is eggplant, and I think the best way to serve eggplant is to deep fry them, for example in this deep-fried battered eggplant sticks. I think of eggplant sticks as a less carb alternative to french fries, so sometimes I make this to go with burgers and such. Of course, they are great as an appetizer with your favorite dip too!
This spicy eggplant stir fry looks like a noodle dish but those gorgeous silky strands are enoki mushrooms! Perfectly gluten-free and low in carbohydrates, this noodle-not-noodle stir-fry is vegan and shove-in-to-your-face delicious.