Almond chocolate frozen banana is simple and easy dessert. It's healthier popsicle alternative. And also perfect for kids.
Making Almond chocolate frozen banana recall me to my childhood memories, more precisely at elementary school. There is a stall seller that sell this dessert at my school. During break time I quite often bought this chocolate frozen banana.
For making this dessert is quite simple. The stall seller insert a popsicle stick or skewer into the middle of each banana. And then coat it with chocolate sauce. It's like eating banana popsicle but in original form.

In Indonesia we call it "Piscok" or "pisang coklat". Pisang means banana and coklat means chocolate. Actually the original recipe only frozen banana and chocolate sauce on the outside. But to give more interesting texture and flavor, I add toasted crushed almonds on the chocolate shell. It's more delicious.
To make this dessert you can modify as you like. You may change the chocolate sauce with any sweet sauce you like. Oh and also you can change the almonds with another nuts or sprinkles.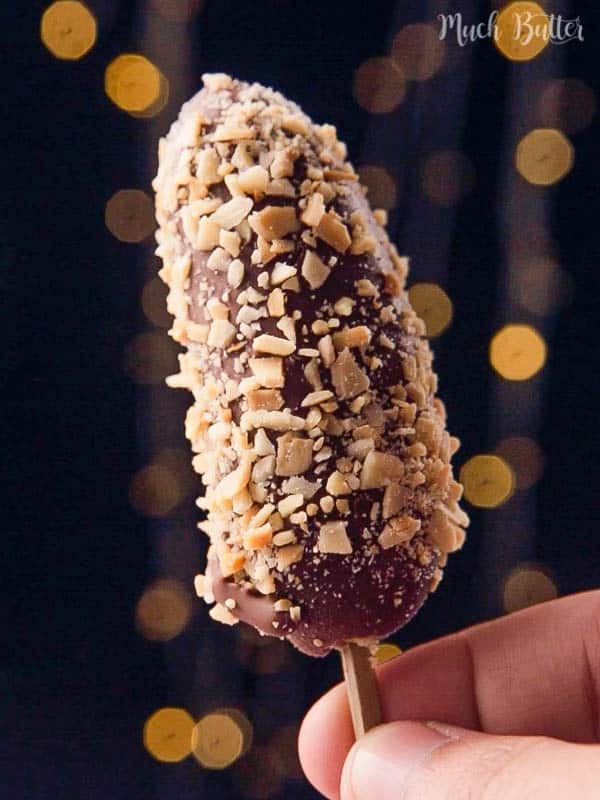 Almond Chocolate Frozen Banana
Ingredients
10

Peeled Small Bananas

200

g

Milk Chocolate Couverture

150

g

Sliced Almonds
Instructions
Stick a banana into a skewer, then freeze the banana at least for 4 hours.

In a pan toast sliced almonds at low heat until golden brown. Set aside and crush the almonds to tiny pieces.

Chopped milk chocolate couverture and put in to a bowl.

After the bananas is frozen, bain marie the chocolate until all melted, then put into a glass.

Dip the frozen banana to a melted chocolate until fully covered.

Coat the banana with crushed almonds immediately before the chocolate hardened.

Almond Chocolate Frozen Banana is ready to serve.
Recipe Notes
For this recipe I use small banana that widely sold in Indonesia. But if you can't find any in your area, you can use regular banana and cut it in half.