Chicken Bok Coy stir fry is complete veggies and protein in one dish! a quick and tasty option for a healthy meal from chicken, crisp bok choy and savory sauce.
Feeling inspired by my earlier Garlic Bok Coy, I thought adding some chicken will be turned into a hit. Chicken Bok Coy stir fry is a simple yet flavorful dish that can be made in under 30 minutes. This dish combines tender chicken, crunchy bok coy, and a savory sauce for a meal that is both delicious and nutritious. In this article, we will go over step-by-step instructions on how to make Chicken Bok Coy stir fry at home.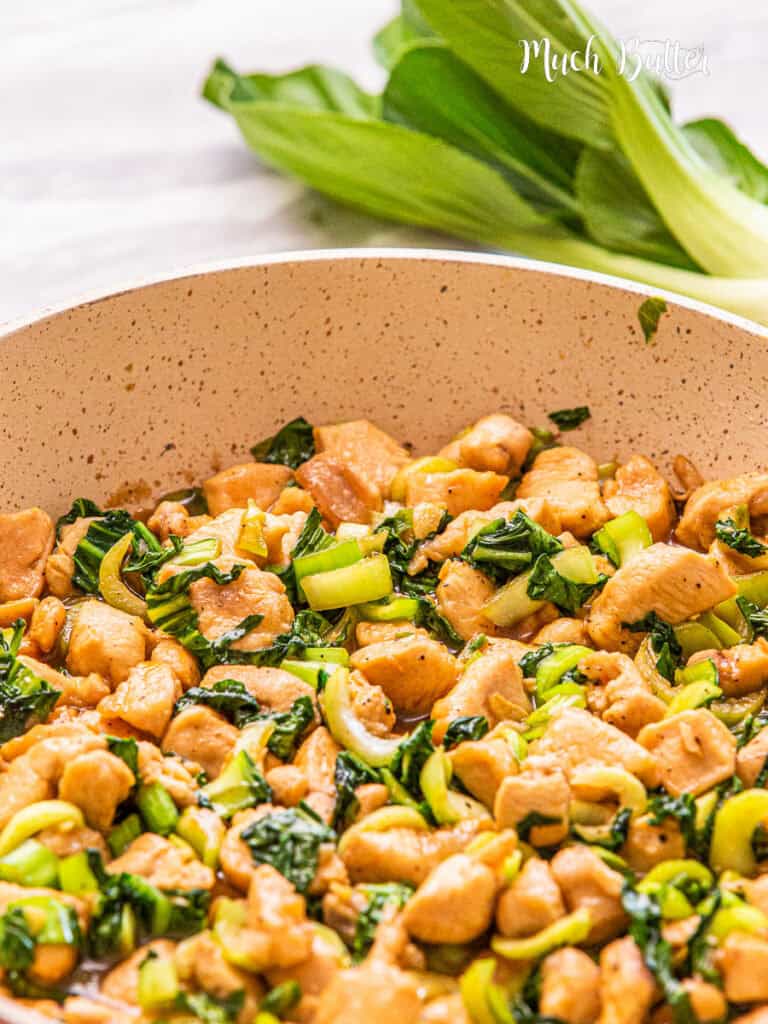 Nutritional Benefit of Chicken Bok Coy
Chicken Bok Coy stir fry is a traditional Chinese dish that originated in the southern part of China. Bok Coy, also known as Chinese cabbage, has been a staple ingredient in Chinese cuisine for centuries. The dish was originally made with pork, but the chicken was added later on as an alternative protein source, and since I look for a halal version as a Muslim. Over time, Chicken Bok Coy became popular not only in China but also in other parts of Asia and the world.
Talk about Chicken Bok Choy stir fry, this is a healthy and nutrient-rich dish that high in protein, fiber, and essential vitamins and minerals. Bok coy is low in calories and high in fiber, making it a great choice for weight management, also Bok coy is high in vitamins A, C, and K and antioxidants, while the chicken is a great source of protein, which is essential for building and repairing tissues in the body.
Garlic and ginger are both rich in antioxidants that can boost the immune system and protect against chronic diseases. This nutritional benefit I've mentioned maybe not all be fully comprehend since the cooking process also depressed the benefit, but do not worry it is quite enough for our daily consumption
In conclusion, Chicken Bok Coy stir fry is a delicious and easy-to-make dish that is perfect for a quick weeknight meal. It is packed with nutrients and flavor, making it a great choice for anyone who wants to eat healthy without sacrificing taste.
So, next time you are in the mood for Chinese food, try making Chicken Bok Coy stir fry at home.
Ingredients of Chicken Bok Coy Stir Fry
Chicken Breast- Chicken breast serves as the protein source for the stir-fry. It provides a mild and tender flavor while adding substance and texture to the dish.
Bokcoy- Bok choy is a leafy green vegetable that adds a fresh and crisp element to the stir-fry. It brings a slightly sweet and earthy taste, complementing the other flavors in the dish. I use regular-size of bok coy
Ginger – Ginger adds a zesty warm and aromatic flavor to the dish. And it also provides a subtle spiciness and depth to the overall taste profile.
Garlic- Garlic enhances the savory flavors of stir fry and brings a distinctive pungent taste. It adds complexity and richness to the dish
Cornstarch- Cornstarch acts as a thickening agent in the stir-fry sauce, and then, it helps to create a velvety and glossy texture, coating the chicken and vegetables evenly. It is mixed with water and other seasonings to create a smooth and silky sauce that coats the chicken and bok choy.
Soy Sauce- Soy sauce adds a salty and savory taste to the dish. It provides depth of flavor and serves as the main seasoning element in the stir-fry.
Sugar- It helps to enhance the overall taste profile and balances the saltiness of the soy sauce. Sugar adds a hint of sweetness to the dish. It also helps to caramelize the chicken and bok choy, creating a slightly crispy texture
Salt- to season the dish, enhancing the natural flavors of the chicken, bok choy, and other ingredients. Do not forget salt is a very basic seasoning in every dish
Pepper- Pepper adds subtle heat and spiciness to the stir-fry. It complements the other flavors and adds a layer of depth and warmth complexity to the dish.
Time to Cook Chicken Bok Coy Stir Fry
To create a flavorful and satisfying chicken bok coy stir-fry, begin by cutting the boneless chicken breast into bite-sized pieces. Then, coat the chicken with cornstarch, ensuring each piece is evenly coated for a crispy texture.
Secondly, in a large skillet set over medium-high heat, heat the cooking oil until it shimmers. Then, add the coated chicken pieces, along with the minced garlic and grated ginger, to the skillet. Stir occasionally, allowing the chicken to cook until it turns lightly browned and develops a delicious aroma. You can also marinate the chicken to simplify the process,
Next, it's time to incorporate the bok coy into the stir-fry. Then, add the bok coy to the skillet and continue cooking, tossing, or stirring constantly for about a minute. Remember, the goal is to lightly wilt the bok coy, maintaining its vibrant green color and crispness.
To infuse the dish with savory and umami flavors, add soy sauce, sugar, salt, and pepper to the skillet. Toss the ingredients well to ensure the chicken and bok coy are evenly coated in the flavorful sauce. And continue cooking for approximately 2 minutes, allowing the sauce to thicken and cling to the ingredients.
Once the sauce has reached the desired consistency, it's time to turn off the heat. The chicken and bok coy should be perfectly cooked, tender, and infused with the delightful flavors of garlic, ginger, and soy sauce. This time, the sauce will coat the ingredients, adding depth and a satisfying finish.
The Final Touch
To complete the meal, serve the chicken bok coy stir-fry alongside warm rice. The fluffy rice will provide a neutral base to absorb the flavors of the stir-fry, creating a harmonious combination of textures and tastes.
Lastly, this chicken bok coy stir fry is a delightful and wholesome meal. The transition from coating the chicken to stir-frying with garlic, ginger, and bok coy ensures a seamless cooking process. So, Sit down, savor the aromatic flavors, and enjoy this delicious stir fry with a comforting bowl of rice.
Overall, chicken bok coy stir fry is a simple and easy-to-make dish that is packed with nutrition and flavor. The combination of juicy chicken, crispy bok coy, and a savory and slightly sweet sauce makes it an excellent dish to enjoy for lunch or dinner.
Recipe Notes;
To make the dish spicier, you can add chopped chili peppers /red pepper flakes or a splash of hot sauce to the stir fry
Feel free to add other vegetables to this dish, such as snow peas, mushrooms, broccoli, or carrots.
Be sure to chop the vegetables into evenly sized pieces to ensure even cooking.
Be careful not to overcook the bok choy. It should be tender but still have a little bit of crunch.
The color of the cooked vegetables should be green and not purple. and a little bit hint of glossy on the appearance
CHECK FOR OTHER VEGGIES RECIPE IDEAS:
On a previous recipe, I made an earlier version, if you are not into chicken, or want to make a side dish, including a dietary meal for bok coy, try this Garlic Bok Coy recipe! same as tasty as this chicken bok coy stir fry (picture for reference)
Interested to cook this recipe?
Don't forget to try this recipe, let me know if this recipe works and be your favorite menu to cook. You can save this recipe by signing up for my email list! Do not forget to leave a star rating and a review in the comment section further down the page. I always appreciate your feedback.
Also, you can follow our Pinterest, and Instagram, and our Youtube channel for the up-to-date menu. See you on the other menu recipe, friends! I always love to hear your thoughts.
Thank you, your supports are so much appreciated 💕
Written by Silni Asfia
Chicken Bok Coy Stir Fry
Ingredients
1

pound

Boneless Chicken Breast

250

g

Bokcoy

1

tbsp

Ginger

grated/chopped

2

cove

Garlic

2

tbsp

Cornstarch

¼

cup

Soy Sauce

1

tsp

Sugar

½

tsp

Salt

¼

tsp

Pepper
Instructions
Cut the chicken into bite-size, then combine the chicken with cornstarch. Toss to coat.

In a large skillet over medium-high heat, heat the cooking oil and add the chicken, garlic, and ginger. Cook and stirring occasionally until the chicken turn lightly browned.

Add the bok choy and continue cooking, tossing or stirring constantly for about a minute, just until the bok choy is wilted. Add the soy sauce, sugar, salt, and pepper and toss well to coat. Cook for about 2 minutes, just until the sauce thickens. Once the sauce is thickens, turn off the heat.

Serve with warm rice. Enjoy!