Make Classic Mashed Potatoes for special day such as Thanksgiving and Christmas night or any special day!
Happy Thanksgiving everyone! Hope you have a great time with your family. Classic mashed potatoes is one of special food for a big day, one of them is Thanksgiving day.
Usually Indonesian people didn't use potatoes as main carb, but we eat it as side dishes and instead use rice as main carb. There is one old saying that if we don't eat rice then we haven't eat yet. Isn't it odd? Hahaha..
Honestly the potatoes we used have no label or the information of the potatoes's variety from the supermarket. But we are sure it is russet potatoes if we look from the visual. We recommend you to use yukon gold or russet potatoes because they have buttery and creamy texture. They also have high starch content.
We starting with cut the potatos into large size. This way when we boil the potatoes they cook more evenly and quickly, as compared to boiling them whole. Fill the pot with cold water until it covers the potatoes and boiled them.
After the potatoes are fork tender, we drain them and place into pot. After draining the potatoes, place them on the stove over low heat to remove excess water. Then you can mash them using a masher or fork. We using fork for mashed because we don't have potato masher yet. It's okay to use a fork because the result are quite the same and still has really good texture.
After we mashed it, be sure to add butter to the mashed potatoes first before anything else to coat the mashed potatoes with butter. It prevents the mashed potatoes to swollen from cream or milk's moisture. Then add warm cream or milk, salt and blackpepper.
Garnish with extra butter to make it more buttery and blackpepper. Classic mashed potatoes is ready to serve.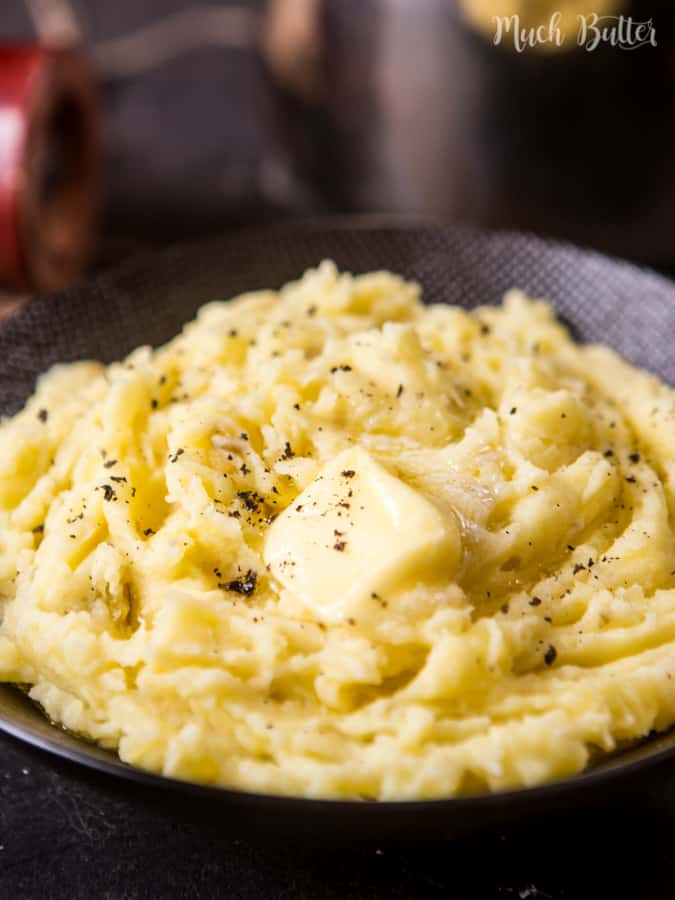 So what dishes will you make for this year Thanksgiving? Let us know in the comment!
Classic Mashed Potatoes
Ingredients
750

g

Russet potatoes

75

g

Butter

75

ml

Milk

Salt

Blackpepper

Water
Instructions
Peeled potatoes and cut into large size then place it with water into a large pot.

Add a pinch of salt and boil the potatoes over medium-high heat for 20-25 minutes or until fork tender.

When the potatoes are ready, drain and place them over low heat. Let them sizzle for a few moments to remove any excess moisture. Then, remove from heat.

Mashed the potatoes with potato masher or if you don't have it, you can use fork.

Add butter and stir until combined.

Heat the milk before you add it to mashed potatoes. Add salt and warm milk then mix well.

Transfer the mashed potatoes to a plate, top with extra butter to make it more buttery and grained blackpepper.
Recipe Notes
You can substitute milk with heavy cream and adjust the amount.
TRY ANOTHER RECIPE FROM MUCH BUTTER