Do you feel like biting into something crispy, tasty, and probably a unique snack? Well, this traditional and super-easy-to-make dish from Indonesia, Crispy Tempeh Chips, may surprise you with its tasteful flavor!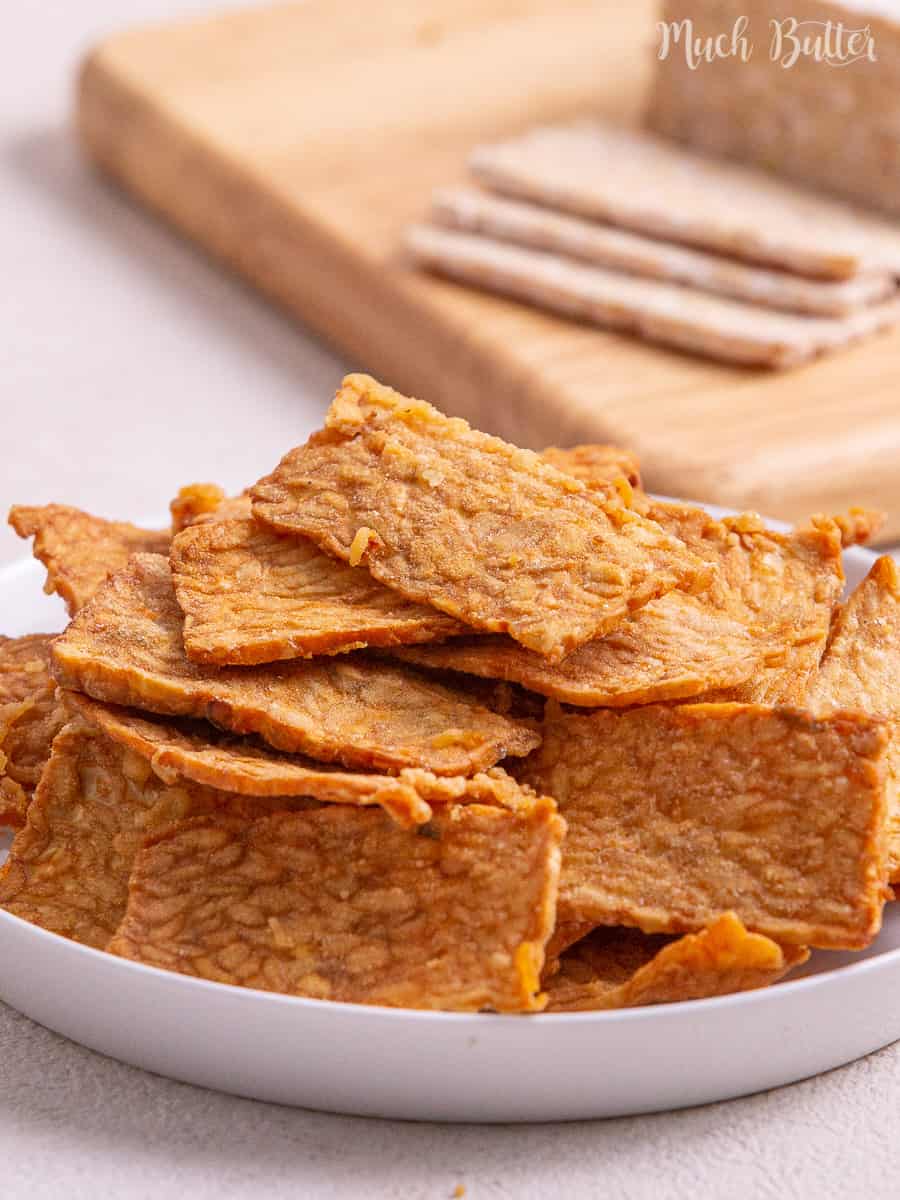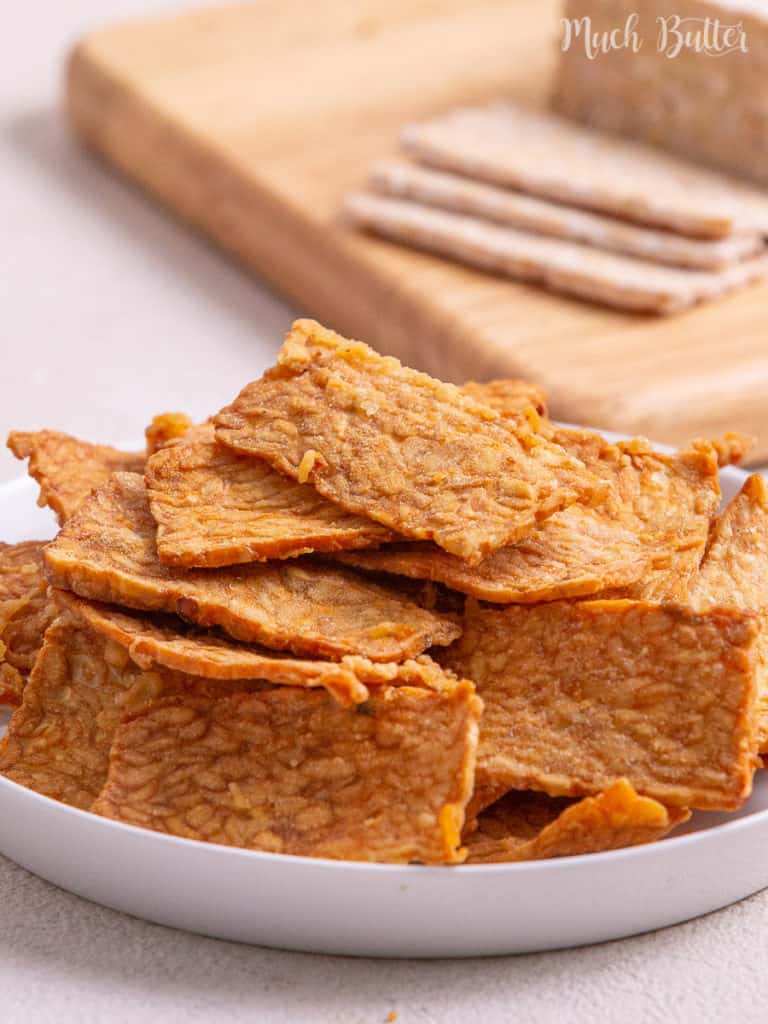 Crispy Tempeh Chip is a crunchy delicious snack made from Tempeh, the traditional dish from Indonesia. Not only does it have a special flavor, it also has lots of nutrition.
What is Tempeh?
You know Tofu, right? Well, this lovely kid is his relative. They were made from the same ingredient, which is fermented soybeans. However, Tempeh is slightly thicker than Tofu, and of course, has a different taste. Also, the way to make both dishes are really different.
While tofu was made from the coagulated soy juice that forms curds, Tempeh was made by adding Rhizopus sp. mushroom to the beans and letting it grow its spores for about 2 days. The spores then, later on, form the Tempeh's body into a dense structure.
Indonesian Old Traditional Food
Tempeh is a traditional dish from Indonesia that has been existed since thousands years ago.
In Javanese old literature, Serat Centhini, it is implied that the old Javanese tribe used Tempeh as their food source since the 16th century, when the area of Indonesia was still ruled by kingdoms. However, many historians believe that this exotic dish has existed longer than that.
The history also says that people saw Tempeh as a sign of poverty because soybeans was the cheapest crop at that time. But now, everyone, even world citizens, has realized how valuable and rich Tempeh is.
Why? Well, Tempeh is a high nutrition food consisting of vitamin B, calcium, iron deficiency, and dietary fiber. This may-look-odd and taste distinctively food is even good for diet. In fact, many people have been using this food as an alternative to meat. How interesting!
Now, according to some Indonesian people that I know (me, for instance lol), the simplest way to enjoy the tastefulness of Tempeh is to deep-fry it and eat it with rice. Otherwise, you can also cook it with sweet soy sauce and other ingredients like herbs and spices.
But now, I'm gonna give you the very easiest recipe you could ever try, that is to make Crispy Tempeh Chips! Are you ready? Let's go!
THE INGREDIENTS OF CRISPY TEMPEH CHIPS
To start, you need 300 grams of Tempeh, ½ cup of cornstarch, ¼ cup of all-purpose flour, 1 cup of water, 1 tsp of salt, 1 tsp of chicken stock powder, ½ tsp pepper, and cooking oil.
HOW TO MAKE IT
First of all, combine all the ingredients, except tempeh, and cooking oil on a plate, then stir it with a spoon until well blended. Set aside.
Next, cut the tempeh as thin as possible (now pay attention to this cause you want the tempeh to be really thin, as it will taste better later, trust me).
After cutting the tempeh, heat cooking oil over high heat and once it is hot, dip the tempeh into the wet mixture one by one. Fry it in batches until the color turns into golden brown. Stir it frequently so that the tempeh won't go too brown or overcooked.
After that, rest it on a cooling rack to remove the excessed oil. There you are, your Crispy Tempeh Chips are ready! Store it in an airtight container and enjoy!
OTHER RECIPE IDEAS YOU MAY WANT TO TRY:
Don't forget to try this recipe, let me know if this recipe works and be your favorite menu to cook. You can save this recipe by signing up for my email list! Do not forget to leave a star rating and a review in the comment section further down the page. I always appreciate your feedback.
Also, you can follow our Pinterest, and Instagram, and our Youtube channel for the up-to-date menu. See you on the other menu recipe, friends!
Crispy Tempeh Chips
Ingredients
300

g

Tempeh

½

cup

Cornstarch

¼

cup

All Purpose Flour

1

cup

Water

1

tsp

Salt

1

tsp

Chicken Stock Powder

½

tsp

Pepper

Cooking Oil
Instructions
Combine all the ingredients except tempeh and cooking oil on a plate, and stir with a spoon until well blended. Set aside.

Cut the tempeh as thin as possible. Heat cooking oil over high heat, once the oil is hot, dip the tempeh into the wet mixture then fry in batches until golden brown. Stirring frequently.

After the tempeh chips is cooked, rest it on a cooling rack to remove excess oil. Store in an airtight container.