Experience the magic of garlic fried chicken. Aromatic, super crispy, and bursting with flavor. Prepare for a taste sensation like no other!
Garlic fried chicken is a delectable twist on the classic comfort food. This mouthwatering dish combines the crispy goodness of fried chicken with the aromatic and savory notes of garlic. With each juicy bite, you'll experience a symphony of flavors that will leave you craving more. The addition of garlic to the marinade adds depth and complexity to the flavor, making every bite a savory delight. Garlic fried chicken is the perfect addition to your recipe arsenal. So, roll up your sleeves, and let's get cooking!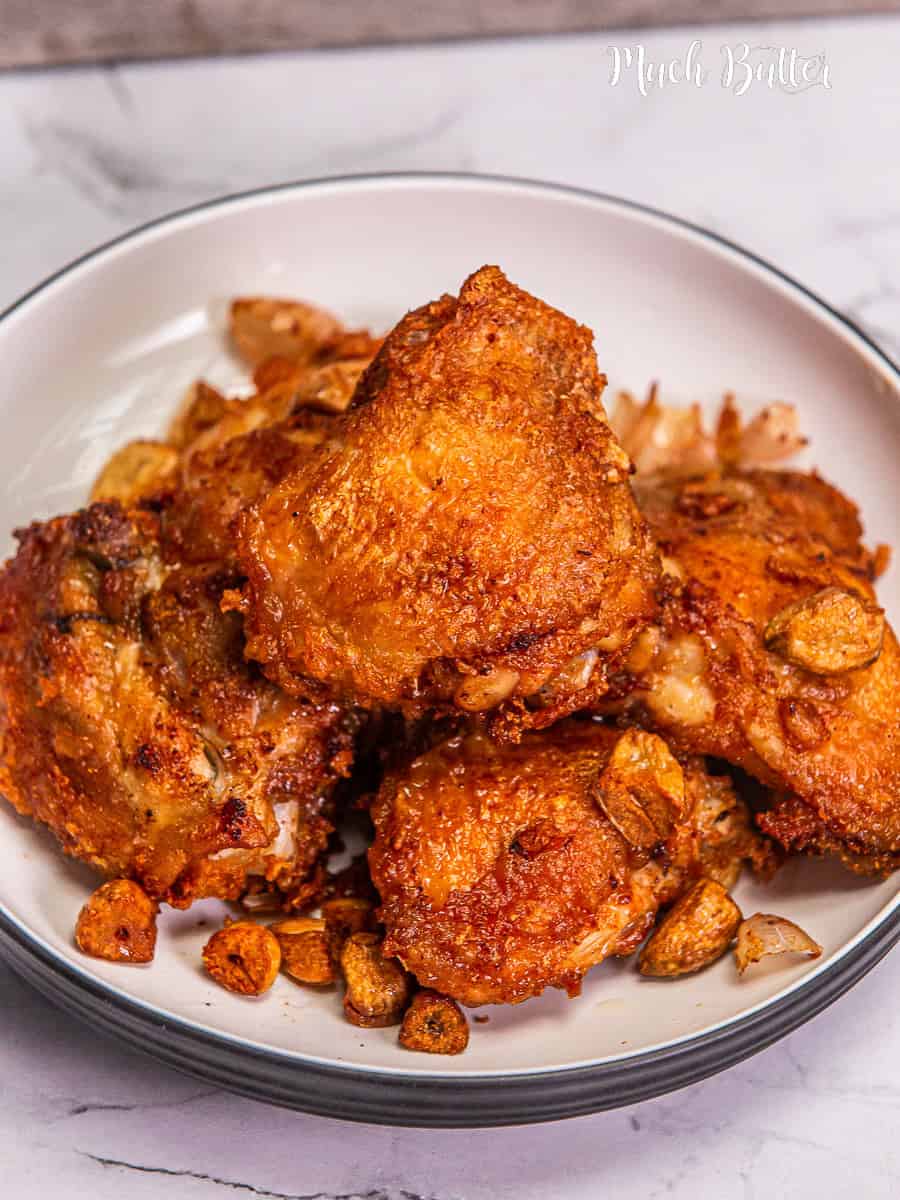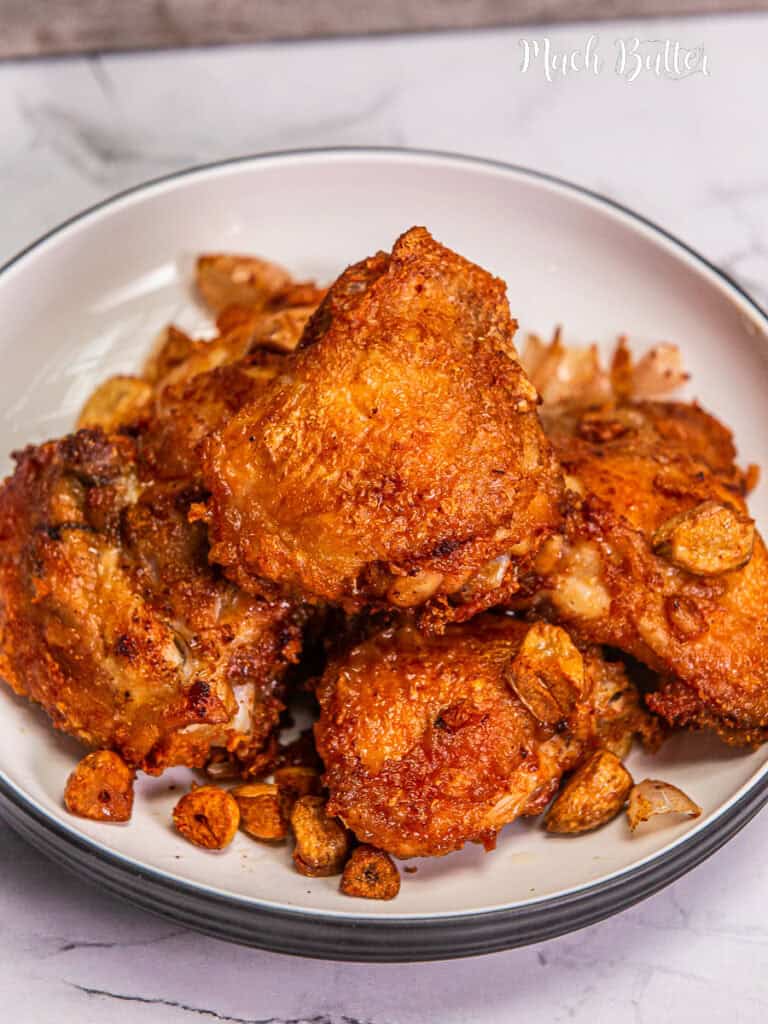 Garlic and its Benefit
Garlic is a vegetable that belongs to the same family as onions, shallots, and leeks. Since It has been used for both culinary and medicinal purposes for thousands of years and is known for its distinct pungent flavor and aroma. Therefore, garlic can be a fantastic addition to garlic fried chicken, not only for its flavor but also for its potential health benefits. Here are a few ways garlic can enhance your garlic fried chicken:
Flavor enhancement: Garlic has a strong and distinctive flavor that adds depth and richness to dishes. It is a complex taste, I think most cooking recipes must be added with some garlic.
Digestive aid: Garlic can stimulate the production of digestive enzymes. This can help promote better digestion and prevent digestive discomfort.
Potential immune-boosting effects: Garlic is known for its immune-boosting properties, thanks to its antioxidant content.
Nutritional value: Garlic is a good source of several nutrients, including vitamins C and B6, manganese, and selenium. Incorporating garlic into your fried chicken can contribute to the overall nutritional profile of the dish.
Overall, garlic is a nutritious and flavorful ingredient that may offer a range of health benefits. Besides a lot of health benefit from garlic, Garlic fried chicken also provide delicious and tasty experience. juicy and cooked until very inside of chicken. Now it's time to savor your homemade garlic fried chicken. Are you ready to embark on a culinary adventure? Join me in the kitchen as we dive into the world of garlic fried chicken.
Ingredients of Garlic Fried Chicken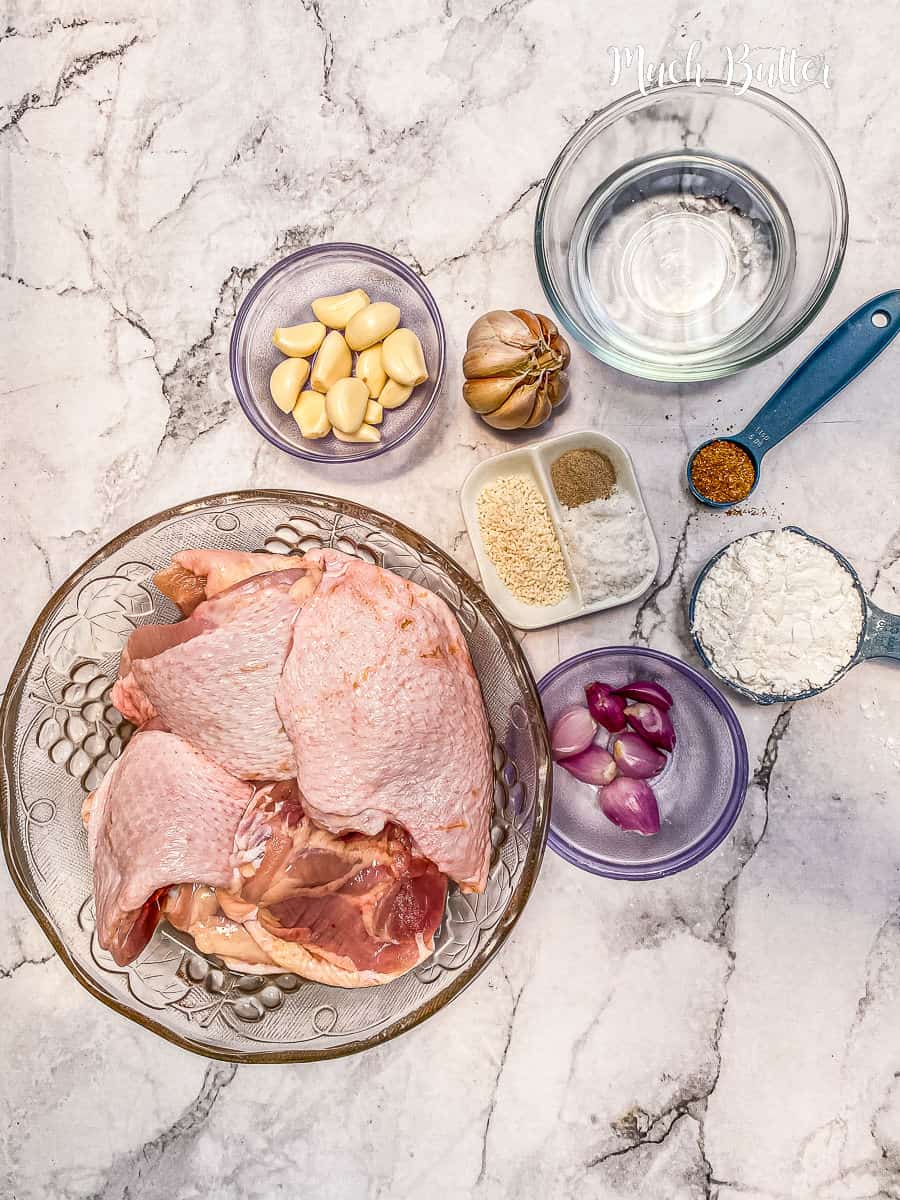 Chicken– I use the thigh part, my preferences are between thigh and wings, you can substitute with other parts of chicken based on your fav too
Garlic – it will fry at the same time as the chicken, if you're not really into garlic or aromatic, you can skip this garlic during the frying process
Marinate seasoning
Garlic– adds flavor to the marinate and the dish as a whole. It also offers potential health benefits such as immune-boosting properties and antimicrobial effects.
Shallot– provides a milder and slightly sweeter flavor compared to onions. They add depth of flavor to the marinade.
Cornstarch– acts as a thickening agent and helps create a crispy texture when the chicken is fried
Coriander Powder– adds a warm and aromatic flavor to the marinade, enhancing the overall taste of the chicken
Salt– a common seasoning ingredient that enhances the flavor of the chicken and balances the other flavors in the marinade
Mushroom Stock Powder– adds a savory and umami taste to the marinade, enhancing the overall flavor profile of the chicken
Pepper– adds a hint of spiciness and enhances the overall taste
Water
How to Make Garlic Fried Chicken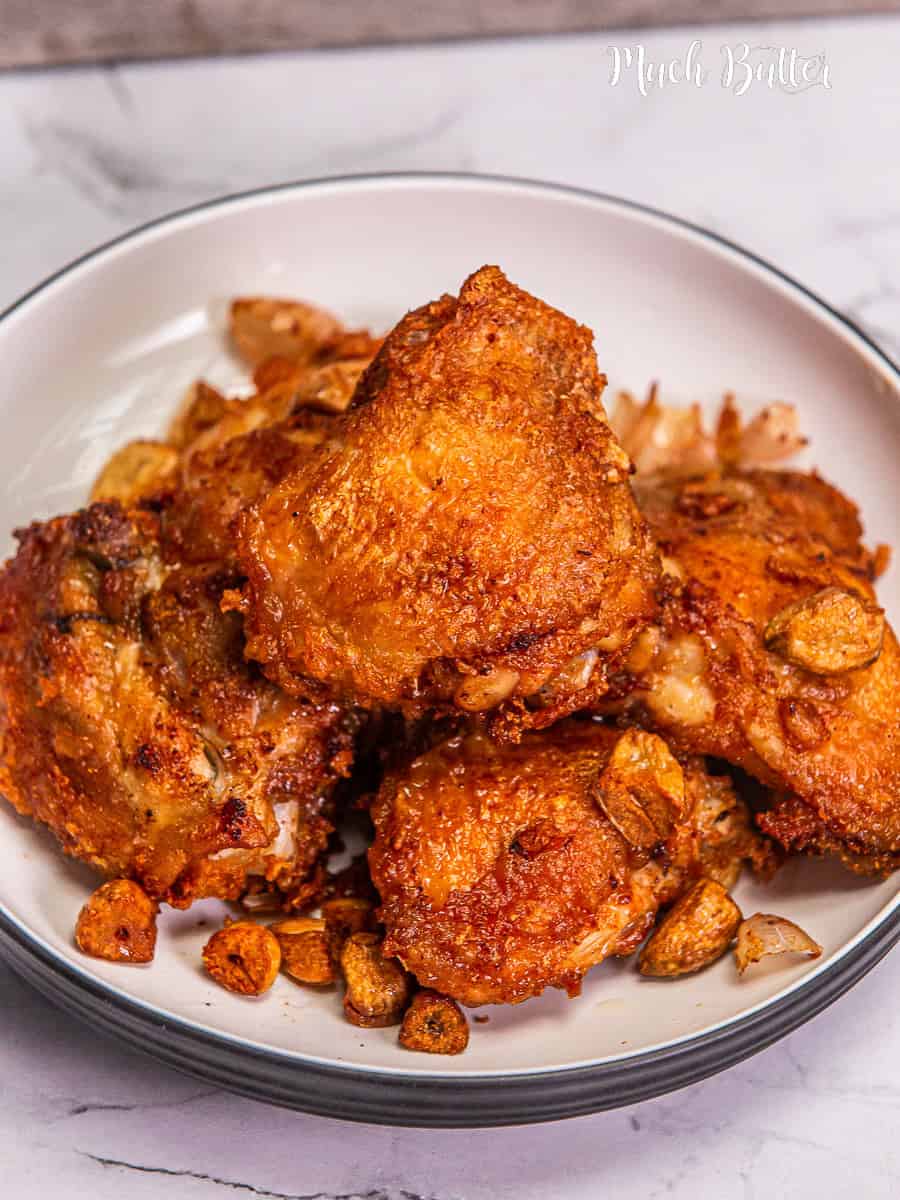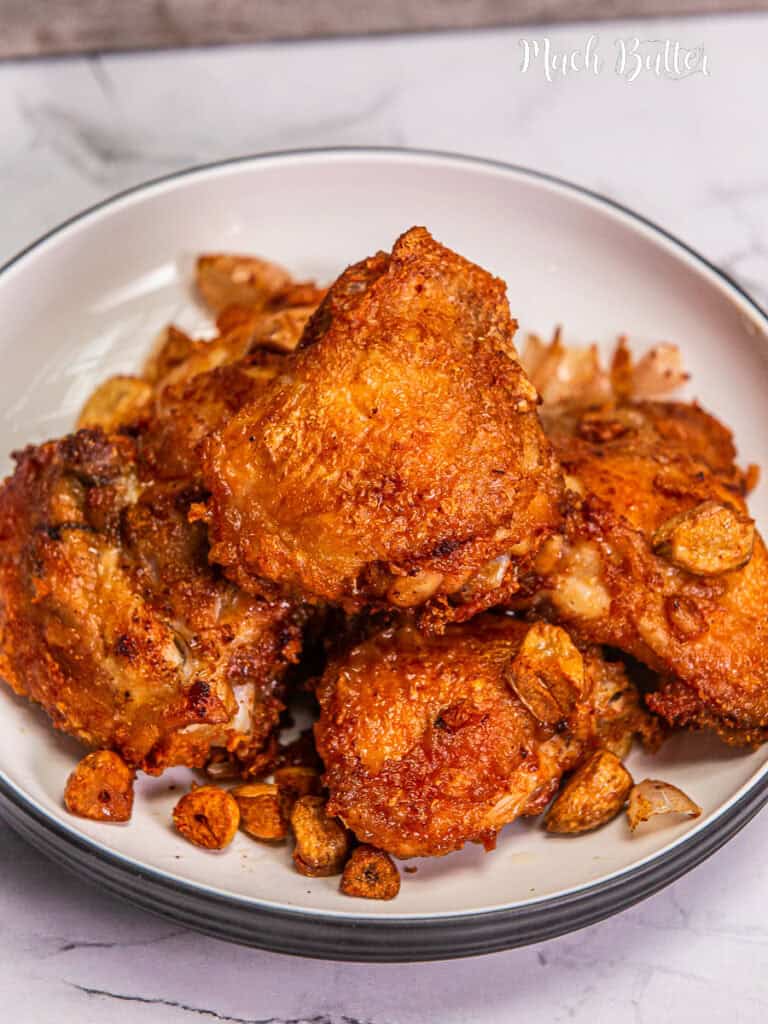 To prepare the marinade, begin by grinding the garlic, shallots, coriander powder, and water together using a wet mill. This process will result in a smooth mixture, combining the flavors of garlic, shallots, and coriander powder.
Next, in a large bowl, combine the chicken pieces with salt, pepper, mushroom stock powder, cornstarch, and the wet mixture. Ensure that all the chicken pieces are coated evenly with the marinade. The addition of salt, pepper, and mushroom stock powder enhances the flavor profile of the chicken, while the cornstarch helps create a crispy texture when fried. It is important to mix the ingredients well to ensure the chicken is evenly marinated.
Allow the chicken to marinate for a minimum of 2 hours. This extended marinating time allows the flavors to penetrate the meat, resulting in a more flavorful and succulent dish. The marinade should be left to work its magic, infusing the chicken with its aromatic and savory notes.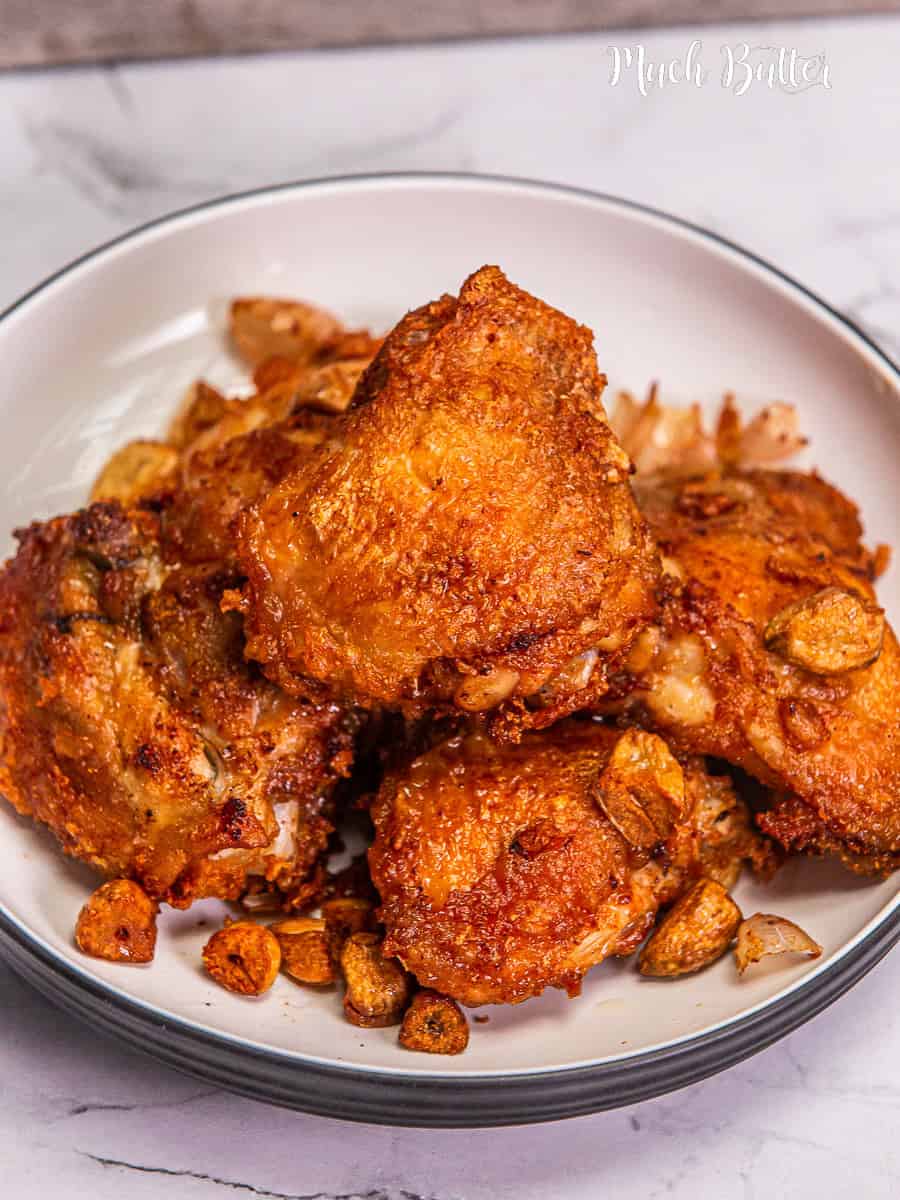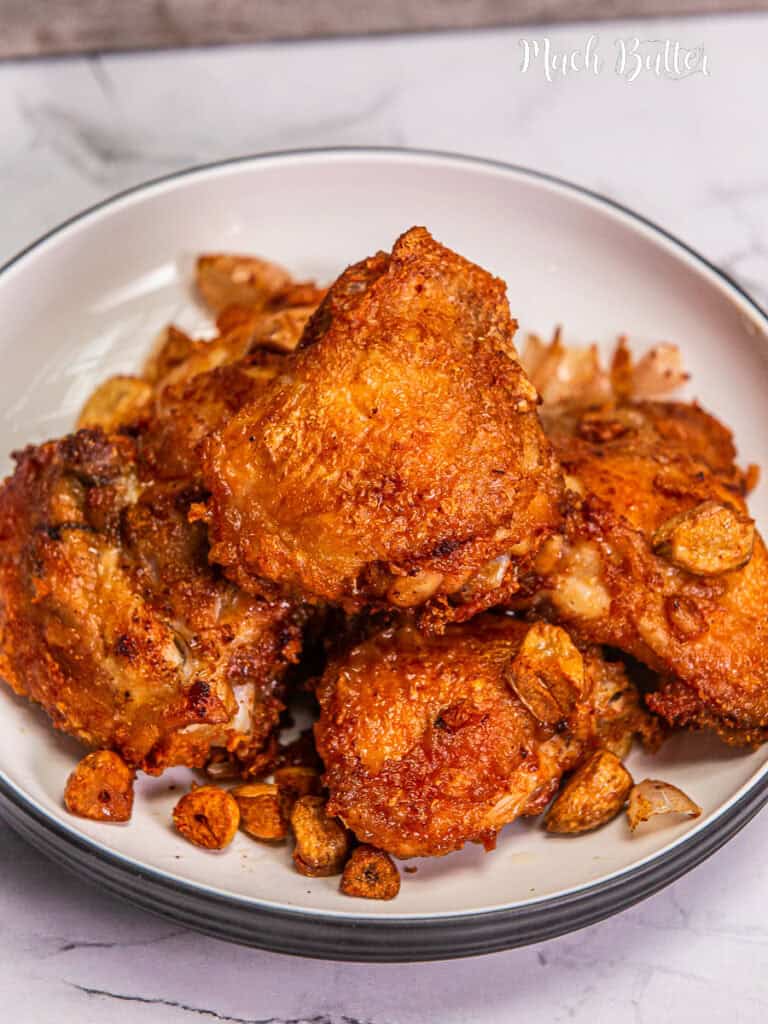 Double Frying
Once the marinating time is complete, it's time to cook the chicken. Heat cooking oil in a wok over medium heat. Add the marinated chicken pieces and the additional garlic to the wok. Fry the chicken and garlic until they turn a beautiful golden brown color, which usually takes about 25-30 minutes. The garlic adds an extra layer of flavor and aroma to the dish.
After frying the chicken and garlic to perfection, carefully remove them from the wok and place them on a cooling rack. This step helps drain any excess oil, ensuring a lighter and less greasy finished dish.
Now, in The double frying process, increase the heat to high and return the chicken to the wok for an additional 3-4 minutes of frying. This final high-heat frying step adds extra crispiness to the chicken's exterior, creating a delightful texture contrast.
Next, once the chicken is fully cooked and crisped to your liking, remove it from the wok and allow it to rest on a cooling rack once again. This resting period further helps in removing any excess oil and allows the flavors to settle.
Lastly, To serve, accompany the garlic fried chicken with warm rice, which complements the flavors and completes the meal. Now, sit back, savor the enticing aroma, and enjoy the deliciousness of your homemade Garlic fried chicken.
Recipe Notes:
It's better if the chicken to marinate chicken overnight, the longer chicken marinated, the tastier aroma will be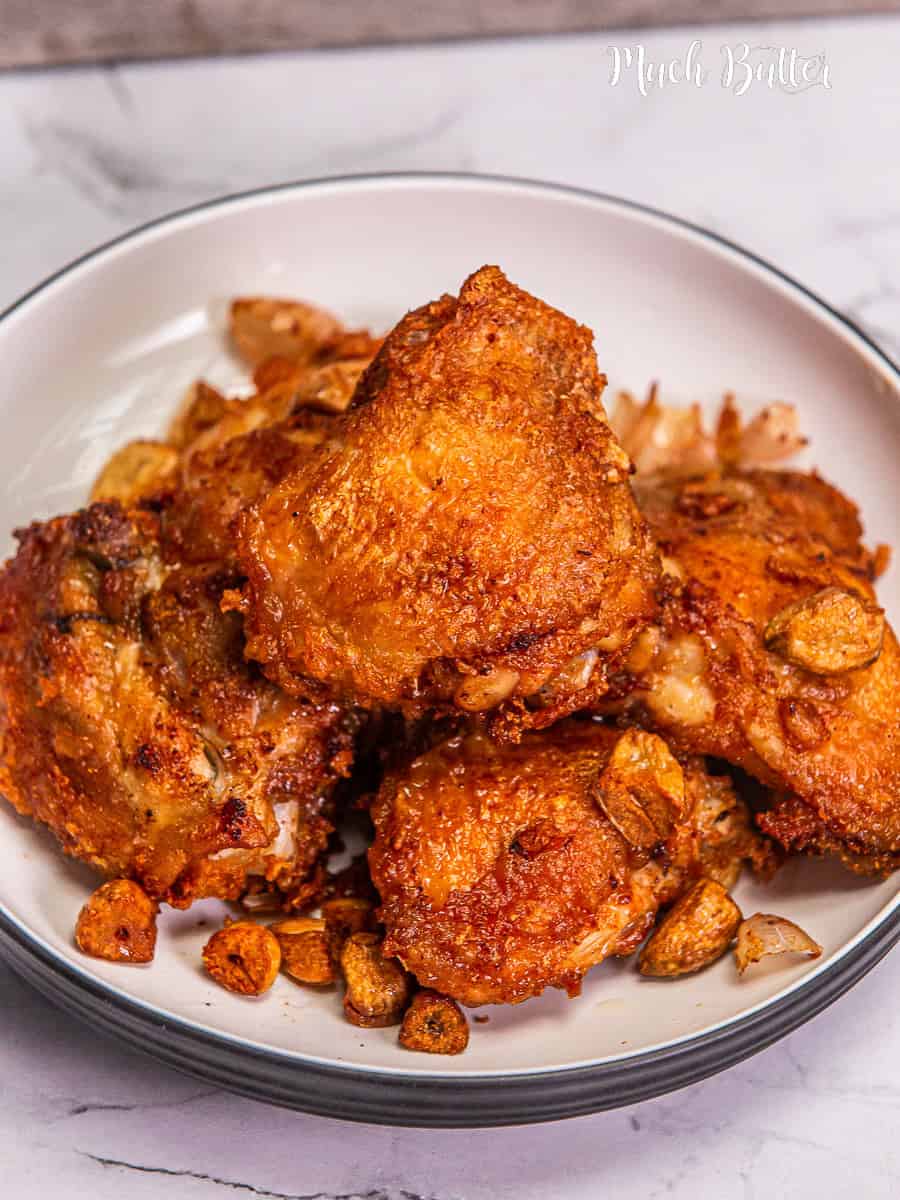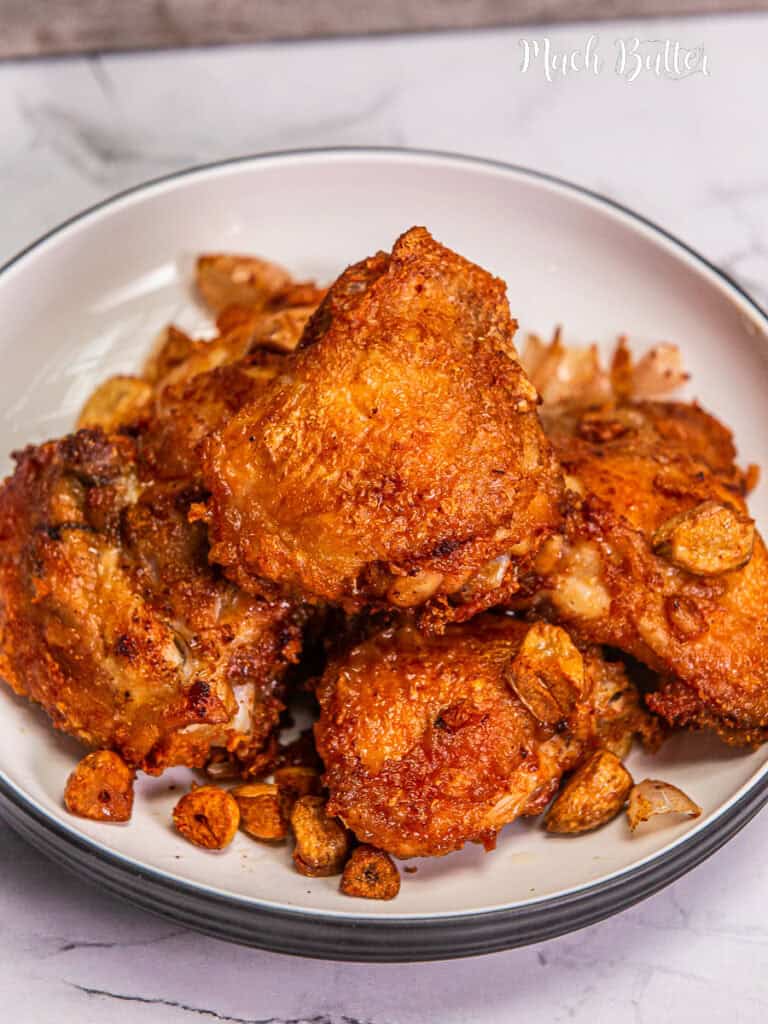 Interested to cook this recipe?
Let me know your result by uploading pictures and tagging us on Instagram at Much Butter and Pinterest. Do not forget to see and follow our new Tiktok Account.
For cooking videos, please check out and subscribe to our Youtube page. you can join our email for the latest idea menus. I love to hear your thoughts
Thank you, your supports are so much appreciated 💕
SEE OTHER FRIED CHICKEN VARIATIONS: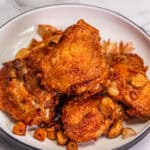 Garlic Fried Chicken
Ingredients
8

pieces

Tight Chicken

10 pieces

1

head

Garlic

optional
Marinate
10

cloves

Garlic

6

Shallot

⅓

cup

Cornstarch

1

tsp

Coriander Powder

2

tsp

Salt

2

tsp

Mushroom Stock Powder

½

tsp

Pepper

100

ml

Water
Instructions
Grind garlic, shallots, coriander powder, and water with a wet mill until smooth.

In a big bowl, combine chicken with salt, pepper, mushroom stock powder, cornstarch, and wet mixture. Mix well and marinate a minimum of 2 hours.

After 2 hours of marinating, in a wok heat cooking over medium heat, fry chicken and garlic until golden brown for 25-30 minutes. Rest it on a cooling rack then turn the heat to high heat and fry again the chicken for 3-4 minutes.

After the fried chicken is cooked, rest it on a cooling rack to remove excess oil.

Serve with warm rice. Enjoy!
Recipe Notes
It's better if the chicken is marinated overnight