Gyudon (Japanese rice bowl) is a classic comfort food in a simple pot. Thin slices of beef, onion, and sweet and savory sauce served over steamed rice, it same as the perfection bomb. Easy to prepare and a must-try recipe! Plus it is a delicious meal that won't break the bank, budget-friendly
Basically, Gyudon (牛丼), or "Japanese beef bowl" is a mouthwatering classic dish that comes together in minutes. It's a sweet and savory dish made by simmering thinly sliced beef with onion in a sauce, served over a bowl of white rice. you can add it with a raw egg yolk on the top or soft boiled egg to add creaminess ooegoey. And by the way, this is a famous food established by one of the popular Japanese restaurants called Yoshinoya (iykyk) and it has been over 150 years, wow such a legit legend!
So, how it started?
History of Gyudon
Long story short, in many years ago in Japan, religious beliefs and practical reasons strictly forbade people from eating beef. You see, they followed Buddhist philosophies that discouraged consuming meat, and also, farm animals were more useful for work than for food.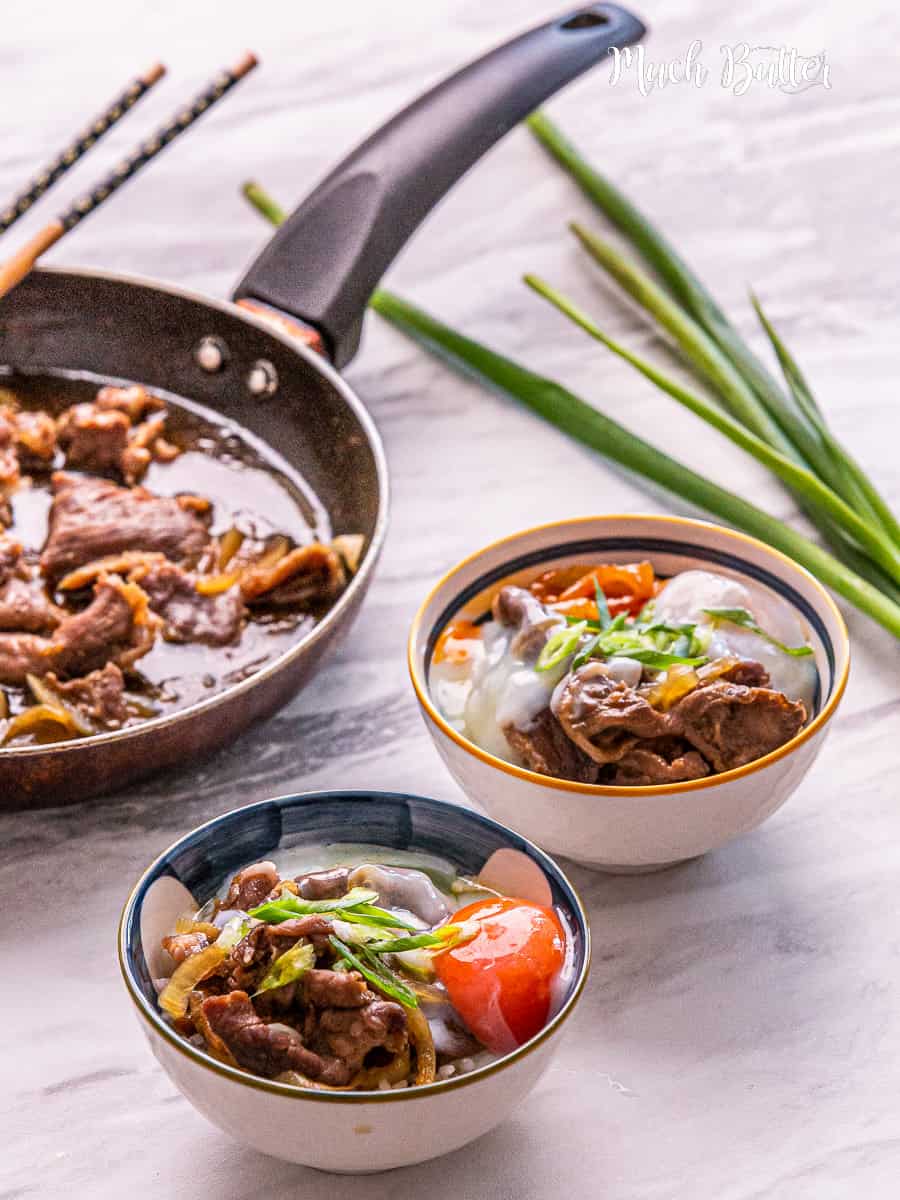 However, when Western culture made its way to Japan in the late 1800s, a new dish called gyunabe started to become very popular. This yummy stew consisted of beef and onions simmered with miso paste, and it became a big hit among the Japanese people. As a more affordable alternative, restaurants began serving gyumeshi, which was simply leftover gyunabe broth poured over rice.
Eventually, this dish evolved into what we now know and love as gyudon, or Japanese Beef Bowl. It's basically a warm bowl of steamed rice topped with juicy beef. The word "gyu" means "beef," and "don" refers to the bowl it's served in.
Interestingly enough, A man named Eikichi Matsuda, who owned Japan's most famous beef bowl chain called Yoshinoya, actually created the name "gyudon" for the beef bowl dish. He started his first restaurant in Tokyo back in 1899, and it quickly became a massive success. By the 1950s, there were over 100 Yoshinoya restaurants all across Japan.
So, next time we dig into a tasty bowl of Gyudon, we can thank Gyunabe, Gyumeshi, and Eikichi Matsuda for creating one of Japan's most beloved dishes.
What do you need to make Gyudon (Japanese Rice Bowl)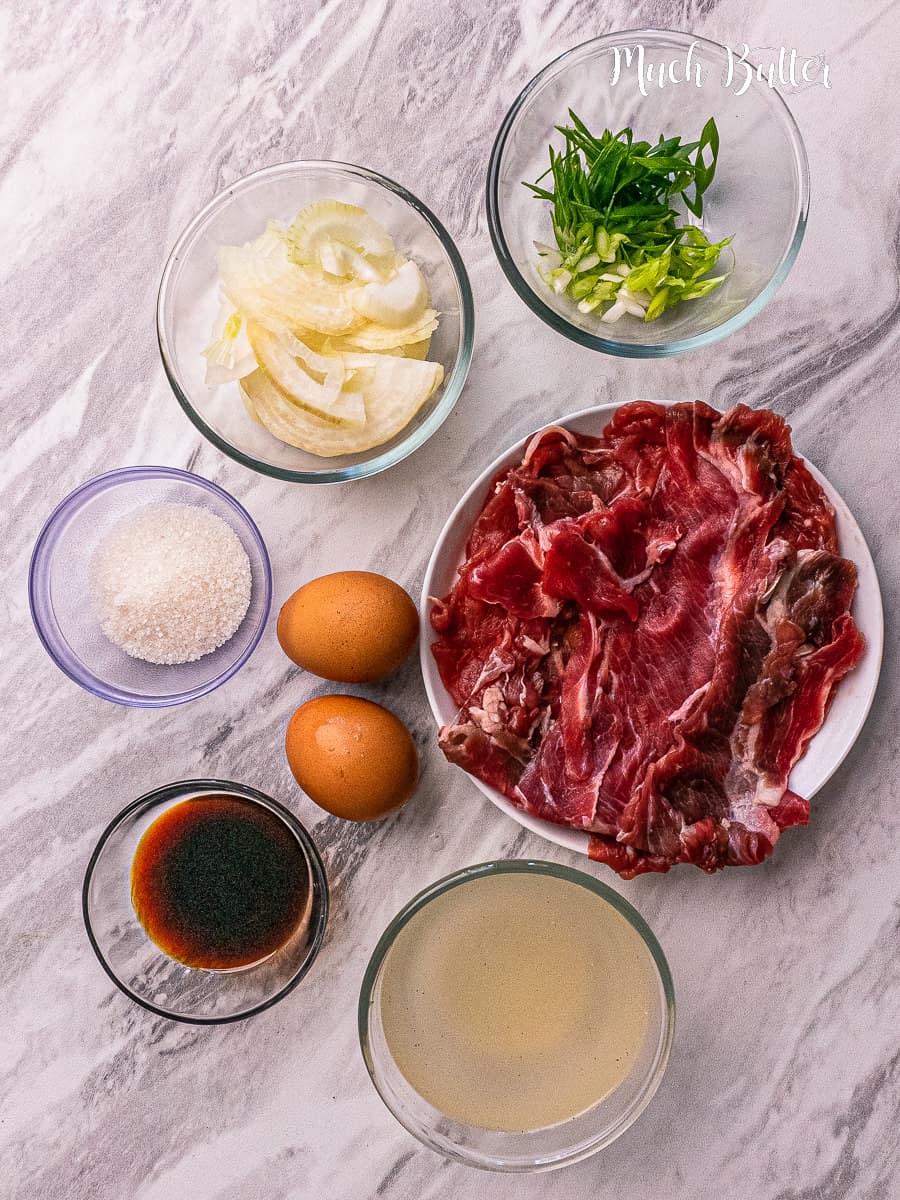 Beef Slice – we need to use a cut of fatty beef. This not only keeps the thin slices of beef moist, but the fat itself also contributes a smooth richness to the sauce. it's crucial to slice the meat thinly against the grain.
Onion I always end up going back to plain old yellow onions.
Scallion– as a condiment, a sprinkle of scallions helps add a splash of color while fortifying the flavor of the onions in the Gyudon.
Rice: I use white steamed rice, which helps to absorb the rich, flavorful sauce of gyudon
Egg; optional for topping combine with beef. I use soft-boiled omega egg, I already shared the recipe to make soft-boiled egg. (you can click this Soft Boiled Eggs)
Sauce
The original version and some version added sake, mirin and sometimes wine. Since it's a halal version, we didn't use the alchohol or acidic ingredient, for substitute you can use vinegar, with or without, it still delicious, I guarantee. for the gyudon sauce, we need;
Beef Stock- adds depth of flavor, adds a rich umami flavor to the dish. In gyudon, the beef stock is combined with soy sauce, and sugar to create the flavorful sauce that coats the beef and onions.
Sugar – to balance the flavors of the soy sauce and beef stock. It adds a slight sweetness to the dish and helps to create a rich, flavorful sauce.
Soy Sauce– Soy sauce is a traditional Japanese seasoning made from soybeans, wheat, salt, and water. it adds a salty and savory flavor.
How to Make Gyudon (Japanese Rice Bowl)
To begin, you will need to gather all of your ingredients and slice the beef and onions thinly. It's important to use a good quality beef, for the best flavor and texture.
Secondly, In a frying pan with the heat turn off, combine beef stock, sugar, and soy sauce. Stir the mixture until the sugar has dissolved.
Next, add slices of onion and spread them throughout the pan, then add the beef slice on top until the beef has covered the onion.
Then, Do not forget cover the pan with a lid and cook over medium heat. Let it simmer until the beef is fully cooked and absorb sauce
For this step, will take around 5-7 minutes, depending on the thickness of your beef slices. Make sure to stir occasionally. it is to make sure that the beef and onions are cook evenly.
Assemble Gyudon
While the beef and onions are cooking, prepare your rice and egg. You can cook your rice using a rice cooker or on the stovetop. For the egg, you can either soft-boil it or fry it sunny-side-up.
Once the beef and onions are fully cooked. It's time to assemble the gyudon. Scoop rice into a bowl and then add the beef and onions on top.
Finally, drizzle the sauce from the pan over the beef and onions, and then add the egg on top.
For the last step, Garnish with sliced scallions, and your gyudon is ready to serve!
Overall, gyudon is a simple and satisfying dish that can be easily made at home with just a few ingredients. The combination of tender beef, sweet onions, and savory sauce served over a bed of fluffy rice is sure to satisfy your cravings and warm your soul. Sure, give this recipe a try!
The result is a delicious, satisfying bowl of gyudon that is sure to please, always a comfort food.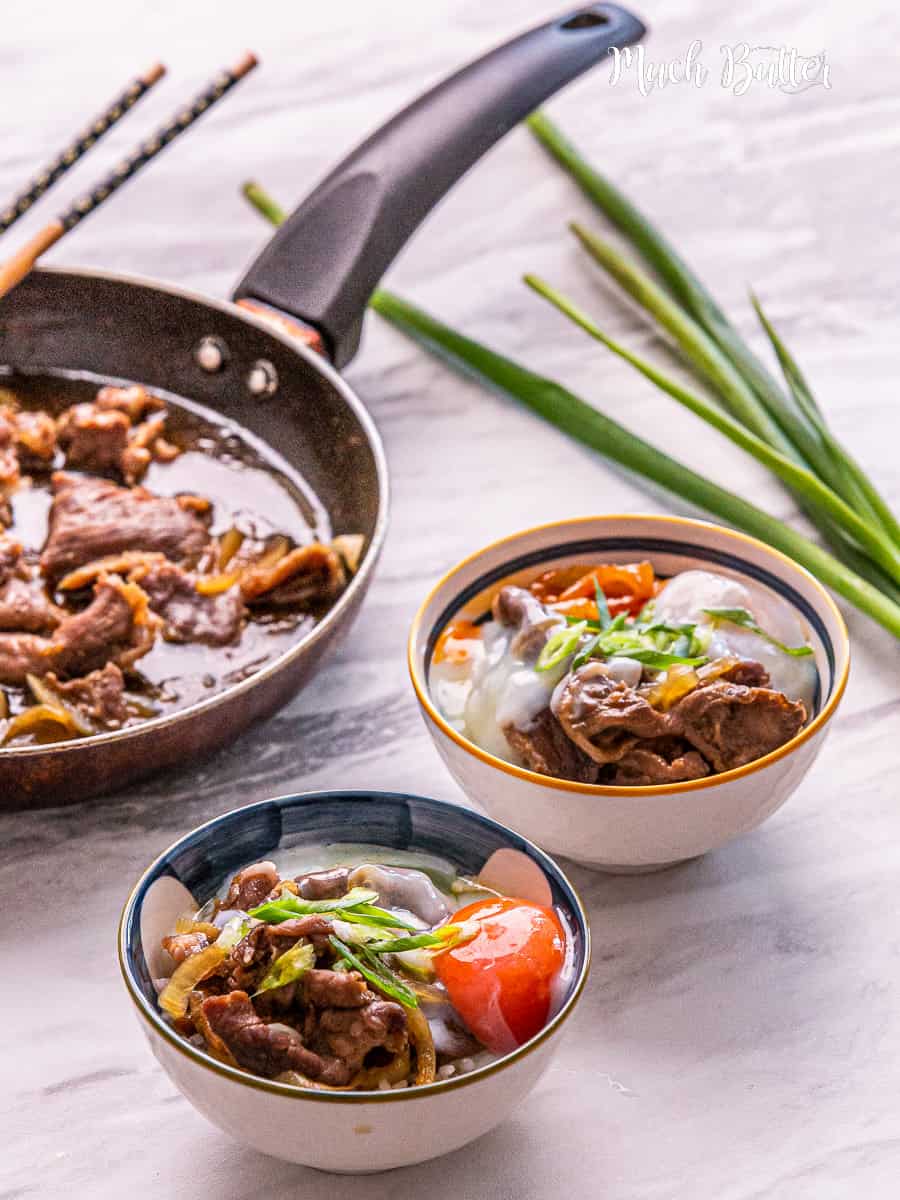 Interested to cook this recipe?
Let me know your result by uploading pictures and tagging us on Instagram at Much Butter and Pinterest. Do not forget to see and follow our new Tiktok Account.
For cooking videos, check and subscribe to our Youtube page. you can join our email for the latest idea menus.
Lastly, thank you, your supports are so much appreciated 💕
SEE OTHER JAPANESE CUISINE IDEAS:
Japanese Rice Bowl (Gyudon)
Ingredients
½

lb

Beef Slice

½

Onion

1

Scallion
Sauce
1

cup

Beef Stock

2

tbsp

Sugar

3

tbsp

Soy Sauce

2

Boiled Egg
Instructions
In a frying pan with the heat turn off, combine beef stock, sugar, and soy sauce. Add slices of onion and spread them throughout the pan, then add the beef slice on top until the beef has covered the onion. Cover the pan with a lid and cook over medium heat.

Let it simmer until the beef is fully cooked and the sauce is absorbed.

Scoop rice into a bowl, put the beef on top, drizzle it with the sauce, then arrange the egg on top, and garnish with scallion. Enjoy!