Let's explore how to make homemade muesli recipes. Made from oats, nuts, and dried fruit. It's quick, healthy, vegan, and gluten-free!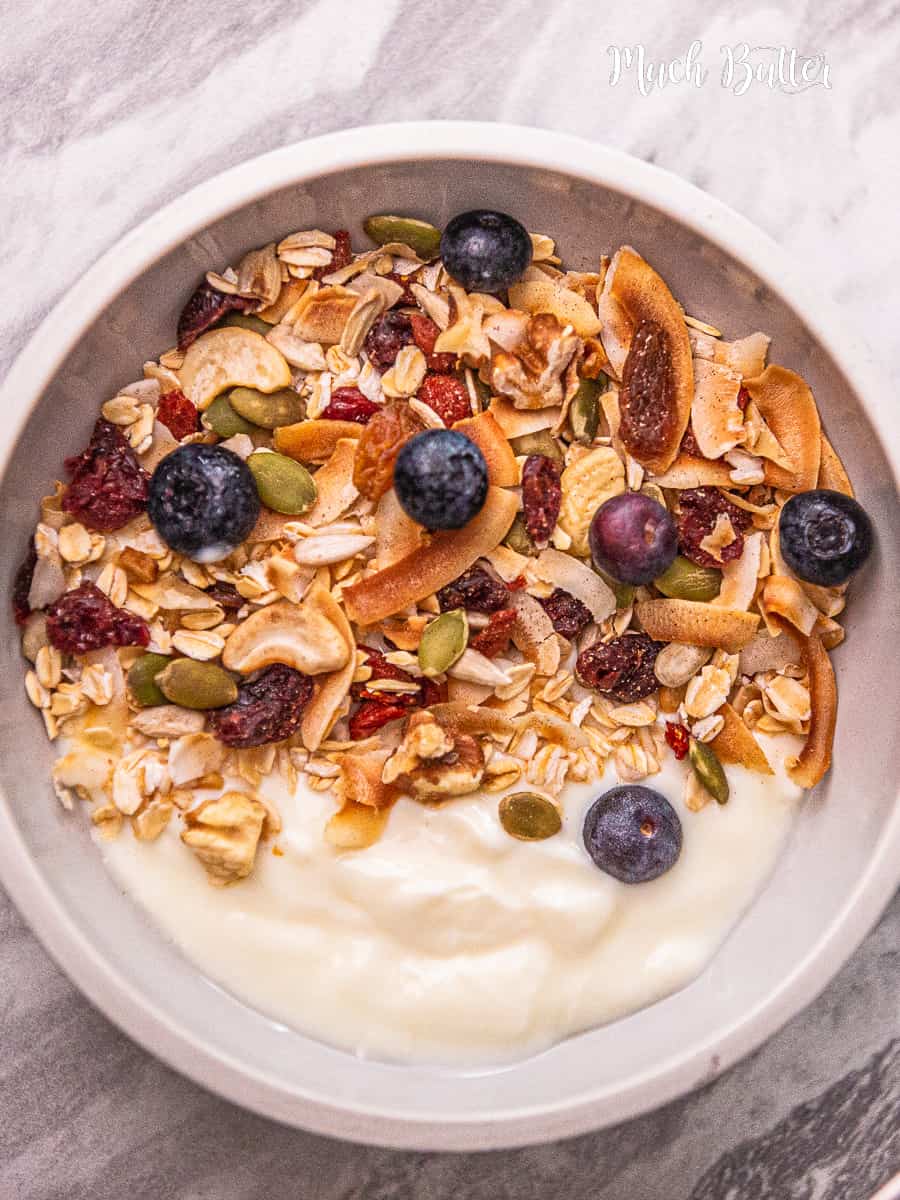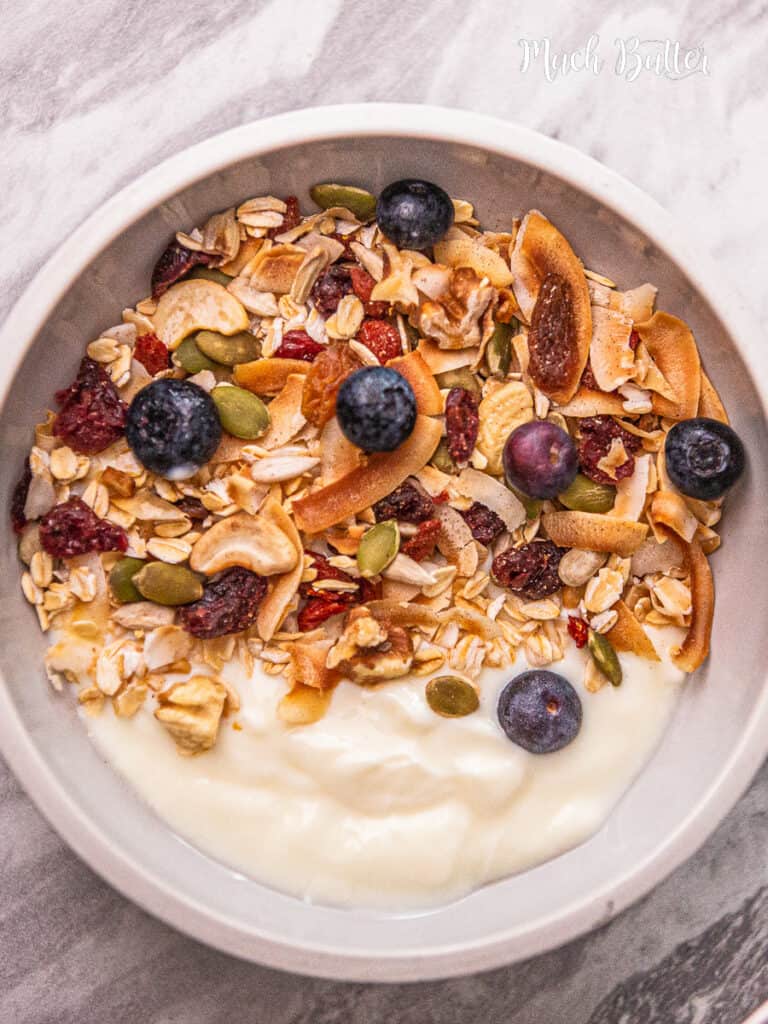 Are you tired of starting your day with sugary cereals or processed foods? and looking for a healthy and delicious breakfast option? Muesli is a great choice! Muesli is a healthy and delicious breakfast that contains fiber, vitamins, and minerals. It's 100% vegan and gluten-free. In conclusion, making your own homemade muesli is easy and customizable, so you can tailor it to your tastes and dietary needs, plus you can keep it for a week!
What is Muesli?
What is muesli? Muesli is a breakfast dish made from a combination of rolled oats, nuts, seeds, and dried fruit. It's typically served with milk or yogurt and you can eat it cold or hot.
The history of muesli dates back to the early 1900s in Switzerland, where it was created by Swiss physician Maximilian Bircher-Benner. Dr. Bircher-Benner was a proponent of natural healing and believed that a diet consisting of raw fruits and vegetables was key to good health. He created a dish consisting of raw oats, grated apples, condensed milk, and lemon juice, which he served to his patients in his clinic. Bircher-Benner's dish became known as Bircher Muesli, and its popularity grew throughout Switzerland and beyond.
Time to time, muesli has gained popularity in recent years in Switzerland and eventually spread to other parts of Europe and the United States as a healthy and convenient breakfast option, and many people choose to make their own muesli at home using their favorite ingredients. muesli is a popular breakfast dish around the world and can be found in many variations, including gluten-free and vegan options.
Over time, the recipe for muesli has evolved, and today there are countless variations of muesli available. Despite these variations, muesli remains a popular breakfast choice for those looking for a healthy and nutritious start to their day.
Let's kick into This quick and easy breakfast dish which is rich in fiber and packed with vitamins and minerals, very easy in no time. You'll be enjoying a healthy and delectable breakfast.
What do you need for Homemade Muesli
Rolled Oat
Nuts and Seeds: adding some protein, flavor, and texture. I use walnut, cashew, Sunflower Seeds, and pumpkin seed (pepita)
Dried fruits; Dried Cranberry, Golden Berry, and Goji Berry
Coconut Flakes
Cinnamon Powder as a spice to enhance flavor
Steps to Make Homemade Muesli
Firstly, preheat your oven to 320°F (160°C) to ensure that it is ready for baking. This will give you enough time to gather all the necessary ingredients for your homemade muesli.
Secondly, in a mixing bowl, combine rolled oats, walnut, pepitas, sunflower seeds, cashew, and cinnamon powder. Begin with a base of rolled oats and decide whether you prefer quick oats or old-fashioned oats. Then, add in your favorite nuts and seeds such as almonds, walnuts, pumpkin seeds, or chia seeds.
Next, mix in some dried fruit such as dried cranberries, raisins, and apricots to give your muesli a sweet and chewy texture. Once the ingredients are well combined, transfer the mixture to a baking tray.
After that, bake the muesli for 12 minutes in the preheated oven. Once the timer goes off, remove the tray from the oven and stir the mixture. Sprinkle coconut flakes on top of the mixture and then bake again for 3 more minutes.
Enjoy your Homemade Muesli <3
Once finish baking the muesli, transfer it to a mixing bowl and combine it with the rest of the ingredients. This will help ensure that all the ingredients well combined, and distributed evenly. Then, store the muesli in an airtight container to maintain its freshness.
Lastly, store your muesli in a cool and dry place.
Enjoy your homemade muesli for breakfast throughout the week and feel energized and satisfied all day long.
In conclusion, making muesli is a great way to start your day with a healthy and delicious breakfast. It's a great choice specifically if you're a working mom or a career man.
Simple and can be kept until a week.
Recipe Notes;
Add fresh fruit such as bananas, apples, or berries to your muesli for extra flavor and nutrition.
Use different types of nuts and seeds to vary the texture and taste of your muesli.
Do not forget, you can serve muesli with yogurt, milk, and smoothies also great for an overnight oat companion.
Let me know your result by uploading pictures and tagging us on Instagram at Much Butter and Pinterest. Do not forget to see and follow our new Tiktok Account.
For cooking videos, check out and subscribe to our Youtube page. you can join our email for the latest idea menus.
Other clean-eating recommendations:
Thank you, your supports are so much appreciated 💕
Written by Silni Asfia
Muesli
Ingredients
3

cup

Rolled Oat

½

cup

Walnut

½

cup

Pepitas

¼

cup

Sunflower Seeds

¼

cup

Cashew

½

cup

Dried Cranberry

¼

cup

Golden Berry

¼

cup

Dried Goji Berry

1

cup

Coconut Flakes

½

tsp

Cinnamon Powder
Instructions
Preheat oven to 320°F (160°C).

In a mixing bowl, combine rolled oat, walnut, pepitas, sunflower seeds, cashew, and cinnamon powder. Transfer it to a baking tray and bake for 12 minutes. After 12 minutes, remove from oven, stir the mixture, and sprinkle the coconut flakes on top, then bake again for 3 minutes.

After done baking, transfer it to a mixing bowl and combine it with the rest of the ingredients. Store in an airtight container.