Pizza Roll is a fun and easy way to enjoy pizza with your kids and family time. this tasty creamy bite-sized snack is irresistible to resist with consists of cheese, veggies, and sausage, topped with bolognese and tomato sauce. will instantly become an ultimate crowd-pleaser for pizza lovers.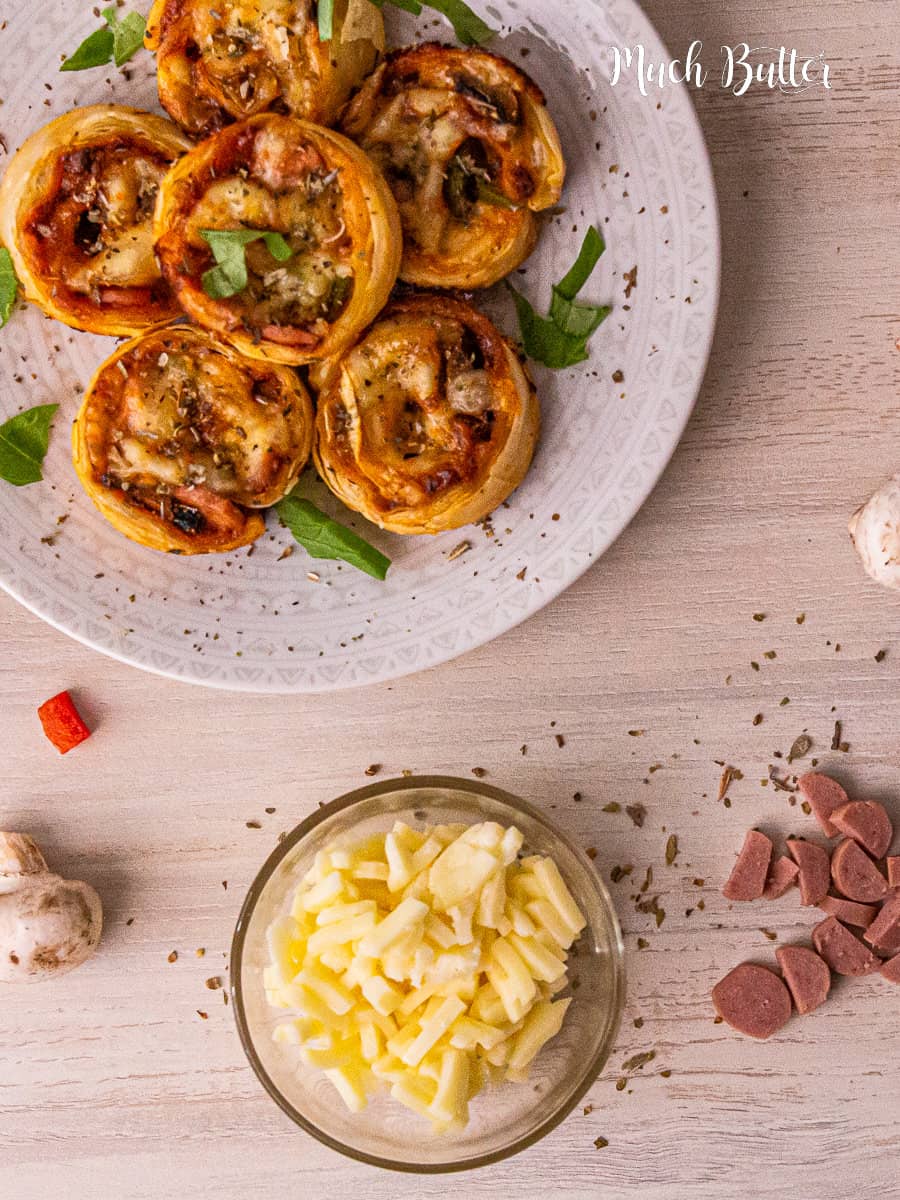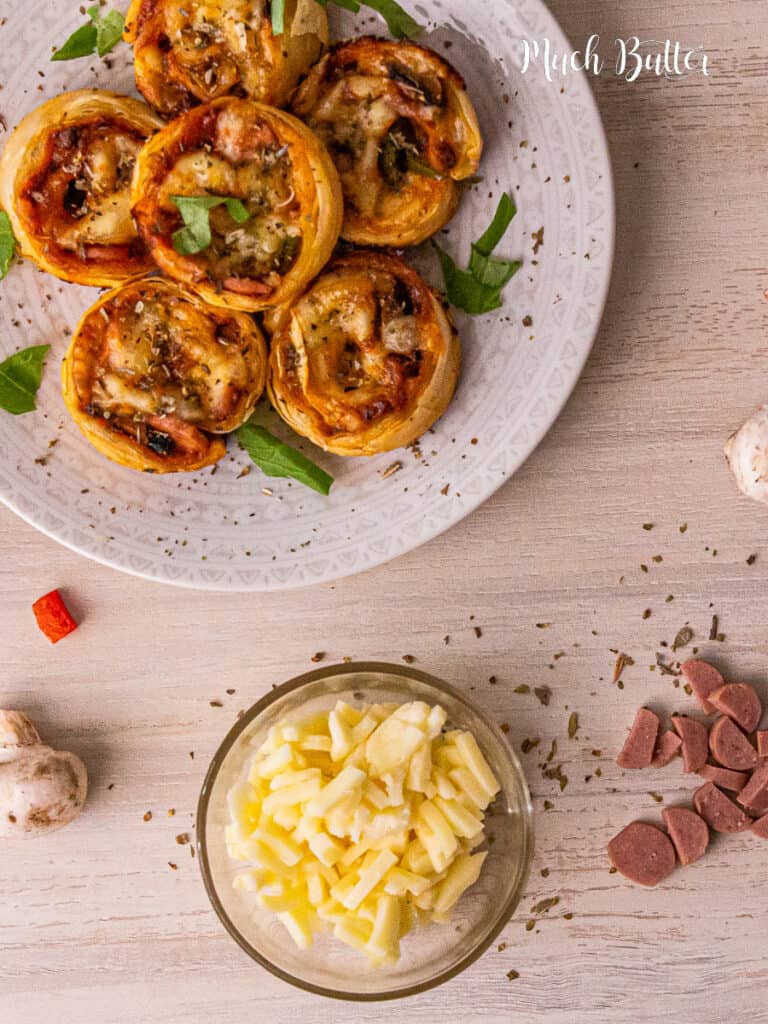 Sometimes when we have leftover pizza, and we reheated it turns out burnt, and the texture becomes hardened, not smooth, and not fluffy as it first comes.
So, I tried to make this pizza roll turns out my kids love it because unique shapes. It is an alternative and ultimate snack for pizza lovers! Whether for watching the game or just need a quick bite, our tasty rolls will satisfy your cravings.
What is Pizza roll?
Pizza roll is a type of snack food that typically consists of a small, round piece of bread or dough or even puff pastry that is filled with tomato sauce, cheese, and other pizza toppings such as pepperoni, sausage, or vegetables. Basically, the difference lies in the filling is then rolled up and baked or deep-fried until crispy. Pizza rolls are often served as an appetizer or a quick and easy snack.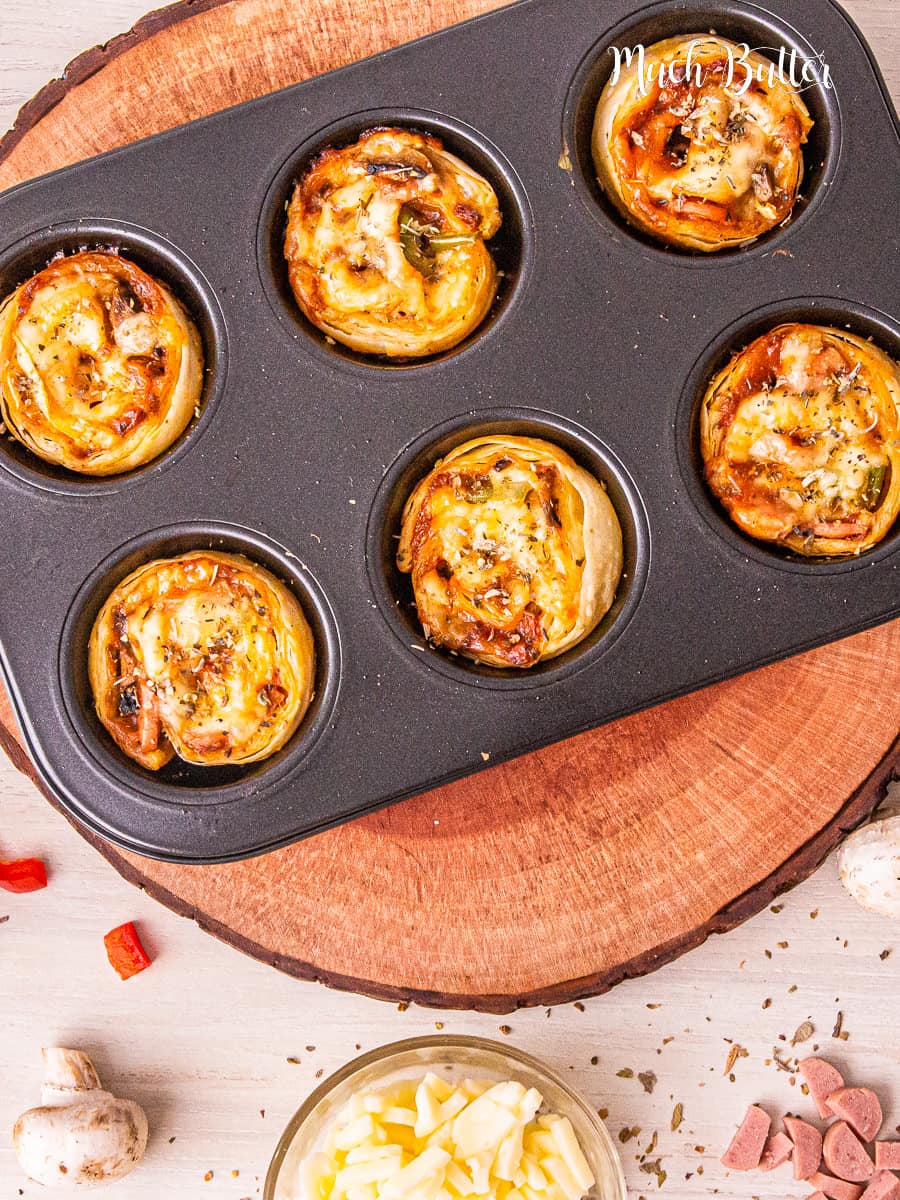 Why do we need to make pizza roll?
Before we go thru the recipes, here I would like to convince you some of good reasons why we need to make this simple and mouthwatering snack of pizza rolls;
First, quick and easy. Pizza rolls are relatively quick and easy to make, especially if you use pre-made dough and store-bought toppings.
Second, portable. This snack is a great snack for on-the-go or for taking to parties or gatherings. They are small and easy to carry and can be eaten with your hands.
Third, customizable. You can customize your pizza rolls with your favorite toppings, such as pepperoni, sausage, mushrooms, peppers, onions, and more. You can also vary the cheese or sauce to suit your taste.
Next, it is Kid-friendly because Kids often love pizza rolls, and they can be a fun and easy way to get them involved in cooking or preparing food.
Lastly, of course, Crowd-pleaser: Pizza rolls are a popular snack or appetizer that are sure to be a hit at parties, game nights, or other social events. They are easy to share and can be enjoyed by people of all ages, young or old.
Well, I think it is an irresistible snack we can't avoid with this pizza roll. Making pizza rolls at home is a fun and creative way to enjoy your favorite pizza flavors in a bite-sized form. Here's how to make them:
Ingredients of Pizza Roll
Puff Pastry– it is a Fundamental dough for making pizza roll.
The sauces- here I use Tomato Sauce, Bolognese Sauce and Italian Herbs
The condiments I use (you can add whatever you like) are Green Bell Pepper, Onion, Champignon Mushroom, and Sausage. In my personal opinion, I think every pizza should have sausage lol, sausage and pizza perfect duo and inseparable 😝
For topping and creamy texture with Mozzarella Cheese
How To Make Pizza Roll
To begin making your delicious pizza rolls, preheat your oven to 356°F (180°C). and line a baking sheet with parchment paper. This will prevent the pizza rolls from sticking to the sheet and make cleanup easier. This will ensure that your rolls cook evenly and turn out perfectly.
Next, start by slicing your mushroom, sausage, green bell pepper, and onion into small pieces. Then, set them aside, so that you can easily add them to your rolls later.
Once your ingredients are ready, mix the tomato sauce, bolognese sauce, and Italian herbs together until well combined. This will create a delicious and flavorful sauce that will infuse your rolls with rich and savory flavors.
Let's bake the Pizza
Now it's time to assemble your pizza rolls! Spread the tomato sauce evenly over the dough, leaving a small border around the edges. You can use a spoon or a spatula to spread the sauce. Be sure not to use too much sauce, as this can make the pizza rolls soggy.
Then, add your sausage slices, mushroom, green bell pepper, and onion to the top of the sauce. Sprinkle mozzarella cheese on top of the vegetables, which will melt and create a gooey, cheesy filling.
To roll your pizza rolls, start from one end and carefully roll the pastry into a log, making sure to seal the edges well. Cut the log into several pieces of equal size, then place them into a baking cup or sheet. This will ensure that the rolls keep their shape and bake evenly.
Next, bake your pizza rolls in the preheated oven for 30 minutes, or until they are golden brown and crispy on the outside. This will create a delicious and crispy crust that will contrast perfectly with the gooey, cheesy filling.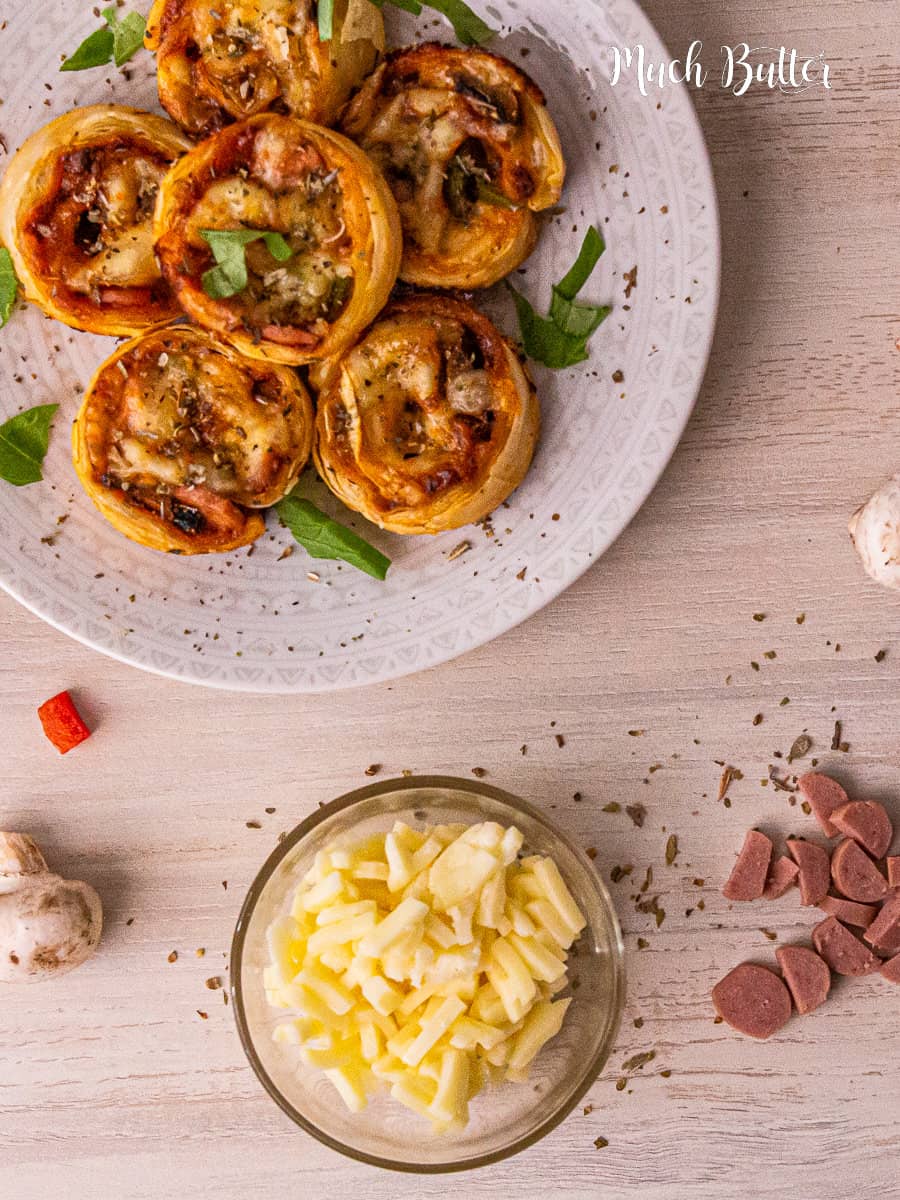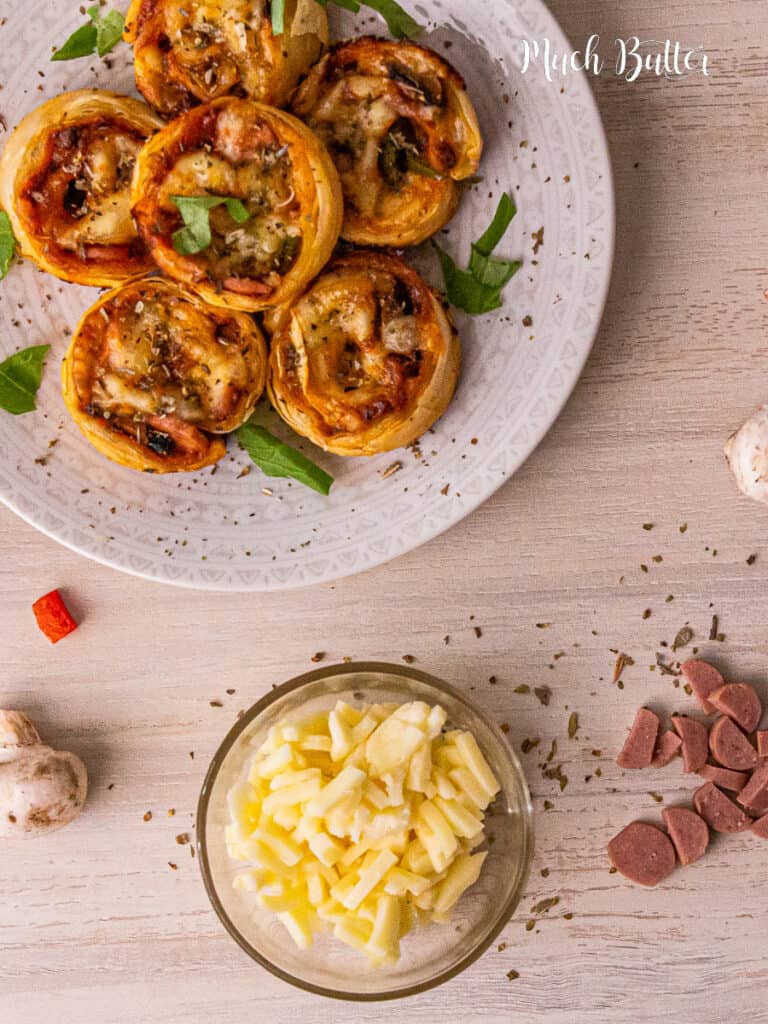 Enjoy your Pizza Roll
Finally, When your pizza rolls are finished baking, remove your pizza rolls from the oven and let them cool for a few minutes before enjoying them. This will give the rolls time to set and become firmer. Serve them as a delicious and savory snack or appetizer, and savor the delicious flavors and textures of your homemade pizza rolls!
Enjoy them as a tasty snack or appetizer with your favorite dipping sauce.
Here we go! sit back, relax, and enjoy your delicious easy, and quick homemade pizza rolls as snacks or appetizers!
Look at the picture below, they look similar in shape, I've made Spinach and egg Muffins for breakfast, you might be interested;
If you enjoy or recook this recipe,
Let me know your result by uploading pictures and tagging us on Instagram at Much Butter and Pinterest. Do not forget to see and follow our new Tiktok Account.
For cooking videos, check out and subscribe to our Youtube page. you can join our email for the latest idea menus.
CHECK OTHER SNACKS RECIPE IDEAS:
Thank you, your supports are so much appreciated 💕
Written by Silni Asfia
Pizza Roll
Ingredients
22×22

cm

Puff Pastry

2

tbsp

Tomato Sauce

5

tbsp

Bolognese Sauce

1

tsp

Italian Herbs

½

Green Bell Pepper

½

Onion

1

cup

Champignon Mushroom

4

Sausage

1

cup

Mozzarella Cheese
Instructions
Preheat oven to 356°F (180°C).

Slice mushroom, sausage, green bell pepper, and onion into pieces. Set aside.

Mix the tomato sauce, bolognese sauce, and italian herbs together until well combined.

Spread the sauce mixture over the entire surface of the puff pastry, then add sausage slice, mushroom, green bell pepper, and onion. Sprinkle mozzarella cheese on top, then roll the pastry.

Cut into several pieces, then place them into a baking cup and bake for 30 minutes.