Have banana but bored with the taste and want try something new? You can try make banana nugget. Banana Nugget?! Absolutely yes! Banana nugget is one of the snacks that viral sometimes ago in Indonesia. Crunchy on the outside but soft inside and poured over with melted flavoured white chocolate makes it even more delicious!
You can make the sauce according to your preference but our favorite is chocolate, green tea/matcha and cookie & cream.
Other people usually make banana nuggets that the inside are not 100% bananas, they mix bananas with flour and eggs. But since we want to make it more delicious, so we made it pure banana only.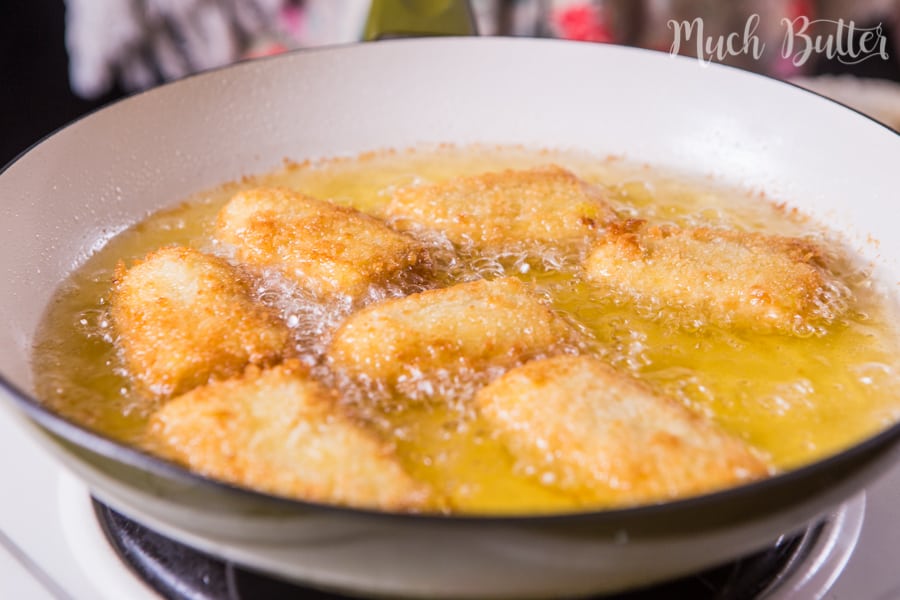 The outside is like savory foods, but when you cut it the inside is sweet caramelized banana. Yumm..
Serve it while it's warm. It will be more delicious when paired with milk.
Some tips from us for this banana nugget:
You can use any kind of banana, but we recommend you to use cavendish banana.
Don't use banana that are too ripe, because it will too mushy when you fry it.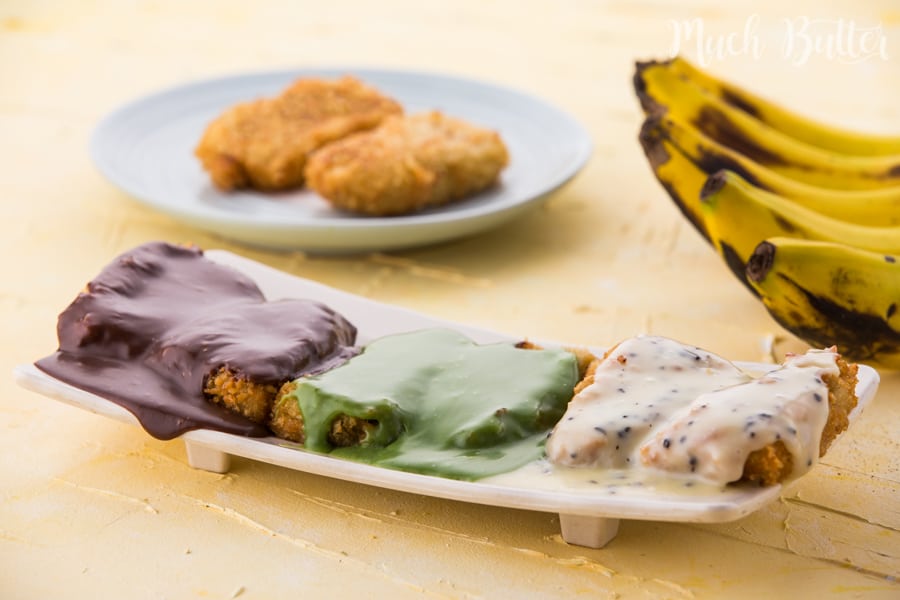 This recipe is worth to try, so we hope you try to make it and let us know in the comment.
WATCH THE VIDEO TUTORIAL HOW TO MAKE BANANA NUGGET
Banana Nugget with 3 Sweet Sauces
Ingredients
6

Bananas

Panko Breadcrumbs

3

tbsp

Flour

1

Egg White

200

g

White Chocolate

3

tbsp

Heavy Cream

2

tsp

Cocoa Powder

1/2

tsp

Matcha/Green Tea Powder

2

tsp

Crushed Oreo Cookies

Cooking Oil

Salt
Instructions
Put banana inside the transparent plastic bag.

Crush banana gently with meat pounder until the shape turn into rectangle then cut it into two parts.

Coat the banana respectively with flour, egg wash, and then breadcrumbs.

In a pan fry, heat the cooking oil over medium heat.

Fry the banana nugget until nice and golden.

After the banana nugget is cooked, rest it on a cooling rack to remove excess oil.

While the banana nugget is resting, make a sauce with 3 flavors.

In a bowl, bain marie white chocolate and heavy cream until all melted and combine.

Divide melt chocolate into 3 parts and each part mix with cocoa powder, matcha powder and crush oreo cookie until mix well.

Put the banana nugget into plate and pour the sauce on top of banana nugget.

Finish! Serve it while it's warm.