Chill out your day with the Fruit Frozen Yogurt Bark recipe – a harmonious blend of Greek yogurt and Irresistible vibrant fruity toppings. Try this guilt-free dessert sensation that's perfect for your cravings. some fruity goodness awaits!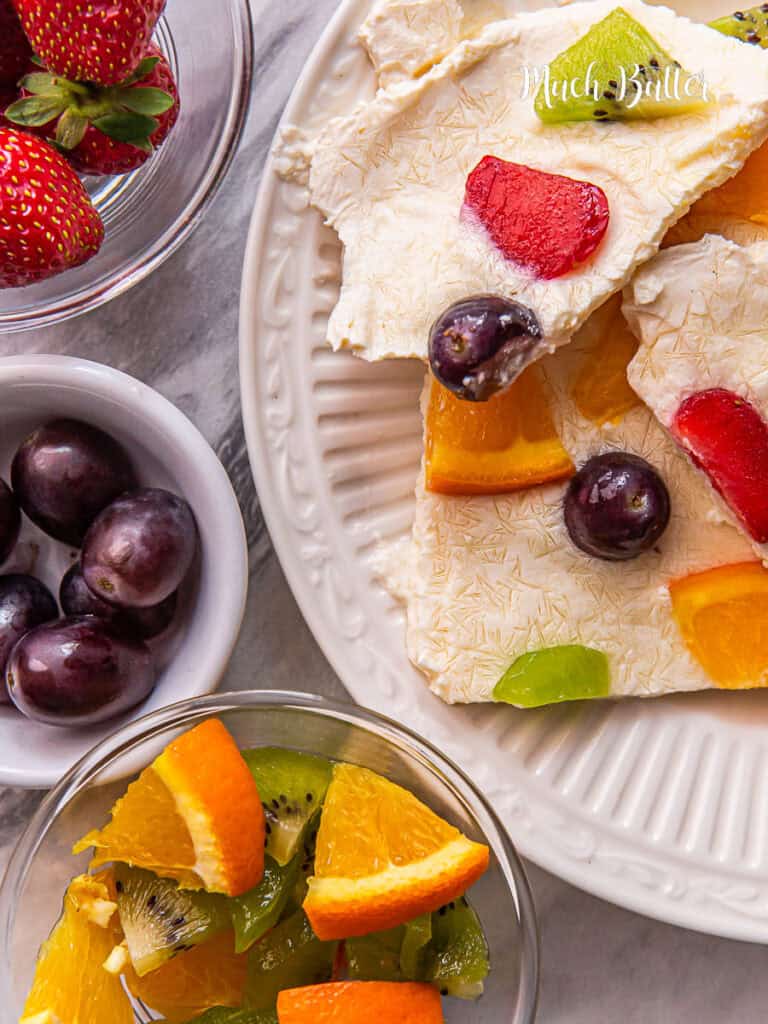 If you're looking for more healthy, dietary summer snacks, you've come to the right place! Fruit frozen yogurt bark is SO easy to make, super kid-friendly, and beyond delicious! Load it up with your favorite toppings for a summer treat that's both tasty and healthy. I use strawberry, kiwi, black grapes, and Sunkist here.
Why you should make this recipe
here, I give some reasons why you should make this recipe as soon as possible a.k.a right now!
Quick and Easy: In a world where we're always on the go, this yogurt bark takes just minutes to prep, and then the freezer does the rest.
Customizable: Whether you're all about those berries or looking to mix things up with different fruits and nuts, this recipe is your canvas. It's all about making it your own!
A Nutritious Bite: When those sweet cravings hit, it's this yogurt bark to the rescue. It's a dessert that gives us all those indulgent vibes without the guilt.
Perfect for Sharing: Whether it's a sunny afternoon treat for the kids or a midnight snack for yourself, this bark is made for sharing.
Kids friendly; this recipe is really kids-friendly or even adult friendly lol. Since my kid doesn't really like to eat raw fruits because need to peel the shell, eating this yogurt bark will be easier for your kids to eat, You can actually trick them into thinking they are eating ice cream, and also because of the pop color and refreshing taste. You can also cut the bark into custom sizes too.
Perfect Healthy Snack
This yummy frozen yogurt bark treat is so fast to whip up and is truly one of our favorite frozen treats. It is definitely best to use Greek yogurt because it is thicker and a lot higher in protein than regular yogurt. You can use different fruits and other toppings to make it however you and your kids like!
And the best part is, you can vary the topping as you like. We love the sweet and tangy combination of colorful colors and different tastes of sweet, I use strawberries, black grapes, kiwi, and Sunkist. But feel free to throw in some fruits when the season is right. You can even use fresh or frozen berries, depending on the availability.
The only tricky part about making this frozen yogurt bark is waiting until it sets, so don't dawdle and get started on the prep for this healthy snack right now! Berry and granola yogurt bliss awaits.
What Goes In Fruit Frozen Yogurt Bark
Greek yogurt; is the base of the frozen yogurt bark. It's a thicker and creamier yogurt compared to regular yogurt because it's strained to remove most of the whey. It's high in protein and has a tangy flavor. You can choose plain Greek yogurt or a flavored one, depending on your preference. You can also experiment with using flavored and sweetened yogurt!
Honey (optional); Honey is an optional sweetener that can be added to Greek yogurt. It enhances the flavor of the yogurt and the overall sweetness of the bark. You can adjust the amount of honey to your taste. you can skip the honey or use less. You can also add some fresh lemon juice to add some freshness, but instead, I add orange Sunkist for this.
Fruits; fruits serve as the primary toppings for your frozen yogurt bark. You can choose a variety of fruits to create a colorful and flavorful combination. Adding colorful fresh fruits to your frozen yogurt bark really makes it pop! Here's what each fruit brings to the recipe:
Strawberries: Provide a sweet and slightly tart flavor with a vibrant red color.
Kiwi: Offers a refreshing and slightly tangy taste. It's also known for its bright green color.
Black Grapes: Add a juicy and sweet element to the mix. They are typically dark purple or black in color. I love black grapes because it sweeter than regular purple grapes.
Sunkist Orange: Sunkist oranges are known for their citrusy, sweet, and slightly tangy flavor. They bring a sunny orange color to the bark.
Other Topping Variations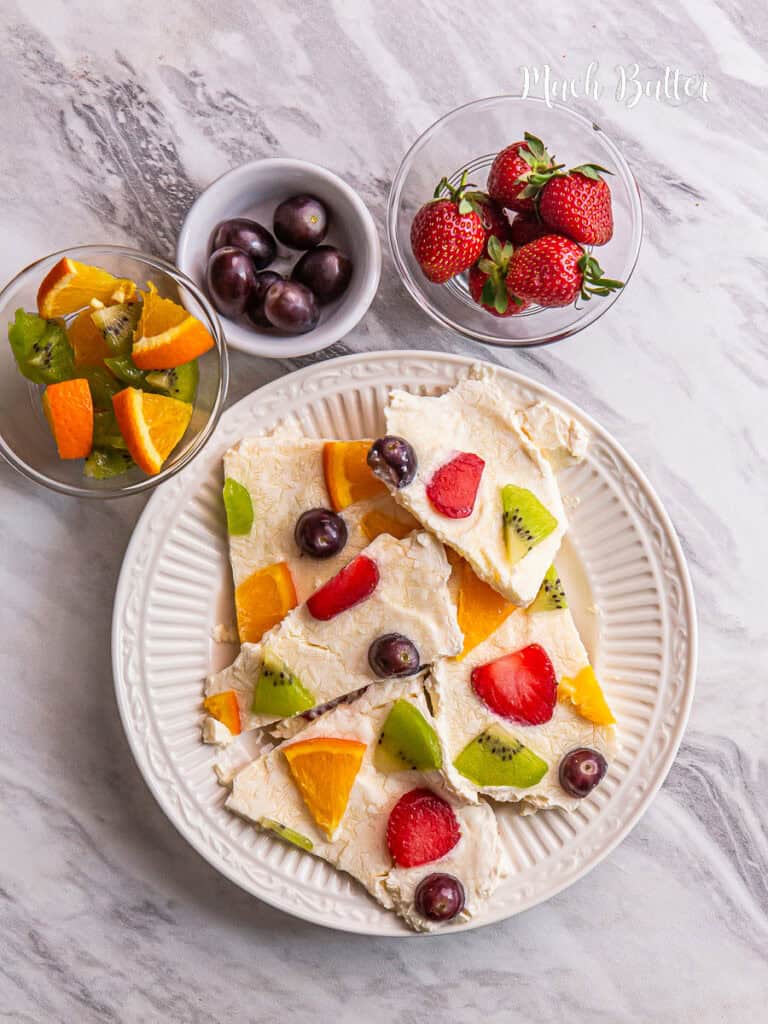 For other toppings alternative; To make this Greek yogurt bark slightly savory and salty, top it with any nuts you prefer or have on hand. Or, toss in your favorite granola, unsweetened coconut flakes, or even chia seeds to add some extra crunch! For an extra indulgent chocolate bark, sprinkle on your favorite chocolate chips and a thin swirl of peanut butter. you can also add some nuts and granola, feel free to add as much as topping you love, there is no term and conditions for the topping of fruit frozen yogurt bark.
How to Make Fruit Frozen Yogurt Bark
To make this Fruit Frozen Yogurt bark, all you need to do are;
1. Prep the baking Sheet
To begin, prepare a baking sheet by lining it with parchment paper. This will prevent the frozen yogurt bark from sticking and make it easier to handle once it's frozen. Set the prepared baking sheet aside for now
2. Spread the yogurt
Next, take a mixing bowl and combine the Greek yogurt with honey. Stir the mixture until the yogurt and honey are thoroughly incorporated.
Once the yogurt and honey are well mixed, it's time to transfer this sweetened yogurt mixture onto the prepared baking sheet. Use a rubber spatula to spread the mixture evenly across the parchment paper. This step will create a smooth, creamy base for your frozen yogurt bark.
3. Add your toppings
Now, it's time to add the colorful, sliced fruits to your yogurt base. Scatter the strawberry, kiwi, black grape, and Sunkist slices on top. These fruits will not only add a burst of flavor but also provide a visually appealing contrast to the creamy yogurt.
4. Freeze and cut the bark
After adding the fruits, place the baking sheet in the freezer and allow it to freeze for a minimum of 3 hours. This freezing time is crucial to set the yogurt and fruits into a bark-like consistency.
When the freezing period finish, your yogurt bark should be firm and ready to enjoy. Take the baking sheet out of the freezer and carefully remove the frozen yogurt bark. You can then cut or break it into your desired serving pieces. The end result will be a delightful and refreshing treat.
Serve immediately. Enjoy!
For the best taste and texture, serve your fruit frozen yogurt bark right away. It can be a bit hard when it comes out of the freezer, so letting it sit at room temperature for a minute or two will help soften it slightly before serving. Enjoy this healthy and customizable dessert!
Recipe Notes;
The reason for iciness in frozen desserts is due to water content. Well, turns out my yogurt bark is icy. every natural product that is in the slightest bit, wet, has water in it – be it milk, cream, vegetables, or even meat, or in our case, yogurt. Choosing Fruits turnout affected the ice of yogurt bark
Use full-fat yogurt. Using yogurt with full fat means that the texture will be less likely to get icy when frozen. It will also have a better taste that's more creamy.
Line your baking sheet. This will help to remove the bark easily from the tray, if you don't line it, the yogurt will freeze to it and it will be really tough to remove. Use parchment or wax paper to line the entire surface of your sheet pan.
Allow time for the bark to set. It will take around 3 hours for the bark to fully set in the freezer. Make it the night before to enjoy the next day.
SINCE YOU LOVE THIS RECIPE, YOU'LL LOVE OTHER COLORFUL FRUIT RECIPES;
Don't forget to try this recipe, let me know if this recipe works and be your favorite menu to cook. You can save this recipe with sign-up for my email list! Please leave a star rating and a review in the comment section further down the page.
Also, you can follow our Pinterest, and Instagram, and our Youtube channel for the up-to-date menu. See you on the other menu recipe!