Crave-worthy Halal Breakfast Poutine recipe: Crispy fries, savory beef bacon, eggs, and cheese sauce. A delicious morning fusion. we change to the halal version, it's safe for people who do not consume pork. Perfect food for sharing, Try it now!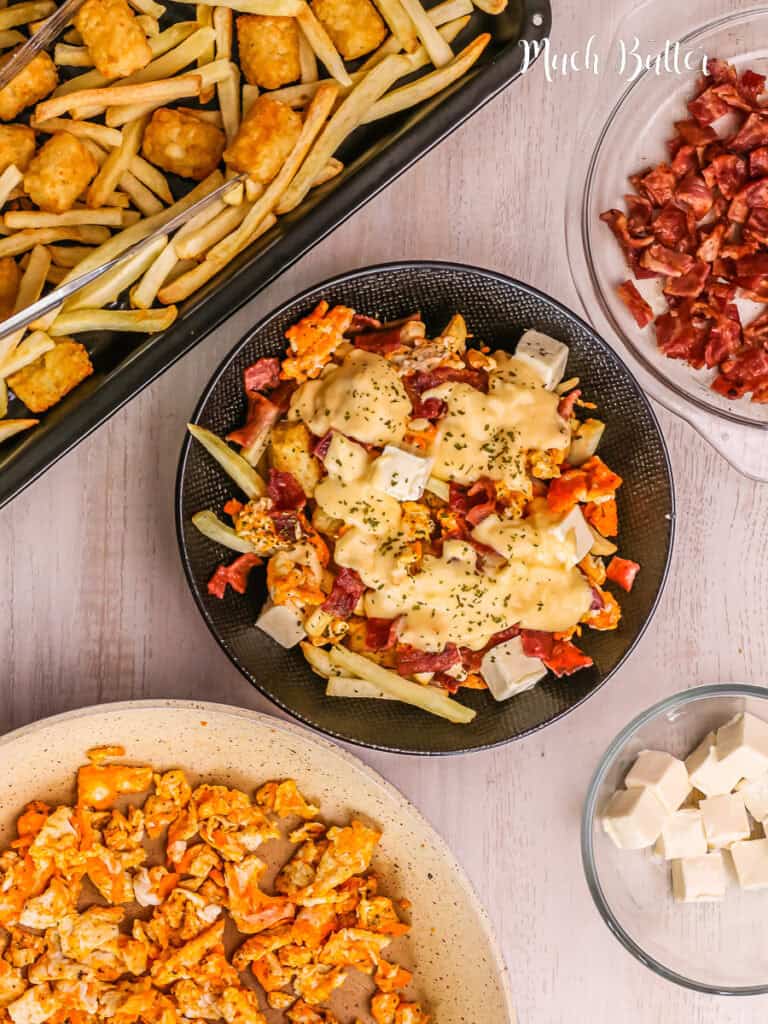 What is Poutine?
Have you ever tried poutine?
It's this wonderful Canadian dish that hails from Quebec, Canada. So, It's basically a simple and oh-so-comforting meal made up of three yummy things: French fries, cheese curds, and gravy.
This wonderful Canadian dish originates from rural Quebec, way back in the late 1950s or early 1960s. Actually, there are some debates about its exact origin, but the rumors say that a cool restaurant owner named Fernand Lachance in Warwick, Quebec, came up with the idea when a customer asked him to add cheese curds to their fries. He playfully said "ça va faire une maudite poutine" ("That's going to make a damn mess"), and voilà, poutine was born!
Over time, poutine stole hearts and taste buds all over Quebec, and it didn't stop there. This tasty treat quickly became a big hit all across Canada and even reached food lovers worldwide! In fact, It's like the ultimate comfort food and a must-try dish when you visit Canada.
So, if you ever get a chance, give poutine a whirl. Trust me, your taste buds will thank you! It's like a warm hug on a plate and a delicious way to experience a piece of Canadian culture. Enjoy! 😊
Some Modifications for Halal Breakfast Poutine
Speaking to the devil, we have known that Poutine is made of three main components:
French Fries: Thick-cut, crispy, and golden fries serve as the base of the dish.
Cheese Curds: Fresh cheese curds, usually made from cheddar cheese, are sprinkled over the fries. Additionally, the curds should be firm but still slightly soft, providing a unique texture to the dish.
Gravy: Pour hot and savory gravy over the fries and cheese curds. Typically made from beef or chicken stock and mixed with seasonings, it gently melts the cheese curds, creating a delicious and messy combination of flavors.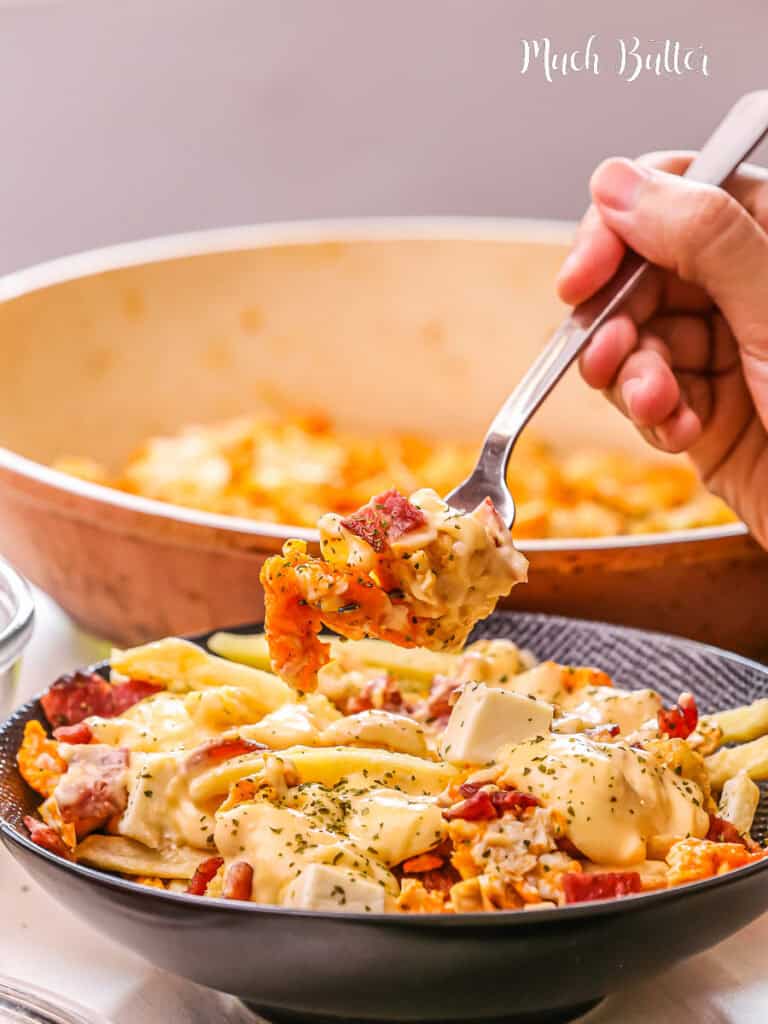 These three simple ingredients come together to form the classic Canadian dish known as poutine, which is beloved for its hearty and indulgent taste. Additionally, various versions of poutine exist, with different toppings and sauces, offering a wide range of delightful variations.
So, as I was making some modifications to this recipe, I thought of preparing the cheese sauce from scratch using starch, which would give it that perfect creamy texture. Additionally, I made sure to find halal substitutes for the ingredients.
Moreover, in my country, cheese curds are not easily available, so I decided to improvise by using cube-sized pieces of cheese, which still provide that delightful cheesy taste.
And here's the final twist: I chose not to go with the traditional gravy for the poutine. Instead, I found that the cheese sauce I made covered everything perfectly, it also giving the dish a rich, creamy, and satisfying taste.
Now, let's dive into the ingredients and embark on creating this wonderful halal breakfast poutine with cheese sauce!
Ingredients of Halal Breakfast Poutine
Breakfast Poutine
French Fries and Tater Tots; First of all, These are the foundation of the dish and are made from freshly cut and fried potatoes, resulting in crispy and golden fries. providing a starchy, crispy, and flavorful element. They add texture and act as a vessel to hold the other ingredients, adding texture and substance to the poutine.
Beef Bacon; I change the bacon to beef bacon, Beef bacon serves as a savory and smoky topping, adding a rich and meaty flavor to the poutine.
Egg; As for topping, I make the egg scramble not a sunny side up, since I make breakfast poutine in large and sharing portions. Feel free to make sunny side up or anything you want with your eggs
Unsalted Butter; I use unsalted butter to reduce the sodium
Cheese Curds; Cheese curds are a traditional element in poutine, providing a unique texture and a mild, slightly tangy taste. Since I couldn't find it here, I change to cube cheese, the taste is slightly the same.
Salt and Black Pepper; enhancing the flavor and providing a balanced taste to the dish.
Cheese Sauce
In this version, the gravy is replaced with a rich and creamy cheese sauce made from Halal cheddar cheese, milk, and seasonings. The cheese sauce is poured over the fries and toppings. For detailed ingredients are;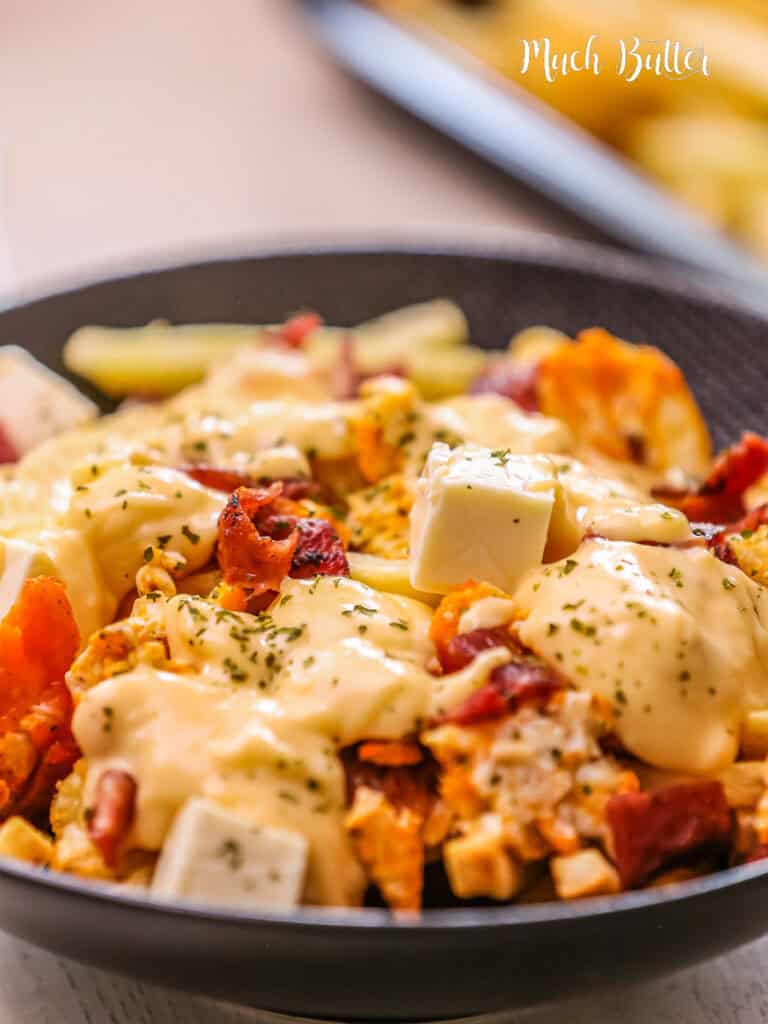 Milk; combines with flour and butter to create a creamy and pourable sauce.
Cheddar Cheese; Cheddar cheese is the star ingredient of the cheese sauce, providing a rich, cheesy flavor and a velvety texture when melted.
Unsalted Butter Butter is the base of the cheese sauce and contributes richness and a smooth texture to the sauce.
All-purpose Flour; Flour acts as a thickening agent in the cheese sauce, helping to achieve a smooth and velvety consistency.
Egg Yolk; The egg yolk is an optional ingredient in some cheese sauce recipes. It can add richness and deeper yellow color to the sauce.
Parmesan Cheese; contributes a nutty and salty flavor to the sauce.
Nutmeg Powder; adds a warm and aromatic note to the cheese sauce, enhancing its overall flavor profile.
Salt; enhances the flavor
The Halal Breakfast Poutine with Cheese Sauce is a delightful fusion of Canadian and breakfast flavors, making it a unique and satisfying dish to enjoy for any meal of the day.
Let's Make Halal Breakfast Poutine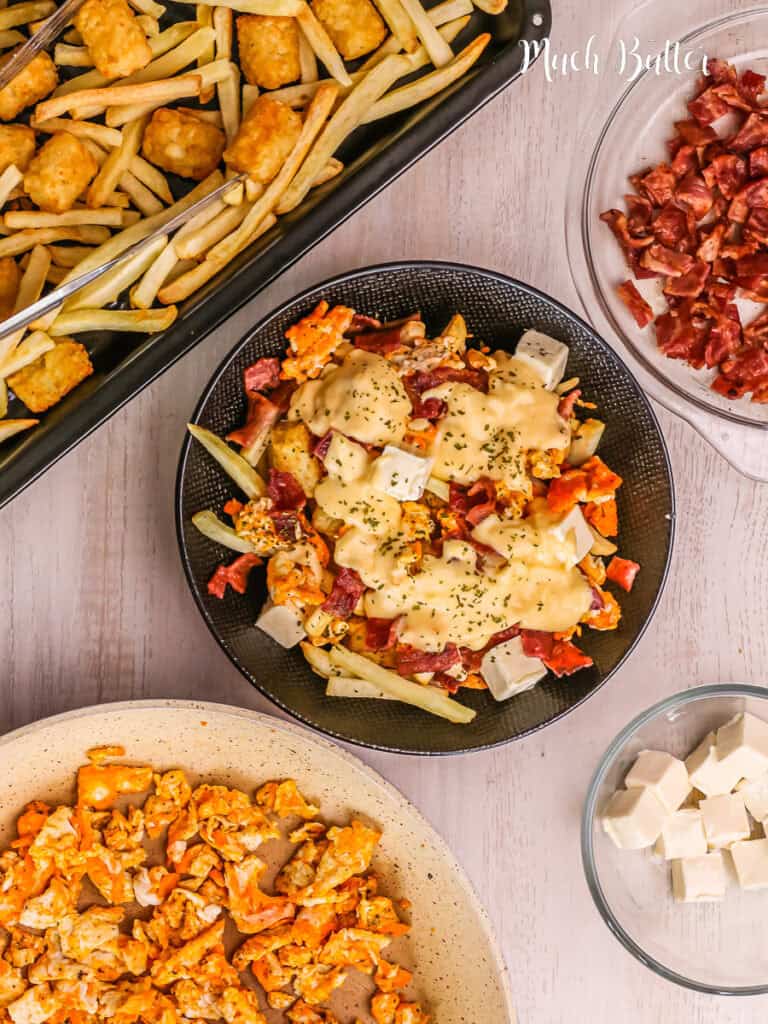 Cheese Sauce
Let's prepare for the cheese sauce first.
To begin, In a pan, melt the unsalted butter over medium heat. Once the butter has melted completely, add the all-purpose flour, and stir continuously until the mixture is well combined and thickens. This will create a roux, the base of the sauce.
Next, While stirring the roux, gradually pour small batches of the milk into the saucepan to ensure there are no lumps. Keep Stirring continuously to achieve a smooth consistency. Once the butter melts completely, add the all-purpose flour and stir continuously until you achieve a well-combined and thickened mixture.
And then, after the sauce is free from lumps and has thickened to a creamy consistency, it's time to add the flavorful components. Next, toss in the shredded cheddar cheese, egg yolks, parmesan cheese, nutmeg powder, salt, and black pepper.
Stir gently to incorporate these delicious ingredients into the sauce, infusing it with richness and enticing aromas. Lastly, set the cheese sauce aside to keep it warm.
Breakfast Poutine
To prepare the delightful Breakfast Poutine, begin by preheating the oven to 425℉ (220°C). Next, spread the French fries and tater tots evenly on a sheet pan, and then bake them for approximately 30 minutes until they turn golden and achieve a crispy texture.
Meanwhile, heat a nonstick pan over medium heat, and melt the unsalted butter. Next, Once the butter has melted, fry the beef bacon until it's cooked to perfection, emitting its savory aroma. After the bacon is ready, carefully remove it from the pan and set it aside momentarily.
Next, Without washing the pan, proceed to cook the egg, gently scrambling it to create fluffy and sumptuous bites. Season the scrambled egg with a pinch of salt and a dash of black pepper, enhancing its taste and aroma. Stirring it with a rubber spatula, ensure that every bit is cooked to perfection.
Yeay! your poutine is ready now, let's make everything together
Now it's time to assemble everything!
To assemble this scrumptious poutine, gather the baked French fries and tater tots on a large serving dish. Now, add the delightful mixture of scrambled egg and the delectably cooked beef bacon on top of the fries and tots.
Next, carefully sprinkle the cheese curds over the bed of fries, tots, egg, and beef bacon, and drizzle this velvety goodness over the poutine, ensuring that every part of the dish receives its creamy embrace.
Finally, to add a burst of color and freshness, garnish the poutine with thinly sliced green onions or parsley to brighten up the presentation.
Now, enjoy your Halal Breakfast Poutine with cheese sauce!
Last thing, serve immediately while it's still piping hot, and savor the wonderful medley of flavors in this delightful breakfast or brunch treat!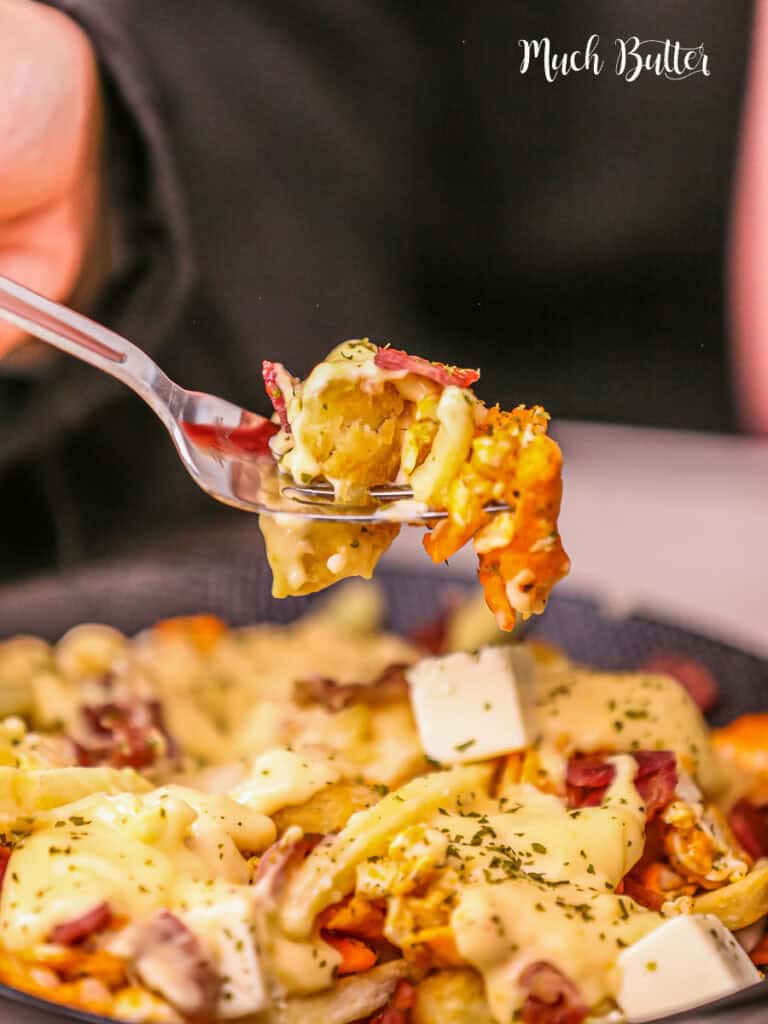 More Breakfast Option Ideas For You;
Sharing is a sign of love
If you enjoy or recook this recipe,
Let me know your result by uploading pictures and tagging us on Instagram at Much Butter and Pinterest. Do not forget to see and follow our new Tiktok Account.
For cooking videos, check out and subscribe to our Youtube page. Furthermore, Feel free to join our email for the latest ideas menu
Lastly, thank you, your supports are so much appreciated💕
Written by: Silni Asfia
Halal Breakfast Poutine with Cheese Sauce
Ingredients
Breakfast Poutine
1

lb

French Fries

1

lb

Tater Tots

6

slice

Beef Bacon

4

Egg

1

tbsp

Unsalted Butter

½

cup

Cheese Curds

½

tsp

Salt

¼

tsp

Black Pepper
Cheese Sauce
2

cup

Milk

½

cup

Cheddar Cheese

¼

cup

Unsalted Butter

¼

cup

All-purpose Flour

1

Egg Yolk

¼

cup

Parmesan Cheese

Nutmeg Powder

¼

tsp

Salt
Instructions
Cheese Sauce
In a pan, melt butter over medium heat. After melted, add the flour and stir until mix well and thickens.

While stirring, pour small batches of the milk so there is no lump on the saucepan. Once blended, add the remaining milk in increments, mixing well after each addition, until all the milk is used and sauce is free from lumps.

Once the sauce is free from lumps, add in and mix cheddar cheese, egg yolks, parmesan cheese, nutmeg powder, salt, and pepper. Set aside.
Breakfast Poutin
Spread french fries and tater tots on a sheet pan, then bake for 30 minutes until french fires and tater tots are crisp.

Heat a nonstick pan over medium heat, melt butter and fry the bacon until cooked. Remove from the pan and using the same nonstick pan, cook egg and season it with salt and black pepper, then stir it with rubber spatula.

To serve, toss french fries, tater tots, scramble egg, bacon, and cheese curds. Drizzle it with cheese sauce and garnish it with green onion and serve immediately. Enjoy!