Rainbow fruit popsicles are great sweet dessert for the hot weather. You can taste a lot of fruit varieties in one stick. It's also great for healthy children snack.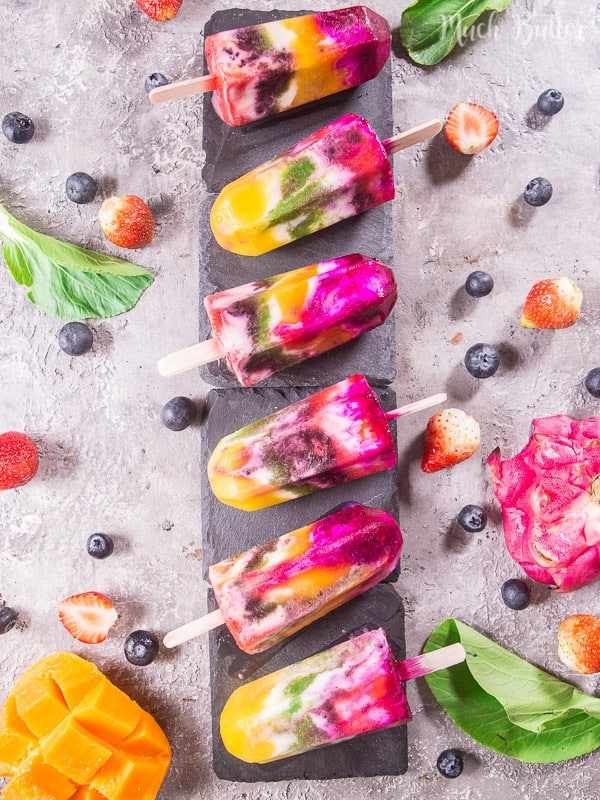 Lately, I have been craving for something refreshing because the weather is very hot, especially when I am outside.
When I went to supermarket, I saw a popsicles, but in supermarket popsicles mostly only have one or two flavors. Then, I thought it will be more satisfying if I make popsicle by myself with some flavors in one popsicle.
To make it even more tempting, I made it based on the color of the rainbow.
In this rainbow fruit popsicles, for the color of red, I used strawberry. Mango for orange, pineapple for yellow, bokcoy and pineapple for green, blueberry for purple and dragonfruit for magenta.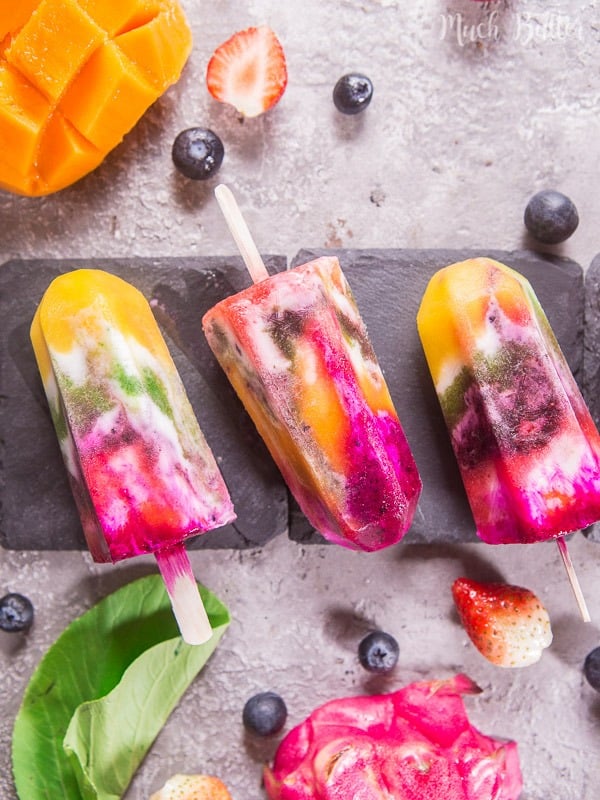 I used yogurt to the rainbow fruit popsicles for a softer texture. For every color, I add a little bit of powder sugar to make it not too sour. Since I can't find blue fruit, so I change it with magenta instead.
For you who find bokcoy will might taste strange, don't worry because this rainbow fruit popsicles, I mix it with pineapple, so it will taste just right.
I personally like bokcoy with pineapple more than just a pineapple. If you want to make it more sour, you can add lemon.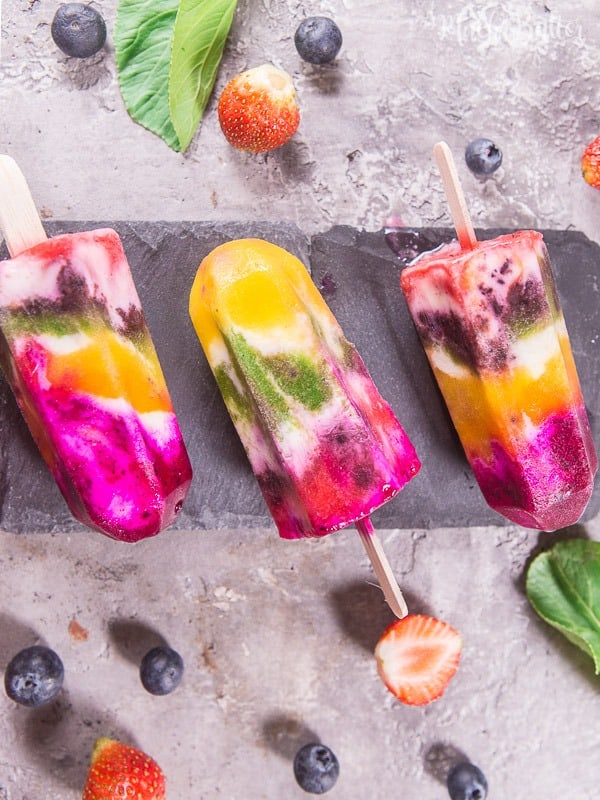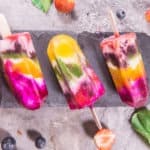 Rainbow Fruit Popsicles
Ingredients
For Red
60

g

Strawberry

2

tsp

Powder sugar

1

tbsp

Water
For Yellow
60

g

Pineapple

2

tsp

Powder sugar

1

tbsp

Water
For Purple
60

g

Blueberry

2

tsp

Powder sugar

1

tbsp

Water
For Green
20

g

Bokcoy

40

g

Pineapple

2

tsp

Powder sugar

1

tbsp

Water
For Orange
60

g

Mango

2

tsp

Powder sugar

1

tbsp

Water
For Magenta
60

g

Dragon fruit

2

tsp

Powder sugar

1

tbsp

Water
For White
250

g

Yogurt

2

tbsp

Powder sugar
Instructions
Blend each fruit with a little bit of water with blender until smooth, then mix it with powder sugar. Set aside.

Mix yogurt with powder sugar until evenly distributed.

Carefully pour one tablespoon for each color according to the color of rainbow and one tablespoon yogurt in between every color into the popsicle mold.

To make the gradation look natural, carefully slide popsicle stick from the side from top to bottom then slide it slightly to the side then pull up.

Place popsicle stick in the center.

Freeze popsicle for 6 hours or overnight.

To take out the popsicle from the mold, keep at room temperature for a few minutes.

Enjoy. May your summer be refreshing!
You may also like these cool desserts for summer: