Our best spaghetti bolognese sauce is effortless and a true Italian classic with a meaty, chilli sauce. It's a homemade sauce with beef, herbs, spices, and seasonings that is both filling and comforting. Learn how to make the best spaghetti bolognese sauce that sure to become a fav!
My favorite Bolognese sauce
Who doesn't love pasta with homemade meat sauce? It's got a special taste of home that you just can't get from a jar, homemade is always best!
This is my happy place. Making a delicious Authentic Spaghetti Bolognese Sauce or Ragu alla Bolognese from fresh ingredients with low and slow cooking. Step into a culinary journey with this recipe, a dish that's more than just a meal – it's a memory.
What is Bolognese Sauce?
A traditional bolognese sauce made in the northern city of Bologna, Italy is served with broad, flat noodles such as tagliatelle, pappardelle or fettuccine. Another popular way to prepare it is lasagna bolognese. The thinking is that the thick sauce blends better with wider-shaped pasta.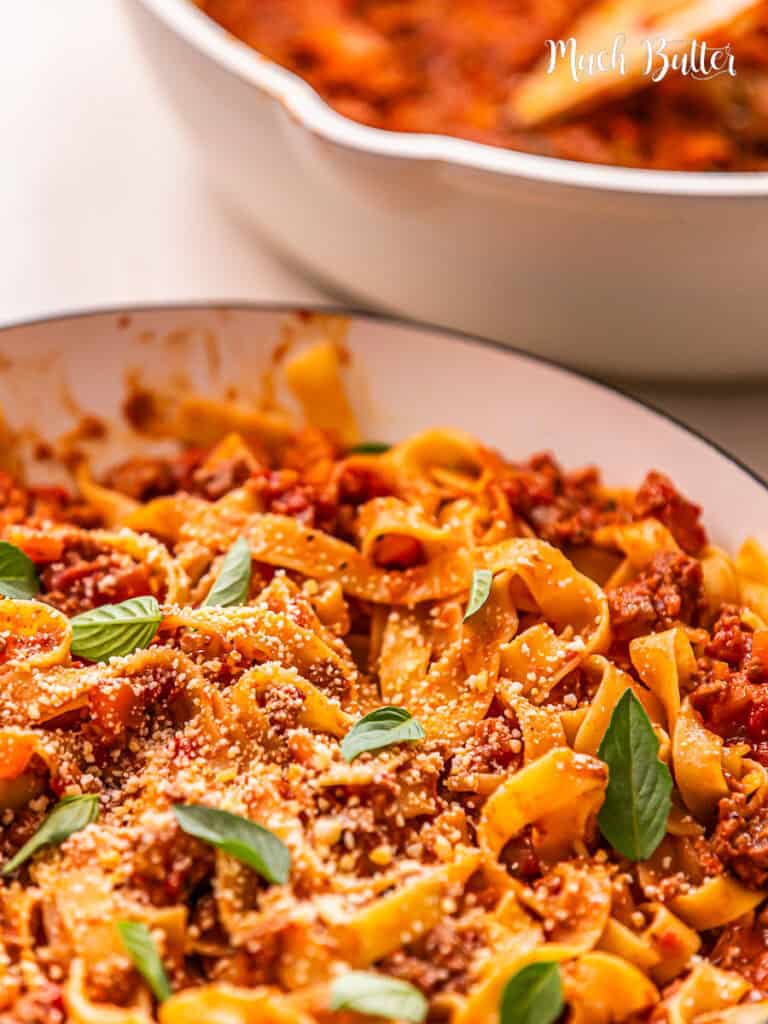 How About Spaghetti Bolognese vs. Spaghetti Sauce?
So, what makes Bolognese different than a typical spaghetti sauce? While both are tomato sauces with garlic and onion, bolognese also includes the addition of celery and carrot plus a little bit of milk. It may sound unusual, but these ingredients add a distinct flavor, a bit of richness, and some sweetness.
Spaghetti Bolognese is like a fancy cousin to regular spaghetti sauce. It's a type of ragu, which means it has ground beef, milk, tomatoes, and a bunch of tasty herbs and seasonings. It's known for its rich flavor and creamy texture.
Meanwhile, regular spaghetti sauce, also called marinara or tomato sauce, is more straightforward. It has onions, garlic, and some herbs and spices. It's delicious but doesn't have the same depth and creaminess as Bolognese sauce.
In short, Bolognese sauce is the Italian superstar with its unique mix of ingredients and flavors. It's a tasty twist on the classic spaghetti sauce. Enjoy exploring the delicious world of Bolognese!
Ingredients of Best Spaghetti Bolognese Sauce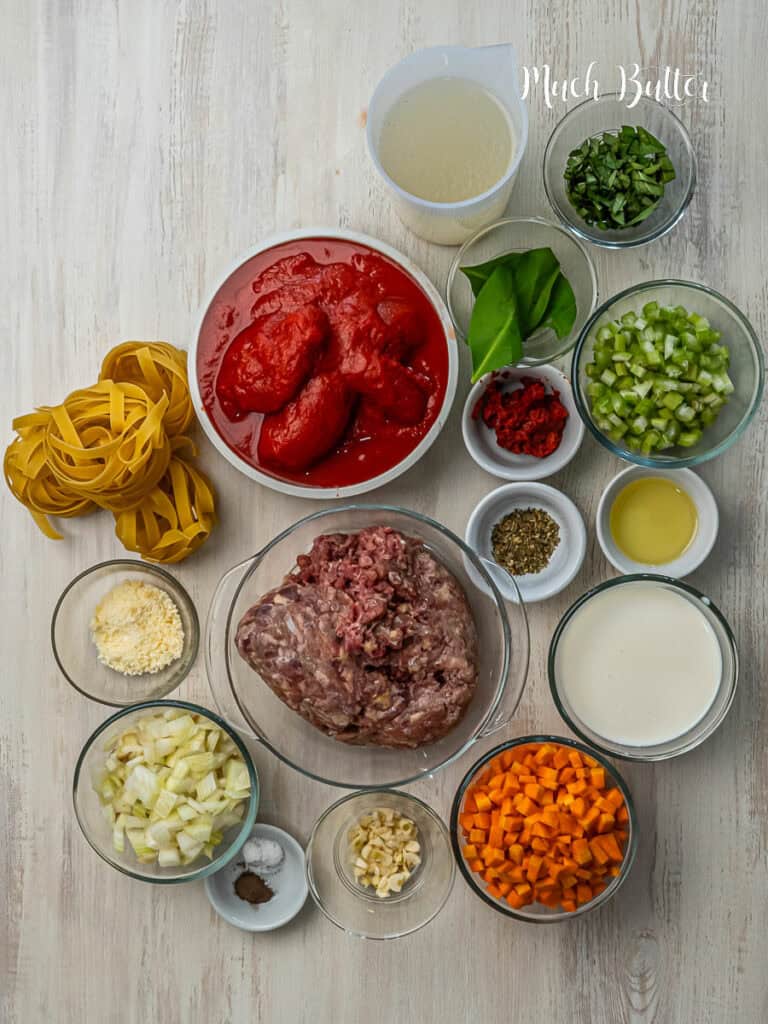 Olive Oil; : Olive oil is the cooking fat that forms the base of your sauce. It not only prevents the ingredients from sticking to the pan but also imparts a subtle richness to the dish.
Ground Beef; lean ground beef needs some fat to give flavor and keep it tender and moist. I suggest you with 80/20 ground beef!
Mirepoix consists of Onion, Carrot,Celery Stick :Many bolognese sauce recipes start with these. It's also known as a soffritto (onions, carrots, celery)
Garlic minced; This recipe calls for fresh cloves of garlic. If you don't have any, you can use minced garlic from your fridge.
Plum Tomatoes with juice; Whole Plum Tomatoes are best because they are picked and canned at perfect ripeness.
Tomato Paste; This helps to thicken the sauce.
Bay Leaves fresh
Basil finely chopped Freshness that brightens the meaty sauce. Fpr alternative, you can use Parsley or even spinach
Italian Seasoning, Salt and Black Pepper; to taste based on your preferred taste
Milk; This is an absolute must as this is what makes bolognese sauce so different!
Beef Broth; Used as a base, it will help combine all of the ingredients and add savory taste. Anyway, use chicken broth is okay too.
Tagliatelle Pasta; In Italy, Ragu Bolognese is traditionally serve with Tagliatelle. this is optional for making spaghetti pasta since It's spaghetti bolognese after all! We will talk more about how to cook pasta in a little bit, but any long shaped pasta, such as linguine or fettuccine, will work too. And of course, always cooked to al dente.
Parmesan Cheese for garnish, A final sprinkling of Parmesan cheese is all this traditional bolognese meal needs.
Let's Make Best Spaghetti Bolognese Sauce
Let's start with making the bolognese sauce.
First, begin by placing a large saucepan over medium-high heat. Allow it to heat up, and then pour in the olive oil. Let the oil heat for a moment, and then add the finely chopped onion, carrot, celery, and minced garlic. These aromatic ingredients form the foundation of the sauce's flavor. Cook them for approximately 10 minutes, stirring regularly. The goal is to soften them and bring out their natural sweetness.
Second, once the aromatics are soft, introduce the ground beef to the pan. Stir occasionally as the meat cooks, ensuring it's evenly browned. As the meat turns a rich, appetizing color, add the plum tomatoes and tomato paste to the mix. Also, toss in the fresh bay leaves, finely chopped basil, Italian seasoning, salt, and black pepper.
Next, it's time to bring more depth to the sauce. Add the beef stock and milk to the pan. Stir the mixture thoroughly to ensure all the flavors are well combined. Lower the heat to a gentle simmer, then cover the saucepan with a lid. Allow the sauce to simmer and meld together for approximately an hour. This slow simmering process will give the sauce its rich texture and harmonious taste. Remember to give it an occasional stir to prevent sticking and ensure even cooking.
your Bolognese sauce is ready, let them set aside first.
Make Spaghetti Bolognese
As the sauce simmers, here's how you consume the sauce with a spaghetti.
First thing first, bring a large pot of water to a rolling boil. Add a pinch of salt to the boiling water. Carefully add the tagliatelle pasta to the boiling water and cook it until it reaches the desired level of firmness, commonly referred to as "al dente." Once the pasta is cooked to your liking, drain it thoroughly.
Next, with the pasta drained, introduce it to the prepared Bolognese sauce. Gently stir the pasta into the sauce, creating a mouthwatering combination.
Lastly, before serving, sprinkle freshly grated Parmesan cheese over the plated pasta. The cheese adds a savory and tangy element that perfectly complements the Bolognese sauce.
Finally, your Best Spaghetti Bolognese sauce is ready to be savored. With every bite, you'll experience the depth of flavors and the delightful marriage of ingredients that make this dish a classic favorite.
STORING AND FREEZING BEST SPAGHETTI BOLOGNESE SAUCE
This sauce is great because it can be made ahead and stored or you can store or freeze any leftovers you may have! For storing, freezing and making ahead this Best Spaghetti Bolognese sauce, you can following these tips;
Storing: Store this in an airtight container and it will last in the fridge up to 4 days.
Freezing: Bolognese sauce freezes really well and is an excellent cook-ahead and freeze dinner idea. Once the sauce is fully cooled, place it in freezer-safe bags (flatten for quick defrosting) or containers, label (Don't forget to write the date on your container so that you know when you put it in the freezer!) and freeze for up to 3 months.
Reheat and Making a head: This is the easy part , you just take the sauce out and let it thaw in your fridge. Defrost in the fridge before reheating and serving with freshly-cooked pasta. Then, you can cook it on the stovetop or microwave, stirring every 20 seconds, until heated through!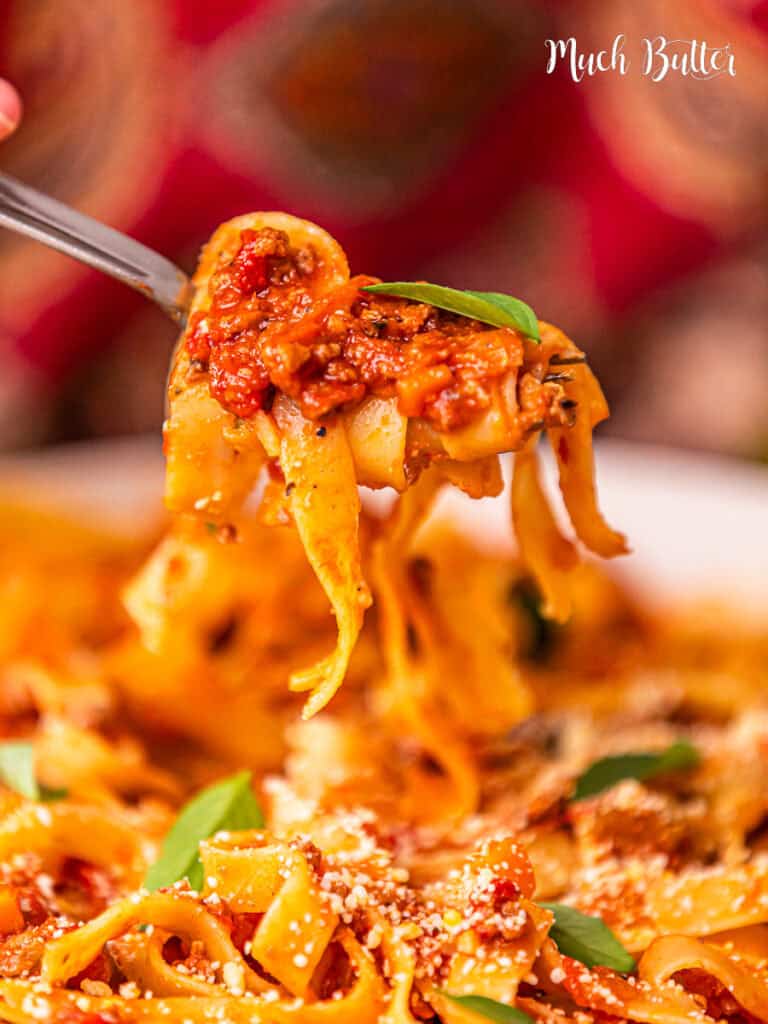 What to serve with this Spaghetti Bolognese sauce? There so many incredible things you can do with leftover bolognese sauce. I always use it for making leftover sauce topping for casserole, simple and delicious for a hurry and hungry time. Also you can stuff it in a pie or a burrito, toast it in a sandwich with some cheese, and you can use it in a lasagna. Do you have any other idea what to serve? Let me know friends.
Interested to cook this recipe?
Let me know your result by uploading pictures and tagging us on Instagram at much.butter and Pinterest. for cooking videos, check and subscribe to our Youtube page. you can join our email for the latest idea menus.
Thank you, your supports are so much appreciated 💕
SEE OTHER SPAGHETTI & PASTA MENU IDEAS: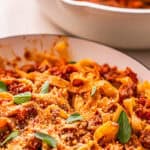 Best Spaghetti Bolognese Sauce
Cook Time
1
hour
30
minutes
Ingredients
2

tbsp

Olive Oil

1½

pound

Ground Beef

1

large

Onion

finely chopped

2

Carrot

finely chopped

2

Celery Stick

finely chopped

4

clove

Garlic

minced

28

ounce

Plum Tomatoes

with juice

2

tbsp

Tomato Paste

2

Bay Leaves

fresh

¼

cup

Basil

finely chopped

1

tsp

Italian Seasoning

2

tsp

Salt

or to taste

¼

tsp

Black Pepper

or to taste

2

cup

Beef Broth

1

cup

Milk

250

g

Tagliatelle Pasta

Parmesan Cheese

for garnish
Instructions
In a large saucepan, heat olive oil over medium-high heat. Cook chopped onion, carrot, celery and garlic for 10 minutes. Stir often until soften.

Add ground beef and stirring occasionally until the meat is browned all over. Add plum tomatoes, tomato paste, bay leaves, chopped basil, italian seasoning, salt, and black pepper. Breaking up the plum tomatoes and stir until just combined.

Add beef stock and milk, stir until well combine then reduce the heat to low. Cover it with lid and simmer for about 1 hour until the sauce is rich and thicken. Stirring occasionally.
Make Spaghetti Bolognese
In a large pot boiling salted water, cook tagliatelle pasta until al dente, drain well then stir into the bolognese sauce. Garnish with parmesan cheese before serving.