BTS BT21 Sugar Cookies is sugar cookies based on character made by members of famous KPop Group BTS (Bangtan Sonyeondan).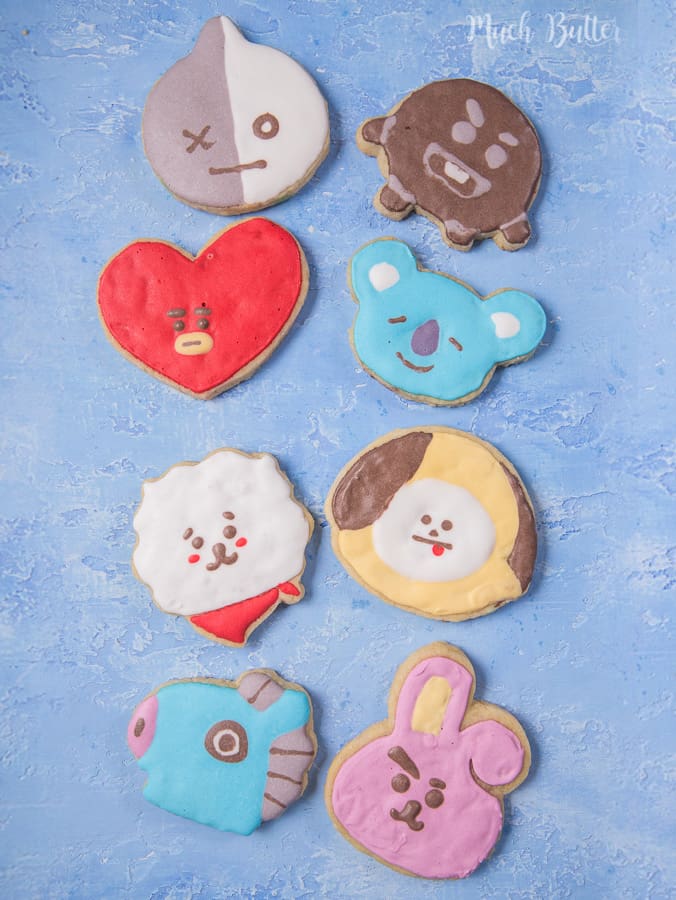 Before I tell you how to make this cookies, most of you must be wonder what is BT21. As a fan of BTS, I really want to make something related to them and glad that they made a characters that describe them and their relationship. BT21 is the first project of LINE FRIENDS CREATORS. They thought that it would be nice to have a sort of bond that would connect all seven friends, just like BTS.
It's new IP created with the collaboration of LINE FRIENDS and BTS (방탄소년단) Rather than simply creating avatars of the physical appearance of artists, BT21 consists of 8 different charming characters created by BTS (방탄소년단) members, where all of them actively participated in the whole process from drawing sketches to elaboration. BT21 means BTS and 21st century so this characters will last for 100 years hahaha, but don't you think these characters looks soooo cute.
Since BTS is the biggest Kpop band right now, everything that related to them will be happening. BT21 already has so many collaboration, like Reebok, VT cosmetics, Chocoolate, Olive young, CGV, Paris Baguette, Converse, Mediheal aaaand many more.
Each character has its own characteristics. If you love BTS, please make this BTS BT21 Sugar Cookies recipe.
1. TATA
TATA is made by V. V's real name is Kim Taehyung and TAETAE is one of his nickname, so he named his character TATA. He said that he used to draw this character all the time. TATA is an alien, his body can change into anything. From BT Planet, TATA was always curious about everything across the universe. During his journey with VAN, they fell down to Earth accidentally. There, TATA made up his mind to become a superstar and met 6 of the most charming members: RJ, CHIMMY, COOKY, MANG, SHOOKY, KOYA. This is the beginning of the future UNIVERSTAR BT21.
2. RJ
RJ is a kind alpaca that made by Jin. A lot of fan and he himself saying that Jin kind of look like an alpaca especially when he chew/eat something. Same with V, Jin have been drawing this character from 3 years ago. When he named this character, he want Jin in the name, so RJ is a combination of Jin and alpaca. R for alpaca (when he pronounce alpaca it's sounds like arpaca) and J for Jin. Kind and polite, the cutest while mumbling. Wears a parka because it gets cold easily.
3. CHIMMY
Chimmy is created by Jimin. Jimin made puppy character because he think animal that goes best with BTS is a puppy because they love to hang out and are active which naturally seems to remind people of puppie. When he made this character, Jungkook teased him by saying that chimmy reminded him of Jimin's father hahaha. Jimin said that Chimmy is chubby just like his face. Just like TATA, Chimmy's name is similar with one of Jimin's nickname, Chim-Chim. Born with passion and tries hard at everything just like Jimin. I accidentally make the ears for this BTS BT21 Sugar Cookies character mirrored from the original image.
4. COOKY
Cooky is created by Jungkook, among all the members, Jungkook is the best in drawing things. Everytime you see Jungkook, his face will remind you of a bunny so maybe that's the reason why he made a bunny characters. Just like Jungkook, Cooky is like to exercise and imagines that he transforms into a huge muscle man when he gets angry. Bunny with a twist who dreams of being strong.
5. MANG
J-Hope created this character. Mang is a masked dancing pony. The reason why J-Hope made horse character is because he think that many people don't like horse characters. He wanted to break that stereotype and I think he really break that because Mang is one of my favorite. Just like J-Hope's name, MANG means hope in korean which is hui-mang. MANG superpower is being a good dancer, While dancing, MANG is cooler than ever. And when he cry, he will crying through the nose.
6. SHOOKY
Haa……..whenever I see this I hope I can turn back time so that I can redo this BTS BT21 Sugar Cookies Character ???? ????. Shooky is cute but I made him so creepy. Even though Shooky is totally failed, let me introduce him. Shooky is created by SUGA. Shooky is a magic cookie with special powers and is scared of milk. The members jokingly said that Shooky is the old SUGA who used to be fresh hahaha (if you're their fan, you will know what it's mean). But for me SUGA and Shooky has the same laugh expression.
7. KOYA
Koya is a koala that created by RM. RM is the smartest member with 148 IQ score same with Koya, Koya is a thinker koala, smart, but looks sleepy while actually thinking deeply. He has removable ears, and a purple nose as V once made a comment that purple represents love.

8. VAN
The grey and white character Van. RM once said that he created this character too. Van is a space robot that protects BT21, and it's said to represent ARMY.
TUTORIAL VIDEO FOR BTS BT21 SUGAR COOKIES
BTS BT21 Sugar Cookies
BTS BT21 Sugar Cookies is sugar cookies based on character made by members of famous KPop Group BTS (Bangtan Sonyeondan).

Cook Time
1
hour
30
minutes
Total Time
1
hour
45
minutes
Ingredients
8

Printed & Cut BT21 Characters on Paper
Sugar Cookies
450

g

All Purpose Flour

200

g

Unsalted Butter

room temperature

175

g

Sugar

1

large

Egg

1,5

tsp

Clear Vanilla Extract

1/2

tsp

Salt
Royal Icing
2

Pasteurized Egg Whites

1/2

tsp

Cream of Tartar

500

g

Powdered Icing Sugar

1

tsp

Clear Vanilla Extract

4

tbsp

Water

Gel Food Coloring
Instructions
Sugar Cookies
In a bowl cream butter and sugar with electric mixer on low speed. Mix until almost all the sugar dissolved. Don't forget to scrape the sides of the bowl.


Add egg and mix thoroughly. Add vanilla extract and mix again.


Sift flour and salt. Add 1/4 of flour mixture to the butter mixture with low speed. Add every 1/4 of flour mixture until combined. Do not over mix.


Divide the sugar cookies dough into 2 pieces. Shape into rectangle and coat with plastic wrap. Place into the fridge for 30 minutes.


After 30 minutes, roll the dough between 2 parchment papers until the thickness is about 1/4 inch. Cut out cookie shapes with a knife based on Printed & Cut BT21 Characters you have made. Place on the parchment paper-lined baking sheet. Place into the fridge for 30 minutes. Preheat oven to 350°F or 175°C.

Bake cookies for 8-12 minutes or until the edges become golden brown.
Royal Icing
If you can't find pasteurized egg whites, you can follow this step: Bain Marie the egg whites, while heating whisk frequently until the egg whites hot to the touch. It should reach at least 140°F/60°C and no higher than 150°F/65,5°C


In a bowl whisk the icing sugar and pasteurized egg whites with electric mixer. Add cream of tartar and clear vanilla extract. Add water and mix every 1 tbsp. Mix on slow speed for 10-15 minutes.

In small bowls divide the royal icing into several parts. Add gel food coloring we need for BT21 characters.


Decorate: transfer icing to pastry bag and pipe every the hard line colors onto BT21 sugar cookies. Then fill the blank area with same color.