Dalgona coffee is a viral frosty coffee from South Korea. It's like reversed cappuccino because we use milk as the base then add whipped coffee on the top.
Isn't dalgona coffee from South Korea?
Although the trend of Dalgona Coffee (달고나 커피) emerged in the South Korean region, this drink actually, if traced further, emerged from India and Pakistan. In both countries, they call these drinks as phenti hui coffee or beaten coffee in English.
Both the presentation of Dalgona Coffee and Phenti Hui Coffee combine whipped coffee or shaken coffee. It's as simple as other coffee. In Phenti Hui, you pour the milk after the shaken coffee is in the glass. Meanwhile, Dalgona Coffee is the opposite. You pour the shaken coffee afterward and let it overflow. So, the milk will stagnate below the shaken coffee. Moreover, the color combination of those ingredients is so beautiful.
So, but why does this coffee become a trend in South Korea?
Because of the South Korean actor, the coffee became popular in South Korea. The name of the actor is Jung Il Woo. He found a similar dish (beaten coffee) while on vacation in the Macau region. Then, in January, he visited a television show and shared how to make Dalgona Coffee at home.
Not long after that, how to make this coffee became a trend for South Korean people and has spread on various social media. So, it is only natural that people around the world, including Indonesia, also know and compete to follow this trend.
Why is the reason behind 'Dalgona' name?
The nickname "Dalgona" apparently comes from a type of traditional candy in South Korea, namely Dalgona candy. Now, if you thought the name was taken because Dalgona candies are made from coffee, you might be surprised to find that Dalgona candies don't contain coffee at all!
The name 'Dalgona' on Dalgona Coffee refers to the appearance of a whipped coffee similar to the appearance of Dalgona's candy. Both of them have a light brown color and also a soft texture. Not to mention, both the whipped coffee at Dalgona Coffee and also the circle-shaped Dalgona candy. No wonder the citizens of South Korea find similarities between them.
Making this dalgona coffee is so simple, all you need to do is to whip the espresso powder, sugar, and water and it's done. Because when you whipped the coffee, it makes the coffee texture creamier.
In this recipe, I used Robusta coffee. But for you who have a stomach ulcer, I recommend you to use Arabica coffee because Arabica coffee is a type of coffee that is safe for the stomach because it has lower caffeine content.
How to make Dalgona Coffee:
Making this coffee is really easy. But, you can see yourself as a creative barista at home because this unique coffee.
Firstly, you need to prepare these ingredients. The ingredients are 2 tbsp Espresso Powder, 2 tbsp Sugar, 2 tbsp Hot water, 200 ml Milk, and 1 cup Ice cubes. The ratio of espresso, sugar, and hot water is 1:1.
You can substitute the espresso powder with instant coffee.
Secondly, Whip espresso powder, sugar and hot water in a bowl until soft peak.
You can use a whisk or mixer to whip those ingredients. Many people also use a mixer to stir this coffee because you don't have to spend a lot of energy to mix. Moreover, you will be shaking this coffee mixture faster than using other utensils.
Thirdly, place 1/2 cup ice cubes in a glass. Then, pour 100ml milk.
In the last step, place 1/2 of the dalgona cream on top of the milk. Repeat it for another glass.
Enjoy your unique coffee! Let me know how you like this drink. Give me your experience also. See you~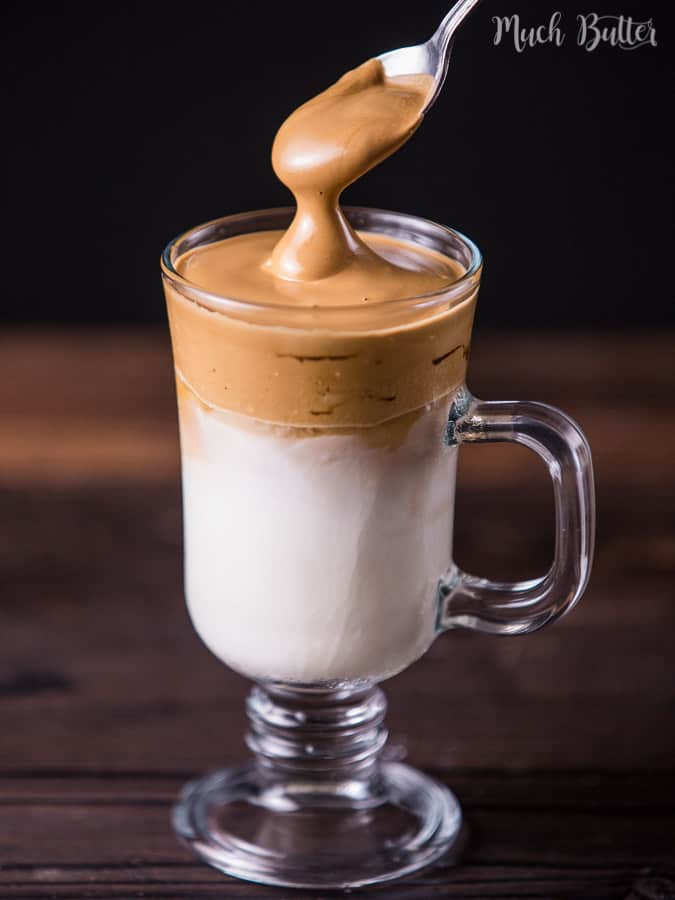 If you like this recipe, you might like these recipes:
For instructional videos, you can check our Youtube channel. Don't forget to like, comment, share, and subscribe!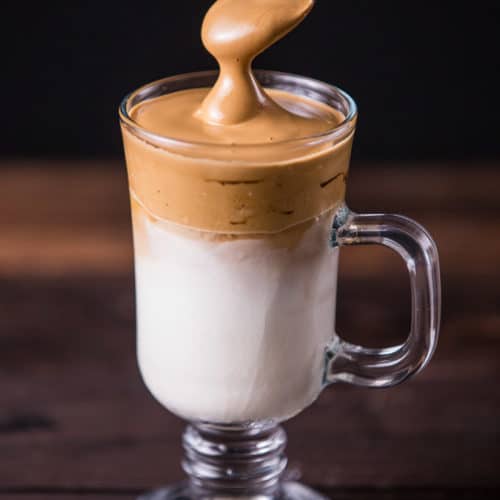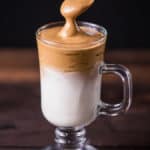 Dalgona Coffee
Ingredients
2

tbsp

Espresso Powder

2

tbsp

Sugar

2

tbsp

Hot water

200

ml

Milk

1

cup

Ice cubes
Instructions
Whip espresso powder, sugar and hot water in a bowl until soft peak.

Place 1/2 cup ice cubes in a glass then pour 100ml milk.

Lastly, place 1/2 of the dalgona cream on top of the milk. Repeat step 2 and 3 for another glass.
Recipe Notes
You can substitute the espresso powder with instant coffee.