Lemon Pear Dragon Fruit Smoothies is delicious, refreshing and eye-catching healthy drinks. Make this recipe for perfect texture, not too thick and not too runny.
Lately I've always making smoothies for my healthy breakfast. One of the variations is lemon pear dragon fruit smoothies. Dragon fruit is widely known as pitaya fruit. In case you are not familiar with dragon fruit or pitaya fruit, it's one of cactus species. It is indigenous to Central America but is also grown and exported from several Southeast Asian countries.
Pitaya fruit has many health benefits, it is contains of phytonutrients, loaded with antioxidants, carotene, protein, vitamin C, and many more benefits. Note: make sure not to consume pitaya fruit in excessive amounts because it contains fructose.
For the color of the smoothies, I really love the color. Of course the dragon fruit will be standout because of its thick magenta color. In this smoothie recipe I use another fruits as the compliment for the taste and texture. The addition of the pears and lemon will make the taste more refreshing.
I use xiang lie pears in this recipe as it is one of my favorite pears. The skin is green and the texture is so crunchy and watery. I also like its sweet taste. If you can find xiang lie pears, make sure to use it.
For the steps, I'm so sure it's very easy. You only have to cut the fruits in small pieces and squeeze the lemon. Then you toss all the ingredients into a blender.
Hope you will make it and share the result to us!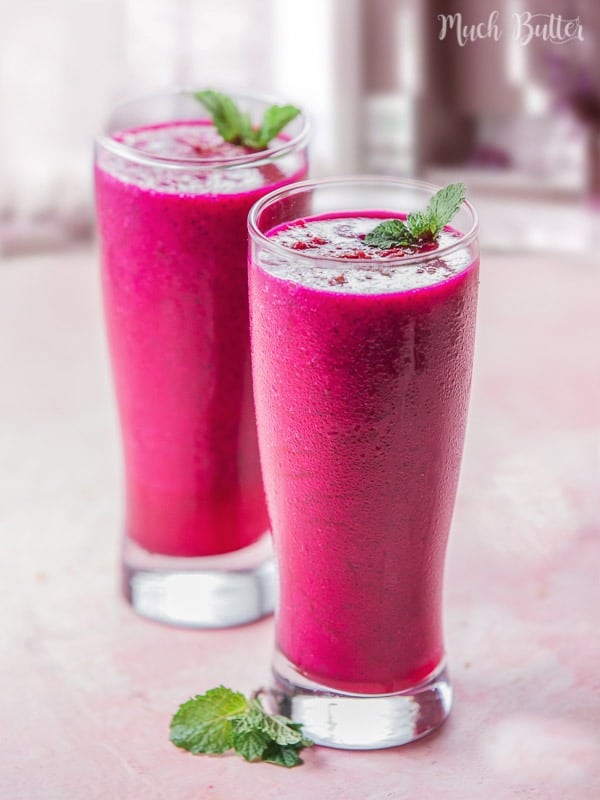 Lemon Pear Dragon Fruit Smoothies
Ingredients
2

Dragon Fruits

1

Lemon

2

small

Xiang Lie Pears

2

tbsp

Granulated Sugar

350

ml

Cold Water

1

cup

Ice Cubes
Instructions
Cut pears and dragon into a smaller pieces and squeeze the lemon.

Blend all the ingredients into a blender until completely smooth.

Pour into a glasses and garnish with grated lemon peel and mint sprigs.