Looking for a delicious treat? Try our French Toast Rolls Up. Sweet, creamy, and oh-so-satisfying, they're a heavenly breakfast game-changer!
I remember clearly, how my kid really excited to see the result of these French Toast rolls. The sprinkled sugars make him want more, add on the rolling part it's a kind of addictive activity to help Mama with. This delectable dish combines the sweet goodness of classic French toast with a delightful filling of your choice, creating a heavenly treat that will leave your taste buds begging for more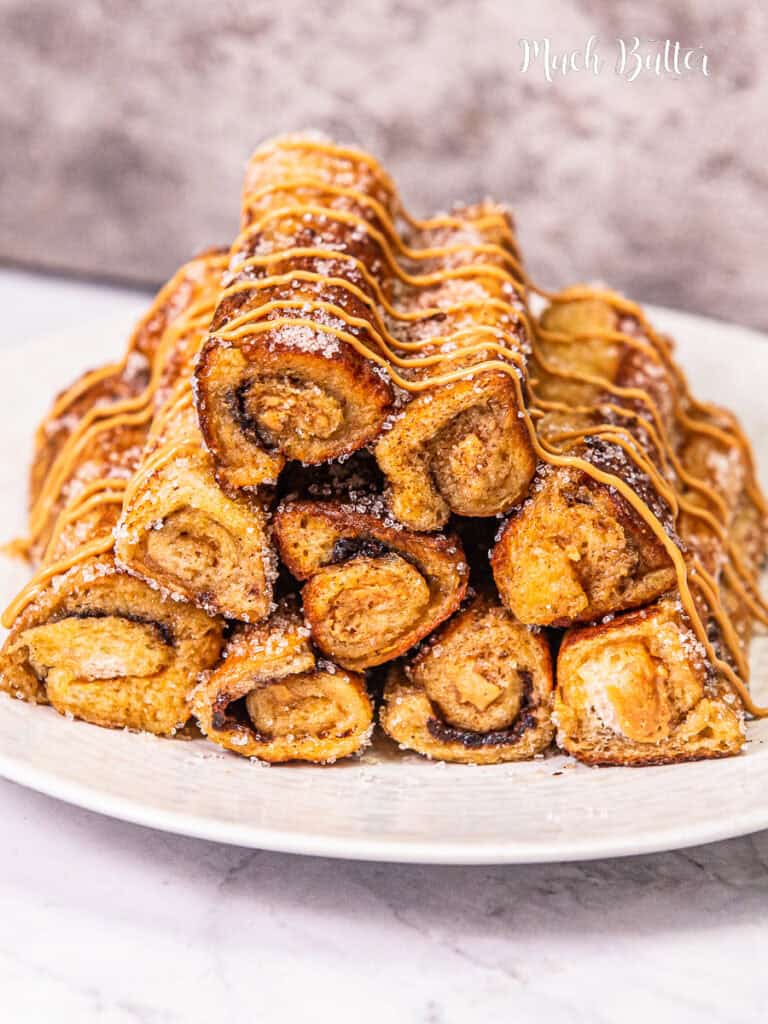 A Twist on a Classic Breakfast Favorite
French toast is a timeless breakfast classic loved by people around the world. Imagine a cozy morning filled with the comforting aroma of freshly cooked breakfast. French toast has always held a special place in our hearts, bringing warmth and nostalgia to our kitchens. It's a dish that has been loved and shared for generations, a timeless favorite that brings smiles to faces.
One day, as we were preparing breakfast, Instead of simply dipping and frying slices of bread, We wanted to create something unique And that's when inspiration struck—a delightful idea to roll up the French toast, encasing delicious fillings inside. French Toast rolls involve rolling up the bread slices with delicious fillings before cooking them to golden perfection.
The concept of French Toast Rolls Up quickly became a labor of love. It was a revelation, a twist on tradition that brought a whole new level of excitement to the breakfast table. We realized that the beauty of French Toast Rolls Up lies not only in their incredible taste but also in their versatility. They can be customized to suit everyone's preferences. Imagine the joy of filling the rolls with fresh fruit, gooey caramel, or even savory ingredients like cheese and ham.
Moreover, French Toast Rolls Up are not only delicious but also fun to make. It can be a great activity to engage family members or friends. It offers an opportunity to bond, create memories, and share the joy of cooking. As same as my son did, he really enjoying make French toast rolls with me. Fortunately, It's a great activity to do together on a weekend
Let's dig in
In summary, making French Toast Rolls offers a chance to indulge in a delicious and creative breakfast experience. It brings joy to the kitchen, allows for customization, and provides an opportunity to share a delightful meal with loved ones. So, why not give it a try and savor the delightful flavors and textures of French Toast Rolls?
Ingredients of French Toast Rolls Up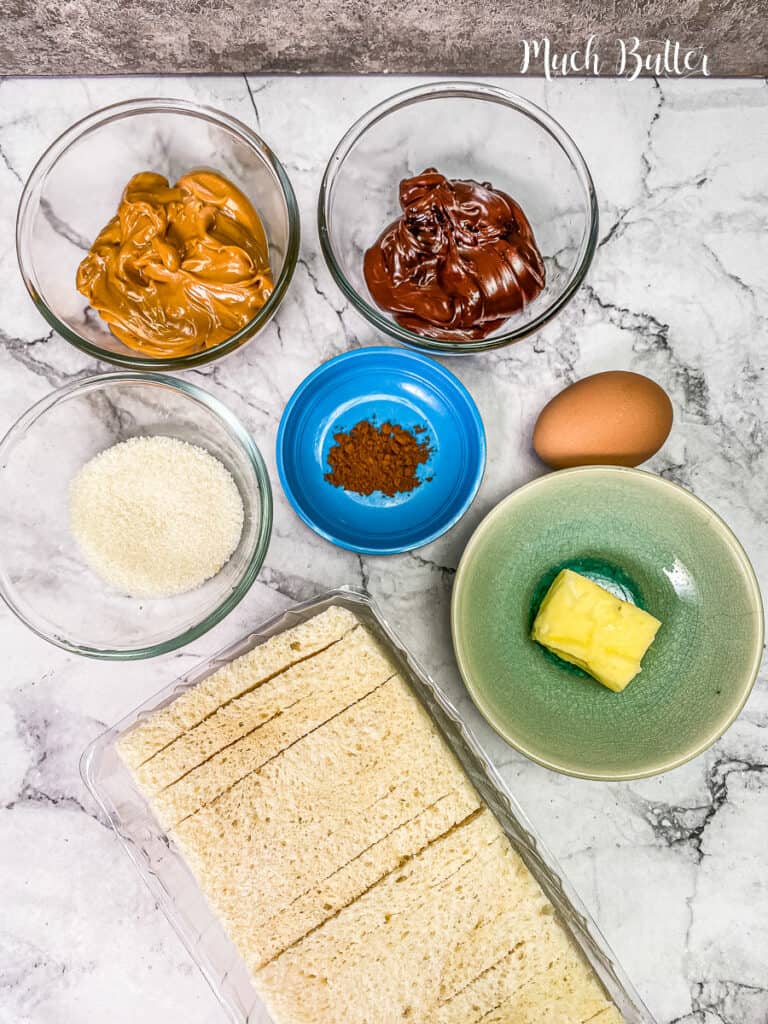 Bread– The base of the French toast roll, providing a soft and absorbent texture. you can use whatever is on your dining table. I usually use white bread for this menu
Peanut Butter– Adds a creamy and nutty flavor to the filling, complementing the sweetness of the chocolate spread
Chocolate Spread– Provides a rich and indulgent taste, creating a delightful contrast with the peanut butter.
Granulated Sugar– Sweetens the egg mixture, enhancing the overall flavor of the French toast rolls.
Cinnamon Powder– Adds warmth and depth to the taste, balancing the sweetness of the dish.
Egg– will combine with milk, and the egg mixture will bind the ingredients- like a mixture that coats the bread slices and contributes to the rich and fluffy texture
Milk– Mixed with the eggs to create the custard-like mixture, providing moisture and contributing to the tenderness of the French toast rolls
Vanilla Extract– Enhance the aroma and the flavor. It will balance the sweetness.
Salt– Balances the sweetness and enhances the flavors of the other ingredients.
Butter– I use unsalted butter here, Used for frying the French toast rolls, adding a golden and crispy exterior
Caramel Spread– for topping, a delicious topping that adds a sweet and buttery caramel flavor, providing an extra layer of indulgence to the finished dish
Let's Make French Toast Rolls Up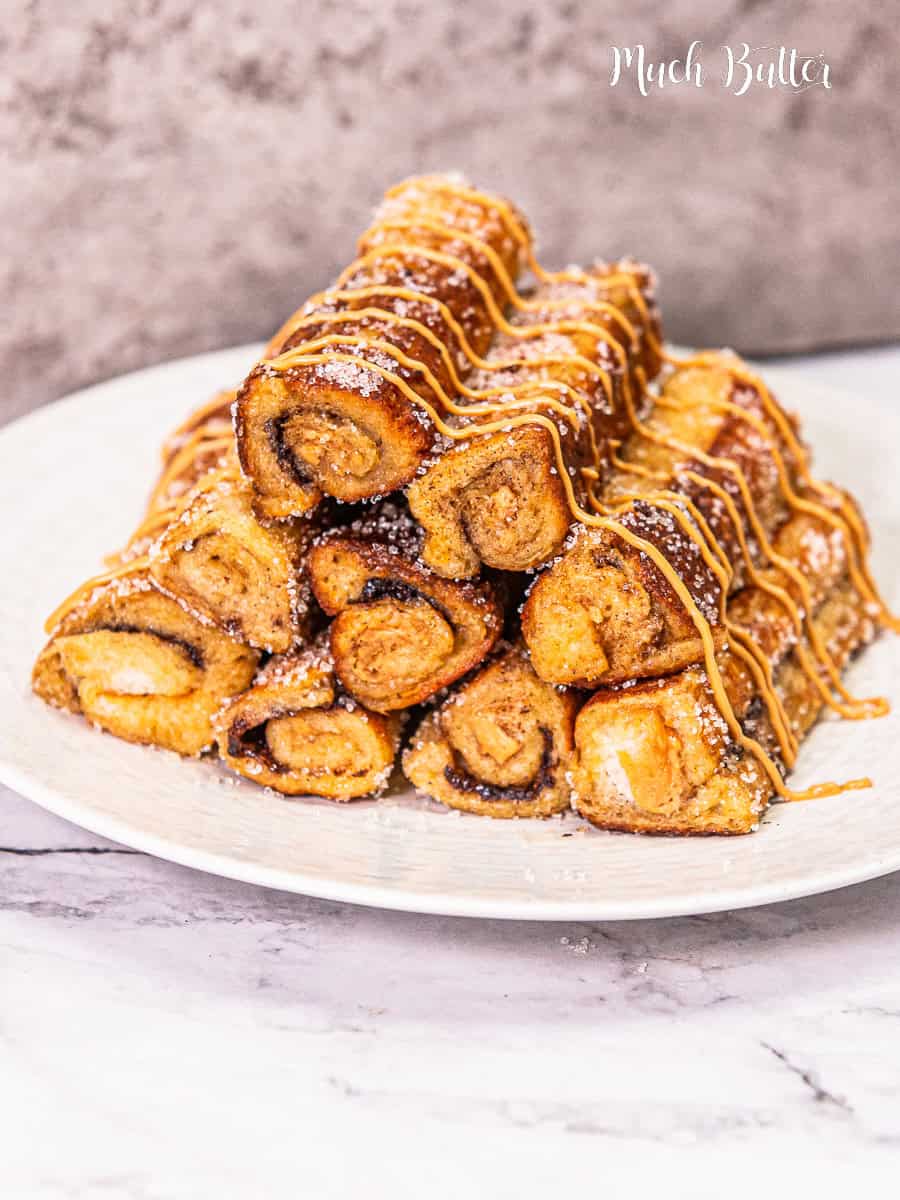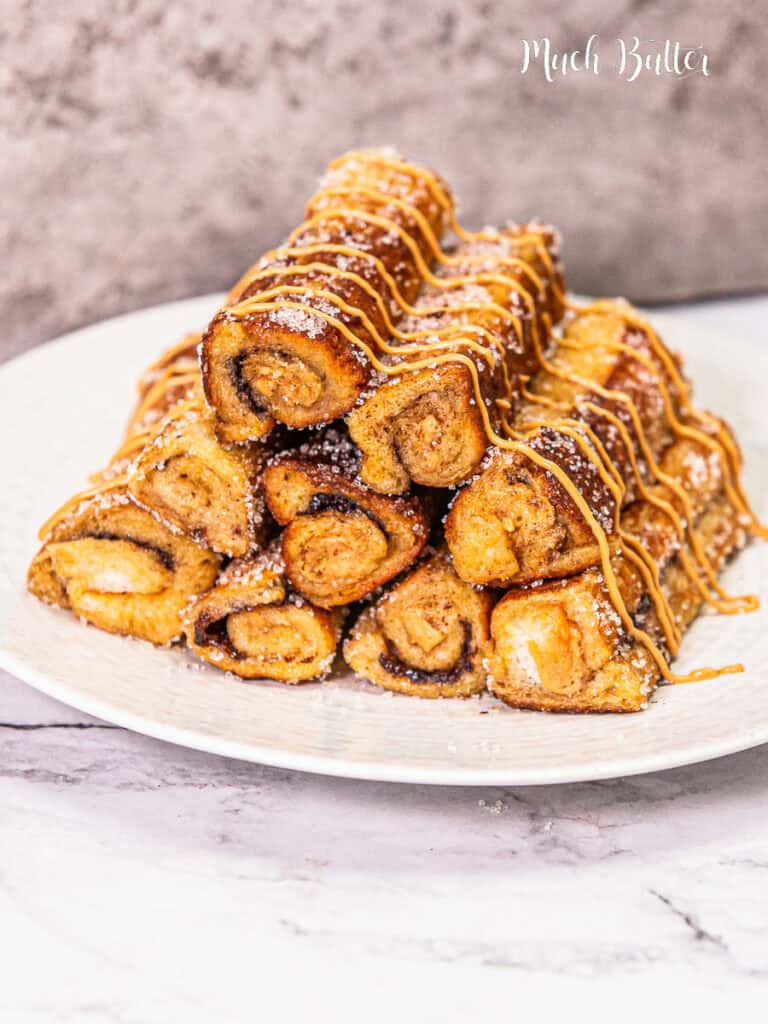 Firstly, take all the white bread slices and flatten them using a rolling pin. This step will make the bread more pliable for rolling.
Next, spread peanut butter on the top half of each flattened bread slice and chocolate spread on the bottom half. Make sure to distribute the spreads evenly.
Once the spreads are applied, carefully roll up each bread slice, starting from one end, to create a compact roll. Repeat this process for all the bread slices and set them aside.
In a bowl, combine the remaining ingredients (except for the granulated sugar and butter). Beat the eggs until they are evenly distributed within the mixture. This will create a custard-like blend.
In a pan, melt the butter over medium heat. Take each rolled bread slice and dip it into the egg mixture, ensuring that the entire roll is evenly coated.
Place the coated French toast rolls in the pan and toast them until they turn a beautiful golden brown. Flip them occasionally to ensure even cooking on all sides.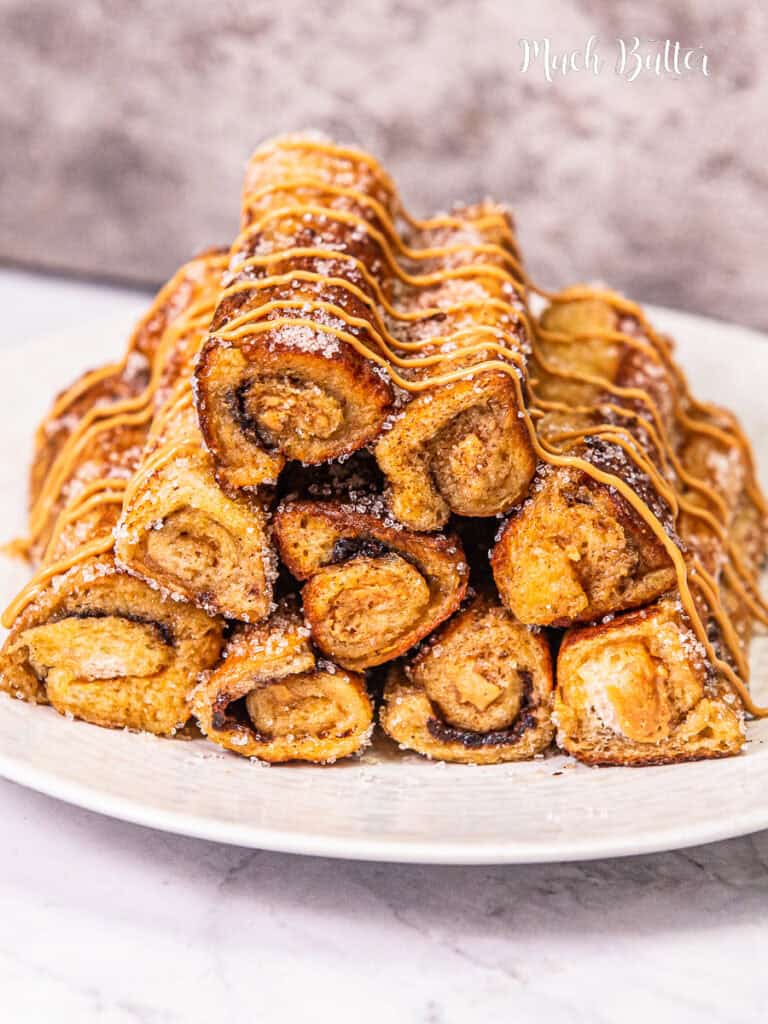 Drizzle time
Once the French toast rolls are cooked to perfection, remove them from the pan. Coat each roll with granulated sugar, which will add a sweet and crunchy element to the dish.
Finally, transfer the French toast rolls to a serving plate and drizzle them with caramel spread. This delectable addition will provide a luscious caramel flavor that complements the peanut butter and chocolate fillings.
Now, it's time to indulge in the deliciousness of your homemade French Toast Rolls Up. Serve them warm and enjoy the delightful combination of fluffy bread, creamy fillings, and the irresistible sweetness of caramel.
I'm delighted to find an easy and delectable sweet snack like this! I hope you enjoy it as much as mine!
Let me know your result by uploading pictures and tagging us on Instagram at Much Butter and Pinterest. Do not forget to see and follow our new Tiktok Account.
For cooking videos, check out and subscribe to our Youtube page. you can join our email for the latest idea menus.
YOU MAY LIKE OTHER FRENCH TOAST IDEAS :
Or other Sweet Delight;
Thank you, your supports are so much appreciated 💕
Written by Silni Asfia
French Toast Roll
Ingredients
16

slices

White Bread

¼

cup

Peanut Butter

¼

cup

Chocolate Spread

¼

cup

Granulated Sugar

½

tsp

Cinnamon Powder

2

large

Egg

¼

cup

Milk

¼

tsp

Vanilla Extract

¼

tsp

Salt

2

tbsp

Butter

Caramel Spread
Instructions
Flatten all the white bread with a rolling pin. Spread the top half with peanut butter and the bottom half with chocolate spread then roll it up. Set aside.

In a bowl, combine the rest of the ingredients except granulated sugar and butter, and beat the eggs until evenly distributed.

In a pan, melt the butter over medium heat, dip the rolled bread into an egg mixture until evenly coated, then toast the bread until golden brown.

Then coat the french toast roll with granulated sugar and transfer it to a plate. Drizzle with caramel spread before serving. Enjoy!