Baked Berry French Toast is always my favorite option for brunch on a lazy Sunday, easy prep, crusty hearty baked bread, and yummy fresh-picked berries. psst, it's really filling & your kids gonna love it.
A Great Option for a Slow Weekend
What's your activity when weekend comes? What do you prefer? Go out or stay and rest at home? I personally like both. There was a time when I was really exhausted and preferred do a slow weekend while watching some movies. But sometimes, I feel bored too, and decided to go out just for a café hopping (Even though I like cooking, I like café hopping too, just for experiencing new ambiance and for some cooking inspirations too😊)
One time, when I was going back home from the café there was a fruit seller. He is an old man about 60 years old and offer me his selling, he sells strawberries, raspberries, and grapes. He looks really tired and hopeless because it's already noon. The fruits are still fresh, I couldn't resist when I see the strawberries so big, red, and fresh. So I bought some with red grapes too. While walking to my home, I eat the grapes and didn't realize that my grapes already running out lol.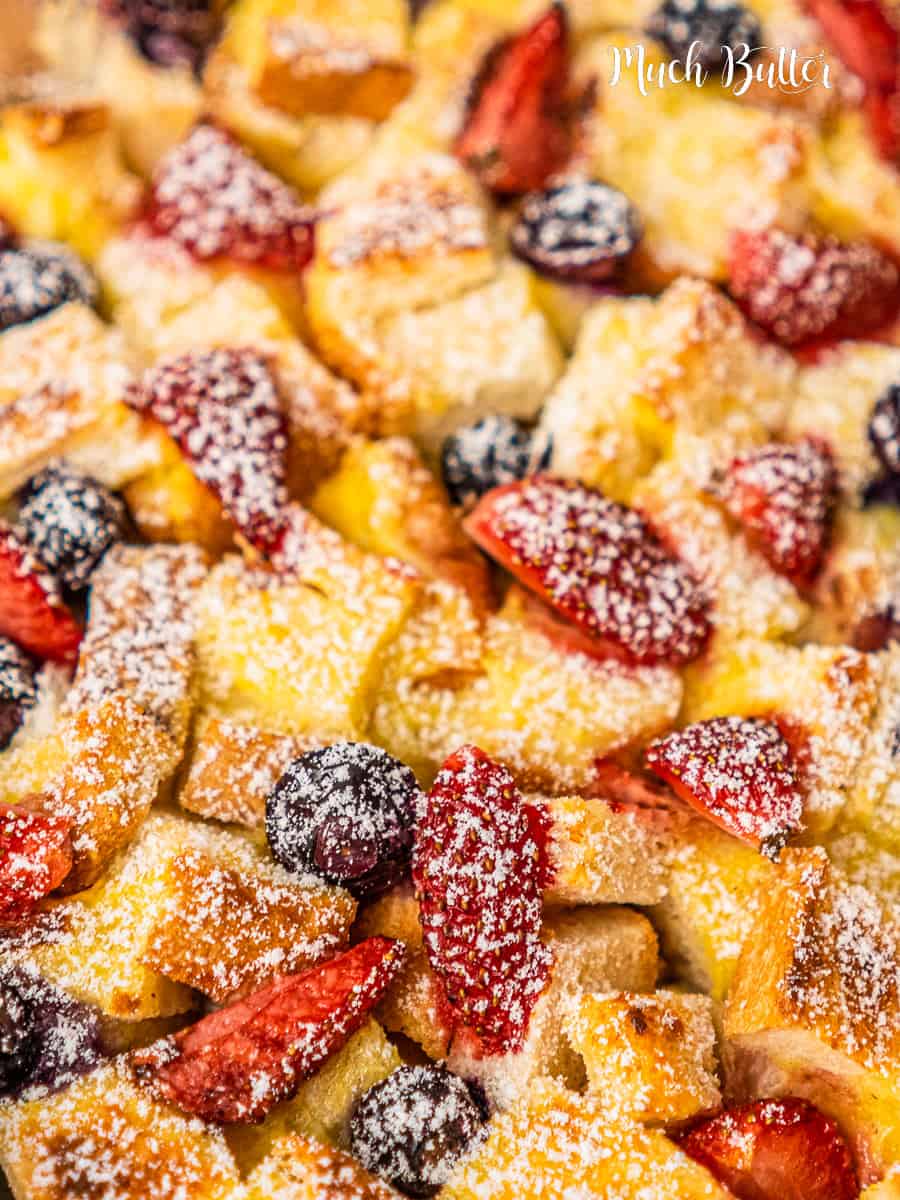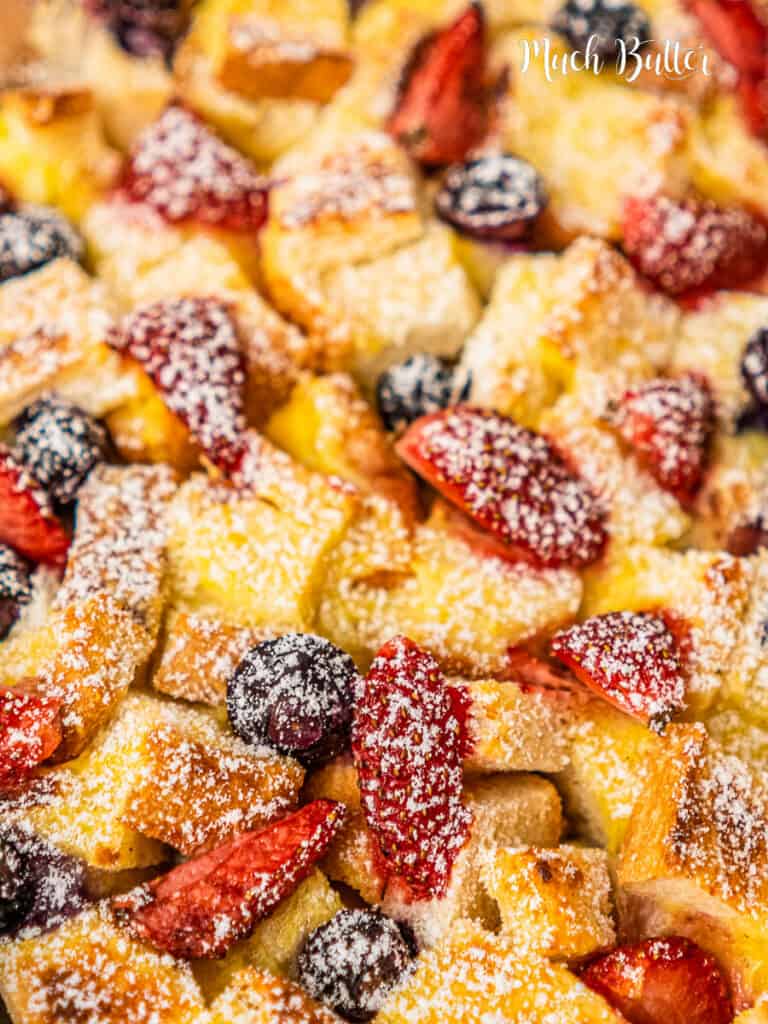 The next morning, I love waking up slowly on a lazy Sunday morning plus with the maroon 5 songs ever, just dramatize my weekend and indulge in some hearty brunch food while I sip coffee, all in my pajamas… Ah, gotta love a nice and slow weekend. I remember that I still have the strawberries and leftover blueberries on my fridge. I got an idea
If you're looking for a delicious and easy breakfast recipe, baked berry French toast is the perfect choice. This recipe is quick to prepare and will be a hit with the whole family. Plus, it's a great way to use up leftover bread and berries.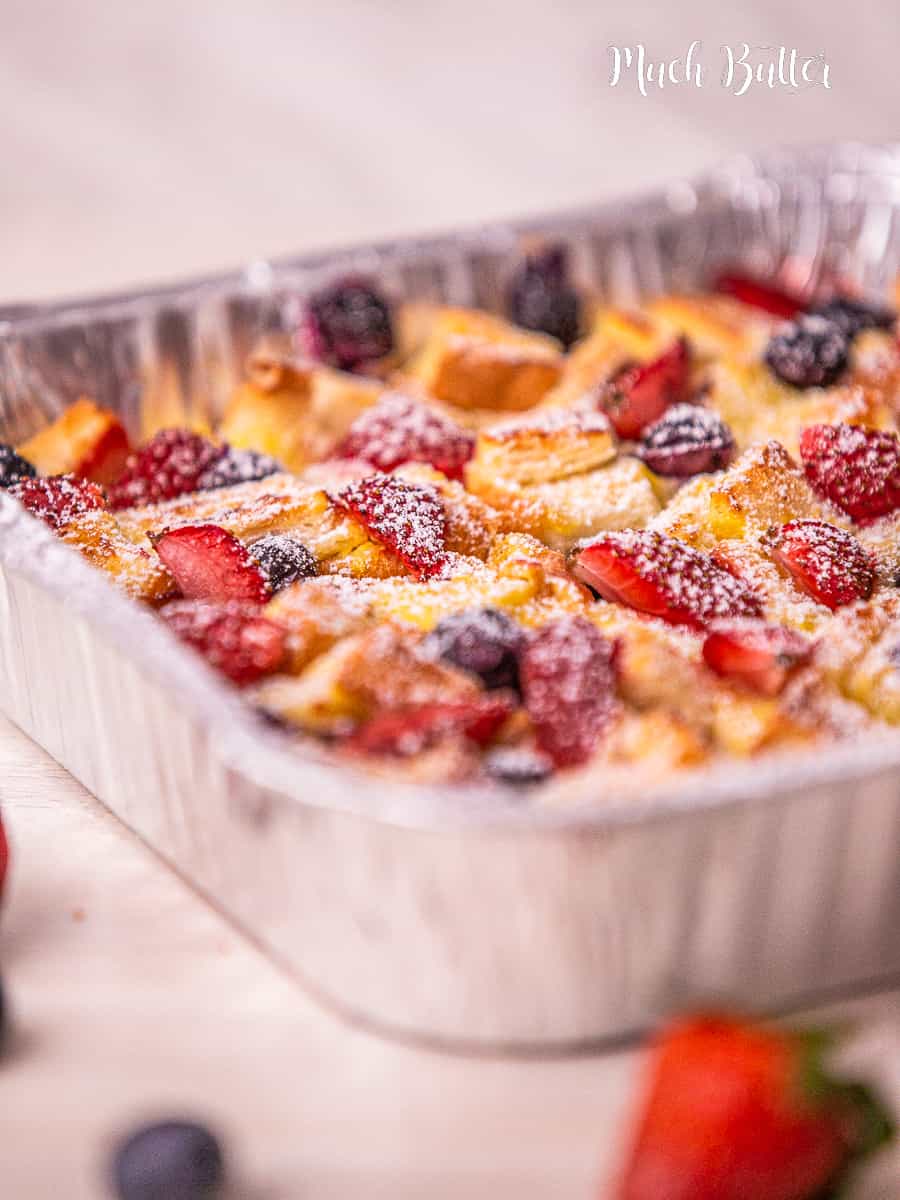 So Easy, So Yummy Brunch Experience
Baked berry French toast is really great option for a slow weekend, it is really easy to prepare, and you can even make the prep the night before. I would wake up in the morning and cut up bread and dip them into the egg mixture and pan fry this bread. The combination of warm bread, sweet berries, and a custardy egg mixture makes for a heavenly breakfast experience. Best of all, it's easy to make and can be prepared the night before, allowing you to spend more time with your loved ones in the morning.
The best part is your kitchen will smell like you were baking all morning really tempting smell, you don't need to stand over the stove, add all the ingredients, and bake. Make some coffee or hot chamomile tea and you are ready to have a perfect brunch experience at home with your silk pajamas. Oh, I love slow Sunday mornings.
Let's go talk about the ingredient and instructions. In this recipe, I'll show you how to make your own baked berry French toast that is sure to be a crowd-pleaser.
Ingredients of Baked Berry French Toast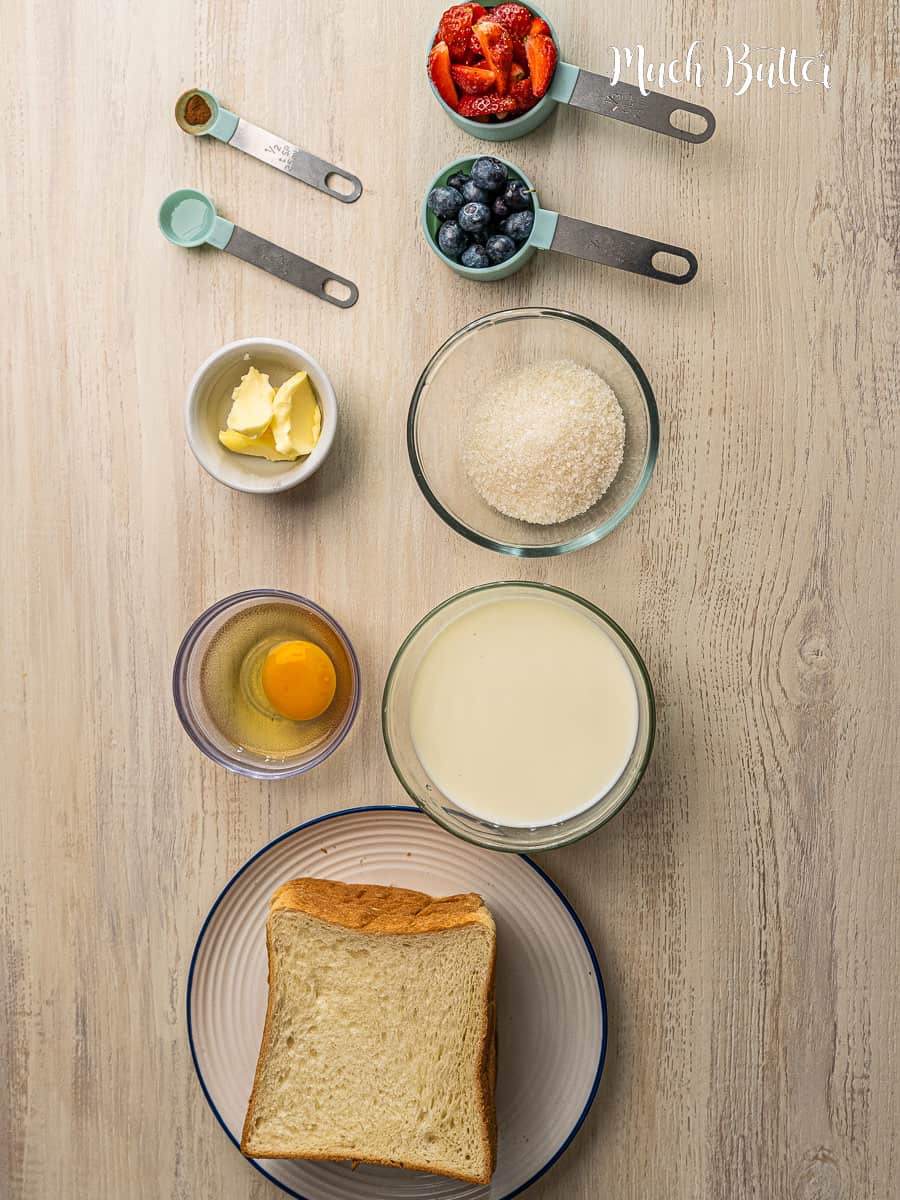 Actually, the main parts of this are bread, berries, a mixture of egg and milk, yes that's it. The others are optional, but if you add them It will be a hit!
Strawberry and Blueberry– You can use frozen or fresh berries, whatever you have. if you use frozen berries make sure you thaw it first 30 minutes minimum, so it will give a less watery texture. I recommend using fresh berries.
Bread – you can use whatever is on your dining table. I usually use white bread for this menu. However, you can use other bread or gluten-free and vegan bread. For a recommendation, you can use brioche, challah, sourdough, boule, Texas toast, or a baguette. They soak well than the other bread.
Cinnamon Powder – the aroma when bread plus cinnamon being baked is a best friend. I use cinnamon add the mixture
Eggs – It will make the bread crispy. The egg mixture will bind the ingredients. It levels up the taste.
Milk – I use whole milk for this recipe. Some people add heavy cream also for this recipe. You can blend them if you like them.
Vanilla extract – Enhance the aroma and the flavor. It will balance the sweetness.
Butter – I use unsalted butter here. I recommend using it
Icing Sugar– for the topping when finished baked
Instructions to Make Baked Berry French Toast
To begin making baked berry French toast, start by cutting the bread into 1-inch cubes and arranging them in a greased baking dish. It's best to use bread that is a day old, as it will hold up better during baking and won't get too soggy. Then set aside,
Next, in a mixing bowl, whisk together the milk, granulated sugar, egg, cinnamon powder, vanilla essence, and butter until well combined. Then, cook until warm and the sugar has dissolved.
Then, Put the bread cubes into the tray. This mixture will be poured over the bread cubes, so make sure to mix it well. Pour the milk mixture on top.
Then, add the mixed berries over the bread cubes and gently press them down into the mixture The berries will add a delicious burst of flavor and color to the dish.
Bake the French Toast Cover the baking dish with foil and bake in a preheated 356°F (180°C) oven for 30-35 minutes until the bread is golden brown and the center is set. This baking method ensures that the French toast cooks evenly and gets nice and crispy on the outside.
(Tutorial video on how you make this, visually)
Once the French toast is done baking, remove it from the oven and let it cool for a few minutes. Sprinkle some icing sugar on top before serving or you can drizzle the maple syrup/ honey mixture over the French toast and serve. This dish is perfect for breakfast, brunch, or even dessert, and is sure to impress your family and friends. Enjoy!
this Baked Berry French toast is taken to a whole new level of deliciousness. Serve it up with some coffee or tea, and enjoy a cozy and comforting meal that will leave you feeling full and happy. you won't be disappointed on your slow weekend or a busy hurry day!
I'm delighted finding an easy and delectable sweet snack like this! I hope you enjoy it as much as mine!
Let me know your result by uploading pictures and tagging us on Instagram at Much Butter and Pinterest. Do not forget to see and follow our new Tiktok Account.
For cooking videos, check and subscribe to our Youtube page. you can join our email for the latest idea menus.
YOU MAY LIKE OTHER BREAD RECIPE IDEAS :
Thank you, your supports are so much appreciated 💕
Written by Silni Asfia
Baked Berry French Toast
Ingredients
5

slice

Bread

1

cup

Milk

4

tbsp

Granulated Sugar

1

Egg

3

tbsp

Butter

Cinnamon Powder

½

cup

Strawberry

¼

cup

Blueberry

Icing Sugar
Instructions
Cut the bread into bite-sized cubes. Set aside.

Mix the milk, granulated sugar, egg, cinnamon powder, and butter. Cook over small heat until the mixture is warm and the sugar has dissolved.

Place the bread cubes into the tray, then pour the milk mixture on top. Add strawberry and blueberry pieces. Bake for 30-35 minutes.

After the berry french toast is baked, let it cool. Dust it with icing sugar before serving. Enjoy!