Indonesian spicy chicken or we call it ayam rica-rica is savory and spicy chicken dishes from North Sulawesi. Hearty and satisfying meal for those who love spicy foods.
Disclaimer: This recipe is originally from my and my friend's old food blog Hayu Cooking. We no longer made new recipes for Hayu Cooking. Unfortunately someone bought the domain and reposted all of our recipes without our consent! I already told the owner to remove our recipe posts but never get a reply.
Hey, I'll share chicken recipe (again). There are so many kinds of chicken dishes in the world, I even haven't finished sharing all Indonesian chicken dishes yet. So I hope you are not bored. ????
What is Indonesian spicy chicken (ayam rica-rica)?
Ayam rica-rica is one of Indonesian culinary, precisely from Manado, North Sulawesi. The word Rica is derived from the language of Manado which means spicy or chili. Recipes to make ayam rica-rica are diverse, so are the ways of cooking it. The similarities are simply the spicy taste and red color from red chilies. As I choose red chilies and ginger as the main spices for Indonesian spicy chicken, you also could use those ingredients for this recipe. It's really good.
In addition to red chilies, another spice of ayam rica-rica is ginger. Ginger gives warmness to our body and absorbs nutrients from food we eat. I suggest you choose a young ginger for fresh and better taste.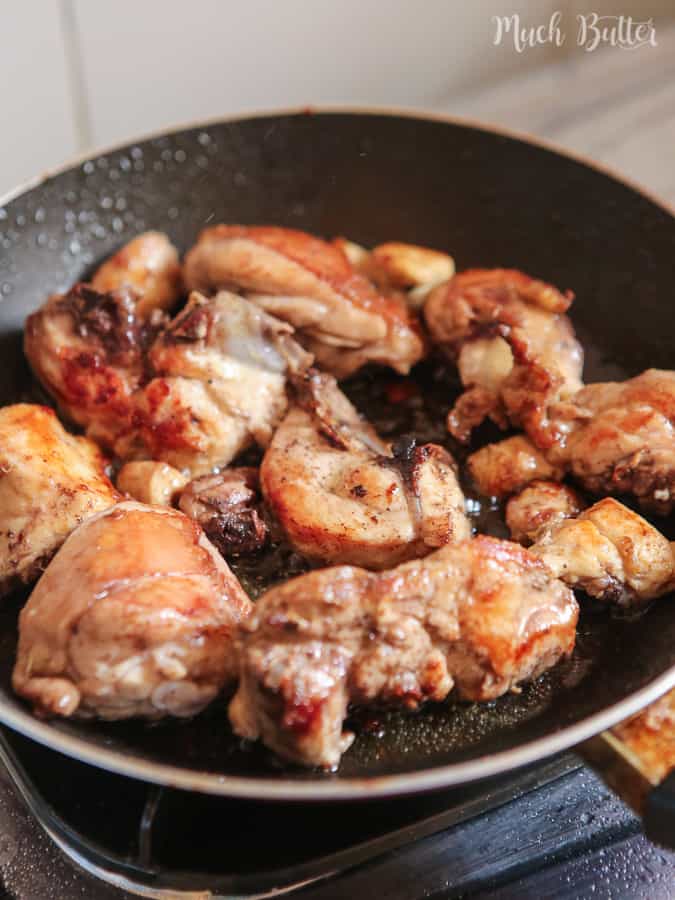 Sear the chicken in a non stick pan over high heat 5 minutes per side until golden brown. If you use bone in and skin on chicken, you may reduce the amount of vegetable oil. There will be an additional oil from the skin.
After you finish the cooking process, sprinkle a thin slice of lime leaves. If you are the lovers of the scent of lime leaves, you could add it in the spice paste and cook it along the chicken. Lime leaves add a distinctive flavor and aroma. But for this recipe I only use it for garnish.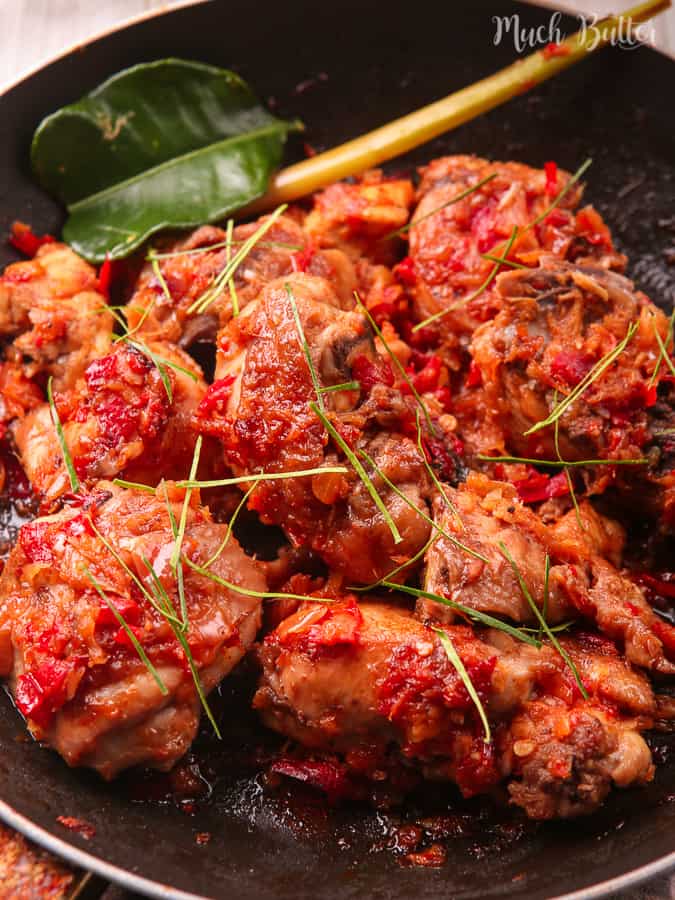 Indonesian Spicy Chicken – Ayam Rica-rica
Ingredients
500

g

Chicken

bone in and skin on

1

small

Lemon

1

medium

Tomato

chopped

2

stalks

Lemongrass

crushed

2

tbsp

cooking oil

1

cup

Water

1

tsp

Brown sugar

2

Lime leaves

thinly sliced

Salt and blackpepper
Spice Paste
5

Large Red Chillies

4

cm

Ginger

8

small

Shallots

4

cloves

Garlic
Instructions
Clean the chicken. Marinate with 1 tsp salt and lemon juice. Let stand for 15 minutes.

With food processor or pestle and mortar, grind spice paste ingredients until quite smooth.

In a non stick pan sear the chicken with 1 tbsp oil over high heat for 5 minutes per side until the color is golden brown. Set aside.

In a same pan sauté spice paste with 1 tbsp oil over medium heat for 2-3 minutes until fragrant.

Add the chicken, lemongrass, brown sugar, tomato, and water. Season with salt and pepper to taste. Cook and stir occasionally for 5-10 minutes until all of the water almost evaporated.

Remove from pan and garnish with lime leaves.
Recipe Notes
You can reduce or increase the amount of red chilli or discard the seeds. Adjust it to your taste