This Portuguese Egg tart aka Pastel de Nata is a heavenly mouthwatering treat! Crisp, buttery, and flaky crust pastry filled with a sweet soft, and creamy egg custard tart. Dusting the pastry with icing sugar to give the tarts a golden, caramelized crust!
Don't forget with Part of the joy of eating these tarts comes from the contrast of the crunchy crust with the soft custardy filling. Make this classic treat with our step-by-step guide.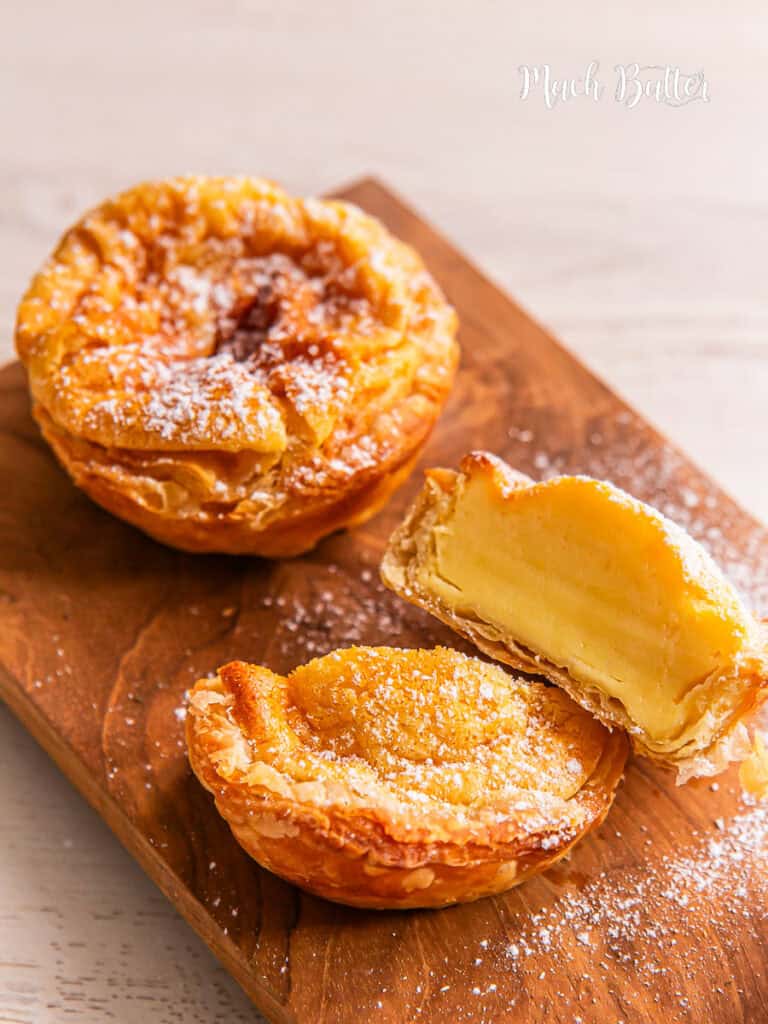 Pastel de nata otherwise known as Portuguese egg custard tarts is a classic dessert popular in Portugal and other parts of Europe, Asia, and other former Portuguese colonies. their signature flaky crust and sweet custard filling are world-famous and incredibly delicious. These are a true culinary masterpiece that has left an indelible mark on the world of desserts. These golden, flaky pastries filled with creamy custard represent a perfect union of simplicity and sophistication. and the delightful moment when you take that first, blissful bite.
History of The Dish
The story of Portuguese Egg Tarts, or "Pastel de Nata," goes back to the 18th century. In a lovely monastery in Lisbon, some clever nuns had extra egg yolks left over from their habit-starching work. Not wanting to waste them, they got creative and invented an early version of the Portuguese egg tart.
For a long time, this recipe was a closely guarded secret within the monastery. But in the 1830s, it finally left the monastery and found its way to a local sugar refinery.
These tasty treats didn't stay in Portugal. They traveled the world and are now a beloved snack in bakeries and cafes everywhere. It's a story of how a simple, delightful pastry with a flaky crust and creamy filling brings a taste of Portugal to people from all over the globe.
Now that you have known the story behind these Portuguese Egg Tarts. Now, ready let's get started on the journey of making Portuguese egg tarts.
What's Inside Portuguese Egg Tart
Danish pastry; Danish is a rich and flaky pastry dough that is a fundamental component in various pastries and desserts. serves as the tart shell or crust. Its primary role is to provide a flaky, buttery, and crisp exterior that complements the creamy custard filling
Egg; acts as a binder, helping the custard filling set during baking. They also add moisture and richness to the filling. What makes it taste like a cloud
Cream Cheese; contributes a creamy and tangy flavor to the custard filling. It enhances the texture, making it smoother and creamier, while also adding a pleasant richness to the custard
Powdered sugar; to sweeten the custard filling. It helps to create a smooth and lump-free texture while adding a sweet taste to the filling. Additionally, it may be used for dusting the tarts before serving
Heavy cream; provides additional richness and moisture to the custard filling. It contributes to the creamy and velvety texture of the filling, ensuring it is smooth and indulgent
Milk; adds moisture and helps create a consistent texture in the custard filling
Vanilla extract; enhances the overall taste of the tarts, adding a warm and inviting dimension to the dessert. Add Vanilla flavor
Cornstarch; acts as a thickening agent in the custard filling to help set properly during baking. It prevents the custard from becoming overly runny.
How to Make Portuguese Egg Tart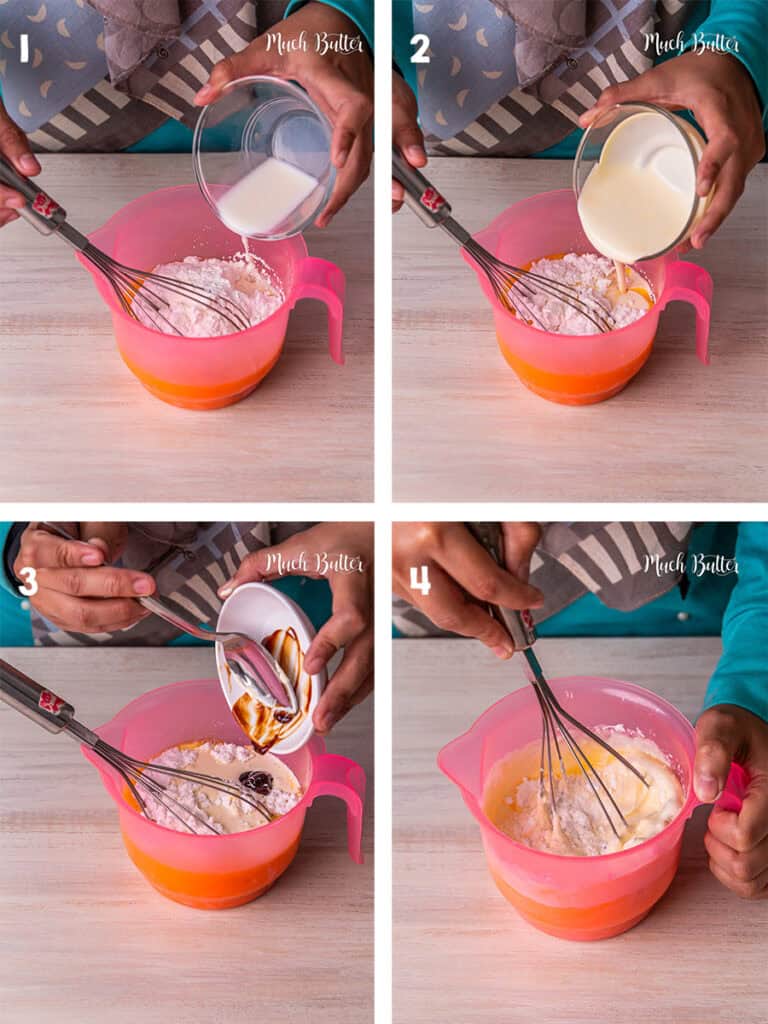 To begin, In a mixing bowl, combine the listed ingredients: egg, sugar, milk, heavy cream, vanilla extract, cornstarch, and cream cheese.
Do not forget to use a whisk to thoroughly blend the ingredients until you have a smooth and uniform mixture and there are no lumps or uneven textures.
Then, To achieve a silky and lump-free custard filling, strain the mixture twice through a fine-mesh strainer. This step helps remove any potential lumps, ensuring a smooth and creamy consistency.
Before you start assembling the tarts, preheat your oven to the specified temperature of 180°C (356°F). It's important to have the oven ready and at the correct temperature to ensure even baking.
Next, Roll out your Danish pastry dough on a floured surface.
Then, using a circular cutter or a round object as a guide, cut the dough into circular shapes that are slightly larger than the size of the molds you'll be using. These circles will form the tart crusts.
After that, Grease your tart molds to prevent sticking.
Carefully line each mold with the circular pieces of dough, ensuring that the dough extends slightly beyond the edges of the molds.
Please carefully Gently press the dough down into the molds, making sure it adheres to the bottom and sides to create a pastry shell.
With the pastry shells in the molds, it's time to add the custard filling.
Now, Pour the strained custard mixture into each pastry shell, filling them to about 3/4 of the height of the mold. Be cautious not to overfill, as the custard will expand during baking.
Bake and Serve, Enjoy!
Then, Place the filled tart molds in the preheated oven.
Last but not least, Bake the Portuguese egg tarts at the specified temperature of 180°C (356°F) for approximately 20 minutes or until they are golden brown on top and the custard has set.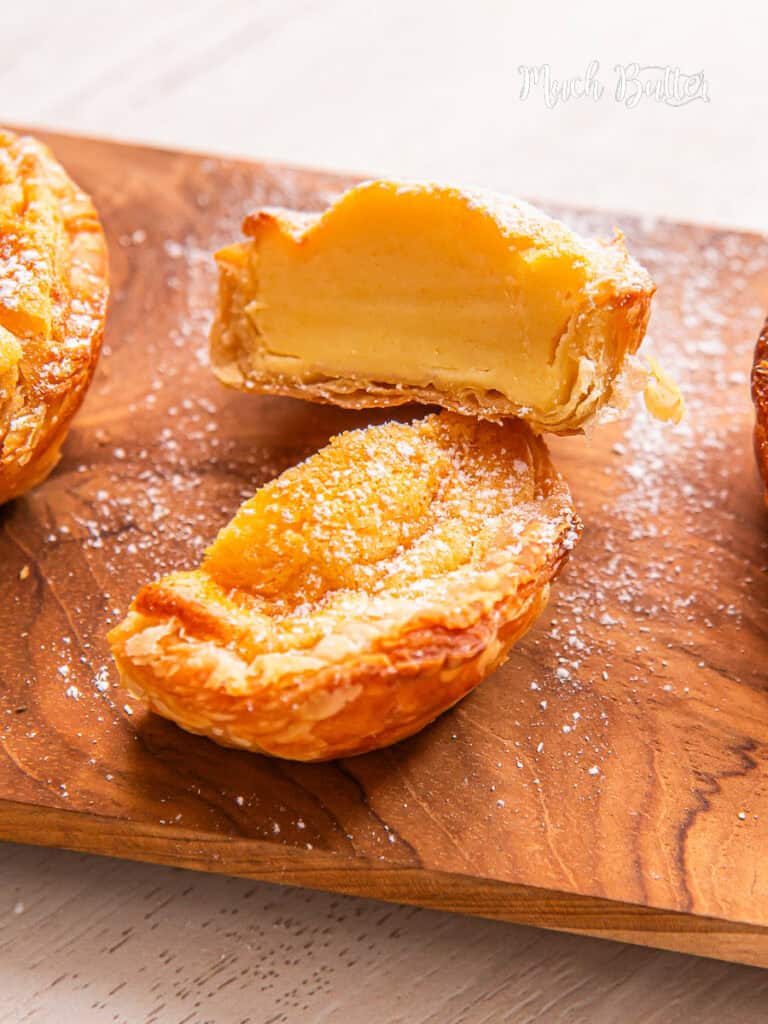 Finally, Voila! look at that so softie inside of your Portuguese Egg Tart. Enjoy this dish while it is still fresh from the oven, since I still have leftover ice cream in my freezer, it's totally yum! soft and freeze-fresh sensation.
Interested in making this recipe?
Let me know your results by uploading pictures and tagging us on Instagram at Much Butter and Pinterest. Do not forget to see and follow our new Tiktok Account.
For cooking videos, check and subscribe to our Youtube page. you can join our email for the latest idea menus.
Thank you, your support is so much appreciated 💕
SEE OTHER BREAKFAST IDEAS:
Written by Silni Asfia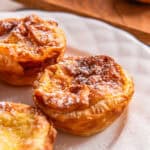 Portuguese Egg Tart
Ingredients
Danish pastry

2

Egg

⅛

Cup

Cream Cheese

⅓

cup

Powdered sugar

⅓

cup

Heavy cream

⅛

cup

Milk

1

tsp

Vanilla extract

1

tbsp

Cornstarch
Instructions
Whisk the egg, sugar, milk, heavy cream, vanilla extract, cornstarch, and cream cheese until you have a smooth and uniform mixture and there are no lumps

Then, strain the mixture twice. Set aside

Preheat the oven at 356°F (180°C)

Cut the Danish pastry dough into several circular shapes with a diameter of about 1 cm larger than the size of the mold's rounds. 

Once cut, place them in the mold and gently press them down a bit. 

Then, fill with a custard mixture, filling about 3/4 of the height of the mold.

Bake at a temperature of 180°C for approximately 20 minutes.