This Best Avocado Salad is refreshing, healthy and full of amazing flavors. added with crispy cucumber, tomatoes, red onion, and a delicious lemon juice dressing. perfect for hot summer days and as side dish to any meal. This super healthy avocado salad recipe is one of the easiest recipes you will ever make with less than 10 minutes!
In this article we will discover the art of making the perfect avocado salad. Learn how to pick ripe avocados, do and don't to unriped avocado and the essential ingredients of this delicious dish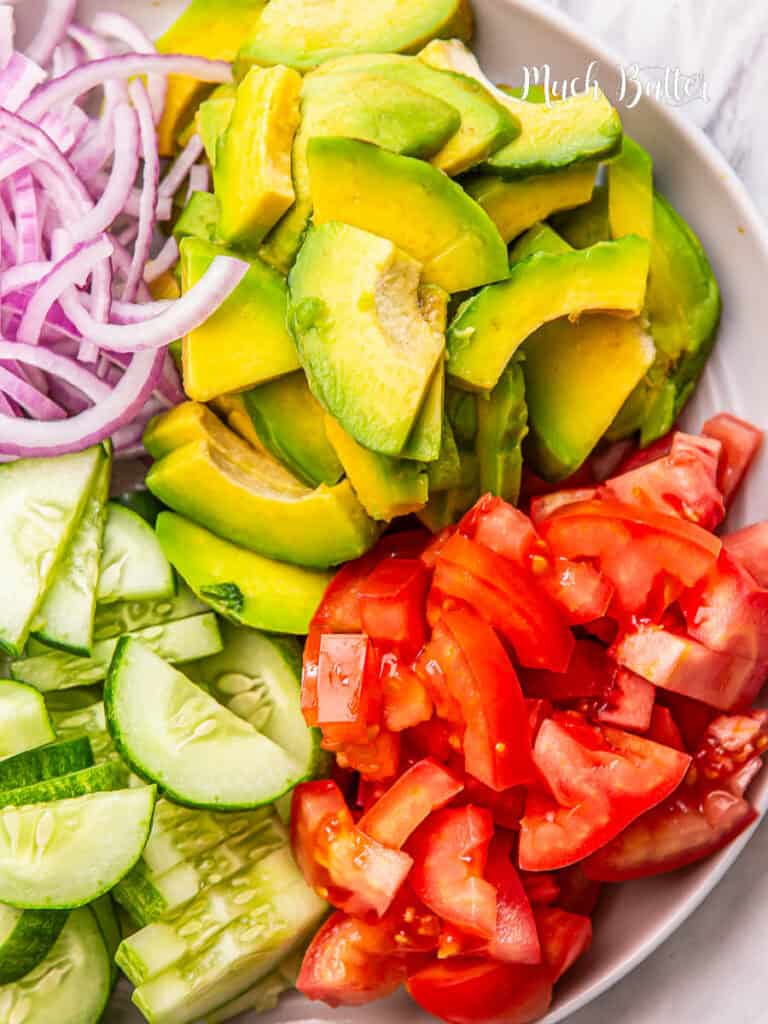 As long as avocados are the star, it is an avocado salad, and this recipe is all about the wildly popular fruit. this avocado salad is paired with cucumber, vibrant tomatoes, and red onion. The dressing is incredibly flavorful and simple since it use lemon juice and olive oil.
I really love how easy it is to make avocado salad and can be enjoyed in multiple ways: as a standalone dish, as a delightful side, it's both naturally gluten-free and vegan, making it an excellent choice for any crowd. Do not forget about how versatile avocado is.
Unfortunately, sometimes picking avocado can be tricky sometimes you can be lucky get flawless avocado, sometimes it has dark spotty inside the avocado, here are some tips I gather to pick a ripe and unripe avocado
How to pick a ripe avocado?
Here are some tips about how to pick a good and ripe avocado, if you have more fruitful pieces of information please share it here🤗
Check the Color; The color of an avocado is one of the first indicators of its ripeness. Ripe avocados typically have a deep, consistent green or purplish-black color, depending on the variety. Avoid avocados that have any visible signs of green skin; they are usually underripe. A mottled appearance is often a sign of overripe avocados.
Gently Squeeze It; Ripe avocados should yield slightly to pressure but not feel mushy. If the avocado feels hard, it's underripe. If it feels very soft or mushy, it's overripe. Gently squeeze the avocado using the palm of your hand (avoid using fingertips to prevent bruising). If it yields slightly to the pressure, it's perfectly ripe and ready to eat. It needs a day or two to ripen if it feels firm and doesn't give. If it gives too easily, it's likely overripe and may have spotty areas inside.
Check the Stem; Check under the stem. Use your fingers to gently remove the stem at the top of the avocado. If the area underneath is green, you've found an avocado ready to be enjoyed. If it's difficult to remove, it requires a couple more days to ripen. However, if it's brown underneath, the avocado is overripe.
The Sound Test; Another way to check the ripeness of an avocado is by giving it a gentle shake. If you can hear the pit rattling inside, it's likely overripe. A ripe avocado will have a subtle sound or no sound at all when shaken.
Do and Don'ts to Unriped Avocado
Meanwhile, if you have or stock more avocados, I suggest you buy and keep the underripe. how to keep unriped avocados at home Keeping unripe avocados at home and ripening them properly is essential if you want to enjoy them at their best. Here are some steps to help you store unripe avocados:
Leave Them at Room Temperature: Unripe avocados should be kept at room temperature. Avoid placing them in the refrigerator, as this will slow down the ripening process significantly.
Use a Paper Bag: To speed up the ripening process, place the unripe avocados in a brown paper bag. This helps trap ethylene gas, which is released by the avocados themselves and aids in ripening. If you don't have a paper bag, you can wrap the avocados individually in a newspaper or a kitchen towel.
Store Away from Direct Sunlight: Keep the avocados away from direct sunlight, as excessive heat can cause them to ripen unevenly or even spoil.
What Inside Avocado Salad
Avocado; The best quality avocados are really what will make this recipe shine.If possible, always use ripe avocado to get the best taste and texture. A nice ripe avocado, not a mushy or firm texture, and a well-rounded flavor. If the avocados are not ripe, then keep them in a brown paper bag and place them on the kitchen counter for a few days till they ripen. the avocado is cored, peeled, and sliced
Tomato; Most tomato varieties are okay to make this avocado salad recipe. Use ripe tomatoes that are firm to the touch. Try cherry tomatoes, grape tomatoes, or anything that you have. It will be better to mix two or more varieties with different textures and colors in the salad.
Cucumber; I love to add this cucumber because adds crispy cooling and fresh textures. However, just keep in mind you'll want to peel those with a thicker, waxy skin first. Fresh English cucumber brings a cooling, crunchy element to the salad, and gives it all sorts of summer vibes.
Red Onion; Any color of onion will work here, but I tend to reach for either red or sweet yellow onions for raw applications. As for me, I recommend red onion for an avocado salad. My favorite raw red onion tip: If you like a milder flavor, thinly slice the onion, then soak it in cold water for ten minutes before using it in the salad. This preserves its flavor while mitigating the harsh, lingering aftertaste
Salad Dressing
For dressing I use;
Olive Oil; Extra-virgin olive oil would be the best choice to add a fruity flavor and tie together the other ingredients. However, Standard refined olive oil will work too, it's just not quite as flavorful.
Lemon Juice; You'll want both the zest and juice for the brightest flavor. Freshly squeezed lemon juice adds a fresh, vibrant kick to the salad; however, don't add too much of it because it can make the meal too acidic. this dressing is the key to bringing this simple salad together. For alternative you can use lime juice too, especially if combined with fresh cilantro
Seasoning (optional) I use Sea Salt and Black Pepper; Avocados and tomatoes require a good pinch of sea salt and some freshly ground black pepper to bring out their flavor.
How to Make Avocado Salad
You know it is really basic and effortless to make Avocado salad since you only need to prepare a plate/ bowl, assemble the condiment, and give salad dressing which is this part is optional. Here's how;
First of all, in a mixing bowl, combine avocado, tomato, cucumber, and red onion.
Then, Prepare the dressing, and add olive oil, lemon juice, sea salt, and black pepper.
Try to toss and mix well, and taste the avocado salad based on your preference,
For the last step, add more salt and black pepper if necessary
Yes, finally that's all. too easy, right?
Your Avocado salad is ready to serve. Enjoy!
How long does it keep?
Homemade avocado salad makes a great healthy dinner side dish, holiday appetizer, or even a quick main course for lunch. Unfortunately, Avocados love to go brown on us quickly, so this dish is best when served straight away. So, it should be served shortly after preparing as avocados can start to break down. Also the salts of the dressing will start to draw liquid from tomatoes and cucumbers so another reason to serve shortly after preparing.
Nonetheless, any leftovers can be kept in an airtight container in the refrigerator for up to a day. Just know that even if your avo goes brown, it's just a little oxidation from exposure to air, and it is still totally safe to eat despite its appearance!
If you really need to get a head start, you can toss everything together except for the avocado and store it in the refrigerator for up to a day. Just add the avocado right before you're ready to serve.
What best to serve?
you can add some protein; Toss in some grilled shrimp or diced grilled chicken, or serve the avocado salad on top of each or some grilled salmon.
Add more veggies or fruits! Sliced zucchini, squash, or eggplant would work well here, as would diced bell peppers, rinsed chickpeas, or hulled sweet corn. or you can swap and change the veggies. you can add some mangoesor pinneaple woukd be great tho. This avocado salad is really flexible.
Also, you can make it spicy with adding some seeded jalapeño or a pinch of dried cayenne pepper.
Try to make your variations at home!
Recook and Share your thoughts with us!
Let me know your result by uploading pictures and tagging us on Instagram at Much Butter and Pinterest. Do not forget to see and follow our new Tiktok Account.
For cooking videos, check out and subscribe to our YouTube page. you can join our email for the latest idea menus.
YOU MAY LIKE OTHER DIET-FRIENDLY FOOD IDEAS :
Avocado Salad
Ingredients
1

Avocado

cored, peeled, and sliced

3

Tomato

diced

3

Cucumber

diced

¼

Red Onion

sliced

2

tbsp

Olive Oil

1

tbsp

Lemon Juice

½

tsp

Sea Salt

¼

tsp

Black Pepper
Instructions
In a mixing bowl, combine avocado, tomato, cucumber, and red onion.

Add olive oil, lemon juice, sea salt, and black pepper. Toss and mix well, taste the avocado salad and add more salt and black pepper if necessary.

Avocado salad is ready to serve. Enjoy!