Discover Crispy Chicken Chimichangas: A Tex-Mex food with seasoned chicken, gooey cheese, zesty salsa, all wrapped in tortilladeep-fried. It's flavorful and filling. How could that not be good?!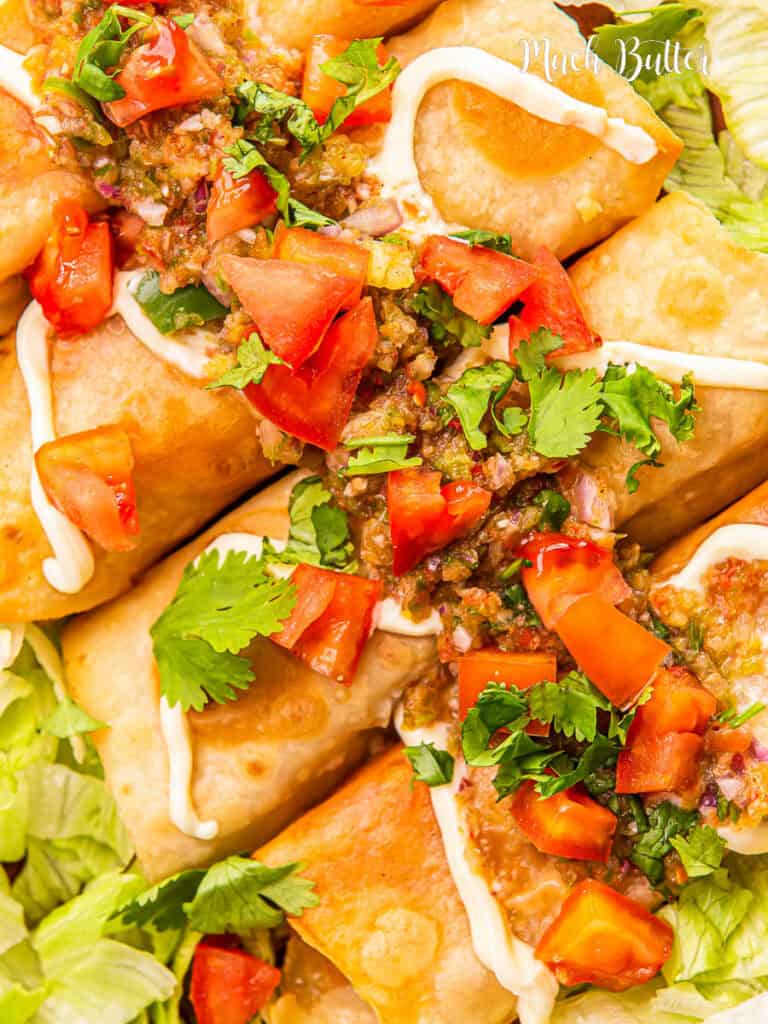 A famous Tex-Mex Snack
One slow saturday, as my hobby as cafe hopping, accidentally, I heard two people talking about their experience working in America. Not really listen a whole story because I'm not that creep and I was busy working with my work stuff. but I hear something about chicken chimblbla, and one of them said I miss Tex-Mex food. For about 30 minutes less or more, my husband pick me up while, the 2 friend sit next to me still talking about nostalgic moment in America.
I wish I could go there sometimes lol, as soon as I go home, I still curious about what they said in cafe, tex-Mex, so when I first heard about Tex-Mex it make my eyes drooling while thinking what is Tex-Mex means? Am I was too innocent since it is really my first time hearing it from my friend. so Tex-Mex is Abbreviation frim Texas Mexico, OMG why I didn't think about it a second.
The Internet result was so satisfying and I can't resist to look at Youtube for the recipe and some blogs, that's look so tempting, the crisp, salsa sauce and the filling was irresistible. So what is this famous Tex-Mex snack?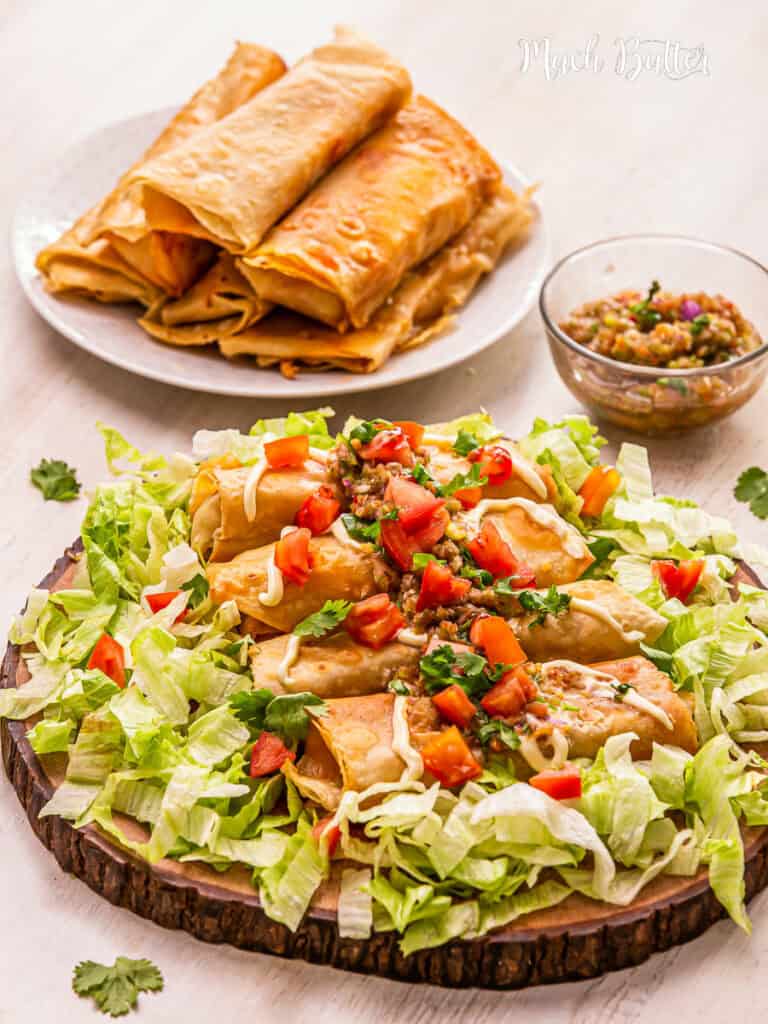 Yes, it is chicken Chimichangas, their name at first a liitle bit complicate make ke slip tongue for some moment, but after I get used to, it sounds more familiar and easier.
What is Chicken Chimichangas?
Chicken Chimichangas are a popular Tex-Mex dish that consists of seasoned shredded chicken, cheese, and other fillings wrapped in a flour tortilla and deep-fried until crispy and golden. The word "Chimichanga" is believed to have originated in Arizona, United States, in the mid-20th century.
The origins of chimichangas are a subject of debate, but they are believed to have originated in the southwestern United States, particularly in the Mexican-American border region. There are various stories about how chimichangas were first created. Upon retrieval, the cook supposedly exclaimed "chimichanga," using the Spanish word that loosely translates to "thingamajig" or "thingamabob," to express surprise or frustration. Regardless of their origin, chimichangas have become a beloved dish in Tex-Mex cuisine.
After being deep-fried to a crispy texture, chimichangas are often served with a variety of toppings and accompaniments, such as guacamole, salsa, sour cream, shredded lettuce, and chopped tomatoes.
what comes to my mind at first when seeing the tutorial for the recipe is remind me for making Cireng isi, it is Indonesian food made from flour and filling chicken, the filling is almost the same with how to make chicken chimichangas.
Nevertheless, this chicken Chimichangas really stole my heart and my stomach lol. I should make it, and you too!
Ingredients For Chicken Chimichangas
Tortillas; basic ingredient for making chicken chimichangas, use to wrap the chicken filling before frying, also providing a delicious, crispy texture after frying
Chicken Breast Fillet; main protein source and the star of the dish. It provides the rich and savory flavor of chicken
Onion slice; add depth and aroma to the filling. They are sautéed along with the other ingredients to release their sweetness and provide a savory base for the chicken.
Garlic; adds a robust and aromatic flavor to the filling
Chili Powder;Chili powder imparts a mild heat and smokiness to the chicken filling, enhancing its flavor profile
Cumin Powder; a spice derived from ground cumin seeds, provides a warm, earthy, and slightly nutty flavor to the filling
Paprika Powder; adds a mild, sweet, and slightly smoky flavor to the chicken filling
Lime Juice; juice serves as an acidic component that helps to tenderize the chicken while adding a tangy and refreshing taste to the filling
Chicken Broth; ensures that the filling stays juicy and succulent
Salt and black pepper; for basic seasoning, enhance the flavor
Vegetable Oil; for frying the Chimichangas
Salsa Sauce
Salsa is a Mexican sauce made from chopped tomatoes, onions, chilies, and various seasonings. This sauce serves as a condiment or topping for the Chimichangas, adding a zesty and spicy kick to the dish. For alternative for dipping sauce, you use guacamole, sour cream, mayo.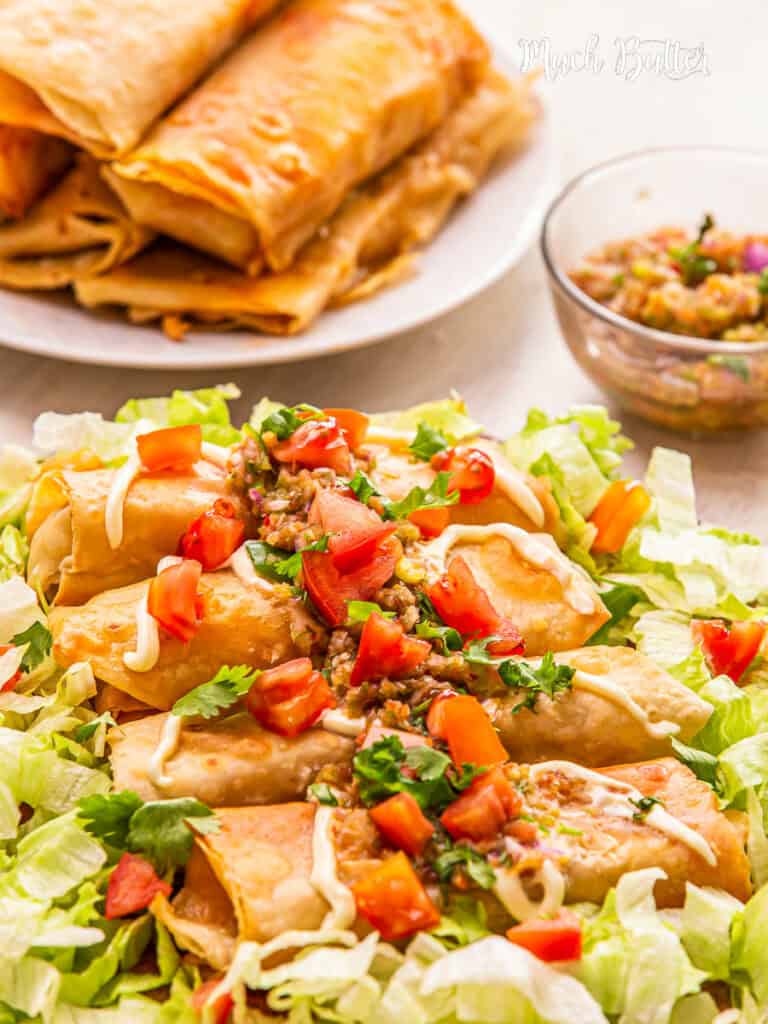 Green Pepper and Red Onion; These vegetables can be sautéed along with the onions and garlic to add extra flavor and color
Lime Juice; add tangy fresh taste
Chili Flakes; add little mid heat
Salt and Black Pepper; These common seasonings are used to enhance the overall taste
Mozzarella Cheese; Mozzarella cheese provides a creamy and gooey texture when melted inside the Chimichangas. It adds a rich and cheesy element to the dish.
Lettuce; as condiment and complement to the dish, yet It also serves as a bed for serving the dish.
Sour Cream; adds a creamy and tangy condiment that complements the spiciness of the Chimichangas
Tomato; as a topping or garnish for the Chimichangas
Cilantro; adds a burst of freshness and herbal aroma to the dish. It is often sprinkled on top of the Chimichangas as a final garnish.
How to Make Chicken Chimichangas
Salsa Sauce
To prepare the delectable Salsa Sauce that will perfectly complement your Chicken Chimichangas, follow these easy steps
Start by selecting fresh and ripe vegetables. First, take a vibrant green bell pepper, cut it in half, and remove the seeds. Next, roughly chop the green bell pepper into small pieces. Similarly, dice a fresh onion and a ripe tomato into small chunks. These colorful vegetables will bring a burst of flavors and textures to your salsa.
Once the vegetables are ready, it's time to blend them to achieve the desired consistency. After chopping the vegetables, place the roughly chopped green bell pepper, onion, and tomato in a blender or food processor.
Now comes the exciting part – seasoning the salsa to perfection. After blending the vegetables, transfer the mixture into a mixing bowl. Here, you can add a pinch of salt and a dash of black pepper to enhance the taste of the vegetables. Moreover, the acidity from the lime juice will brighten up the salsa, adding a tangy note that pairs beautifully with the other ingredients. If you prefer some heat, you can adjust by adding chili flakes for spicier chimichangas, or skip it if you prefer a milder flavor.
To add a burst of freshness, take a bunch of fresh cilantro, roughly chop the leaves and stems, and add them to the bowl. The cilantro adds a delightful finishing touch that elevates the overall taste of the salsa.
Now that all the ingredients are combined, take a spoon or a spatula and stir the salsa until all the elements are well mixed.
To allow the flavors to develop and intensify, cover the bowl with plastic wrap or a lid, and refrigerate the salsa for at least 30 minutes. So, Let set aside.
Filling
To prepare the flavorful filling for your Chicken Chimichangas, you'll start by cooking the chicken breast fillet in a pot filled with water. Once the chicken is tender and thoroughly cooked, drain the water and let it cool slightly. Afterward, use two forks to shred the chicken into thin, bite-sized pieces, ensuring it blends seamlessly with the other ingredients.
Next, in a large pan over medium heat, drizzle some oil and add minced garlic and diced onion. As the onions turn translucent and the garlic becomes aromatic, introduce the star ingredient – the shredded chicken. To infuse a symphony of flavors, add chili powder, cumin, and paprika powder. Squeeze in zesty lime juice and a generous dollop of salsa sauce, creating a harmonious melody of tastes.
Stir the pan's contents, allowing the spices and sauces to enrobe the shredded chicken in a mouthwatering dance of flavors. The blending of textures and tastes results in a well-coordinated and tantalizing filling that is both rich and tangy. For added moisture, pour in a ladle of chicken broth, melding it with the flavors to keep the filling succulent. Season with a sprinkle of salt and black pepper, providing a balanced and well-rounded taste.
As the filling simmers to perfection, continue stirring occasionally to ensure an even distribution of flavors. The liquid gently evaporates, leaving behind a luscious and well-seasoned mixture that tantalizes your senses. Allow the flavors to meld and intensify your Chicken Chimichangas' filling.
With the chicken filling now prepared, your crispy and flavorful Chimichangas are one step closer to becoming a Tex-Mex delight that everyone will savor with joy.
Assembly
To assemble the mouthwatering Chicken Chimichangas. First, warm the tortillas by heating a pan over low heat. Gently warm each tortilla one by one until they become pliable, making them easier to fold without cracking during assembly.
Next, it's time to fill the tortilla shells with the delicious chicken mixture. Spoon approximately 2 tablespoons filling onto the center of each tortilla. Enhance the filling's taste by adding a generous sprinkle of mozzarella cheese on top, which will melt into a creamy and gooey delight during frying.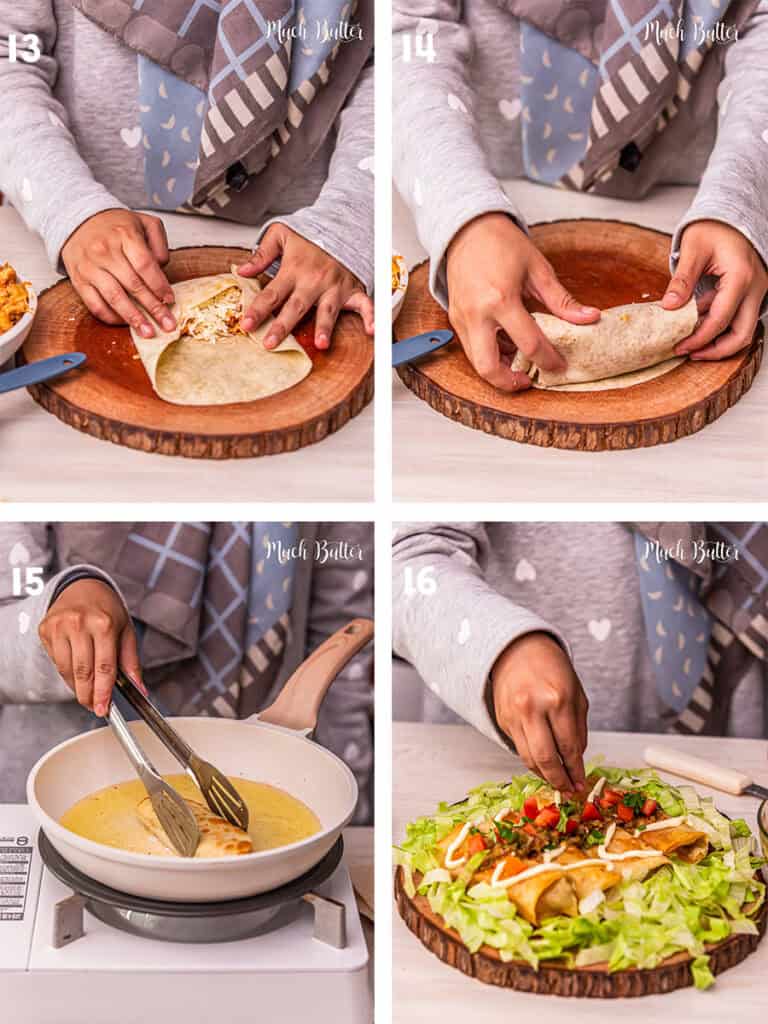 Carefully roll up the Chimichangas by lifting the edges of the tortilla over the filling to create a secure enclosure. Fold in the sides of the tortilla and continue rolling until you reach the opposite end, creating a neat and compact bundle that ensures all the flavors stay contained.
In a separate pan, heat a sufficient amount of oil over medium-high heat to deep-fry the Chimichangas. Gently place each rolled Chimichanga seam-side down into the hot oil and fry until all sides are gloriously golden brown.
Once the Chimichangas are fried to golden perfection, remove them from the oil and place them on a plate lined with paper towels to absorb any excess oil. To complement the flavors, serve the Chimichangas with crisp lettuce and juicy tomato slices.
Serve and Enjoy
For a creamy and zesty finishing touch, drizzle of salsa sauce over the Chimichangas.
To elevate the presentation and add a burst of freshness, sprinkle chopped cilantro over the Chimichangas as a garnish. The cilantro not only enhances the visual appeal but also complements the dish's taste, making your Chicken Chimichangas a delightful Tex-Mex feast that is both visually stunning and irresistibly flavorful.
Your chicken ChimiChangas ready to serve, I prefer to eat this while still warm and crispy from the tortilla, So yummy and this is so filling
MOOD FOR OTHERS SNACKS? TRY THESE TASTY RECIPE IDEAS: IDEAS:
Don't forget to try this recipe, let me know if this recipe works and be your favorite menu to cook. You can save this recipe by signing up for my email list! Do not forget to leave a star rating and a review in the comment section further down the page. I always appreciate your feedback.
Also, you can follow our Pinterest, and Instagram, and our Youtube channel for the up-to-date menu. See you on the other menu recipe, friends!
Thank you for your support❤
Chicken Chimichangas
Ingredients
10

Tortillas

1

lb

Chicken Breast Fillet

½

Onion

slice

2

clove

Garlic

mince

1

tsp

Chili Powder

¼

tsp

Cumin Powder

½

tbsp

Paprika Powder

1

tbsp

Lime Juice

½

cup

Chicken Broth

2

tbsp

Vegetable Oil

2

tbsp

Salsa Sauce

1

tsp

Salt

½

tsp

Black Pepper
Salsa Sauce
1

tbsp

Cilantro

mince

1

Green Pepper

2

Red Onion

1 ½

Tomato

1

tbsp

Lime Juice

½

tsp

Chili Flakes

½

tsp

Salt

¼

tsp

Black Pepper

1

cup

Mozzarella Cheese

1

cup

Lettuce

Sour Cream

Tomato

diced
Instructions
Salsa Sauce
Remove the green bell pepper seeds and roughly chop green bell pepper, onion, and tomato. Then blend them roughly.

Put them in a bowl, then add salt, black pepper, lime juice, chili flakes, androughly chopped cilantro. Stir until well combined. Set aside.
Filling
In a pot, boil the chicken breast fillet until cooked, drain the water then shred the cooked chicken breast fillet.

Heat oil in a pan, then add garlic and onion and cook until fragrant. Add the shredded chicken, chili powder, cumin, paprika powder, lime juice, and salsa sauce. Stir until well combined.

Pour in chicken broth, then add salt and black pepper. Stir until well combined and cook until the liquid evaporates.
Assembly
Heat a pan over small heat, then warm the tortillas one by one until they are pliable. Fill the tortilla shells with 2 tbsp of the chicken mixture and mozzarella cheese.

Lift the edges of the tortilla and roll it over the filling to secure it. Fold in the sides and continue rolling until you reach the opposite end. Repeat it with the rest of the tortillas.

Heat oil, then fry the chimichangas until all sides are golden brown. Serve chimichangas with lettuce and tomato slices. Then add a dollop of sour cream and salsa sauce on top. Sprinkle it with chopped cilantro as a garnish. Enjoy!