Fall in love with the garlic bok coy recipe! Easy, very quick, and tasty. Enjoy a bold flavor of garlic and a satisfying crunch bok coy with your loved ones! It's perfect for your diet plan meal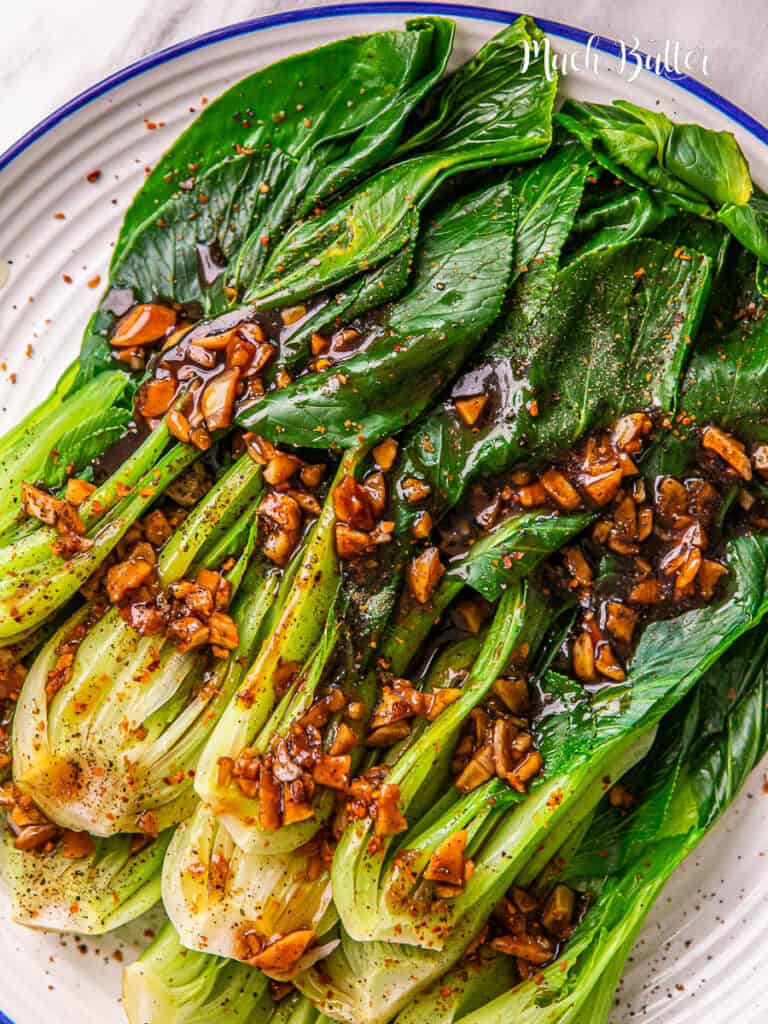 Get a daily dose of green veggies with this mouth-watering garlic bok choy dish! Sometimes the simplest things are the best things.  Bok coy is one of my favorite vegetables. Making Garlic bok choy is quick and easy to make, this Chinese vegetable is not only delicious but also packed with nutrients. With its vibrant green color and tender texture from bok coy, paired with a flavorful twist and pungent flavor of garlic, this dish is sure to satisfy your taste buds and leave us feeling energized and nourished.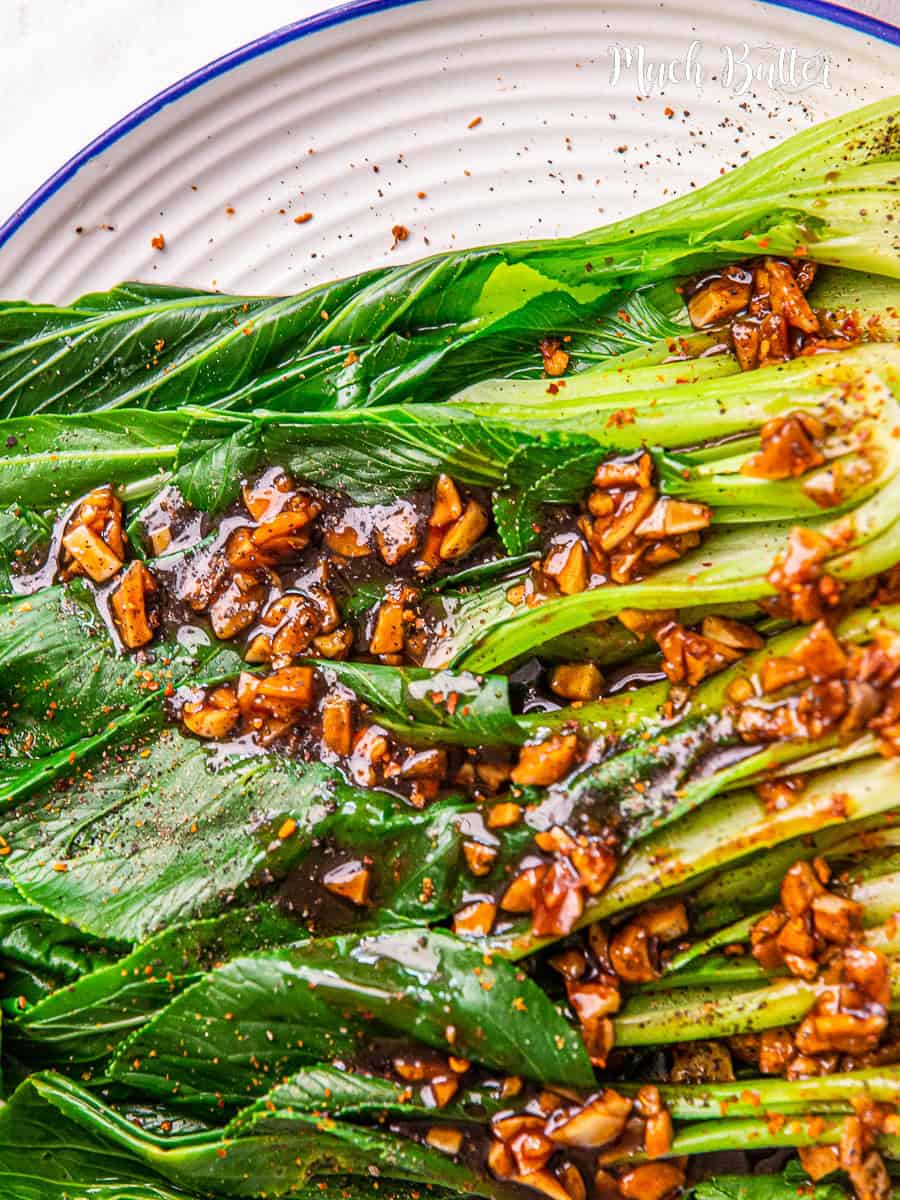 Harvesting Bok coy
I have a funny story behind making this garlic bok coy recipe, so my grandmother is a farmer in a village. Indonesia, as a tropical country when only have two seasons that are rainy season and the dry season. The majority of society here is the agriculture or farming variety of vegetables including rice, tea, coffee beans, and vegetables such as potato, cabbage, carrot, and still so many I couldn't mention here because you know it's a lot, not to mention this bok coy
So, my grandmother is one of the farmers. one of my recipes is green chili with sweet soy sauce is also from my grandmother's backyard. Even tho she's not young anymore, I really appreciate and amaze by her fitness. Such a fine wine, getting older getting golden lol. Well, when I and my family comes to visit her, she is really excited, and as always when we come back home, everything she had she will pack up for us. Sometimes our car was too heavy but it is her my lovely grandmother showing her love to us. This time she gave us a bunch of fresh baby bok coy
And this recipe is also from her, I still don't understand why she cooks really simple but it's always tasty and a chef's kiss. But why it's always different with my cooking even with the same ingredients? Does anyone relate to me? Do not worry today's recipe is also mouthwatering and healthy!
Everything about Bok coy
So what is Bok coy? Bok choy, also known as pak choy, pok choi, is a family of Chinese cabbage, that has smooth, wide, flat leaf blades at one end with the other end forming a cluster similar to that of celery. with white stems and green leaves may be eaten cooked or raw. this vegetable is commonly used in Asian cuisine. It's relatively easy to grow and harvest, making it a great choice for novice gardeners. There are two types based on their size: regular and baby bok choy. Also, Bok choy is typically ready to harvest in about 40-50 days after planting. The leaves can be harvested when they are 6-8 inches tall.
What is the difference between Bok Choy and Baby Bok Choy?
Actually, they are the same, the difference lies in the size and harvest time, as we know baby bok coy is harvested earlier resulting smaller "baby". Baby bok coy is usually more fresh and crispy not hardened as well as regular bok coy. Since baby bok coy harvests earlier, baby bok choy is much sweeter and is often served directly in soup or in salads. Bok choy, on the other hand, is much heartier, perfect for longer cooking times as in stir-fries.
What bok coy best serve with? The best answer to this question goes with just about everything! you can add some protein such as shrimp, beef, or chicken breast, and serve it with rice. or just stir fry for a diet and a vegan-friendly meal is also great or as condiments in ramen. well all of them really tempting indeed!
Ingredients of Garlic Bok Coy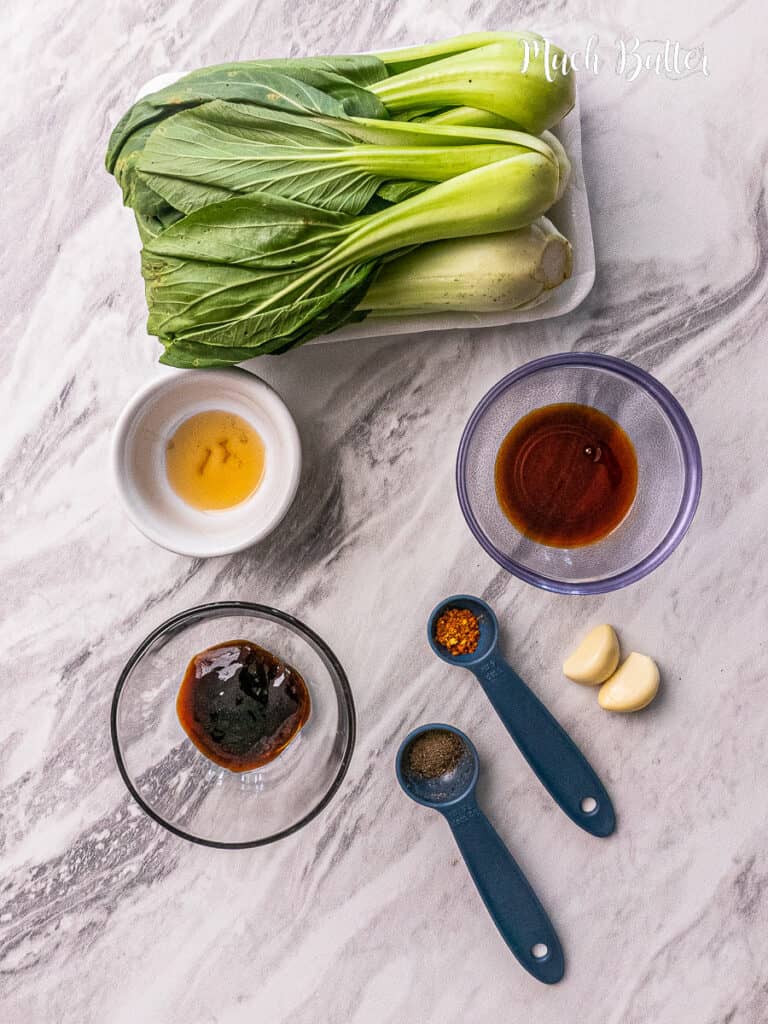 Baby Bok Choy: The star ingredient of the dish, baby bok choy adds a refreshing and slightly sweet flavor. It also provides a tender and crunchy texture to the dish.
Garlic: Garlic brings a pungent and aromatic flavor to the dish. It enhances the overall savory profile and adds depth to the taste.
Oyster Sauce: Oyster sauce contributes a rich and savory umami flavor to the dish. It adds a depth of complexity and enhances the overall taste of the bok choy.
Soy Sauce: Soy sauce adds a salty and savory taste to the dish. It helps to season the bok choy and brings out the natural flavors of the vegetables.
Ground Black Pepper: Black pepper provides a mild heat and a subtle spiciness to the dish. It complements the flavors of the garlic and adds a touch of warmth.
Red Pepper: Crushed red pepper, also known as red pepper flakes, brings a fiery and spicy kick to the dish. It adds heat and an extra layer of flavor for those who enjoy some heat in their meals. The amount can be adjusted according to personal preference.
Sesame Oil: Sesame oil has a distinct nutty and aromatic flavor. It is used to stir-fry the garlic and create a fragrant base for the dish. It adds depth and richness to the overall flavor profile.
Each ingredient plays a crucial role in creating a harmonious blend of flavors in garlic bok choy. The combination of these ingredients results in a savory, aromatic, and slightly spicy dish that enhances the natural freshness of the baby bok choy.
How to Make Garlic Bok Coy
To prepare a delicious dish of baby bok choy, start by slicing the vegetables in half lengthwise. This will help them cook evenly and absorb the flavors of the sauce. Once you have your bok choy ready, it's time to move on to the next step.
Next, in a pot or pan, bring water to a gentle boil over medium heat. The bubbling water creates the perfect environment to blanch the baby bok choy. Carefully place the sliced bok choy into the boiling water and let it cook until the leaves turn vibrant green.
Remember, this process only takes a few minutes, so keep an eye on them to avoid overcooking. As soon as the leaves change color, strain the bok choy immediately to stop the cooking process.
Stir Fry Process
Now, using the same pan you blanched the bok choy in, set the heat to medium and add sesame oil. Allow the oil to heat up and then add minced garlic, oyster sauce, and soy sauce to create a flavorful sauce. Let the ingredients simmer together, allowing the flavors to meld and the sauce to thicken slightly. The aroma of the garlic and the umami notes from the oyster and soy sauce will start to fill your kitchen, creating an enticing atmosphere.
Once the sauce has reached the desired thickness, it's time to plate your dish. Arrange the boiled baby bok choy on a serving plate, creating an attractive presentation. Then, drizzle the thickened sauce over the bok choy, ensuring each piece gets coated in the flavorful mixture. The combination of the tender bok choy and the savory sauce will create a harmonious blend of flavors.
To add a hint of spiciness, sprinkle some ground pepper and crushed red pepper over the dish. The heat from the pepper will complement the savory notes and elevate the overall taste. Now, your garlic baby bok choy is ready to be savored and enjoyed.
With its vibrant colors and enticing aroma, this dish is sure to be a hit at your dining table. The transition from blanching the bok choy to creating the flavorful sauce adds depth to the cooking process. Take your time to savor each bite, appreciating the delicate textures and the harmonious balance of flavors.
Enjoy this delicious and healthy baby bok choy dish as a standalone meal or as a delightful side to complement your favorite Asian-inspired cuisine.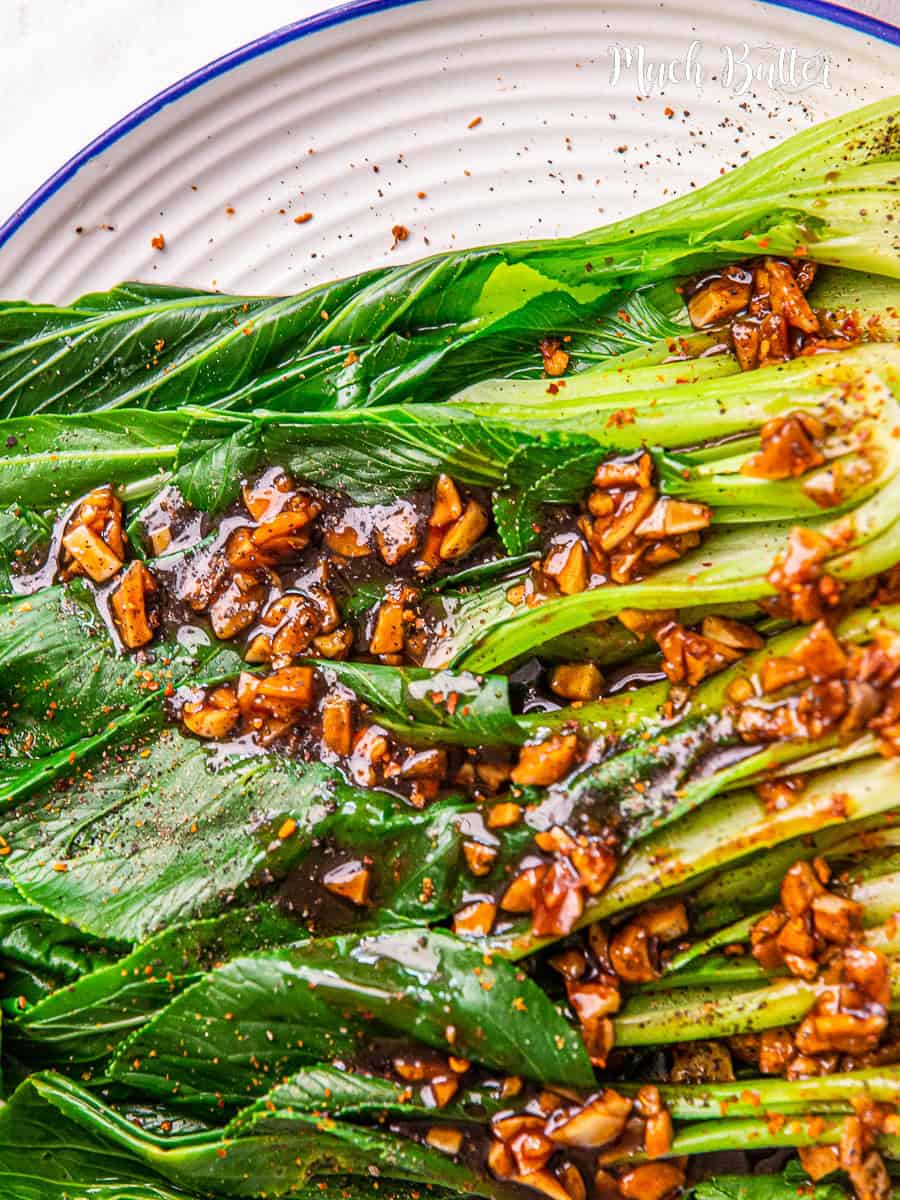 Sharing is Caring
Don't forget to try this recipe, let me know if this recipe works and be your favorite menu to cook. You can save this recipe by signing up for my email list! Do not forget to leave a star rating and a review in the comment section further down the page. I always appreciate your feedback.
Also, you can follow our Pinterest, and Instagram, and our Youtube channel for the up-to-date menu. See you on the other menu recipe, friends!
YOU MAY LIKE OTHER ASIAN CUISINE :
Thank you, your supports are so much appreciated 💕
Written by Silni Asfia
Garlic Bok Coy
Ingredients
250

g

Baby Bok Coy

2

clove

Garlic

chopped

1

tbsp

Oyster Sauce

1

tbsp

Soy Sauce

¼

tsp

Ground Black Pepper

½

tsp

Crushed Red Pepper

½

tsp

Sesame Oil
Instructions
Slice baby bok coy in a half lengthwise. Boil water in a pot/pan over medium heat. Once the water is boiling, blach the baby bok coy until the leave turns vibrant green. Strain immediately.

In the same pan over medium heat, heat sesame oil, then cook garlic, oyster sauce, and soy sauce. Simmer until the sauce is thickens.

Place boiled baby bok coy in a plate, then pour the sauce over it. Sprinkle with ground pepper and crushed red pepper. Enjoy!