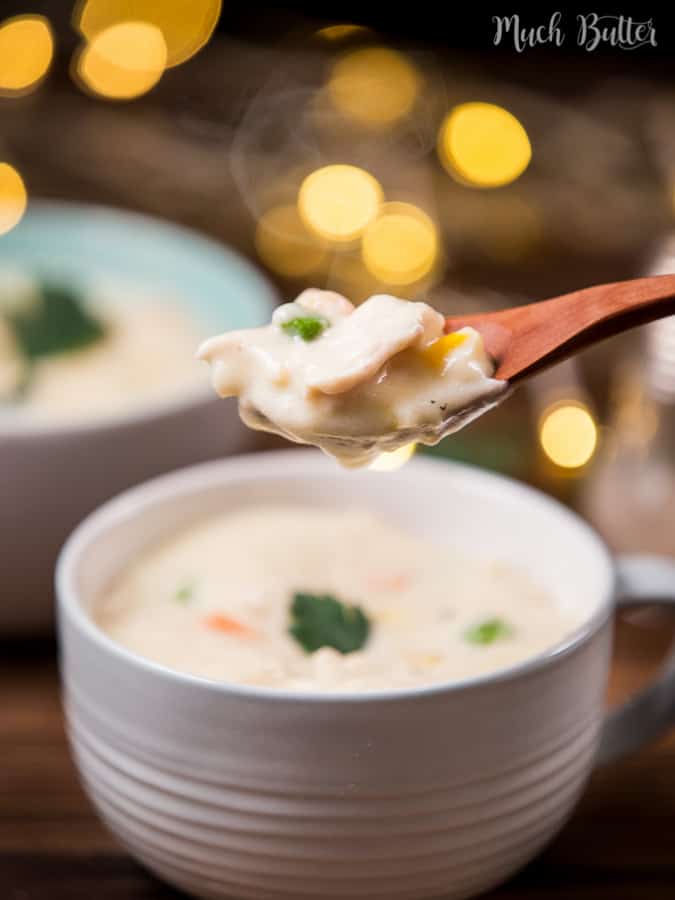 Warm soup and a cup of tea are perfect to comfort your body in this winter weather. Healthy and delicious Creamy Chicken Soup makes your cold nights warmer.
Last week we made this Creamy Chicken Soup and so excited to share the recipe with you guys. As expected the taste insanely GOOD!
The ingredients are chicken breast and mixed vegetables of your choice. For vegetables we chose carrot, corn and peas. Although we're not adding potatoes because it is decadent enough, you can add potatoes if you like it.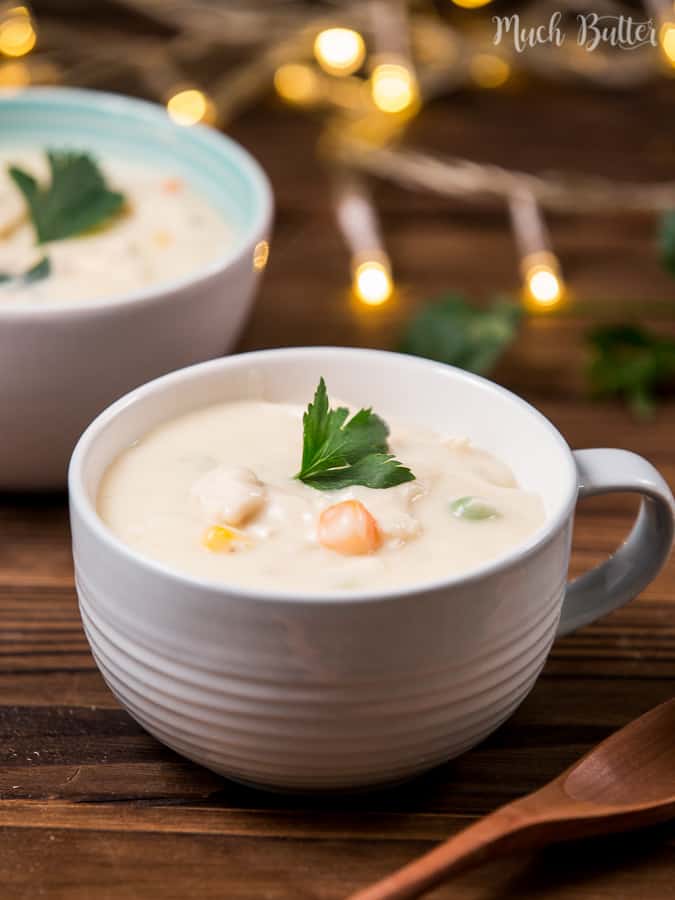 For this recipe you can make some substitute for the ingredients, such as:
Onion powder with fresh chopped onion,
Garlic powder with finely chopped garlic, and
Frozen packed vegetables with your favorite vegetables.
Asian celery with ordinary celery. But don't forget to double the amount because asian celery have more fragrant and flavour.
500ml milk with 4 tbsp heavy cream and 450ml extra water.
The taste of creamy chicken soup is similar with chicken soup, but with milk or cream added. Because sometimes we are bored with the same old ordinary chicken soup. So why not make a difference?
If you follow our instructions for cooking the shredded chicken breast (it's actually how you poach chicken breast), you will find that the chicken breast is so juicy and tender. Not typical dry and fibrous overcooked chicken breast.
Don't dare to change butter with cooking oil! Actually you can, but the taste would not be the same and not as delicious as if we use butter.
You can eat this creamy chicken soup with toasted baguette or puffed pastry.
The soup can bring warmth to our body and soul. Don't you know that chicken soup is suitable for person who is sick and can make them feel a little bit better?
Creamy Chicken Soup
Ingredients
400

g

Chicken breast

1

cup

Mixed vegetables

(carrot, corn, peas)

1

tbsp

Asian celery stem

chopped

1

tbsp

Asian celery leaves

coarsely chopped

500

ml

Milk

60

g

All purpose flour

40

g

Unsalted butter

1

tsp

Onion powder

1

tsp

Garlic powder

9

g

Chicken stock powder

750

ml

Water

Salt & blackpepper
Instructions
Poached Shredded Chicken Breast
In a saucepan add water and chicken breast and bring to boil. After boiling, reduce the heat to low and simmer the chicken breast for 10 minutes. Remove the impurities on the top of water. After 10 minutes remove chicken breast from saucepan. Shred the chicken breast on a cutting board with fork and knife. It is okay if the chicken is slightly undercooked, we will cook it again in soup. Save 500 ml of the water for soup.
Creamy Chicken Soup
In the same saucepan melt the butter, then add mixed vegetables and celery stalk and sauté for 1 minutes. Then add flour and stir frequently for 2 minutes.

Add milk little by little while mixing so there is no lump on the saucepan. Then add previous water from cooking the chicken breast. Bring to boil.

Add chicken stock powder, onion powder, garlic powder, salt and blackpepper. Stir until combined. Boil until the preferred consistency. Then add shredded chicken breast and celery leaves. Boil for 1 minute.

Turn off the heat and creamy chicken soup is ready to serve.
Recipe Notes
You can change the mixed vegetables for your liking. The amount is 1 cup. I usually use frozen packed vegetables.
You can substitute onion powder and garlic powder with fresh onion and garlic. Sauté together with mixed vegetables.