Wake up to the fresh aroma of Coffee toast bread. It is crisp and crunchy on the outside and soft on the inside. The perfect piece for breakfast or a snack with a coffee aroma that will be fresh and brainstorm your whole day! Inspired by the famous aroma of roti boy, a Mexican coffee bun. Get a whole complete package of coffee and bread in one meal!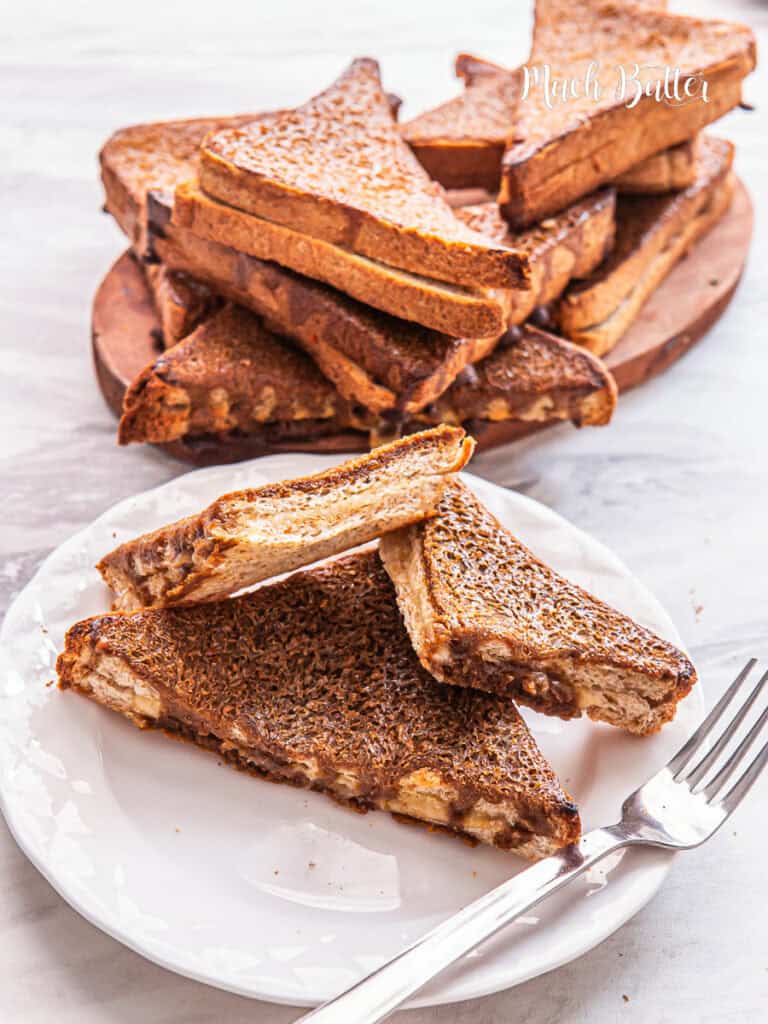 This delicious Coffee bread toast has a lovely coffee-flavored crust and a moist crumb. it's safe for everyone to enjoy, especially a coffee addict. Top it with a dollop of ice cream and get ready to dig in!
Hi, guys!
This toast recipe is inspired by Roti Boy/Papa Roti's coffee bun. If you are craving coffee bun but are too lazy to make them, this is a simpler recipe in a toasted form and also crispier! It's very easy and delicious, try it at home. If you're not familiar with what is Rotiboy, you can check this brief history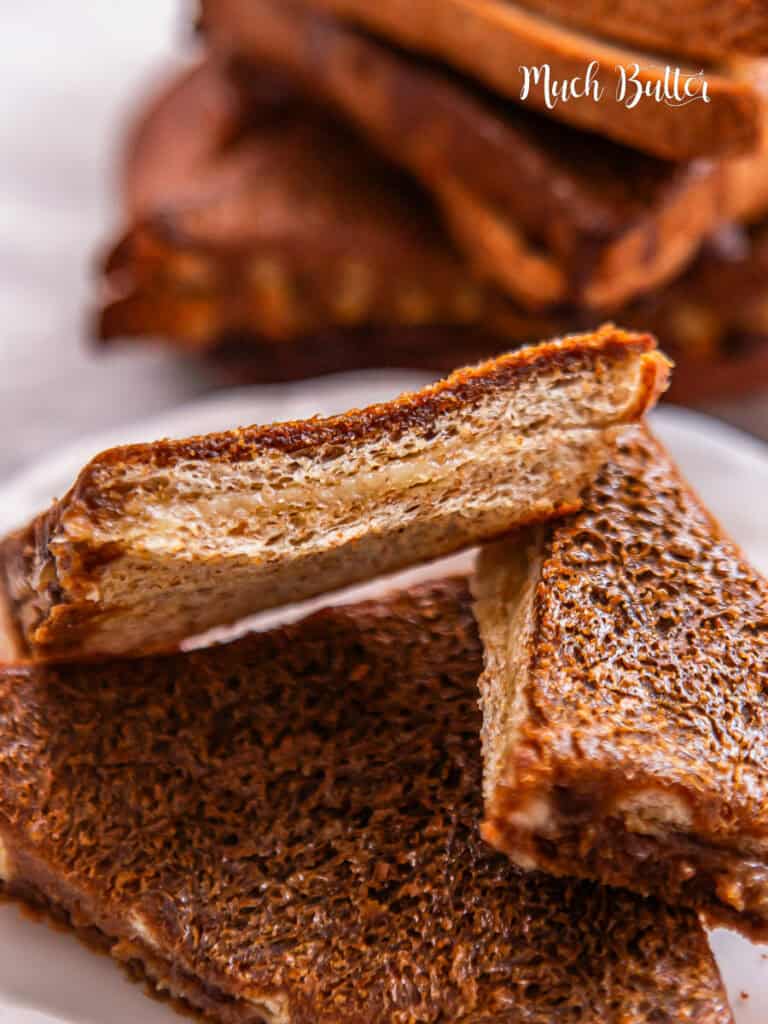 Famous Coffee bun Recipe, Roti Boy
In 1998, the beloved bakery and coffee chain, Rotiboy, had its humble beginnings in Malaysia, thanks to the vision of its founders, Hiro Tan and Karl Chin. These two passionate individuals embarked on a mission to create something truly exceptional in the town of Bukit Mertajam, Penang.
Their creative genius birthed the iconic "Mexican Coffee Bun," a sweet delight filled with coffee-flavored butter paste and topped with a crumbly layer. This delightful treat quickly became the hallmark of Rotiboy. Its overwhelming success sparked a whirlwind of expansion, both within Malaysia and on the international stage, with Rotiboy outlets now gracing the streets of Indonesia, Singapore, Thailand, and the Philippines, turning it into a global sensation enjoyed by all.
Moreover, In Indonesia, Rotiboy has a special place in people's hearts. almost every mall has them, and the feeling when you enter the mall that nears Rotiboy place is, just ugh you cannot resist not buying it.
Today's recipe might be not really look alike, but I just inspired by the aroma of coffee and butter from the oven, savory, good, and addictive. So I decided to make it one and you should too!
Ingredients of Coffee Toast Bread
Bread; You can use Any type of regular sandwich bread! White bread, gluten-free bread, Texas toast, whole wheat bread, a sliced loaf of French bread, or English muffins are all great options. Just be sure the bread is sliced for even toasting. buttery bread such as brioche is recommended. Or simple square white bread. You only need one ingredient for a slice of golden brown toast and that's bread
Butter; here I use unsalted butter, but you can use salt flavored for a more balanced taste.
Cheese; here I use Mozzarella cheese to fill the bread for a chewy and melting sensation after baking
Espresso powder; use a chicory coffee or any dark roast coffee; if you like a stronger coffee flavour, you can use more coffee grounds, here I use Nescafe Expresso powder
Hot water; we use a little bit of hot water to brew the coffee
To Make the top Coffee Mixture that will be spread on the bread, you will need Powdered sugar, Egg, Vanilla extract, all-purpose Flour, and more coffee.
How to Make Coffee Toast Bread
First, prepare 2 slices of bread. Next, spread butter on one side of the bread, then add grated mozzarella cheese and top it with another slice of bread. Repeat until all the bread is used.
Second, cut the bread into 2 triangular pieces, then arrange them on a baking tray lined with baking paper.
Meanwhile, for the coffee solution: Brew coffee with a small amount of hot water. Stir until well mixed, then let it cool to room temperature.
Now, for the top mixture: Mix butter with powdered sugar until evenly combined. Next, add 1 egg and vanilla extract, and mix again until smooth. Afterward, add all-purpose flour and mix until well combined. Finally, pour the coffee mixture and mix again until well combined.
Once the mixture is ready, transfer it into a piping bag, then pipe it onto the bread slices until all the bread is covered.
Preheat your oven and bake the bread using the top heat element at 180 degrees Celsius for 20 minutes.
Finally, enjoy your delicious creation of crunchy and crispy coffee toast bread while out fresh from the oven. smells of coffee just make your day get better not only from a cup, but from all the oven lol.
I'm delighted to find an easy and delectable sweet snack like this! I hope you enjoy it as much as mine!
Let me know your results by uploading pictures and tagging us on Instagram at Much Butter and Pinterest. Do not forget to see and follow our new Tiktok Account.
For cooking videos, check and subscribe to our Youtube page. you can join our email for the latest idea menus.
YOU MAY LIKE OTHER BREAKFAST BREAD RECIPE IDEAS :
Thank you, your supports are so much appreciated 💕
Coffee Toast Bread
Ingredients
10

slices

of Bread

½

cup

butter

¾

cup

Mozzarella Cheese

1½

tbsp

Espresso powder

¾

cup

powder sugar

1

egg

½

tsp

Vanilla extract

½

cup

flour

⅛

cup

Hot water
Instructions
Prepare 2 slices of bread. Spread butter on one side of the bread, then add grated mozzarella cheese and top it with another slice of bread. Repeat until all the bread is used.

Cut the bread into 2 triangular pieces, then arrange them on a baking tray lined with baking paper.

Coffee mixture: Brew coffee with a small amount of hot water. Stir until well mixed, then let it cool to room temperature.

Top mixture: Mix butter with powdered sugar until evenly combined. Then add 1 egg and vanilla extract, and mix again until smooth. Add all-purpose flour and mix until well combined. The last, pour coffee mixture and mix again until well combined

Transfer the mixture into a piping bag, then pipe it onto the bread slices until all the bread is covered.

Bake the bread using the top heat element at 180 degrees Celsius for 20 minutes, and enjoy