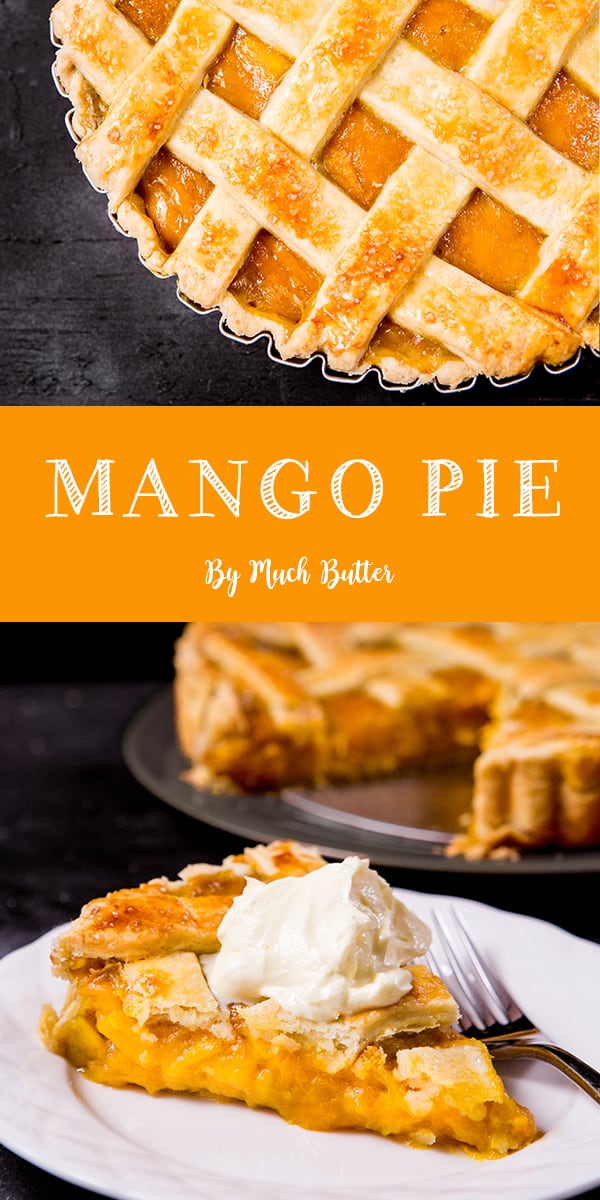 REASONS BEHIND MANGO PIE
Let me tell you why we finally make mango pie. In tropical country like Indonesia mangoes are usually available start in the mid-summer until mid-fall months.
All the way near our home there are so many people selling mangoes. How about your country? What is fruit's season in your country this months?
There are several types of mangoes. My favorite mango is Arumanis. Arumanis mango is one of popular mango in Indonesia. The Arumanis mango is also known as "Harumanis". In Indonesia, the word "harum" means "fragrant" and "manis" means "sweet".
Many people in Indonesia prefer to Arumanis mango to buy because of the fragrance and sweetness. The price is also more expensive compared to other types of mangoes.
I want to eat something different with mango and my sister suggested to make a mango pie so that we can shared the recipe with you too.
By the way this is the first time we make pie at home, usually we just eat pie at restaurant or cafe. We used pie crust from Chef John and we dare to say that it's foolproof.
In this recipe we make pie with Arumanis mango, but you can use any mango as you like and any kind that available in your country.
But please use mangoes that aren't fibrous. Fibrous mangoes will make unpleasant texture the filling. Oh by the way because of the sweetness of Arumanis we didn't add much sugar in it.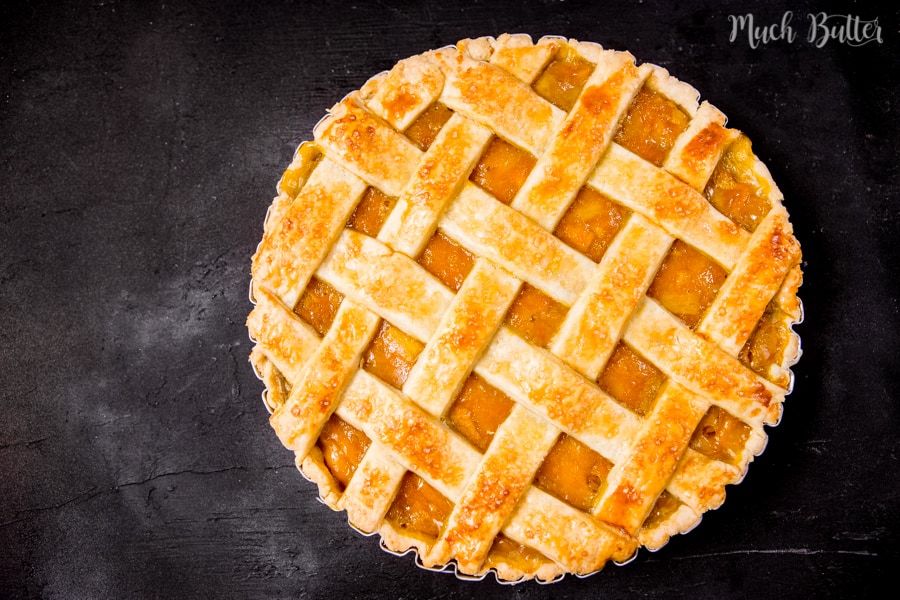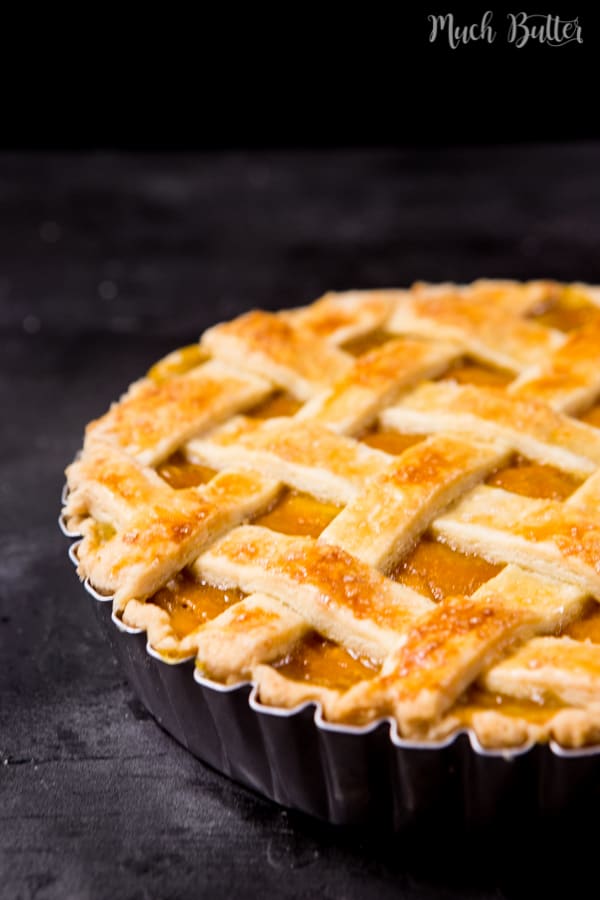 What you can do to make it successful:
Use apple cider vinegar in pie crust. I'm a little bit sceptical about using this kind of vinegar because it smells nasty. But after baking we don't taste any apple cider vinegar. The acid in vinegar prevent built protein that will make hard and not-crumbly pie crust.
If you use very sweet mango, don't add too much sugar.
You can use several kinds of mangoes so the taste is complex. But be sure not using fibrous mangoes.
You can add any spices you like. But we don't use any spices because we like the filling taste pure mango.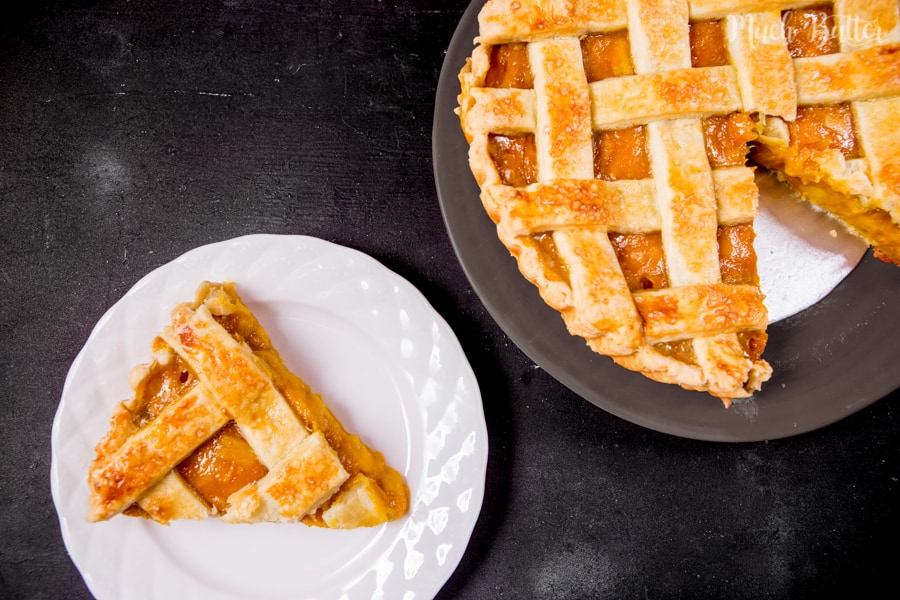 Hey, as always, if you make it recipe be sure to share it in the comment or tag our instagram! Happy cooking. 🙂
Mango Pie
Cook Time
1
hour
30
minutes
Total Time
1
hour
45
minutes
Ingredients
Pie Filling
1

kg

Mango

cubed

1

tbsp

Granulated Sugar

1

tbsp

Cornstarch

A Pinch of Salt
Pie Crust
340

g

Flour

225

g

Cold Butter

cubed

7

tbsp

Ice Water

1

tbsp

Apple Cider Vinegar

1

tsp

Salt
Instructions
Pie Crust
In a food processor combine flour and cold butter and pulse several times to mix. Do not overmix.

Add ice water, apple cider vinegar and salt and pulse several times. The mixture is ready if when you pinch some of the crumbly dough together with your fingers, it holds together.

Turn the dough into a ball and warp with plastic. Refrigerate for 1 hour.
Mango Filling
Add 3/4 of cubed mango and a pinch of salt onto a saucepan. Cook for 15 minutes until most of the water evaporated. Chill for 45 minutes.

After 45 minutes combine all mangoes, sugar and cornstarch in large bowl.
Assembly The Pie
Preheat oven to 350 degrees F (175 degrees C). Place a baking sheet on an oven rack.


Divide pie dough into 2 balls, save 1 in refrigerator. Onto the floured surface, roll out dough with a rolling pin to a 12-inch circle, about 1/8 of an inch thick.

Carefully place onto a 9-inch pie plate. Gently press the pie dough down so that it lines the bottom and sides of the pie plate.

Fill the pie plate with mango filling.

Take last dough in the refrigerator. Onto the floured surface, roll out dough with a rolling pin to a 12-inch circle, about 1/8 of an inch thick. Cut lengthwise with pizza dough cutter about 1 inch wide. Make about 9-10 long doughs.

Make braid pie crust on the mango filling. (Please watch the tutorial video)

Trim excess dough with kitchen shears or knife.


Bake 350 degrees F (175 degrees C) for 1 hour 15 minutes on baking sheet.

When done baking, cool the pie in room temperature.
---
TRY ANOTHER DESSERTS FROM MUCH BUTTER