Healthy Shrimp and Spicy Tuna Vietnamese Spring Rolls! Clean and fresh appetizers served with sesame mayo and peanut sauce.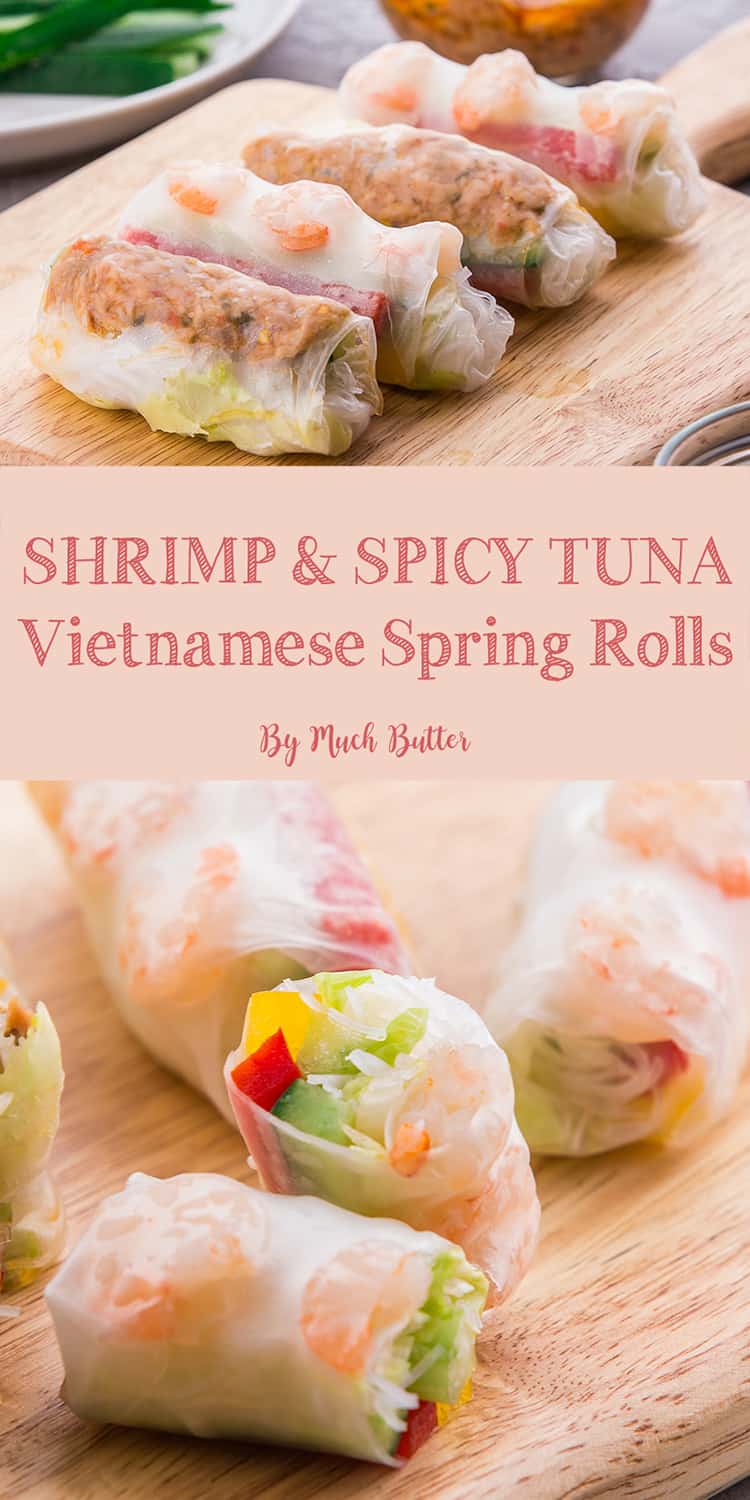 Let me tell you why we make this recipe in the cold months. To be honest I never know what winter feels like because there are only two kinds of season here in Indonesia. They are dry season and rainy season. So the temperature change is not too significant. Mostly we can eat anything all year round.
Maybe when you tired of typical foods for holiday you can make this for a change. I said MAYBE haha because I have said I really don't know how to react to winter.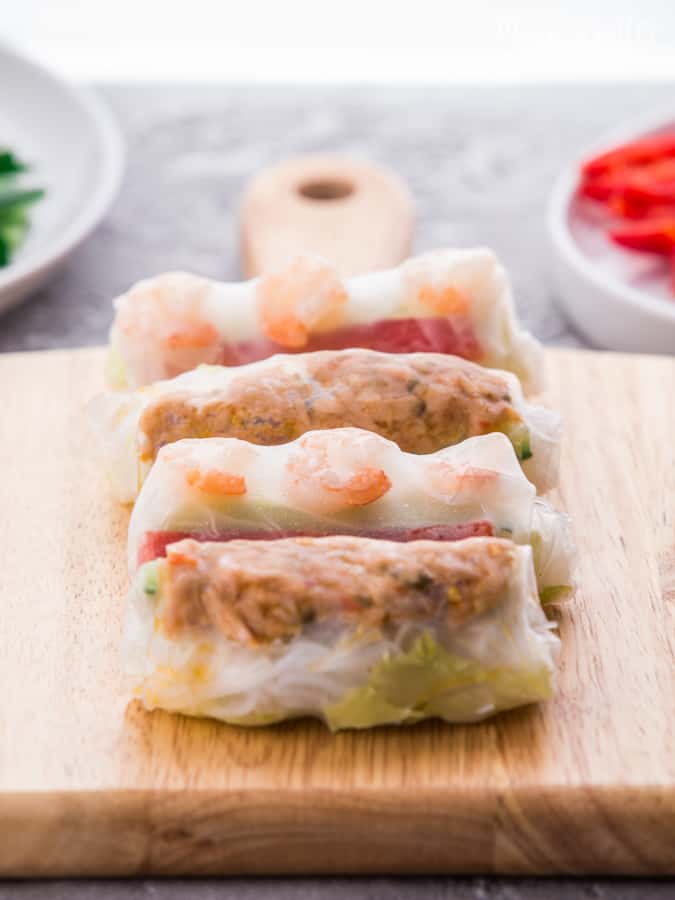 What is Goi Cuon or Spring Roll?
People around the world are familiar with this spring roll. Vietnam also has a spring roll dish that is quite global and is often an appetizer. Vietnamese people call it goi cuon and cha gio. Both wear leather in the form of banh trang (rice paper). This thin transparent white skin is made from rice flour. The making of goi cuon varies depending on the region. Some fill the spring roll with vegetables, but some add meat. So in Western countries, they call goi cuon with the word 'salad roll'.
Generally, Goi Cuon served at room temperature or chilled. Also, there is no outside frying process. This food is at number 30 in the 50 tastiest foods in the world released by CNN Go. Goi Cuon is a very popular appetizer with customers in Vietnamese restaurants.
Where I get the inspiration for making Vietnamese Spring Rolls.
Often I and my sisters get the inspiration to make recipes based on what we experienced in our country, especially in our city Bandung. Lately in Bandung there is one small business that sell Vietnamese Spring Rolls and go viral between young people. My friends and my cousin's friends have already tried it and they said the food is delicious.
I challenge myself to make it, not too similar. We change it a bit, remove and add couple things to perfecting the texture and the taste. And you know what? From my friend's point of view who already tried the small business one said that overall my version is better because mine has better taste and better texture. Yippy!! I feel so happy and I really want to share this recipe for you guys.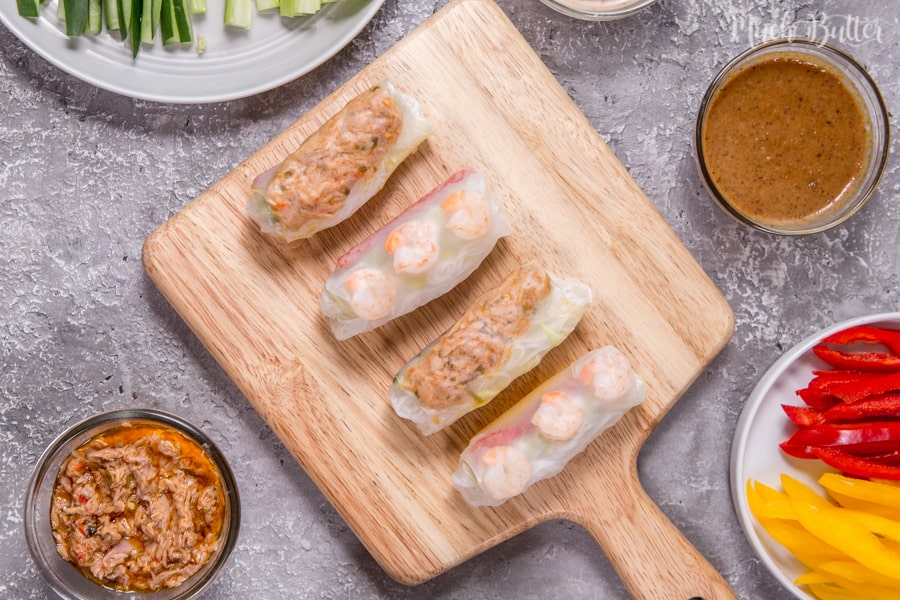 What ingredients we add in the rolls.
Basically you can add anything you like. Remember to use many vegetables. What we use in our recipe:
Shrimp & spicy tuna; this recipe make two kinds of Vietnamese spring rolls,
Red & yellow bell peppers; add a sweetness, aroma and texture,
Celery sticks; add aroma and texture,
Kyuri or Japanese cucumber; add freshness and texture,
Lettuce; add fressness and texture,
Vermicelli noodles; it gives to Vietnamese rolls body and easy to roll. It also make the rolls tight.
Differ from the small business one, I omit the carrot because it make the rolls really tough to chew. And personally I dislike raw carrot in Vietnamese spring rolls because it dominates the flavors in it. And also I add vermicelli noodles to add some carb, body and texture to the Vietnamese spring rolls.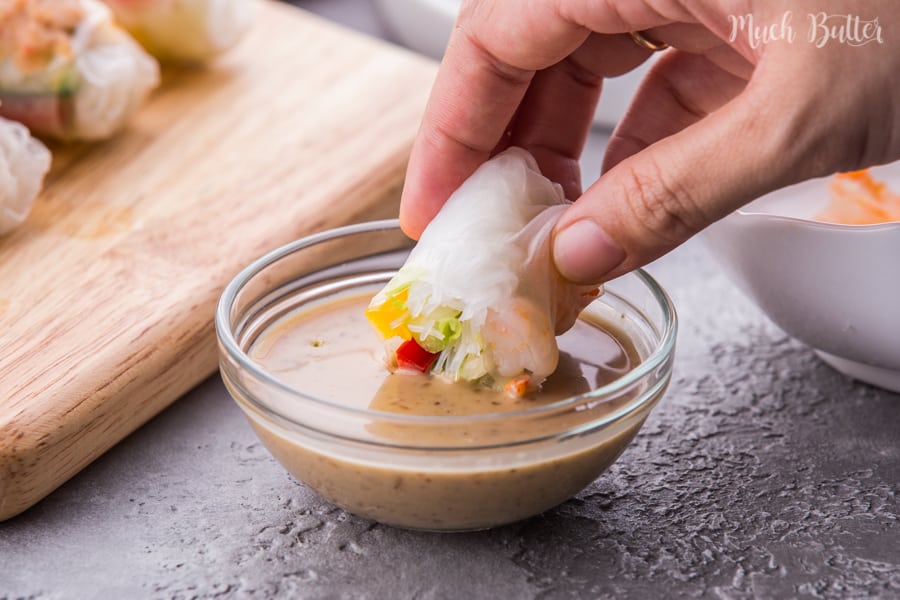 What is the difference between Spring or Summer rolls and Egg Roll?
Spring and summer rolls have differences in a dipping sauce. Spring roll has a frying or fresh technique. Spring rolls can refer to either a roll with a crunchy exterior or a soft, chewy exterior. Also, the sauce contains vinegar, sweet and sour, or Worcestershire-based dipping sauce. Meanwhile, in summer roll uses a peanut or hoisin dipping sauce.
Meanwhile, egg roll found in Chinese cuisine. It contains cuts of pork, chicken, or shrimp, along with some vegetables. The technique uses a deep-fried, crunchy wrapper made with wheat flour and egg. It served warm because it uses the frying technique.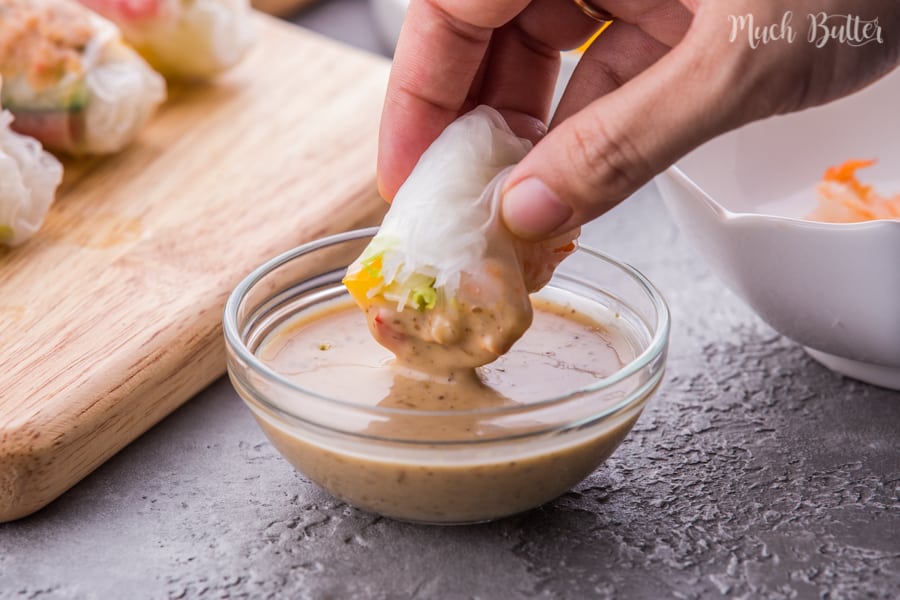 For the sauce I use store bought sauces because I want to focus on the rolls. Hope someday I will make it myself and share the recipe to you.
What sauces we use:
Sesame mayo; it's our favorite and so delicious,
Peanut sauce (you can search on your local supermarket, in asian section).
When you try our recipe don't forget to comment or tag our instagram!
TUTORIAL VIDEO FOR THIS RECIPE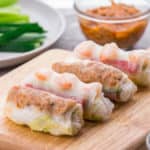 Vietnamese Spring Rolls: Shrimp and Spicy Tuna
Ingredients
1

small package

Vermicelli noodle

Soaked and salted in hot water for 10 minutes

200

g

Shrimps

Boiled

1

can

Spicy tuna

1

Red bell pepper

2

Yellow bel pepper

1/2

head

Lettuce

1.5

sticks

Celery stick

1

Kyuri cucumber

1/4

cup

Peanut sauce

1/4

cup

Sesame mayo

Warm water
Instructions
Dip rice paper in warm water and rotate until the entire wrapper has been moistened then place it on your cutting board.

Place all your ingredients in the middle of rice wrapper. To make your spring roll look fancy, start with your most visually pleasing ingredient on the bottom and put the shrimps at the very end so it will visible from the outside.

Fold both ends of the side inward then roll the wrapper over the ingredients and continue until everything rolled up and tucked inside.

Do the same for spicy tuna, place the spicy tuna at the very end.

Do it for the rest of the spring roll ingredients.

Serve with the peanut sauce or sesame mayo.