Serve this Baked Parmesan Mushroom as a healthier alternative to deep-fried versions. This simple, healthy and guilt-free recipe gets all the flavor of a restaurant-style appetizer, without the fat and calories, and 20 minutes only!
Do you love mushrooms? If so, this super easy-baked parmesan mushroom appetizer is going to be a huge hit. Only a few ingredients add flavor and after about 15- 20 minutes in the oven, you have a crispy baked parmesan mushroom snack that is ideal as a side dish, appetizer, or snack. Irresistible and flavorful!
As for my questions above, do you love mushrooms? because I'm going to tell you about the mushrooms thing here. There are so many types of mushrooms in the world. sometimes I got confused and misled regarding the name of the mushroom. but one thing is for sure Mushroom is one of the versatile and flavorful veggies that I like. Well, is mushroom a veggie or fungi or what is the right thing to call it? if you know pls help me to correct it (thanks before)!
Type of Edible Mushrooms
So, here are some of the type edible a.k.a consumable mushrooms;
Button Mushrooms: These are the most common types of mushrooms that you can find in grocery stores. They have a mild flavor, a milky hue, and an extremely soft texture.
Oyster Mushrooms: These mushrooms have a delicate, sweet flavor and a velvety texture. They mostly use in Asian cuisine.
Portobello Mushrooms: These mushrooms have a meaty texture and a rich, earthy flavor. They often act as a vegetarian substitute for meat in dishes like burgers and sandwiches.
Shiitake Mushrooms: These mushrooms have a smoky, savory flavor and a meaty texture.
Enoki Mushrooms: These mushrooms have small, shiny white caps attached to thin stems. They have a mild, slightly sweet flavor and a crunchy texture.
King Trumpet Mushrooms: These mushrooms have a meaty texture and a mild, slightly sweet flavor.
Coral Mushrooms: These mushrooms have a delicate, slightly sweet flavor and a crunchy texture.
Black truffle mushrooms are a type of edible fungi that grow underground near the roots of certain oak trees. They have pebbled brown-black skin and tan or brown interior and are most associated with France, it's an expensive and rare mushroom
And still so many things. meanwhile, the poison mushrooms type of red mushroom that is poisonous is the fly agaric (Amanita muscaria) It is a well-known mushroom with a bright red cap and white spots. All I know about these mushrooms exists in the Snowhite Movie with their red and white spot iconic mushrooms.
Sorry for the long explanation about the mushroom, we shall go to the recipe as soon as possible. Are you ready?
Ingredients you need to make Baked Parmesan Mushroom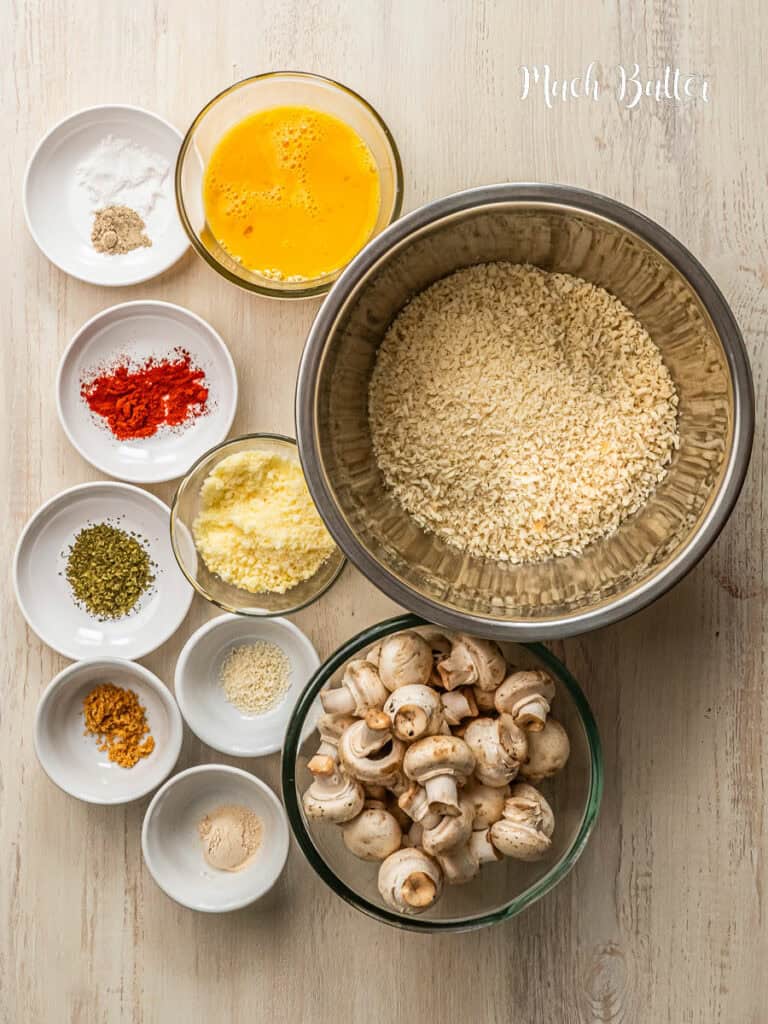 Mushroom; I use Champignon also known as white button mushrooms. As an alternative, you can use button mushrooms, cremini mushrooms, or white mushrooms. If possible, select mushrooms that are evenly sized so that they cook at the same rate.
Egg; beaten egg used for dipping the mushrooms before coating them in the breadcrumb and Parmesan mixture. Eggs help bind the breadcrumb mixture to the mushrooms
Parmesan Cheese; freshly grated Parmesan cheese is a key ingredient to create a cheesy and flavorful coating. Avoid buying pre-grated cheese. Not only is it less fresh but it also loses a lot of flavor during the shredding and storing process. Buy a solid block of Parmesan and grate only as much as you need
Breadcrumbs; create a crispy coating on the mushrooms when baked. It also acts as a binding agent when combined with grated Parmesan cheese and seasonings. you can use panko breadcrumbs for gluten-free options.
Seasonings I use Garlic Powder, Onion Powder, Mushroom Powder, and Paprika Powder; Garlic powder and onion powder add savory and aromatic flavors to the dish. Mushroom powder enhances the mushroom flavor profile. Meanwhile, Paprika powder can add a mild, smoky, and slightly sweet note as well as a vibrant color to the coating.
Dried Parsley; It adds a mild herbal freshness to the dish and is often sprinkled on top for flavor and garnish for Baked Parmesan Mushrooms.
Salt and Pepper; This is the key to perfectly crispy baked mushrooms. You do not want to skimp on the salt and pepper, especially with the minimal ingredient list.
Instructions to Make Baked Parmesan Mushroom
I tell you the steps in making this baked parmesan mushroom;
Prep Oven and Baking sheet
Combine dry mixture
Dippin Mushroom
Bake and Done!
I know it is too simple right, you need extra patience when dipping the mushroom one by one, that's it.
Let's start the instruction with first thing first Preheat your oven to 392°F (200°C). This will ensure that it's hot and ready for baking when you're done preparing the mushrooms.
Then, line a baking sheet with parchment paper. This step helps prevent the mushrooms from sticking to the baking sheet and makes cleanup easier.
Secondly, In a large bowl, combine all the dry ingredients that are (parmesan cheese, breadcrumbs, garlic powder, onion powder, paprika powder, mushroom powder, dried parsley, salt, and pepper) Mix these ingredients together thoroughly. This mixture will be used to coat the mushrooms.
Third, Dip each champignon mushroom into a beaten egg. After dipping the mushrooms in the egg, transfer them to the bowl with the dry ingredient mixture.
Fourth, roll each mushroom in the breadcrumb mixture until it's fully coated. Make sure to press the mixture onto the mushroom to ensure it adheres well. Repeat this process for all the mushrooms.
Next, place the coated mushrooms on the prepared baking sheet lined with parchment paper. Make sure to leave some space between each mushroom to allow for even baking.
Lastly, bake the mushrooms in the preheated oven for 15-20 minutes or until they turn golden brown and crispy. Keep an eye on them to avoid overcooking.
Once the Baked Parmesan Mushrooms are done baking, remove them from the oven.
Serve them while they are still warm with your favorite dipping sauce. Common choices include marinara sauce, garlic aioli, or ranch dressing.
Recook this recipe
Don't forget to try this recipe, let me know if this recipe works and be your favorite menu to cook. You can save this recipe by signing up for my email list! Do not forget to leave a star rating and a review in the comment section further down the page. I always appreciate your feedback.
Also, you can follow our Pinterest, and Instagram, and our YouTube channel for the up-to-date menu. See you on the other menu recipe, friends!
OTHER VEGGIES RECIPE IDEAS YOU MAY WANT TO TRY:
Thank you so much, see you in other recipes!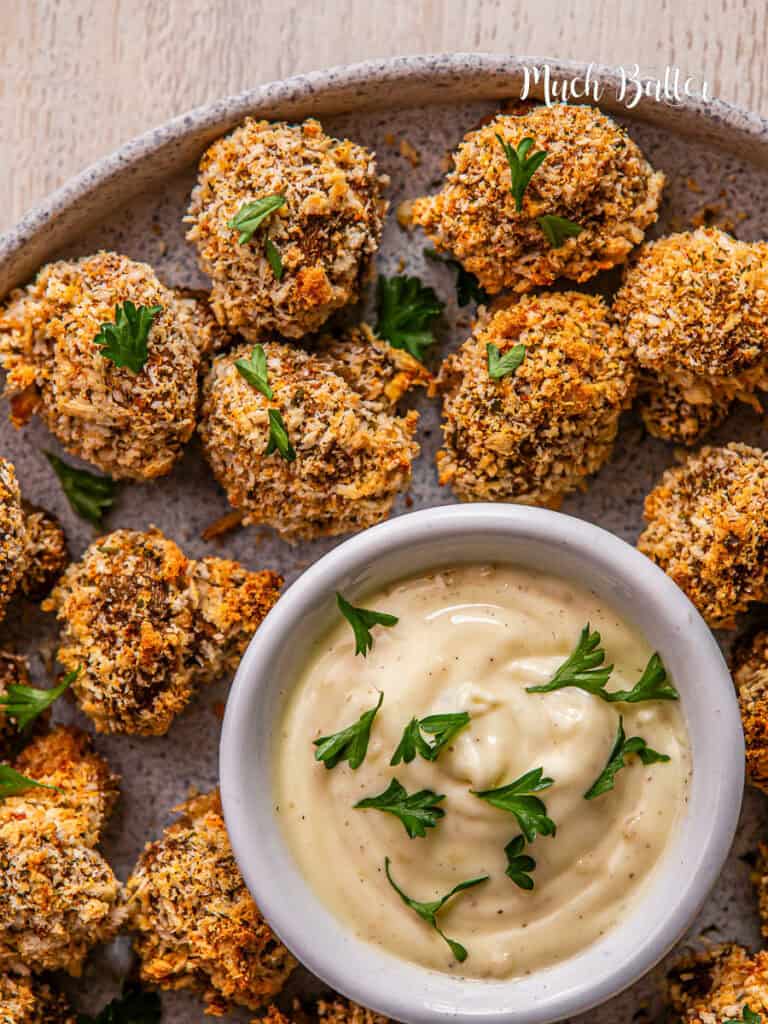 Baked Parmesan Mushroom
Ingredients
3

cup

Champignon Mushroom

1

Egg

¼

cup

Parmesan Cheese

¾

cup

Breadcrumbs

1

tsp

Garlic Powder

½

tsp

Onion Powder

½

tsp

Mushroom Powder

½

tsp

Paprika Powder

1

tsp

Dried Parsley

¼

tsp

Salt

¼

tsp

Pepper
Instructions
Preheat oven to 392°F. Line baking sheet with a parchment paper.

Mix all the dry ingredients (parmesan cheese, breadcrumbs, garlic powder, onion powder, paprika powder, mushroom powder, dried parsley, salt, and pepper) together in a large bowl.

Dip the mushroom into the beaten egg, then roll them into the breadcrumbs mixture until fully coated. Repeat until all the mushroom are coated.

Place them on baking paper and bake for 15-20 minutes. Serve while still warm with your favorite dipping sauce, enjoy!