The recipe for beef stroganoff with conchiglie pasta is fast and easy! You only need 30 minutes to serve it on the table. Don't doubt the delicious creamy garlic mushroom sauce pairing with the steak. This lets your paste level up without the hassle of searching for more recipes!
What is Beef Stroganoff?
The origin of beef stroganoff is from France. Most culinary experts agree that the famous French chef who worked for foodie Count Pavel Stroganoff found this popular. The chef modified the French beef fricassee dish to suit the tastes of his Russian employer. So, he added sour cream.
Beef stroganoff has been popular since the mid-19th century, adding to the first edition of the 1861 edition of the prestigious pre-revolutionary culinary "holy book", "A Gift to Young Housewives" by Elena Molokhovets. This dish was also included in L'Art Culinaire in 1891 and soon became present at Larousse Gastronomique, where it has been around since then.
The 1917 revolution spread Russian aristocrats. Therefore, the tradition and culture spread to the world. One of the beef stroganoff variations is from a Chinese chef. He removed the sour cream from the recipe, seasoning it, and serving it over rice. From there, American servicemen exported this recipe to the United States in the 1940s.
In Uncle Sam's country, they serve it over egg noodles. Unfortunately, they changed this recipe to save time. They mix the recipe with canned mushroom cream soup and Heinz tomato sauce as a sauce, which certainly cannot replace the strong original flavor produced by the sour cream, mustard, tomato, and mushroom stir fry that has won Count Pavel's heart.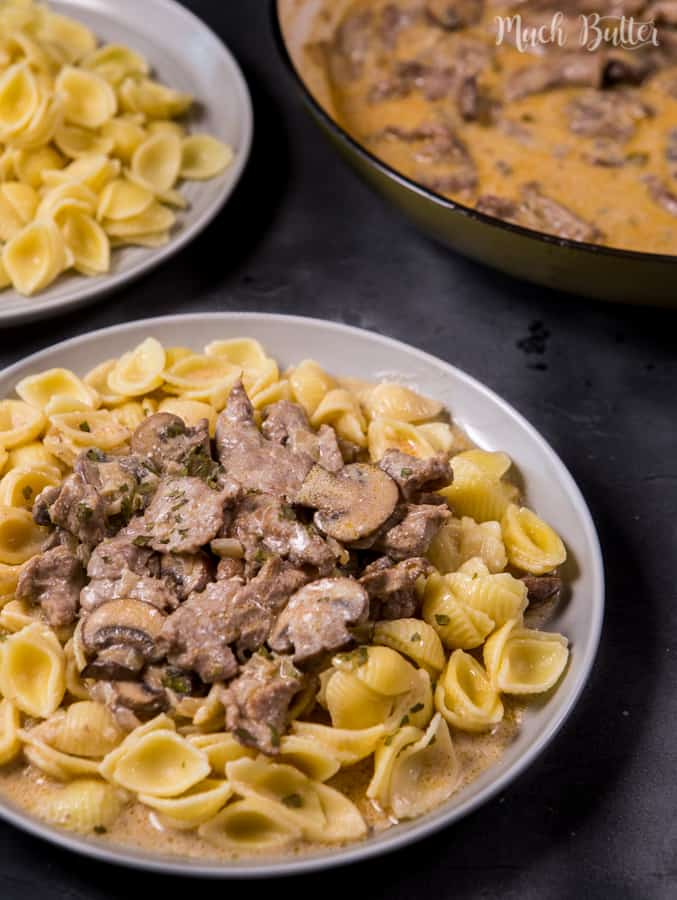 What's the Best Cut of Beef Stroganoff?
You can choose the meat slices you like. The best cuts for stroganoff are tender, juicy cuts like boneless scotch fillet or sirloin. You can also use ground beef or meatballs if you don't have sirloin beef at home.
I do not recommend using the beef round steak. The round beef tastes okay but not a great cut for quick-cooking like in stroganoff. It tastes dry with a bad texture. The boneless ribeye and beef tenderloin are two great cuts if you want to try other than beef sirloin steak.
What is Stroganoff Sauce Made of?
In the original recipe, beef stroganoff consists of pieces of beef, broth, mustard, a little flour, and sour cream. The original recipe does not add mushrooms and onions.
Meanwhile, a common recipe you will find is a version that uses onions and mushrooms. Some other recipes add cream cheese or yogurt (full fat) for added acidity.
Some recipes use instant ingredients. This recipe combines beef with instant mushroom soup cream. But, I prefer that you make it without using processed products. This recipe is youthful without even relying on any processed ingredients.
Why do we make this recipe?
Couple years ago three of us went to the one of expensive restaurant in Bandung to tried this dish and of course it's delicious. So this time we want challenge ourself to cook this homemade beef stroganoff and share the recipe so that you can make this easy and simple dish.
As we know beef stroganoff widely use mushrooms, but we read from an article that the original recipe only use cut of beef. We like the taste and texture from mushroom so we add it on the recipe.
What particular cooking style that we like to make beef stroganoff?
First, we like the sauce a little bit soupy. For sure we would choose a little soupy beef stroganoff rather than dry beef stroganoff.
We turn off the heat before we add sour cream, as the sour cream tend to curdling if we use high heat.
Other recipe use twisted egg noodles or rice for the carb, but we use conchiglie pasta because the shape will hold the sauce when we scoop it.
We choose sirloin beef steak for the beef. I know it's a little bit expensive but the taste and the texture will be worth it.
We seared the beef on a very high heat 30 seconds for every side. Don't overcook it unless you want tough meat.
Recipe Notes
You can substitute beef seasoning and water with beef stock
You can substitute swiss brown mushrooms with regular button mushrooms.
Store leftovers in the refrigerator for up to 2 days. For longer storage (up to 4 days) store sauces and pastes separately.
Combine the flour and stock before adding it to the meat mixture in the skillet. After a minute or two, the mixture should boil and thicken on its own.
You can add a little Worcestershire sauce to complete a meat-based dish. This sauce will add a rich and savory flavor to meat dishes.
First of all, you better sauté the onions. That helps remove the sharp edges and allows it to develop a natural sweetness.
Delicious white button mushrooms with cream sauce; For a distinct taste, try the shiitakes (remove the stems and slice).
We really had a great time making and eating this recipe together so I hope you will have a great time with your family, too.
Let me know your result with this recipe by uploading pictures and tagging us at @much.butter. You can find us also on  Pinterest. Just subscribe to our email for the latest idea menus. Thank you for your support!
NEED MORE PASTA?
TRY THE DELICIOUS PASTA IDEAS :
TUTORIAL VIDEO FOR THIS RECIPE
Beef Stroganoff with Conchiglie Pasta
Ingredients
250

g

Conchiglie Pasta

300

g

Sirloin Beef

thinly cut

200

g

Swiss Brown Mushrooms

thinly cut

1/2

Onion

cubed

3

cloves

Garlic

chopped

175

g

Sour cream

2

tbsp

Flour

1

tsp

Beef seasoning

1

tbsp

Unsalted Butter

3

tbsp

Cooking Oil

3

cups

Water

1

tsp

Paprika Powder

Salt & Pepper

to your taste

Dried Parsley

optional (for garnish)
Instructions
Cook conchiglie pasta according to its package. After the pasta is drained, add 1 tbsp cooking oil to prevent the pasta from sticking.

In a pan turn the heat to very high heat. Add 2 tbsp cooking oil. Add the half of sirloin beef. Cook for 30 seconds each side. Set aside and repeat for the rest of the sirloin beef. Set aside on a plate. Don't turn off the heat.

In the same pan add mushroom and onion. Sautéed for 5-7 minutes. Add garlic and pinch of salt and stir for 1 minute.

Add butter until all melted. Add 2 tbsp flour and stir for 2 minutes. Add 3 cups water.

Add beef seasoning, paprika powder, salt and pepper. Adjust saltiness to your liking.

After the soup is boiling, add sirloin beef and stir for about 1 minutes. Turn off the heat. Add sour cream and toss until combined.

Take cooked conchiglie pasta to a plate. Add beef stroganoff on top. Garnish with parsley.

Beef stroganoff is ready to be served. Enjoy!
Recipe Notes
you can substitute beef seasoning and water with beef stock
you can substitute swiss brown mushrooms with regular button mushrooms.