Cheesy, creamy Buffalo Chicken Dip is the perfect game day and sharing snacks. It's also really easy – just mix and bake, definitely a family classic, Everyone loves the results!
This chicken dip is best served hot with crackers and celery sticks.
When it comes to appetizers, buffalo chicken dip is a classic. This recipe is flavorful and creamy with tender shreds of chicken and just the right amount of heat. Ranch dressing adds a cool offset to the buffalo or hot sauce.
This is a great make-ahead recipe and the other good news, you can make it with fresh, leftover, or rotisserie chicken.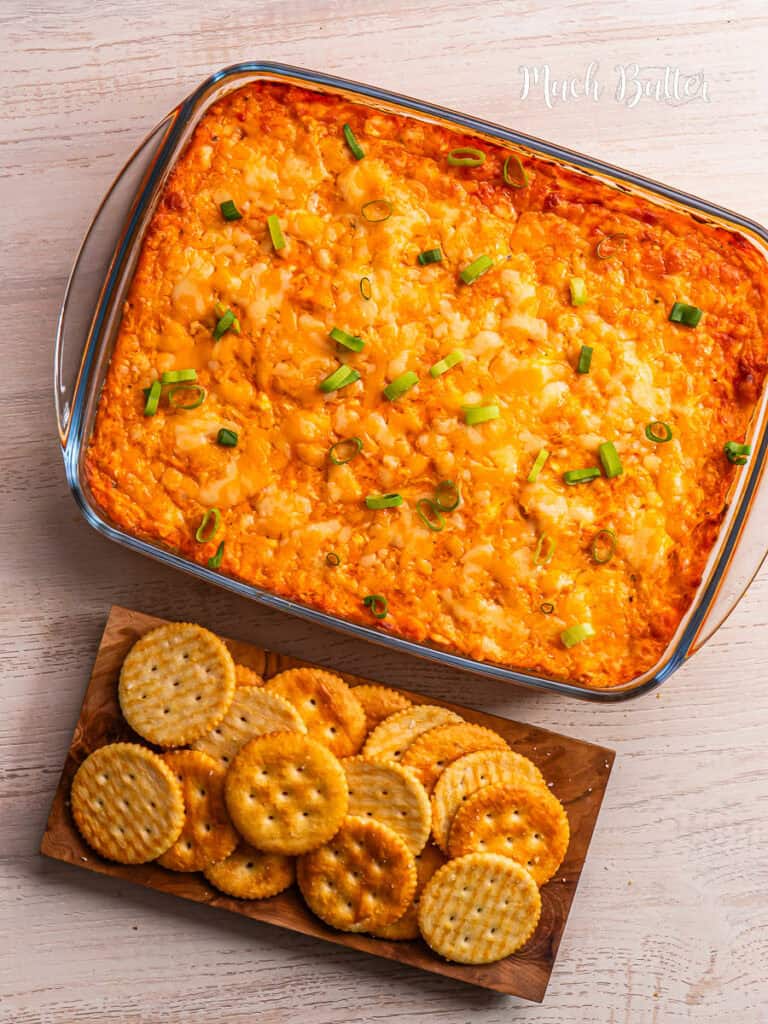 What is buffalo chicken dip made of?
Buffalo chicken dip is a tried-and-true combination of cream cheese, buffalo sauce, ranch dressing, cooked chicken, and cheese. Yum! Add an extra sprinkle on top before baking if you're a fan or leave it out if you aren't.
Made with simple ingredients like shredded chicken, hot sauce, and cheese (cream cheese and cheddar or any kind of cheese), ranch dressing, it's no mystery why this dip is the very first thing to disappear from the snack table. It's also super easy to prepare, cook, and eat. Please try at first once in your life!!!!
This easy recipe is classic Midwestern fare. Serve with plenty of fresh celery sticks, crackers, and chips. Can't wait to share the details of the ingredients with you!
Ingredients of Buffalo Chicken Dip
Chicken Breast cooked and shredded; if you have limited time, you can substitute this pre-cooked chicken breast shredded with canned chicken or use a rotisserie chicken to significantly cut down on prep time
Cream Cheese; This is the base of the dip. I recommend sticking to regular cream cheese because low-fat versions will make the texture runnier. Let it soften before using it. If you prefer to make this without cream cheese, you can substitute sour cream or Greek yogurt.
Ranch Dressing; I think this is a key ingredient and you can't skip this. Ranch dressing is the perfect complement to buffalo flavor! This is a substitute for blue cheese and you can absolutely use blue cheese dressing instead if you'd like.
Hot Sauce; I add it for some spicy kicks, you can use Cheetos flamingo hot too. Use more or less than the recipe calls for to suit your flavor preferences
Shredded Cheddar Cheese; – Cheddar cheese is melted into the dip, creating a satisfyingly gooey texture and cheesy flavor. but you can use any combination of your favorites – mozzarella cheese, blue cheese crumbles, Colby jack, pepper jack.
Green Onion garnish; I add green onion after baking the buffalo chicken dip, this is optional feel free to omit or add it.
How to Make Buffalo Chicken Dip
First, Preheat your oven to 350°F (175°C).
Second, In a large mixing bowl, Combine together chicken breast, cream cheese, hot sauce, ranch dressing, and 1 cup of shredded cheddar cheese.
Before that, Soften the cream cheese in a medium bowl with a rubber spatula until very creamy and smooth.
Next, transfer the mixture to a baking dish. Do not forget to sprinkle the remaining shredded cheddar cheese on top of the mixture.
Then, let's bake! Bake it uncovered for about 30 minutes or until slightly browned and bubbly. Remove from oven then garnish it with green onion and let it sit for 10 minutes before serving.
Remove the buffalo chicken dip from the oven and let it cool for about 10 minutes. While the dip is cooling, chop the green onions for garnish.
Finally, Serve the Buffalo Chicken Dip hot with tortilla chips, celery sticks, or carrot sticks for dipping. Enjoy chatting and telling the journey of your life with friends, such a warm and lovely situation.
How to Serve Buffalo Chicken Dip
Chips are always the perfect thing to serve with dips, and this baked buffalo chicken dip is no exception. I like serving this with plenty of tortilla chips, or ritz. Ideally, something that won't break and crumble when you go in for a heavy dip. suggests serving this Buffalo chicken dip with celery sticks and chicken-flavored crackers. Corn or tortilla chips would also work well. You can serve this with Potato chips, Fritos scoops, Crackers, some Veggies (celery sticks and carrot sticks are a favorite), Toasted baguette slices, or crispy air-fried white bread.
Make Buffalo Chicken Dip Ahead
To Reheat: you can make it in advance and refrigerate for up to 5 days or freeze. Since buffalo chicken reheats well, Transfer the cooled Buffalo chicken dip to a shallow airtight container. Reheat it slowly on the stove or in the microwave in short intervals. you can microwave until hot or reheat in the oven at 350 for 10-15 minutes.
To Freeze: Yes, you can freeze Buffalo chicken dip for up to three months. Place in a freezer-safe container, remove any excess air, and freeze for up to three months. When ready to serve the frozen dip, simply remove it from the freezer, and let it thaw in the refrigerator overnight. Remember1 You should be aware that, since cream cheese and ranch dressing don't freeze well, the texture might change a bit after freezing and thawing. Just slightly not as delicious as it was first baked but still tasty.
MOOD FOR OTHERS SNACKS? TRY THESE TASTY RECIPE IDEAS: IDEAS:
Make this Recipe?
Don't forget to try this recipe, let me know if this recipe works and be your favorite menu to cook. You can save this recipe by signing up for my email list! Do not forget to leave a star rating and a review in the comment section further down the page. I always appreciate your feedback.
Also, you can follow our Pinterest, and Instagram, and our Youtube channel for the up-to-date menu. See you on the other menu recipe, friends!
Thank you for your support❤
Buffalo Chicken Dip
Ingredients
1

pound

Chicken Breast

cooked and shredded

8

ounce

Cream Cheese

1

cup

Ranch Dressing

1

cup

Hot Sauce

1½

cup

Shredded Cheddar Cheese

Green Onion

garnish
Instructions
Combine together chicken breast, cream cheese, hot sauce, ranch dressing, and 1 cup of shredded cheddar cheese. Spread in the baking dish and top it with remaining cheddar cheese.

Bake it uncovered for about 30 minutes or until slightly browned and bubbly. Remove from oven then garnish it with green onion and let it sit for 10 minutes before serving.

Serve it with your favorite crackers, tortilla chips, celery stick, or carrots. Enjoy!