Bolen Lilit is a famous banana Indonesian dessert/snack made with banana slices, cheese, and chocolate wrapped in a flaky crispy pastry. It has that sweet and salty taste profile that is mindblowing in every bite, simply out of this world! Try it today!"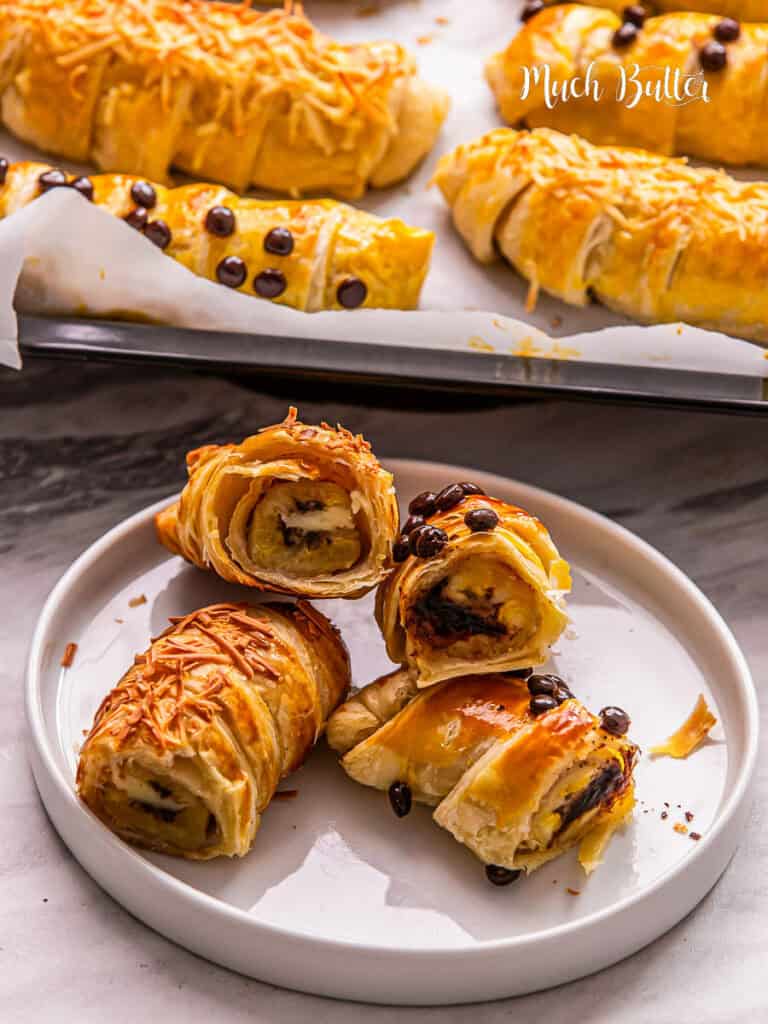 What is Bolen Lilit/ bolen pisang?
As a tropical country, Indonesia has a lot of different snacks made from bananas. But mostly either for snacks or dessert. Bandung is the capital city of West Java province in Indonesia. One of its famous snacks or pastries is this bolen pisang or bolen lilit Bandung.
Well, Bolen lilit is a traditional Indonesian pastry known for its crispy, flaky layers, resembling croissants. This food is made from flour, margarine, and other ingredients that are baked and filled with cheese, chocolate, bananas, or other fillings. Bolen Lilit also reflects the influence of European pastry specifically Dutch on Indonesian cuisine. the term "bollen" evolved into the Sundanese word "bolen," which means "wrapped." and "Pisang" means banana. So, pisang bolen is indeed bananas wrapped in several layers of pastry made from a mixture of wheat flour, eggs, butter or margarine, and other ingredients.
For your information, in Indonesia mostly make bananas in two ways
Firstly, Molen and secondly bolen, the difference between both of them lies in the cooking method. Even though they are almost the same and look alike, molen was frying in a large hot oil meanwhile bolen was baked in the oven, molen has many variety of taste, majority add pineapple taste, it kinda weird but it tastes good. You can find molen everywhere in Indonesia because molen is street food.
Meanwhile, for bolen lilit, or today's recipe, it is famous in Bandung, a city in Indonesia. Bolen lilit became one kind of souvenir or gift. They taste smooth, but crispy do not forget their filling just full mindblowing yummy!
Should we move to the next step for making this incredibly easy Bolen Lilit at home? Just bought an instant Danish pastry and whoosh you ready to make this bolen lilit!
What do You Need to Make Bolen Lilit
Danish Pastry; The addition of sugar and eggs gives Danish pastry a sweeter, softer, and more tender texture.
Butter; I use unsalted butter, but you can use margarine to make it more fragrant. This butter will use to brush onto the surface of the Danish pastry before baking to enhance its flavor and promote browning.
Banana; use ripe banana, so it would be naturally sweet. Try to find the small type of bananas, but if you can't find it, that's totally okay, just make it with regular type bananas and chop them. Here I use' Pisang raja bulu', their scientific name was Latundan banana Musa acuminata × M. Balbisiana. Ripe bananas are a central ingredient in Bolen Lilit.
Cheese; use grated cheese from whatever you want here I use cheddar cheese for topping and also filling bolen lilit in banana.
Choco chips; chocolate chips based on your preference, bittersweet or couverture. It adds a rich, chocolatey flavor and a satisfying crunch to the pastry.
Egg yolks; at room temperature. They provide moisture, richness, and a tender crumb to the final pastry.
Danish Pastry; Danish pastry dough is a critical component of Bolen Lilit. The addition of sugar and eggs to the dough gives it a sweeter, softer, and more tender texture compared to standard pastry dough. This dough serves as the outer layer of the pastry, wrapping around the banana, cheese, and chocolate chip filling. It plays a crucial role in creating the pastry's flaky and slightly sweet crust.
How to Make Bolen Lilit
To begin, place a pan on the stove over low to medium heat. Second, add butter to the pan. This initial step involves melting the butter, which for later for coating the bananas.
Next, add the bananas and cook until both sides of the bananas are slightly brown
Then, remove the pan from the heat and set it aside, allowing the bananas to cool slightly. This step ensures that the bananas are safe to handle.
For the next big step, after the bananas have cooled down a bit, slice them in the middle into thinner pieces for easier handling. Create banana "sandwiches" by placing a small amount of grated cheese or chocolate chips between two banana slices. Continue this process until all the banana slices done.
Wrapping Banana
Next, sprinkle a little all-purpose flour on the Danish pastry. Next, gently flatten the Danish pastry dough with your hands or a rolling pin until it's somewhat elongated and reaches the thickness specified in the recipe.
Cut the flattened dough into 6-7 separate pieces. Next, wrap the Danish pastry around the bananas until they are completely covered
Take one piece of the dough and wrap it around one of the banana-filled slices, ensuring the bananas are completely covered by the dough. Be sure to seal the edges well.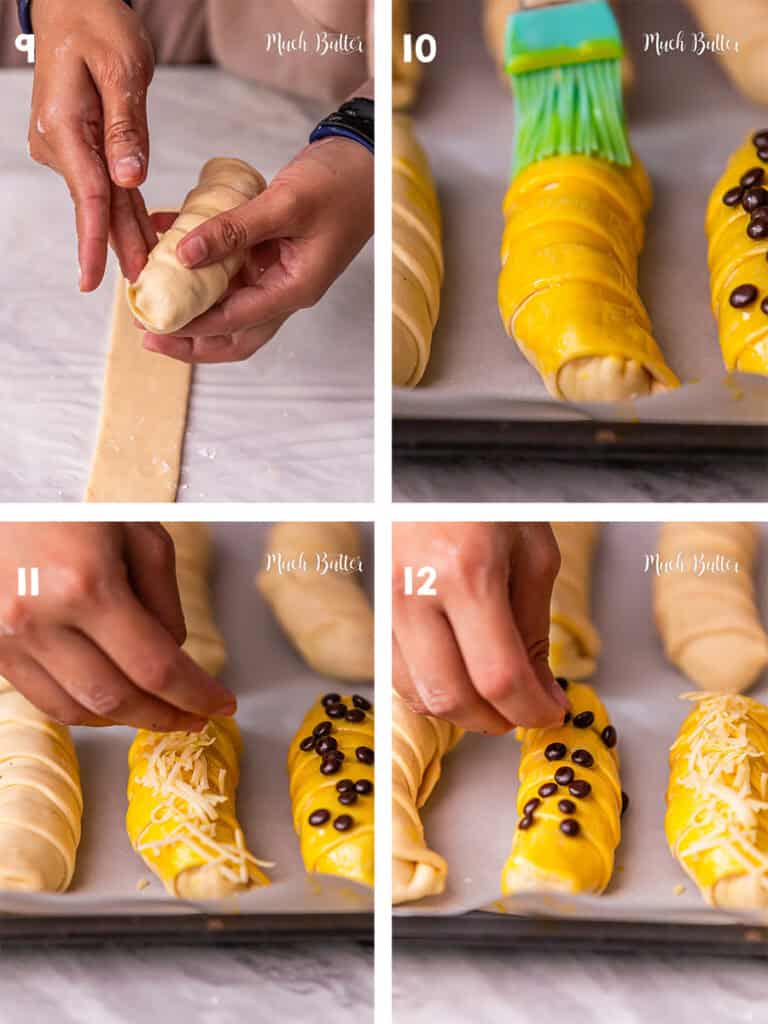 For the last step before baking bolen lilit, lightly beat the egg yolks in a small bowl. Then, use a pastry brush to apply the egg yolk wash to the surface of each pastry. This step will give them a beautiful golden color when baked.
Sprinkle grated cheese or chocolate chips on top of the pastries for added flavor and decoration.
With your pastries now prepared, preheat your oven to the specified temperature (356°F/180°C).
Place the prepared pastries on a baking sheet or in a baking dish and bake for the recommended time, or until they are golden brown and crisp on the outside for about 20 minutes.
Finally, Enjoy your delicious Bolen Lilit!! They combine the sweetness of bananas with the richness of cheese or chocolate chips, all wrapped in a flaky pastry crust.
Recook and Share with Us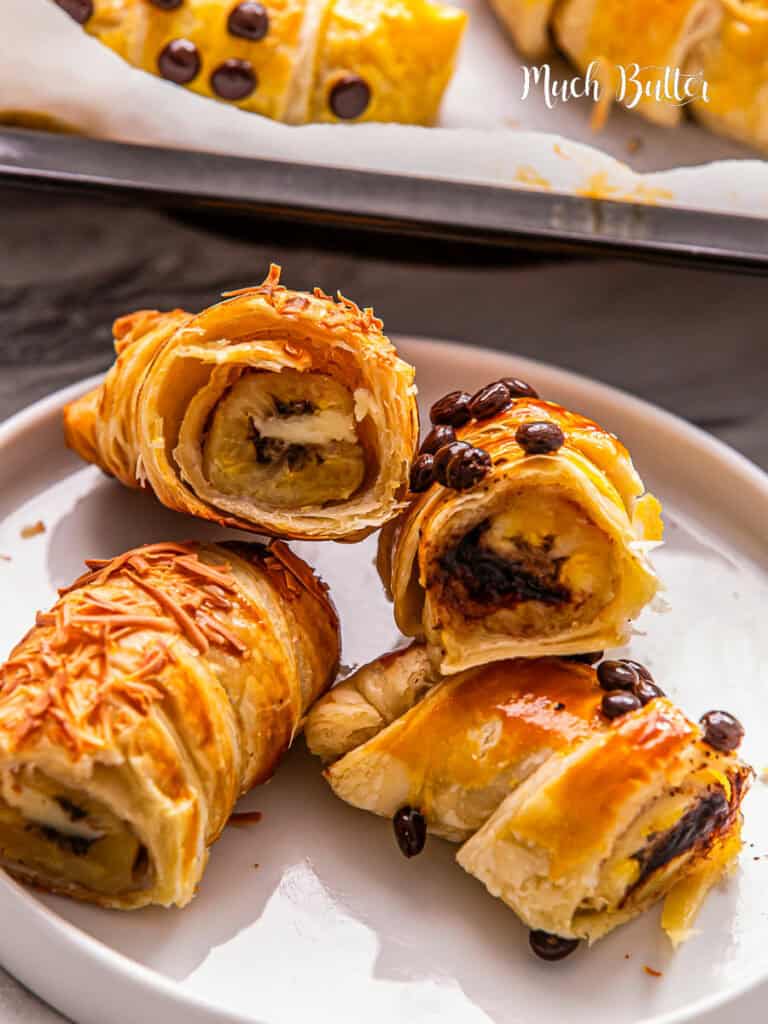 I hope you enjoy this Bolen Lilit as I do. Also, you can give us feedback by giving the rating and comment below. Let me know how it works 😁
You can pin the up-to-date recipes on Pinterest and follow @Much.butter for the mouthwatering food picture. Thank you for your support❤
DO YOU NEED OTHER BANANA TREATS?
Bolen Lilit – Indonesian Banana Roll Pastry
Ingredients
3

tbsp

Butter

10

Banana

Cheese

Chocolate Chips

2

Egg

yolks

Danish Pastry
Instructions
Heat a pan and melt the butter.

Add the bananas and cook until both sides of the bananas are slightly browned. Remove from heat and let them cool for a moment.

Once cooled, slice the bananas and fill them with grated cheese or chocolate chips. Repeat until all the bananas are filled.

Sprinkle a little all-purpose flour on the Danish pastry, then flatten it slightly. Cut it into 6-7 elongated pieces.

Wrap the Danish pastry around the bananas until they are completely covered.

Brush the danish pastry with egg yolks, then sprinkle grated cheese or chocolate chips on top.

Bake in an oven at 356°F/ 180℃ for 20 minutes.

The Bolen lilit a.k.a Indonesia banana roll pastries are ready to be served. Enjoy!