Make your own Chinese takeaway with this homemade General Tso Chicken recipe. A perfect combination of complex sweet, savory, spicy, and tangy sauce with crispy chicken bites for your snack time!
This General Tso's Chicken recipe is crispy bite-sized fried chicken in a sweet, sticky sauce featuring ginger, garlic, soy sauce, hoisin sauce, red chilies, and rice wine vinegar. It's the perfect and of course much better takeout alternative, kid-friendly, and easy to make. Serve this over steamed rice or steamed broccoli!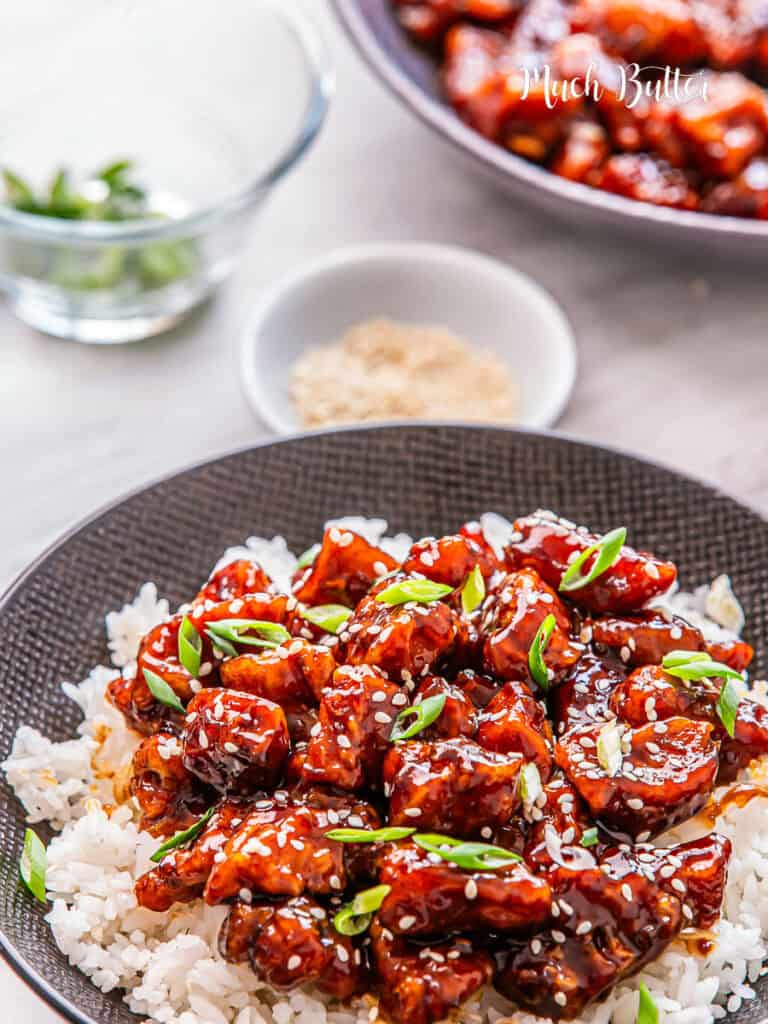 Unsure History of General Tso Chicken
General Tso's Chicken, a popular Chinese-American dish, was created by Chef Peng Chang-Kuei in Taiwan during the 1950s. He named it after General Zuo Zongtang, a war hero from his hometown in China. The dish gained fame in the 1970s when Chef Peng moved to New York and served it to former Secretary of State Henry Kissinger, who loved it and garnered media attention.
However, the connection between the dish and General Zuo Zongtang is unclear, as there is no historical record of him having a dish named after him. The true roots of the dish lie in Chef Peng's adaptation of it in Taiwan and his subsequent move to the United States, where he sweetened the recipe for American palates.
Moreover, while General Tso's Chicken has ties to a historical figure, its popularity and adaptation are linked to Chef Peng Chang-Kuei's culinary journey from Taiwan to the U.S.
So, which version do you believe?
On the other side, this general Tso chicken looks very look-alike to other Chinese takeaway snacks which are Honey Chili Chicken (this is the recipe I've made before) and orange chicken for Western.
The difference between general Tso chicken and Honey chili chicken lies in the sauce even tho their chicken bite size are the same. Honey chili chicken has a spicy sticky and reddish taste and texture with sweet sticky from honey and natural sweetener, meanwhile, General Tso chicken is sweet and salty with a darker black visual from hoisin and soy sauce, with a little bit of hint of tangy flavor from rice vinegar. So, choose your battle which team are you? lol
By the way, let's come to the recipe of General Tso Chicken!
Ingredients of General Tso Chicken
Boneless Chicken Breast;  I use boneless and skinless chicken breast, for easy and even cooking. Make sure they're boneless and skinless and cut them up into 1-inch cubes, The cubes should be bite-sized and approximately the same size so that they cook quickly and evenly. For an alternative, chicken thigh is a tasty alternative, just keep in mind it'll need to be cooked a minute or two longer than breast
Cornstarch; instead of using breadcrumb or all-flavor flour, I use cornstarch This is the trick for getting a light, golden-brown crust!
Ginger; adds a fragrant and slightly spicy flavor to the dish. It's an amazing ingredient that adds its unique flavor to Asian cooking
Garlic; Garlic makes everything better! You can use fresh garlic just be sure to saute them briefly before adding the rest of the sauce to the heated oil
Garnish Here I use Sesame Seeds; as a garnish for added texture and a nutty flavor together with  Green Onion finely sliced; garnish to add freshness, color, and a mild onion flavor to the finished dish.
Cooking oil; for frying
Sauce
Soy Sauce; to balance the sweetness of all the sauce ingredients.
Hoisin Sauce; The sweet and salty combo of this thick sauce. It's kind of like a Chinese BBQ sauce. It is both sweet and salty, and really elevates a lot of recipes.
Rice Vinegar; a trademark flavor for this recipe. The tangy key to this General Tso Chicken recipe. If you don't have any on hand apple cider vinegar is a great substitute!
Sesame Oil; adds a rich, nutty aroma and flavor to the sauce.
Chili Paste; to add some spicy kick and balance to sweetness
Chicken Broth; Gives enough liquid to coat the chicken, and adds savory flavor. Make your own homemade chicken stock or use your favorite stock or broth.
Brown Sugar; for the sweetness in the sauce with a slight caramel note.
Cornstarch; to thicken the sauce. It helps give the sauce a glossy, clingy texture that coats the chicken nicely.
Red Chili Flakes; Red chili flakes add extra spiciness to the dish.
How to Make General Tso Chicken
Sauce
Let's start with mixing the sauce first before it cooks later. In a mixing bowl, combine all of the sauce ingredients, and stir until there is no lump from the cornstarch. Set this sauce mixture aside.
Chicken
The next process is cutting, coating and frying chicken.
In a pan, heat cooking oil over medium-high heat. You'll need enough oil to cover the chicken pieces for frying.
Then, Toss the bite-sized chicken pieces into cornstarch until they are fully coated. Shake the chicken pieces to remove any excess cornstarch.
When the pan is already hot enough, Carefully add the coated chicken pieces to the hot oil and fry them until they turn golden brown and crispy. This should take about 3-4 minutes per batch. Avoid overcrowding the pan by frying in batches if necessary.
Then, Once the chicken is crispy and golden, use a slotted spoon to remove it from the oil and place it on a paper towel-lined plate to drain any excess oil. Set the fried chicken aside.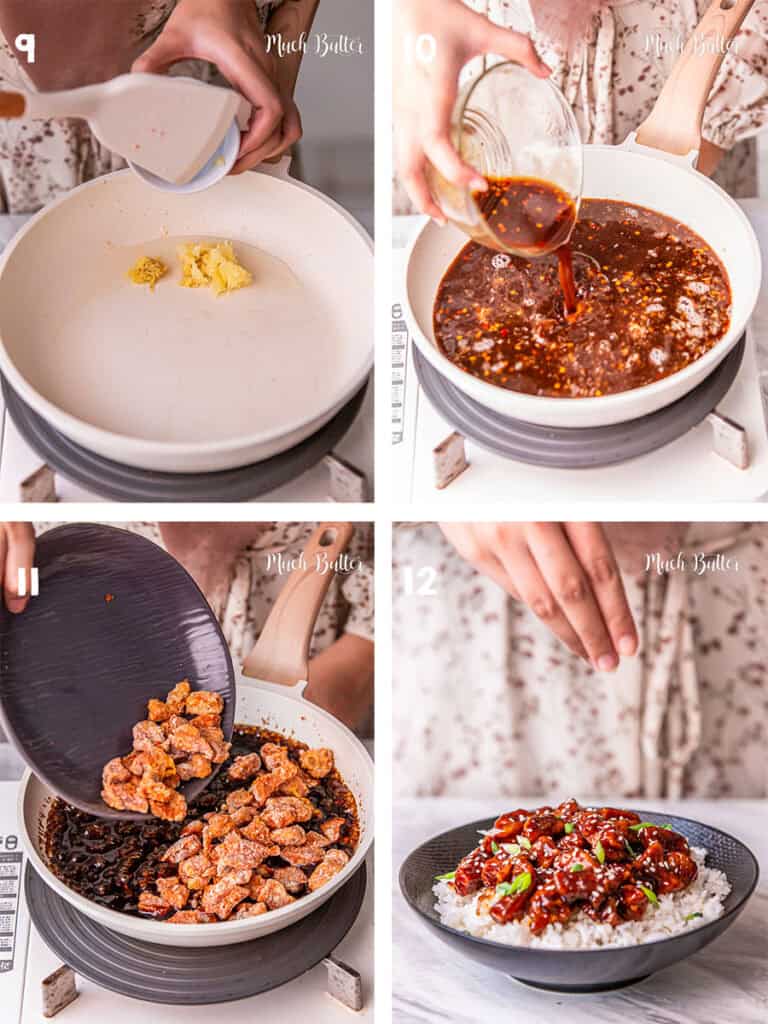 Now, it's turn to mixing sauce. First,  discard most of the oil from the pan, leaving about one tablespoon behind. In the same pan with the remaining oil, sauté the grated garlic and grated ginger over medium heat for about 3 minutes or until fragrant but not overcooked.
Then pour the sauce mixture you prepared earlier into the pan with the garlic and ginger. Bring the sauce to a boil and stir occasionally. Continue cooking until the sauce thickens.
Next, Once the sauce has thickened, add the previously cooked crispy chicken pieces to the pan. Stir until the chicken is thoroughly coated with the sauce.
Finally, Transfer the General Tso chicken to a serving plate and garnish it with sesame seeds and finely sliced green onions.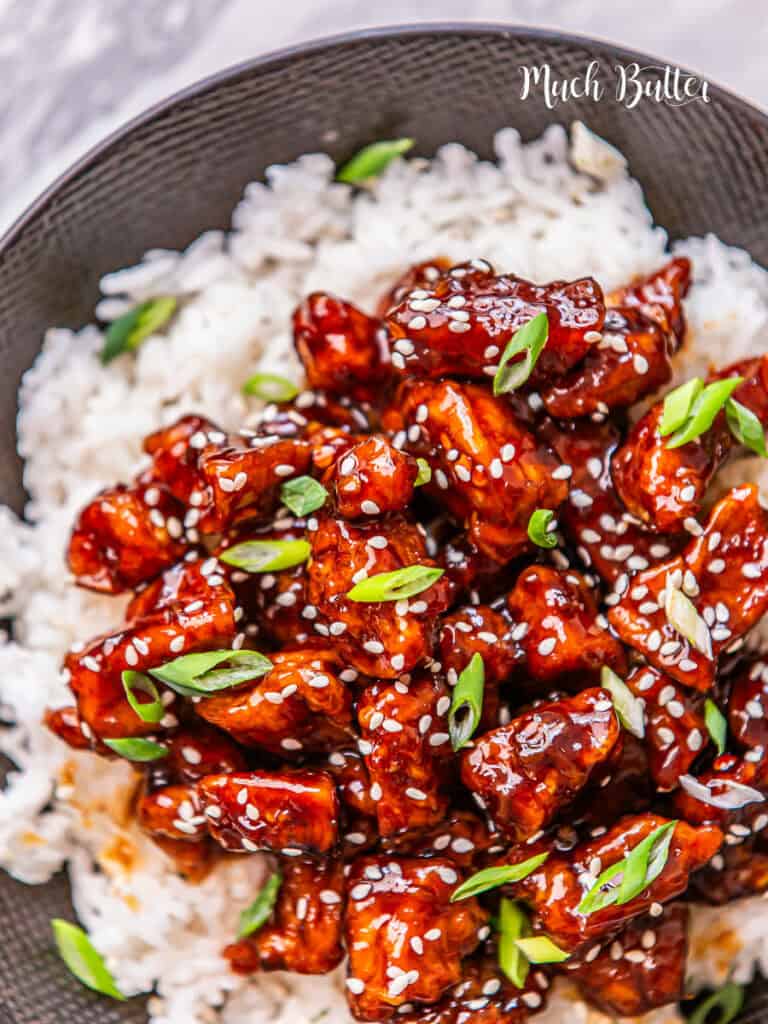 Serve the General Tso chicken with warm rice. Enjoy your delicious homemade dish!
Interested in cooking this recipe?
Don't forget to try this recipe, let me know if this recipe works and be your favorite menu to cook. You can save this recipe by signing up for my email list! Do not forget to leave a star rating and a review in the comment section further down the page. I always appreciate your feedback.
Also, you can follow our Pinterest, and Instagram, and our Youtube channel for the up-to-date menu. See you on the other menu recipe, friends!
Check for more Chicken Chinese Takeaway snacks for you;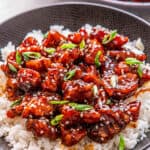 General Tso Chicken
Ingredients
1

lb

Boneless Chicken Breast

½

cup

Cornstarch

1

tsp

Ginger

grated

3

clove

Garlic

grated

2

tsp

Sesame Seeds

Green Onion

finely sliced
Sauce
2

tbsp

Soy Sauce

1½

tbsp

Hoisin Sauce

1

tbsp

Rice Vinegar

1

tsp

Sesame Oil

2

tsp

Chili Paste

¾

cup

Chicken Broth

¼

cup

Brown Sugar

1

tbsp

Cornstarch

½

tsp

Red Chili Flakes
Instructions
Sauce
In a mixing bowl, combine all of the sauce ingredients, stir until there is no lump from the cornstarch. Set aside.
Chicken
In a pan, heat cooking oil over medium high heat. Toss and coat chicken into a cornflour until fully coated. Shake the chicken to remove excess cornflour.

Cook chicken until golden brown. Discard the oil leaving about one tbsp, then sautee garlic and ginger for 3 minutes then pour the sauce mixture in to a pan.

Bring to boil and stir occasionally until the sauce is thicken. Once the sauce thicken, add cooked chicken and stir until the chicken is coated. Transfer to a plate and garnish it with sesame seed and green onion. Best serve it with warm rice. Enjoy!