Healthy green smoothies are organic health drinks consist of green vegetables. It looks like fruit juice but is thicker like a milkshake because it doesn't go through a filtering process. I summon all the healthy drink lovers!
Healthy Green Smoothies are Refreshing and Awesome!
Are you one of the smoothie lovers? These healthy green smoothies are good for you who are on a diet and easy to make. The ingredients are very simple. For those of you who don't really like vegetables this recipe is good option for you because it doesn't taste like vegetables at all.
Many people don't like vegetables because of their bitter taste. Especially the children, they will instantly say 'no' and close their mouths. Yet, it doesn't work for me. I born to be the vegetable lover😂
A green smoothie is a nutrient-rich blend of fruits and vegetables. Many people consume smoothies to get their daily intake of vitamins and minerals. Unlike juices, green smoothies retain the beneficial fiber content of whole foods.
Basically, green smoothies combine green vegetables like spinach, kale, arugula, and microgreens with a basic liquid like water. If you use these leafy greens alone, the smoothies will taste. Therefore, you can try to combine vegetables and fruits to make delicious green smoothies. Different combinations will impact the flavor profile and nutritional content.
Green smoothies are a great way to incorporate leafy greens into your diet. These green vegetables are rich in vitamins and minerals and are most nutritious when consumed raw such as in smoothies.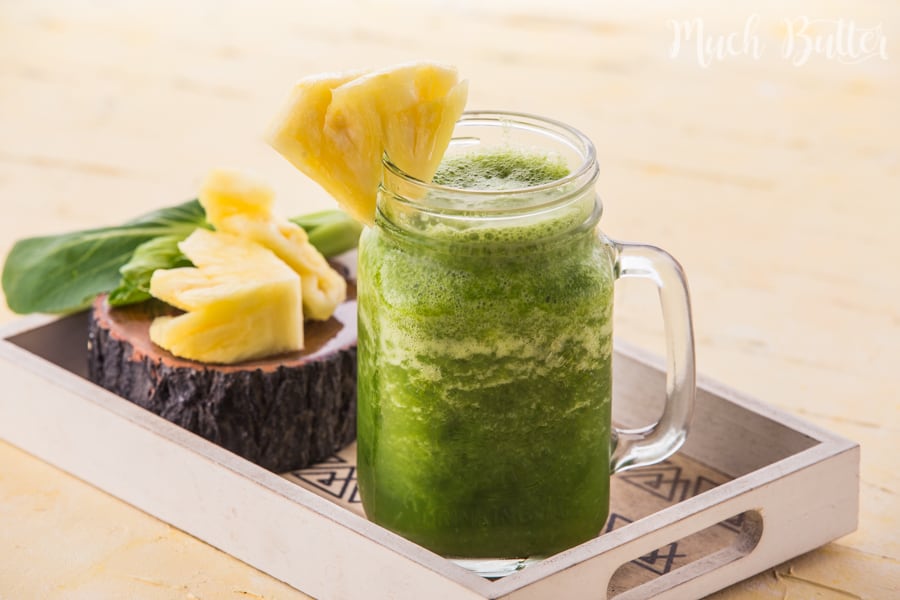 Many people consume smoothies to get their daily intake of vitamins and minerals. Unlike juices, green smoothies retain the beneficial fiber content of the whole drinks.
The nutritional content of your green smoothie will vary based on what you put in. Additives can also increase the calorie count of a smoothie by increasing its sugar and fat content. Leafy greens are naturally low in these nutrients, so make sure to use caution when adding ingredients to ensure a balanced smoothie.
Well, because I'm such a vegetable lover, I want to share the healthy green smoothie recipe. Moreover, it can be a healthy and delicious drink. In this recipe, I use Bakcoy and Pineapple to decrease the bitter taste. You can use other green vegetables and fruits also. Yet, this recipe will suit a beginner who wants to drink healthy green smoothies. Let's make it!
What do you put into the Healthy Green Smoothie?
Let's break down what you need to make the perfect healthy green smoothie! I used the ingredients in my kitchen and freezer. The great thing about green smoothies is mixing the ingredients based on what you like. Here are what you need:
Green Leaves: You can use spinach, kale, or bok coy, and other green leaves. My choice in this recipe is bok coy. Additionally, if you find your vegetables getting withered, freeze it!. It's better than you throw it away.
Fruits – For this smoothie, I choose pineapple to mix with bok coy. Pineapple and lemon juice adds freshness to this smoothie. You can use either fresh or frozen fruit. If you add frozen fruit, the smoothie becomes creamy.
Water– You can use plain water as I did or replace the liquid with another liquid. It can be coconut water, oat milk, almond milk, coconut milk, rice milk, etc. Use it from 1/2 cup to 1 cup for a serving.
Add-Ins – You can also add whole grains (such as chia or flax) or adding protein (such as protein powder) or flavorings (such as herbs or honey). These will add nutrients to your healthy green smoothie.
How to Make Fresh and Healthy Green Smoothie
The steps are easy, mix all ingredients into the blender.
Except for additional ingredients such as seeds, you have to blend it after the smoothie blend.

The secret to getting creamy green smoothies is to mix the liquid or water and vegetables first, then add the rest of the ingredients. This step prevents thick chunks of bok coy from floating around your smoothie.
Next, add fruit. You can use almost any fruit you like, but today I use pineapple and lemon juice. Puree it until smooth.
Then, add a sweetener such as granulated sugar. You can also add other sweeteners that you like and are less sugar.
In the final step, pour it into the glass with the ice cubes. You can include optional ingredients that I shared above, such as chia, flaxseed, cinnamon, vanilla extract, or cocoa powder.
Finally, the green smoothie is ready. Healthy drink to begin your healthy life 😊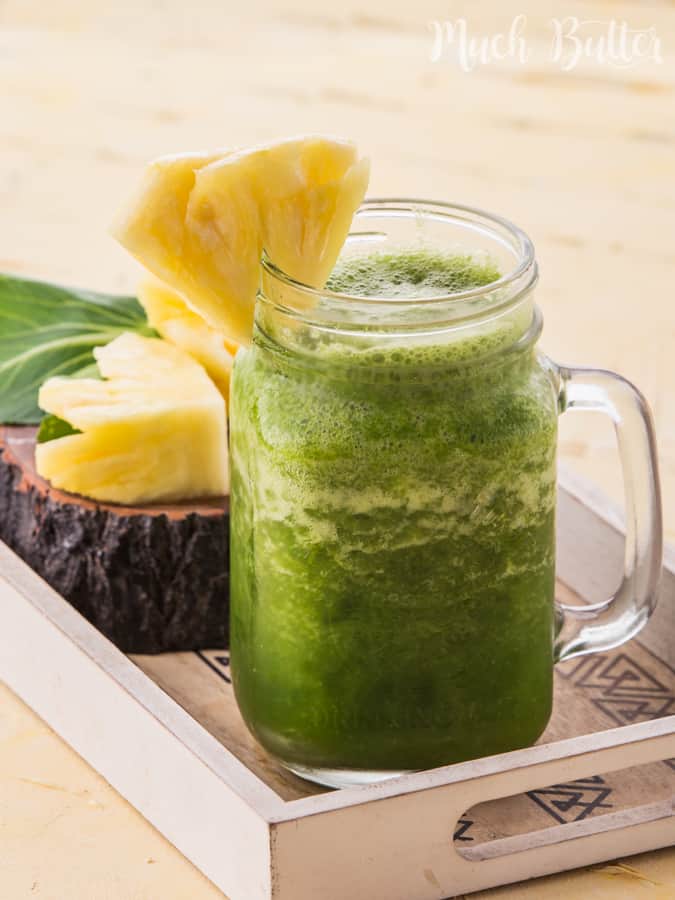 Whoa, healthy smoothie is perfect for our healthy life! Let me know about your health condition after you made the green smoothie below. Stay healthy and fresh!
Check the others healthy drink recipes:
Healthy Green Smoothies
Ingredients
2

cups

Bokcoy

chopped

2

cups

Pineapple

chopped

1

tbsp

Lemon Juice

2

tbsp

Granulated Sugar

or any sweeteners you like

1/2

cup

Ice Cubes

1

cup

Cold Water
Instructions
Place all the ingredients into a blender.

Pour into glasses and serve.