Chicken Mushroom Stir Fry recipe is a delicious stir fry that is quick to make and includes a wonderful savory brown sauce. Made with tender chicken, mushroom, and veggies. Simple weeknight dinner ready in 20 minutes and flavorful than your takeaway delivery!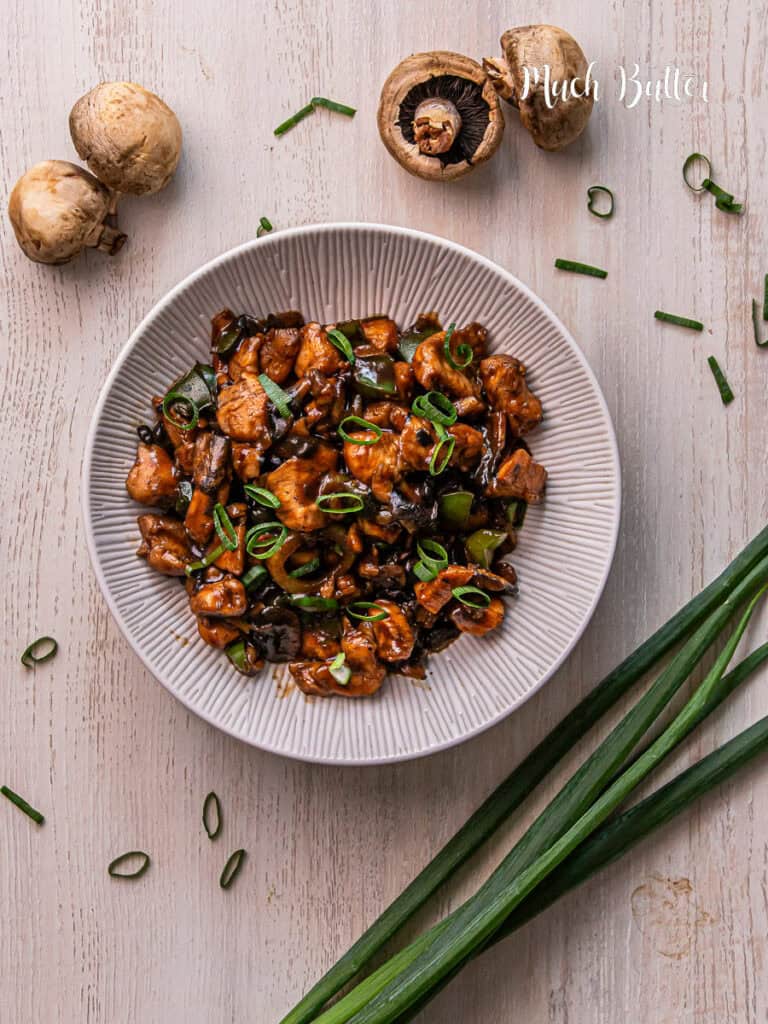 This Chinese Chicken and Mushroom Stir Fry also called Moo Goo Gai Pan is quick, simple stir-fry using velveted chicken—an easy technique that guarantees tender meat. This recipe harmoniously blends the richness of chicken with earthy mushrooms, creating a delicious symphony of tastes in your busyweek dinner.
Velveting Technique, Secret behind chicken so tender
Do you questioning why Chinese takeaway serves the softest and most tender chicken. Am I right?
This is because Chinese restaurants go through a process called velveting chicken. It makes the chicken soft and tender, like velvet. There are a couple of ways to do it, and one of the way is using baking soda.
To do this, you sprinkle just a small amount of baking soda over the chicken and then stir to coat. Let the chicken sit for 15 minutes before washing it really well to remove the baking soda. Pat the chicken dry before you fry it to ensure it doesn't sweat as you cook it.
Here's why; If you sprinkle meat with Baking Soda (also called Bicarb, Bicarbonate of Soda and Sodium Bicarbonate) it will break down the fibers and become so tender. Don't get it muddled with baking powder, that won't tenderize your meat.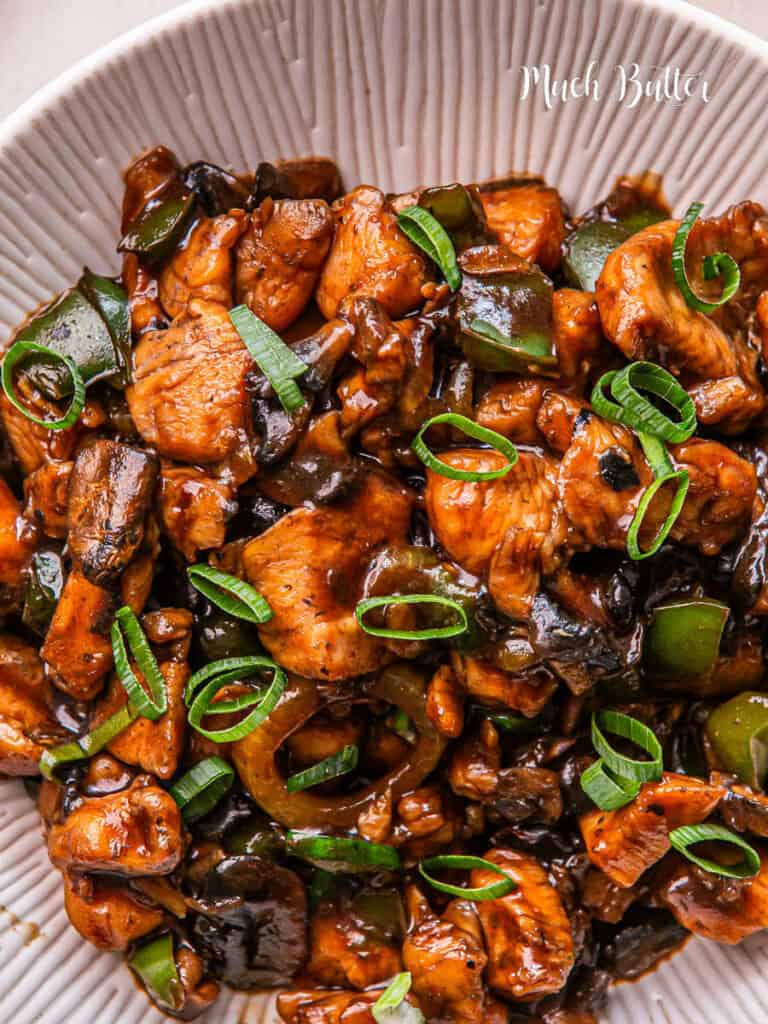 Stir-frying is an efficient way to create a delectable meal that marries flavors and textures with each sizzle and flip of the ingredients. Our Chicken Mushroom Stir-Fry recipe is no exception, offering a delightful harmony of savory chicken, sliced champignon mushrooms, and crisp bell peppers, all dancing together in a symphony of tastes
What else easier than stir frying? you just throw it blabla and voila it become ready to serve. this point applies when you have been prepare the ingredients before. So, grab your wok and join us on a journey to stir-fry perfection!
Ingredients of Chicken Mushroom Stir Fry
Chicken breast (diced); I used thinly sliced boneless skinless chicken breasts here. It helps if the chicken is still a bit frozen to thinly slice it. You can also place it in the freezer for about 20 minutes to firm it up a bit before slicing. You can also use boneless skinless chicken thighs.
Baking soda; is used for making chicken cooked evenly as a catalisator. This is my secret ingredient here, and it's added to tenderize the chicken. This chicken will literally melt in your mouth.
Mushroom; I use champignon mushrooms since mushrooms contain water The mushrooms absorb a lot of oil, and get too dry on their own. Add more oil in step two and make sure they don't burn or stick.
Bell pepper; I use green bell pepper, add a crisp, fresh, and slightly sweet element to the stir-fry you can use what you have. Feel free to use red or yellow or three of them
Garlic and Onion; will use as aromatic for the recipe, but feel free to add some ginger for a stronger taste. You'll want some fresh garlic diced no need to crush, and for the onion just slice it
Green onion; thinly sliced Just a bit for some extra flavor and color.
Cooking oil; you can change cooking oil with olive oil for a dietary option or use virgin coconut oil and cauliflower oil too for cooking this recipe.
Sauce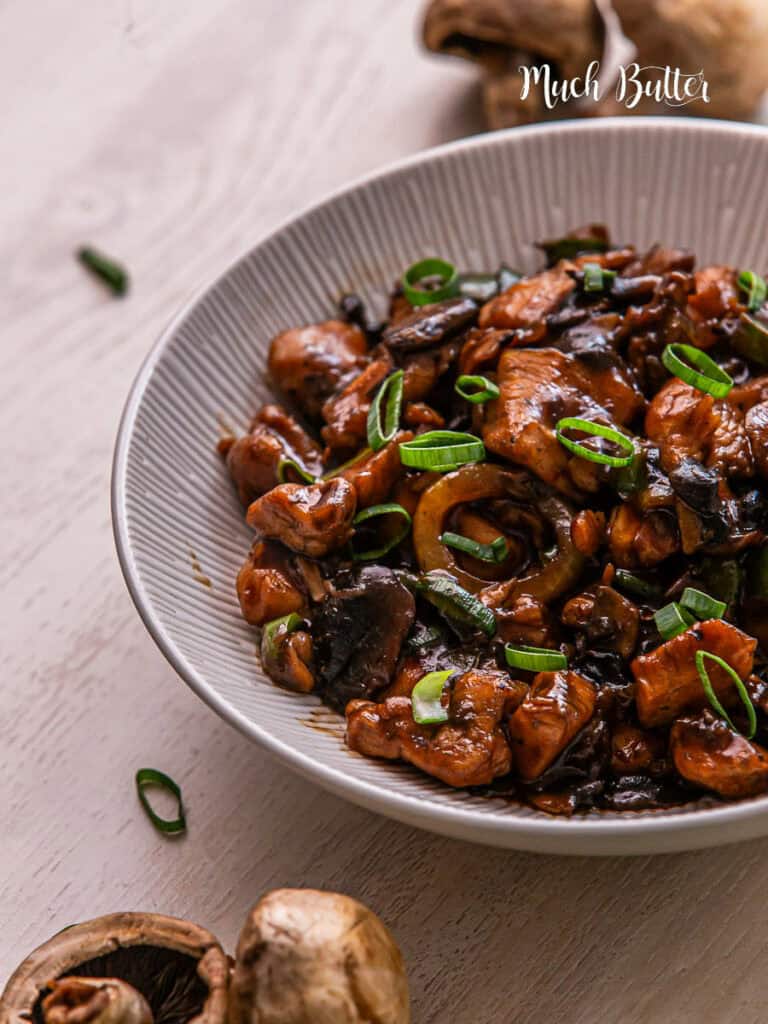 The sauce is a critical component of the stir-fry. In your list, the sauce consists of several ingredients including:
Cornstarch; A little bit to coat the chicken. This is used not only to help thicken our stir-fry sauce but also to help the chicken brown easier on the outside and stay juicy on the inside.
Dark Soy Sauce; I like to add dark soy sauce to darken the stir fry a bit, so it's mostly for color. If you don't find dark soy sauce, just add a bit more soy sauce
Sesame Oil; I love using toasted sesame oil for some extra toasty flavor, but use what you have.
Oyster Sauce; a thick rich brown sauce that adds so much depth and a good hit of Chinese saltiness
Salt, Pepper, and Mushroom Stock Powder; to taste and enhance profile taste, personal taste but I quite adore mushroom stock powder since it tastes more savory and kinda of like msg in a healthier version.
Brown sugar; A bit of brown sugar to add a bit of sweetness to the sauce and help in caramelization. Sub with granulated sugar or honey.
How to Make Chicken Mushroom Stir Fry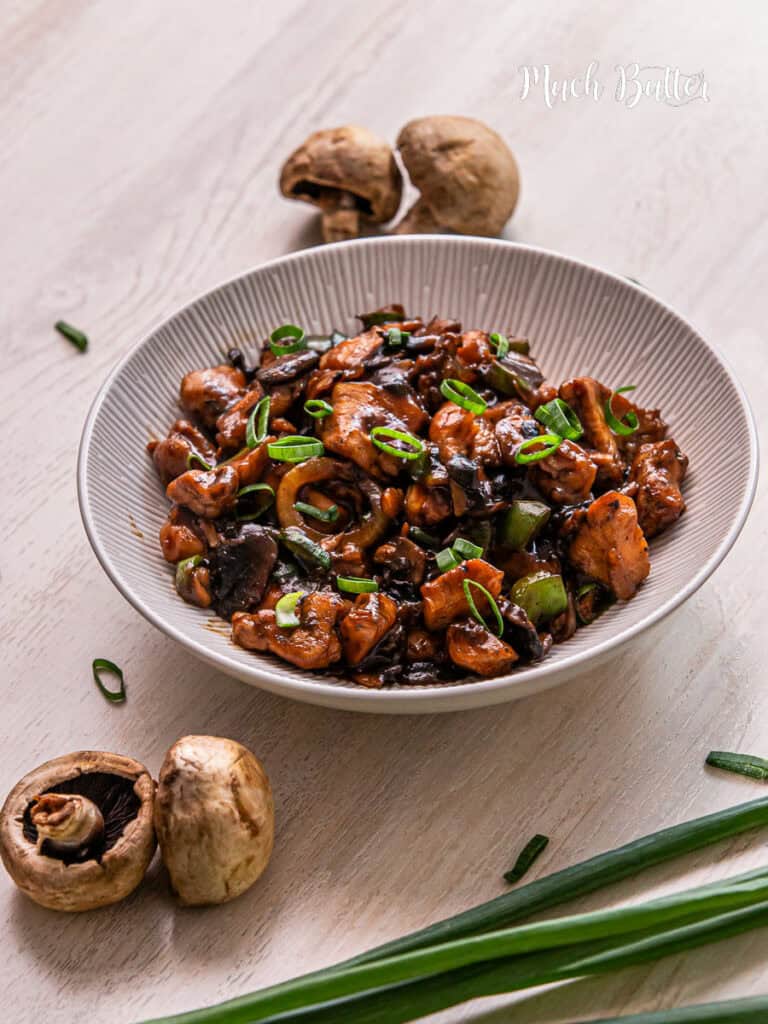 To begin, place the diced chicken in a mixing bowl and thoroughly coat it with baking soda. This step is essential for tenderizing the chicken. Allow the chicken to rest and marinate for about 15 minutes.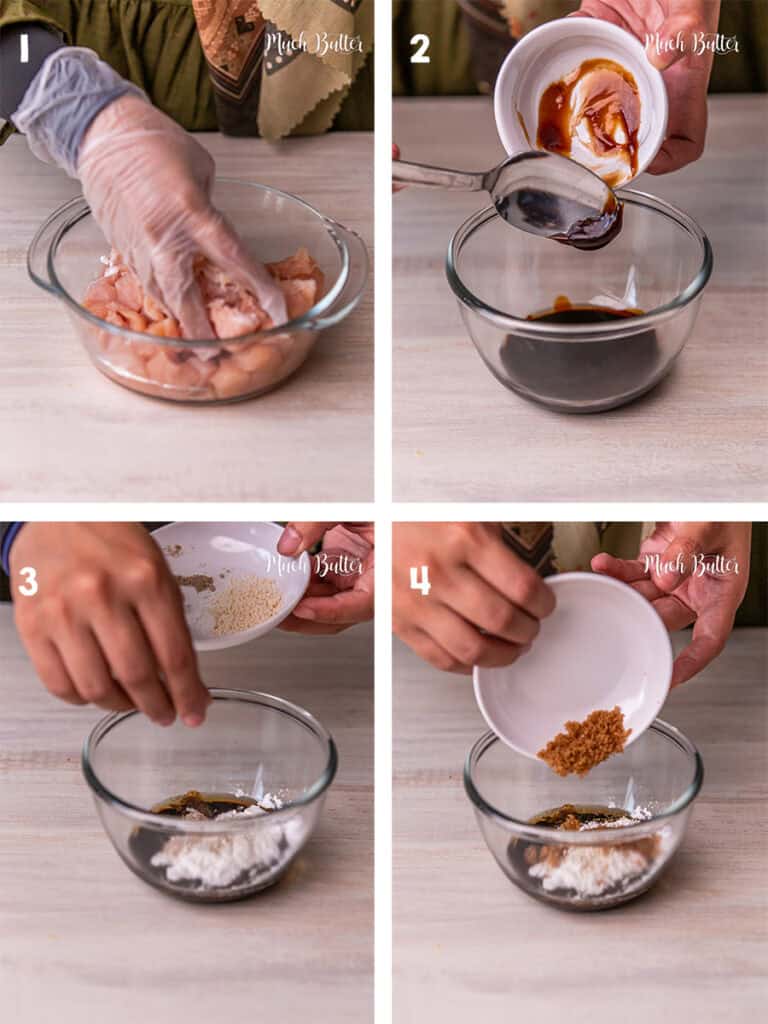 After the marinating time has elapsed, rinse the chicken thoroughly under cold water. Be sure to wash off the baking soda completely to prevent any unwanted aftertaste.
While the chicken is marinating, prepare the flavorful sauce. In a medium-sized bowl, combine all the sauce ingredients and stir until a well-blended sauce is achieved.
As the sauce is ready, it's time to start cooking. Take a pan or wok, heat it, and add cooking oil. Once the oil is hot, add the minced garlic and sliced onions. Sauté them until they become fragrant and slightly translucent
Now, introduce the diced green bell pepper and sliced mushrooms to the pan. Stir them into the onion and garlic mixture. This will bring a fresh and colorful element to your stir-fry.
Next, add the previously marinated and rinsed chicken to the pan. Cook it for a short 1-2 minutes to sear it slightly. Then, pour the sauce mixture that you prepared earlier into the pan. Stir thoroughly to ensure that the chicken and vegetables are evenly coated with the flavorful sauce.
Just before serving, add the thinly sliced green onions to your stir-fry. These will provide a hint of freshness and a touch of vibrant green to the dish.
Your delicious chicken and mushroom stir-fry is now prepared and ready to be served. Plate it up, and enjoy this flavorful, savory dish.
Storing Leftovers
For stroing leftover chicken mushroom stir fry; transfer leftovers to an airtight container and store for 3-4 days in the fridge. You can reheat in the microwave, or you can use a skillet over medium heat. If you find the sauce is drying out a bit using a skillet, add a splash of water or chicken broth to bring it back to life.
For storing in the freezer it can keep up to 3–4 months. pop them into an airtight container and place in the freezer.
Let me know your results by uploading pictures and tagging us on Instagram at Much Butter and Pinterest. Do not forget to see and follow our new Tiktok Account.
For cooking videos, check out and subscribe to our Youtube page. you can join our email for the latest idea menus.
YOU MAY LIKE OTHER MIX VEGGIES IDEAS :
Thank you, your supports are so much appreciated 💕
Chicken Mushroom Stir Fry
Ingredients
1

lb

chicken breast fillet

diced

1

tbsp

baking soda

1¼

cup

mushroom champignon

sliced

½

cup

green bell pepper

diced

2

clove

Garlic

minced

½

Onion

sliced

1

green onion

thinly sliced

1

tbsp

cooking oil
Sauce
1

tbsp

Cornstarch

1

tbsp

Dark Soy Sauce

2

tsp

Sesame Oil

1

tsp

Oyster Sauce

¼

tsp

salt

¼

tsp

pepper

1

tsp

Mushroom Stock Powder

½

tbsp

brown sugar
Instructions
In a bowl, mix the chicken with baking soda until the chicken is coated. Let the chicken marinate for 15 minutes. 

Wash off the baking soda and rinse the chicken several times.

For the sauce: In a medium bowl, mix all the sauce ingredients and stir well.

Prepare a pan, add oil, and then sauté garlic and onion until fragrant.

Add green bell pepper, and sliced mushrooms. Stir well. 

Add the chicken to the pan and cook for 1-2 minutes. Pour the sauce mixture into the pan. Stir well. 

Lastly, add thinly sliced green onions.

It's now ready to be served.