This ultra chocolatey, extra moist, healthy choco banana bread recipe is super easy to make!  gluten-free and dairy-free treats made with yogurt and oat flour will become your lovely snack or breakfast.
The recipe provides a healthier alternative to traditional banana bread by using oat flour, bananas, and, of course, chocolate chips. It's a great way to satisfy your chocolate cravings while still maintaining a nutritious diet, also packed with fiber and protein.
Why is it called "healthy"?
What? Is that even possible? Or is it just another clickbait only? Well, here I told you before you make other assumptions. I'm sure no one will ever be able to tell it's "healthy". Here are some of the reasons why;
First thing first, it may not be a really hundred percent healthy since it still uses sugar and egg. But, it's gluten-free like I told you at first here we use a fine oat flour I made by myself and it's so incredibly easy to make. You just blend the rolled oat until it is smooth. and when the blended batter is baked, it turns out just like a good, moist yet tender banana bread should. What's more, oat flour is rich in nutrients, and high in protein.
Secondly, banana bread is a minimal-effort recipe the whole family will love. Affordable ingredients most of us have at home already. This is the perfect recipe for your first time making oatmeal banana bread.
Last but not least, use those overly ripe-bananas. I hate throwing old bananas away and sometimes I just can't eat them all. Overly ripe mashed bananas are the key to a delicious banana bread batter and the perfect amount of sweetness. With natural sweetness from the banana and a little added sweetness from sugar and chocolate chips, it's sweet but not too sweet.
This healthy choco banana bread Comes together easily in just one bowl and is so healthy that you can eat it every day as a snack, dessert, or for breakfast. Trust me, once you make this simple, wholesome Healthy choco banana bread it will become your new favorite banana bread recipe!
Ingredients to Make Healthy Choco Banana Bread
Banana; the more spots, the better! Brown bananas are the ideal bananas to bake with because they're a lot sweeter.
Oat flour; Oat flour is easily my favorite healthy, gluten-free flour choice. You can either look for it in your local store or make your own. Make sure to look for gluten-free if that's important to you. make your own by blending rolled oats until fine. The backbone of this delicious gluten-free banana bread recipe! This brings amazing oat flavor to the loaf and also creates a nice dense yet fluffy texture.
Eggs; Chicken eggs help fluff up this healthy banana bread recipe and ensure the slices stay held together nicely when the loaf is cut.
Brown Sugar; for another healthier sweetener you can swatch with honey, date, or maple syrup. For me, I think brown sugar adds the cake a little bit of caramelized
Oil; I used extra virgin olive oil, but you can use melted coconut oil or oil instead.
Yogurt; This is optional as a milk substitution. you can use or skip it is alright
Salt, Cinnamon Powder, and Vanilla Essence; for enhancing profile taste and will make your banana bread irresistibly delicious!
Chocolate chips; For that amazing gooey chocolate, I add chocolate chips to the banana bread with semi-sweet for sweeter bread or 70% dark chocolate chips for less sweetness For a lower sugar option (and less fat), you can skip the chocolate chips.
Baking Soda; this will make your chocolate banana bread rise.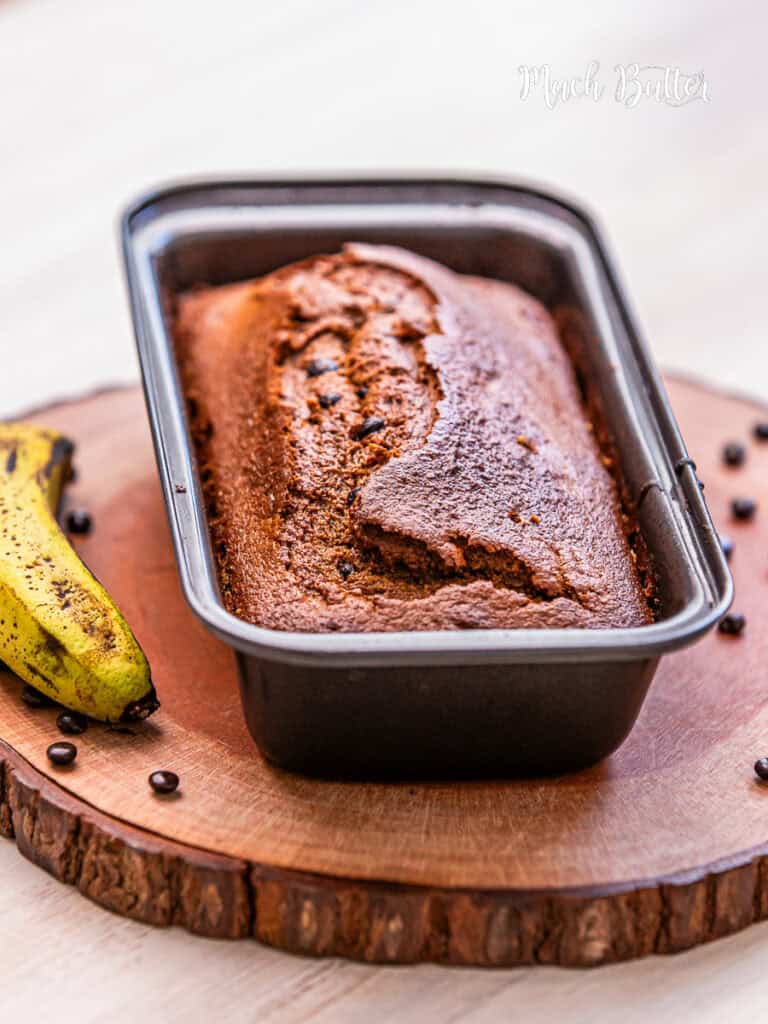 How to Make Healthy Choco Banana Bread
First, preheat your oven to 180°C (350°F) and grease a baking pan. This ensures that your banana bread won't stick to the pan.
Second, in a blender or food processor, combine the ripe bananas, oat flour, eggs, brown sugar, plain yogurt, and vegetable oil. Now, blend until the mixture becomes smooth and creamy.
Third, transfer the blended mixture into a large mixing bowl.
Then, add in the salt, cinnamon powder, baking soda, and a little bit of oil again. Gently stir everything together until the dry ingredients are fully incorporated into the wet mixture. This step ensures that your banana bread will rise properly and have a delightful texture.
Now, for that extra touch of decadence, fold the dark chocolate chips into your batter. Make sure they are evenly distributed throughout the mixture. You can use more or less chocolate chips according to your preference.
Next, pour the prepared batter into your greased baking pan, spreading it out evenly. A standard 9×5-inch loaf pan works well for this recipe.
Place the baking pan in the preheated oven and let it bake for approximately 30 minutes. Keep an eye on it, as baking times can vary slightly depending on your oven. The banana bread is ready when a toothpick inserted into the center comes out clean, with maybe a few moist crumbs clinging to it.
Once your healthy chocolate banana bread is done baking, remove it from the oven and allow it to cool in the pan for about 10 minutes. Afterward, transfer it to a wire rack to cool completely.
Finally, slice your chocolate banana bread into tempting portions and savor the delicious, moist, and nutritious treat you've created.
Recreate and Share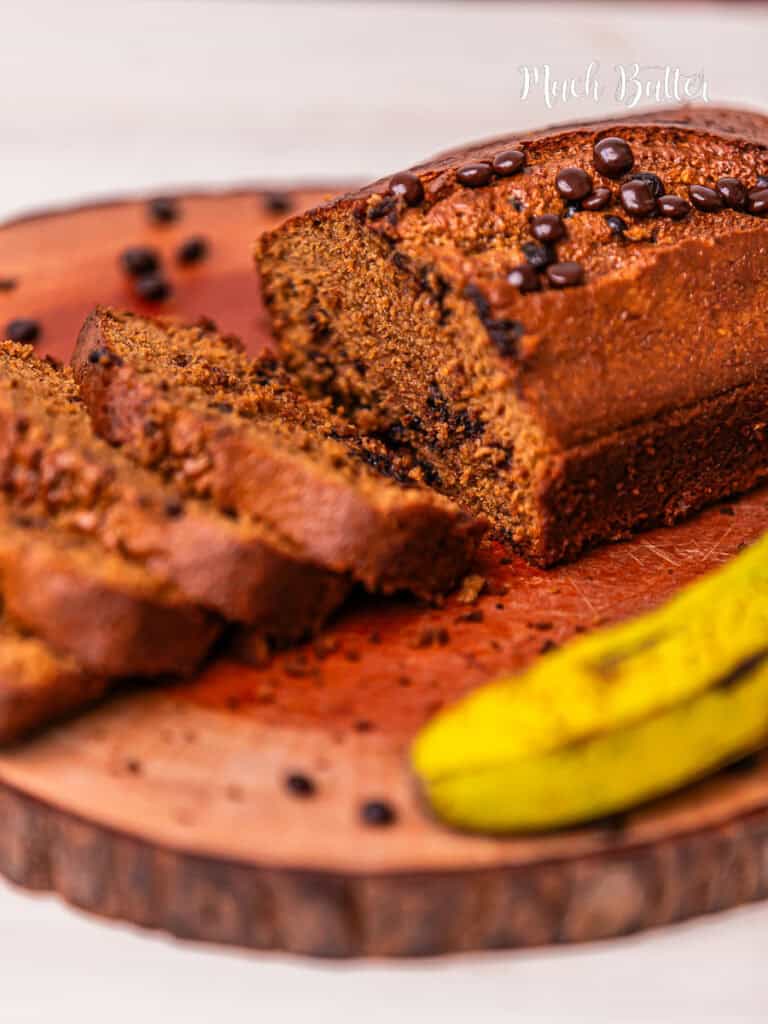 I hope you enjoy this Healthy Choco Banana Bread as I do. Also, you can give us feedback by giving the rating and comment below. Let me know how it works 😁
You can pin the up-to-date recipes on Pinterest and follow @much.butter for the mouthwatering food picture. Thank you for your support❤
DO YOU NEED OTHER SIMPLE DESSERT TREATS?
Healthy Choco Banana Bread
Ingredients
4

Banana

2

cup

Oat flour

2

Eggs

¾

cup

Brown Sugar

¼

cup

Oil

¼

cup

Yoghurt

¼

tsp

Salt

⅛

tsp

Cinnamon Powder

½

cup

Chocolate chips

1

tsp

Baking Soda

1

tsp

Vanilla Essence
Instructions
Mix bananas, oats, eggs, brown sugar, yogurt, and oil, then blend until smooth.

Transfer the mixture into a bowl, then add salt, cinnamon powder, baking soda, and oil. Stir until well combined.

Finally, add chocolate chips to the batter, and mix until evenly distributed.

Pour the batter into a baking pan, then bake in an oven at 180°C for 30 minutes.