Indulge the flavorful of Sweet Chicken Satay with Peanut Sauce. Grilled chicken skewers infused with a luscious peanut sauce. Irresistible!
Sweet Chicken Satay with Peanut Sauce is a delightful combination of tender chicken, aromatic spices, and creamy peanut sauce. The sweet and savory flavors come together to create an explosion of taste in every bite. Whether you're hosting a dinner party or looking for a crowd-pleasing appetizer, this recipe is sure to impress.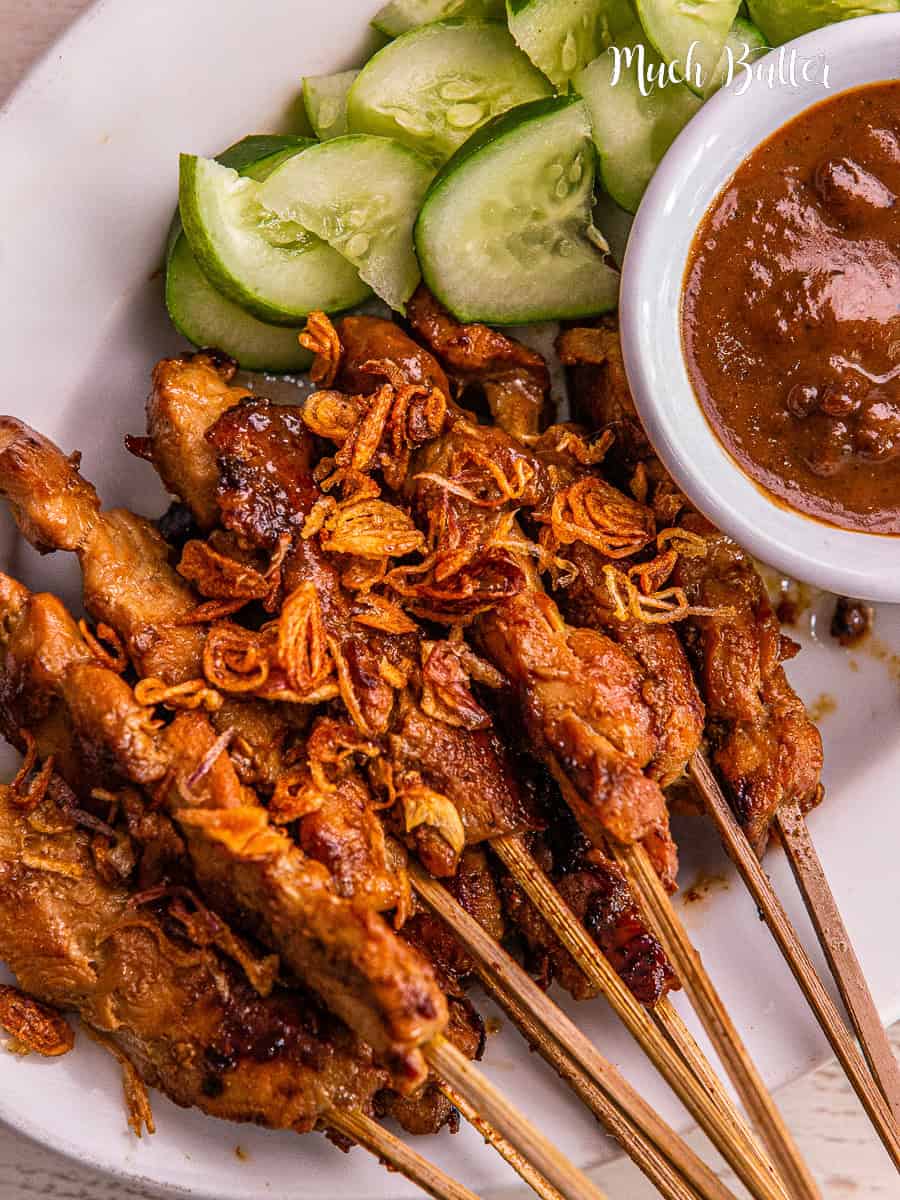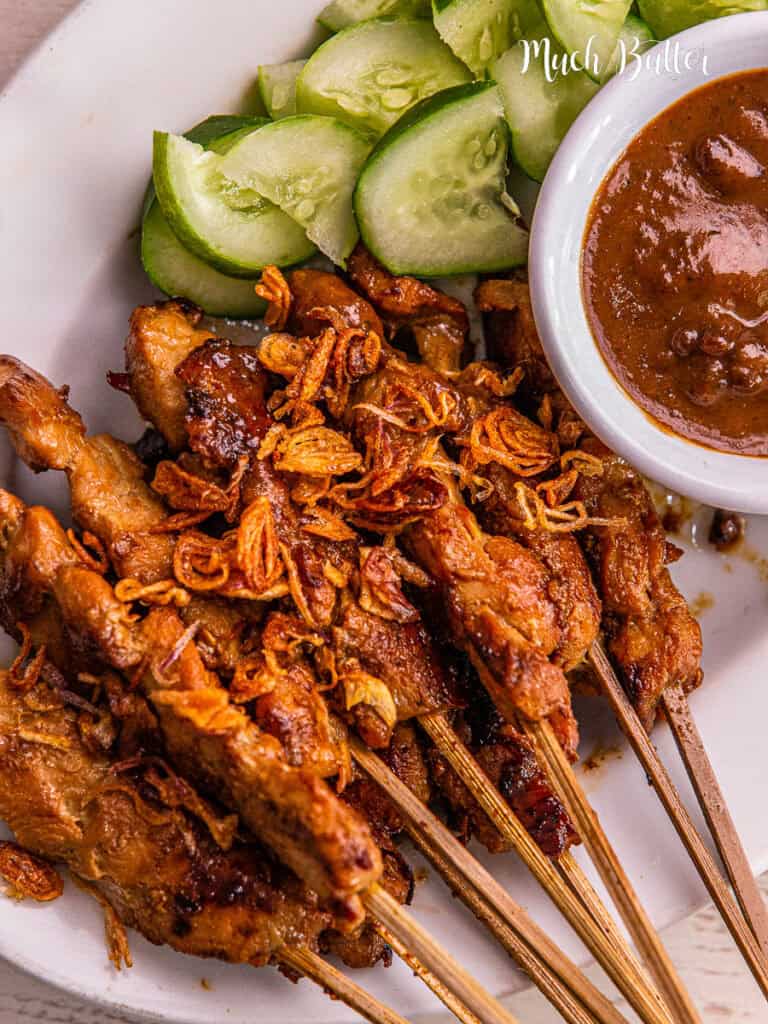 Type of Satay in Indonesia
Satay, a popular Southeast Asian street food, holds the distinction of being considered the national dish of Indonesia, consisting of marinated meat skewered, grilled, and served with a delectable dipping sauce.
Sate is one of the popular food in Indonesia, there are a lot of types of satay and this sweet chicken satay with peanut sauce is one of the most distinguishable and easy to find in every corner of Indonesia. Here are some popular types of satay in Indonesia;
Sate Ayam (Chicken Satay): This is the most common and widely enjoyed type of satay in Indonesia
Sate Kambing (Lamb Satay): As the name suggests, this satay features skewered pieces of tender lamb meat, often served with a side of kecap manis (sweet soy sauce) and sambal (spicy chili sauce).
Sate Sapi (Beef Satay): Beef satay is another popular variation made from skewered beef.
Sate Madura: Hailing from the island of Madura in East Java, Sate Madura is famous for its distinct flavor. It typically consists of skewered beef or chicken, marinated in a soy-based sauce and grilled over charcoal. Best serve with a rich and flavorful peanut sauce, along with cucumber and rice cakes.
Sate Padang, originating from Padang in West Sumatra. It stands out for its rich, thick, and spicy flavors, features skewered beef offal, such as tongue, liver, and tripe. This Satay is cooked in a spicy yellow sauce made from turmeric, lemongrass, chili, and other aromatic spices.
Sate Lilit; Create this unique Balinese satay by mincing meat (typically chicken, fish, or pork) and combining it with grated coconut, shallots, garlic, chili, and an array of aromatic spices.
Modern Type of Satay
Indonesia is also known for a few other variations that offer unique flavors and characteristics. Here are four distinct types of satay found in Indonesia:
Sweet Satay (Satay Manis): Sweet satay, known as "Satay Manis" in Indonesian, features a marinade that emphasizes sweetness. The meat, commonly chicken or pork, is marinated in a sauce that includes sweet soy sauce (kecap manis), palm sugar, garlic, and other spices. This is what we gonna make in this recipe
Spicy Satay (Satay Pedas): Spicy satay, or "Satay Pedas," caters to those who enjoy heat and spice in their food.
Salty Satay (Satay Asin): Salty satay, or "Satay Asin," focuses on delivering a savory and salty taste. The resulting satay offers a rich umami flavor with a satisfying saltiness.
Taichan Satay: Taichan satay is a popular street food variation that originated in Indonesia. It is named after the popular Thai tea drink, "Thai Tea Cha Yen.". I made this before here to make the recipe;
Peanut Sauce and the Tradition
Peanut sauce holds a special place in Indonesian and Southeast Asian cuisine, especially when it comes to satay. This beloved sauce is an essential component of satay, lending its rich and creamy texture to the dish.
What makes peanut sauce truly remarkable is its unique combination of flavors. It brings together the natural nuttiness of peanuts with elements of sweetness, tanginess, and spiciness, creating a symphony of tastes. This incredible blend adds depth and richness to a variety of dishes, making it a popular accompaniment for satay, grilled meats, spring rolls, noodles, and stir-fried vegetables. Even for dressing salad
In Indonesia, peanut sauce is known also as pecel sauce, which is a staple in traditional Indonesian cuisine. Pecel sauce is an essential component of pecel, a vegetable salad consisting of blanched or steamed vegetables such as spinach, bean sprouts, cabbage, and long beans. Both peanut sauce and pecel sauce offer their own unique and delicious flavors, showcasing variations in ingredients and levels of spiciness.
Preparing peanut sauce is a delightful process that involves sautéing spices and aromatics until they release their enticing fragrance. Add ground peanuts, sweeteners, soy sauce, tamarind, and coconut milk to the mixture, and simmer until the sauce thickens, allowing the flavors to blend together beautifully.
Traditionally, peanut sauce serves as dipping sauce alongside satay skewers. The combination of smoky grilled meat with the creamy, nutty peanut sauce creates a harmonious and satisfying flavor experience.
Ingredients of Sweet Chicken Satay with Peanut Sauce
Chicken Breast Fillet– you can use either chicken breasts or chicken thighs for this Chicken Satay recipe. I tend to use chicken breasts because they are leaner and emerge wonderfully juicy with this marinade but thighs are inherently more juicy so they are also fabulous. plus choose skinless chicken.
Garlic– for marinating chicken
Shallot– a milder and sweeter taste than onion, it also helps to provide a slightly sweet and savory flavor to the marinade
Sweet Soy Sauce– basic ingredient for making sweet chicken satay, Known as kecap manis in Indonesian, this sauce is a key ingredient in the marinade. It is a thick, dark, and sweet soy sauce that is made from a mixture of soy sauce and palm sugar. It provides a sweet and slightly savory flavor to the dish
Salt and Pepper– Enhances the natural flavors of the dish and helps to balance the sweetness of the marinade
Cardamom Pod– adds a complex, slightly sweet, and floral flavor to the marinade.
Tamarind– A tangy fruit that commonly uses in Southeast Asian cuisine. It adds a slightly sour and fruity flavor to the marinade, if you can't find it, you can use lime juice
Seasoning– a simple spice to season this satay. All you need is chicken stock powder, black pepper, and salt.
Peanut Sauce
Here I use a bought homemade peanut sauce from an authentic satay seller, you can use store-bought peanut sauce. if you can't find them or you're not in Indonesia, the alternative for the dipping sauce that can provide similar creamy and nutty tastes are
Hoisin sauce is a thick, sweet and savory sauce commonly used in Asian cuisines. You can enhance the hoisin sauce by adding a bit of peanut butter or ground peanuts to mimic the nutty flavor.
Almond or Cashew Butter: If you have dietary restrictions or allergies to peanuts, You can use almond or cashew butter as an alternative
How to make Sweet Chicken Satay with Peanut Sauce
To prepare the delectable Sweet Chicken Satay, start by cutting the chicken breast fillet into bite-sized cubes. Do not forget to ensure that they are uniform in size, as this will help ensure even cooking. Transfer the chicken cubes to a bowl and set them aside.
Marinating the chicken
Next, it's time to prepare the flavorful marinade. Take the garlic cloves, shallots, and mix herbs and grind them until you achieve a smooth paste-like consistency. This process aids in releasing the aromatic flavors and guarantees their even distribution throughout the chicken.
Then, Transfer the spice paste to the bowl that holds the chicken cubes and thoroughly mix it, ensuring every piece gets coated with the spice mixture.
Now, it's time to add the remaining ingredients to the chicken mixture. Sprinkle in the salt, pepper, seasoning, tamarind, and sweet soy sauce. After that, These ingredients contribute to the delightful balance of sweet and savory flavors that define Sweet Chicken Satay.
Next step is to mix everything together well, and make sure all the chicken cubes are coated in the marinade. Allow the chicken to marinate for at least 1 hour, or preferably longer, in the refrigerator. This gives the flavors ample time to infuse the meat, resulting in a more delicious end result.
Grilling the chicken satay
Once the marinating time is complete, it's time to skewer the chicken cubes. Thread the marinated chicken onto skewers, ensuring an even distribution of the flavorful chicken pieces on each skewer. This step not only adds a visually appealing presentation but also makes it convenient for grilling.
Then, preheat your grill to medium-high heat. Position the skewers on the grill and cook them, making sure to turn them occasionally, until the chicken is thoroughly cooked and achieves a beautifully brown surface. While grilling, periodically brush the surface of the satay with the marinade water.
In This process, not only adds moisture but also helps develop a caramelized appearance, but also enhancing the overall flavor profile of the satay. After cooking the Sweet Chicken Satay to perfection, remove the skewers from the grill and transfer them to a serving platter.
Also, for an extra burst of flavor, squeeze some fresh lime juice over the satay just before serving. This adds a tangy and refreshing element that complements the sweet and savory chicken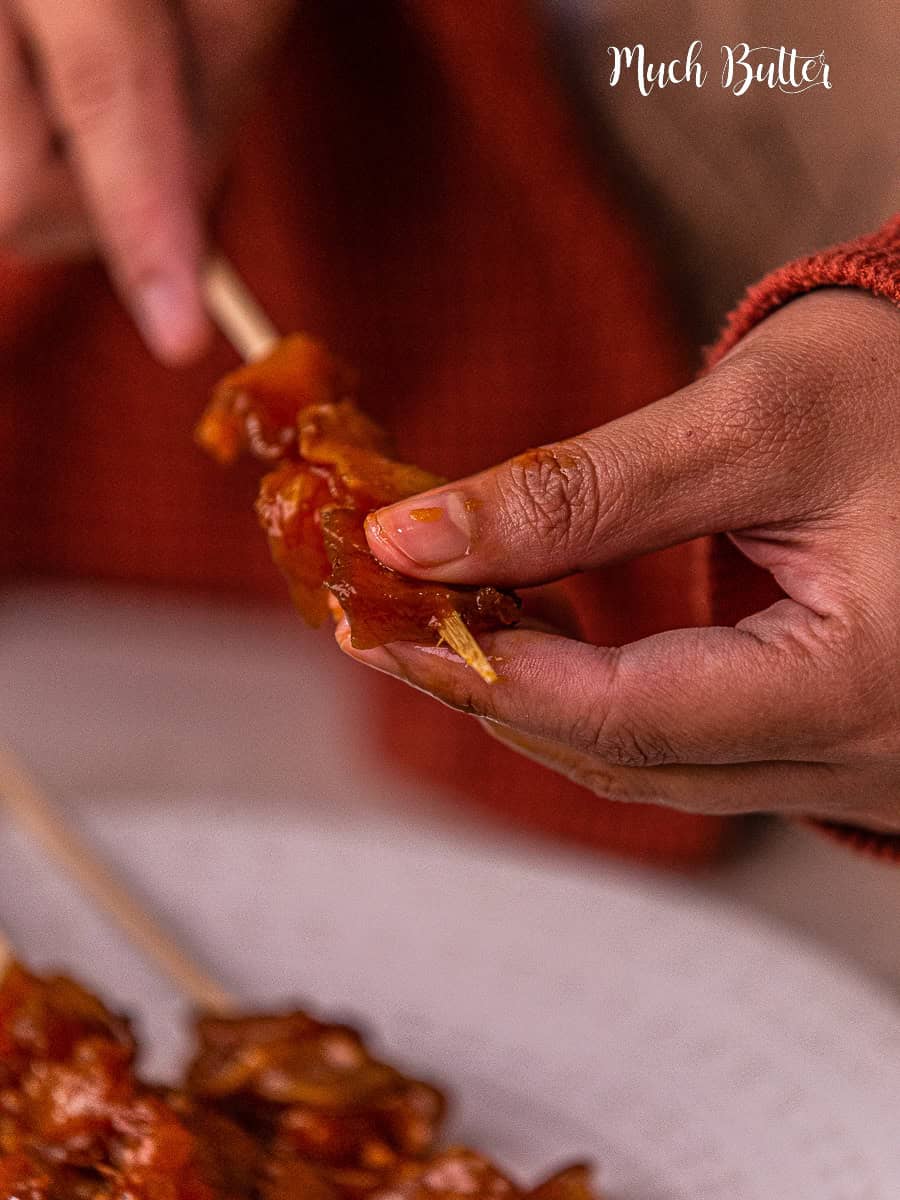 Preparing the peanut sauce and serving
Lastly, no Sweet Chicken Satay is complete without its signature companion: peanut sauce. Arrange the chicken satay skewers on a platter.
Serve the peanut sauce in a separate bowl alongside the chicken satay.
Serve the satay alongside a bowl of luscious peanut sauce for dipping. The creamy, nutty sauce perfectly complements the flavors of the grilled chicken, adding a rich and indulgent element to each bite. For optional add some fried garlic as topping and some cucumber as a company or dessert for the satay hahaha.
In conclusion, Sweet Chicken Satay with Peanut Sauce is an easy and delicious dish that is perfect for a quick weeknight meal or a weekend barbecue. The marinade adds sweetness and depth of flavor to the chicken, while the peanut sauce provides a creamy and spicy contrast. Give this recipe a try and enjoy the taste of Southeast Asia in your own home!
Interested to cook this recipe?
Let me know your result by uploading pictures and tagging us on Instagram at Much Butter and Pinterest. Do not forget to see and follow our new Tiktok Account.
For cooking videos, please check out and subscribe to our Youtube page. you can join our email for the latest idea menus. I love to hear your thoughts
Thank you, your supports are so much appreciated 💕
SEE OTHER INDONESIAN FOOD VARIATIONS:
Sweet Chicken Skewer with Peanut Sauce
Ingredients
½

lb

Chicken Breast Fillet

2

clove

Garlic

2

Shallot

4

tbsp

Sweet Soy Sauce

¼

tsp

Salt

¼

tsp

Pepper

1

Cardanom Pod

1

tsp

Tamarind

1

tsp

Seasoning

½

tsp

Mix Herbs
Instructions
Cut chicken breast fillet into bite-sized cubes, transfer them into a bowl. Set aside.

Grind garlic, shallots, and mix herbs until smooth. Transfer it into a bowl of chicken cubes and mix the spice until well combine. Add salt, pepper, seasoning, tamarind, and sweet soy sauce to the chicken mixture, mix well. Let it marinate for at least 1 hour.

Skewer the marinated chicken, then grill until cooked. Occasionally brush the surface of the satay with the marinade water until the surface turns brown and cooked. Serve with lime juice and peanut sauce. Enjoy!