Fruits shaved ice milk is refreshing yet creamy summer dessert. Inspired by Korean dessert (bingsu), it's easy to make at home.
Let's make quick and simple dessert inspired by popular Korean dessert called bingsu or bingsoo, in English we call it shaved ice. The dessert originally is red beans shaved ice or patbingsu.
Before we make it. Do you know bingsoo is a fancy dessert in the past?
Before we make the types of Bingsu, it's good to know the history of this dish.
Firstly, bingsu was popular during the Joseon Dynasty from around 1392 to 1910s. It started to develop even more when it was under Japanese colonialization from 1910 to 1945.
Initially, the Joseon dynasty used shaved ice, red beans, tteok, peanut powder, and a simple fruit combination. At that time, this shaved ice was food for Korean nobles.
Now, we can find many varieties of the toppings such as yogurt, sweetened condensed milk, fruit slices, ice cream, cereal, syrup, and whipped cream.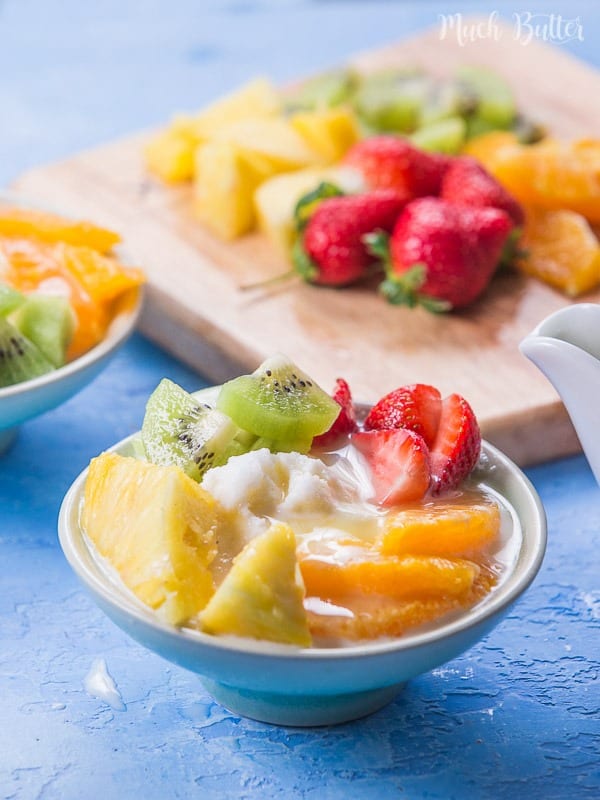 Various Kinds of Bingsu
After knowing a little about the history of Bingsu, let's get to know the various types of Bingsu in Korea.
Patbingsu
Patbingsu is a simple bingsu. It contains shaved ice, red beans, sugar, and sweetened condensed milk. This dessert becomes one of the nutrition sources for the Korean people.
Gwail Bingsu
This bingsu is similar to fruit soup in Indonesia because it contains various kinds of fruits. Watermelon, apples, strawberries, kiwi, and dragon fruit are the usual stuffing for Gwail Bingsu. Furthermore, people also add sugar, milk, and melted chocolate to this bingsu. The Gwail Bingsu dessert is even more delicious because there is a scoop of ice cream on it.
Coffee Bingsu
For those of you who like coffee, you will definitely like this type of Bingsu. The cold shaved ice mixed with the delicious coffee flavor is certainly difficult for you to refuse. Like Gwail Bingsu, Coffee Bingsu is also served with ice cream on top. Besides, there is an additional form of softly whipped cream.
Nokcha Bingsu
Nokcha Bingsu is the right choice for you green tea lovers. Besides shaved ice with green tea flavor, Nokcha Bingsu also has a very delicious green tea topping. Just like Coffee Bingsu, Nokcha Bingsu also uses whipped cream. Apart from that, there is also a sprinkling of cashews which enriches the taste and texture of this one Bingsu.
Cocoa Bingsu
This menu is one of the new menus in Korea. This innovation is a market for chocolate lovers. This bingsu is full of chocolate flavor. You can find chocolate ice cream, melted chocolate, and chocolate pieces in a bowl of Kakao Bingsu.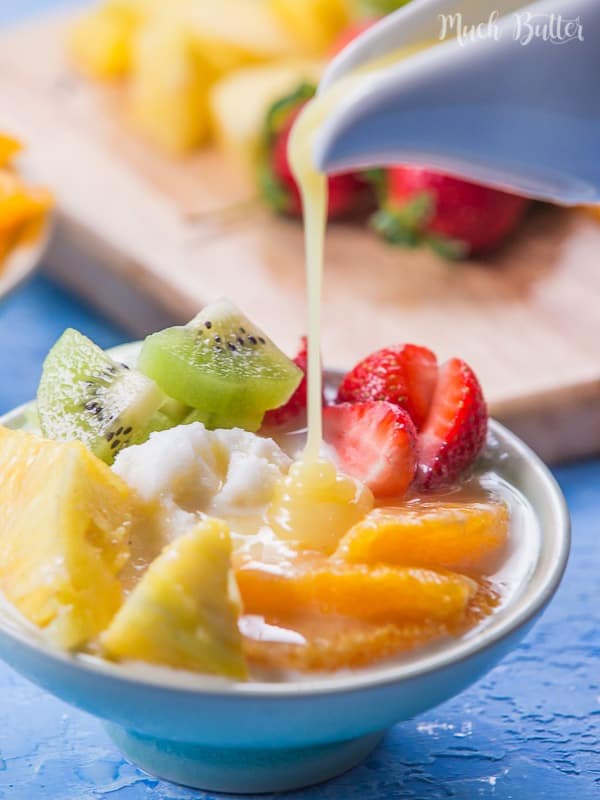 The reason why I made fruit shaved ice milk.
In my town, there is a cafe that sells bingsu that I and my sisters love. From the presentation and the ingredients they use, I think it is very simple and easy.
You also can use any topping as you want. Therefore If we can make it at home, why don't we make it ourselves, right?
In this recipe I will make fruit bingsu or fruits shaved ice that is refreshing yet creamy. The creaminess is come from frozen milk rather than plain ice.
For the fruits, I use are strawberries, pineapple, kiwi, and sunkist orange. It's so colorful and pretty like rainbow.
I love the colors and really enjoy making and eating this dessert. I hope you try and enjoy making it at home as I do!
Let me know your result with this recipe by uploading pictures and tagging us at @much.butter. Also, you can find us on  Pinterest. Subscribe to our blog for the latest idea menus. Thank you for your support! ❤
YOU MAY LIKE OTHER ICE RECIPE :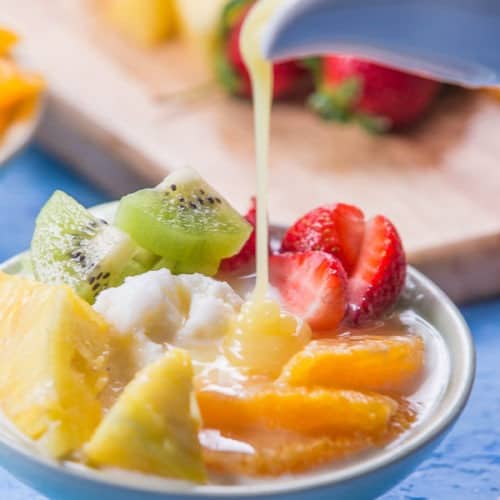 Fruits Shaved Ice Milk
Ingredients
1

L

Frozen milk

1

Kiwi

1

Sunkist

8

Strawberries

1/4

Pineapple

Sweetened condensed milk
Instructions
Peel kiwi, sunkist and pineapple, then cut all the fruits into a bite size.

Crush milk ice cubes using food processors until smooth.

Place the shaved ice milk into a small bowl then garnish with all the fruits.

Drizzle with sweetened condensed milk as you like.
Recipe Notes
You can froze the milk in ice mold 1 day before make this recipe.