Let's make Strawberry Matcha Latte, a perfect blend of sweet and earthy flavors. 5 minutes to be ready and perfect for any time of day. This energizing drink will brighten your day with its beautiful layer of flavors.
Matcha, a love-hate relationship
Most people already knew what is matcha, yes matcha is a powdered tea made from finely ground green tea leaves. Matcha originally come from Japan. Matcha contains a lot of benefits, rich in the rare amino acid, L-Theanine, which promotes a state of relaxation and well-being; it creates alpha waves in the brain which leads to a state of calm alertness. That is why matcha is often connected with yoga, calmness, and meditation. Also, matcha has plenty of benefits such as;
Clear, focused energy, minus the jitters some people get with coffee or energy drinks.
Not to mention, matcha is high in antioxidants, which help support your overall health, especially your immune response.
Better memory and concentration
Fewer tummy troubles
Detox! Matcha contains chlorophyll and can help remove toxins and heavy metals from your body.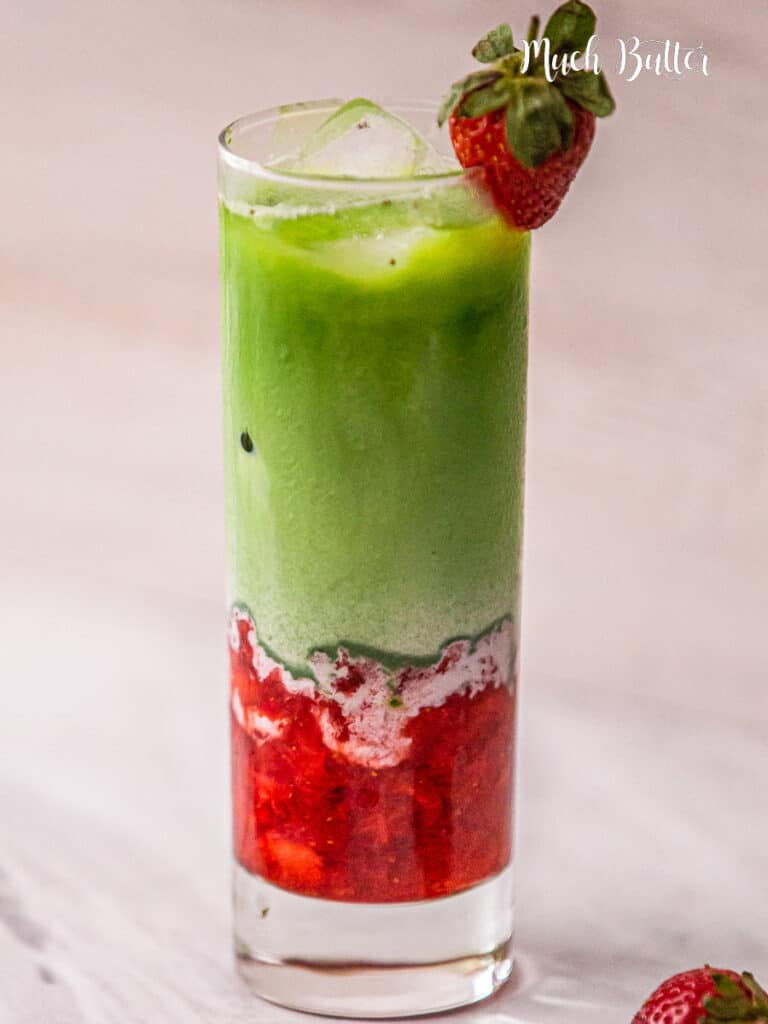 Matcha and Strawberry
So, why would I say the love-hate relationship with matcha? well, the reason is, once you like the taste of matcha, you will love matcha, and on the other side if you hate the bitterness of matcha, most likely you hate matcha.
That is to say, It is so hard to make matcha love in between since Matcha has a strong and unique taste.
I would say, If you like the taste of match or want to know more to explore the taste, then come with me, today we will make a homemade café drink which is a strawberry matcha latte. Surprisingly, when combined it makes a very subtle and balanced taste. The refreshing and healthy beverage come from the sweet and tangy flavor of strawberries with the earthy and slightly bitter taste of matcha. It's a perfect drink for any time of the day, whether you need a morning pick-me-up or an afternoon treat.
Additionally, the vibrant and cheerful red color of strawberries pairs well with the vivid green color of matcha, making it a visually tempting and eyegasm experience.
Ingredients of Strawberry Matcha Latte
Strawberry Puree – I recommend using ripe strawberries as they are easier to crush into a puree
Honey– to add a sweet taste, you can substitute using sugar based on your preference
Matcha Powder
Hot Water– for stirring matcha powder to be dissolved
Milk– Please feel free to use your preferred choice of milk including non-dairy alternatives such as almond or soy milk. I use a UHT unsweetened kind to balance the sweet strawberry puree.
Ice Cubes
Instructions for making Strawberry matcha latte
Making this delicious beverage is easy, too. Just follow these simple steps and you'll be sipping your own homemade Strawberry Matcha Latte in no time!
In the first place, you need all the ingredients I have mentioned above, the steps are;
Firstly, stir matcha powder with hot water until well combined and the matcha powder dissolved.
Secondly, combine the strawberry puree with honey, just smash them with a fork because strawberry has a smooth texture, if you want to be effortless you can use a blender too.
After the strawberry puree is ready add honey, actually you can use sugar is fine.
Thirdly, prepare a tall glass. Here is the sequence for me. Strawberry, milk, and matcha.
Next, Transfer the strawberry mixture to a glass, then add some ice cubes so it will give then gradient color, and then added milk and the last sequence is matcha mixture in order.
Voila! Your delicious Strawberry Matcha Latte is now ready to enjoy. Sip away and enjoy the unique flavor combination of sweet, tart strawberries and nutty matcha as they come together in perfect harmony. Serve immediately. Enjoy!
For more Matcha and Strawberry ideas;
Interested to make this recipe?
Let me know your result by uploading pictures and tagging us on Instagram at Much Butter and Pinterest. Do not forget to see and follow our new Tiktok Account.
For cooking videos, check and subscribe to our Youtube page. you can join our email for the latest idea menus.
Lastly, thank you, your supports are so much appreciated 💕
Written by Silni Asfia
Strawberry Matcha Latte
Ingredients
⅓

cup

Strawberry Puree

2

tbsp

Honey

1

tsp

Matcha Powder

¼

cup

Hot Water

½

cup

Milk

Ice Cubes
Instructions
Stir matcha powder and hot water until well combined.

Combine strawberry puree with honey.

Transfer the strawberry mixture to a glass, then add ice, milk, and matcha mixture in order. Serve immediately. Enjoy!