Stay cool this summer with our Watermelon Lemonade recipe. Perfectly sweet and tangy, it's the ultimate refreshing thirst quencher! Summer vibe is here, slay summer, hip hip hooray!
This easy watermelon lemonade recipe is enjoyable for everyday consumption, but ultimately made for summer sipping! Perfectly sweet, colorful, and undeniably refreshing. Watermelon has such a wonderful freshness, as well as a great color, Easy, pretty, and tasty that it's perfect for making a bright, light lemonade it'll be your go-to all summer long.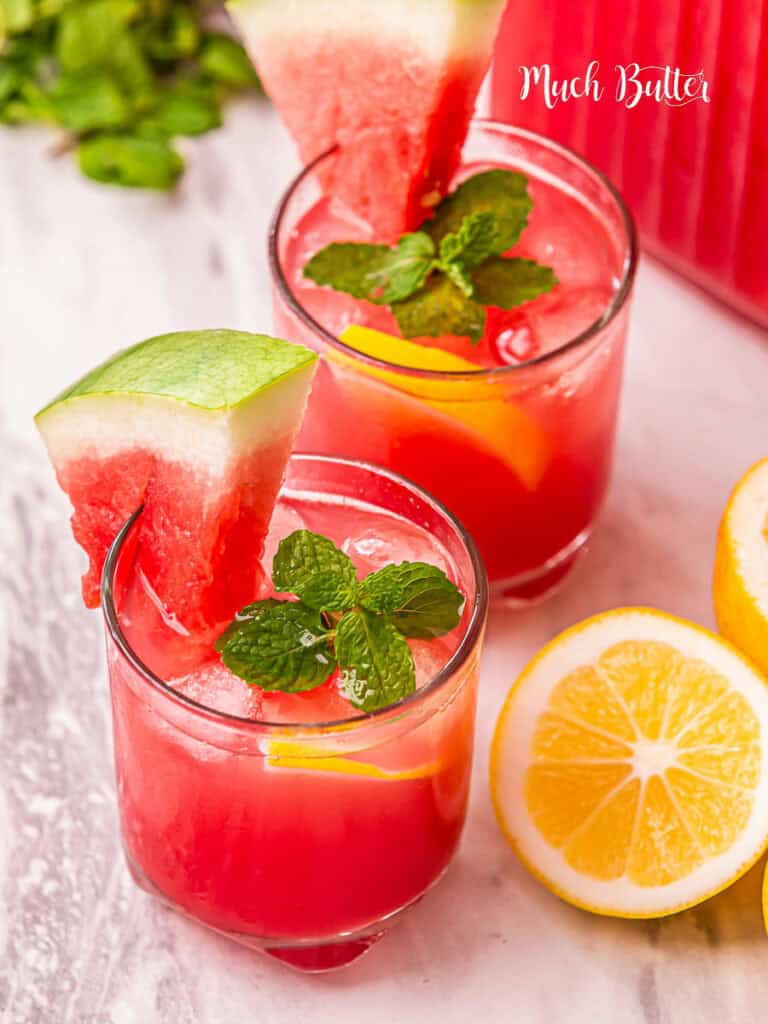 Summer Vibe is Coming
I know this is not official summertime, but I bet the summer vibe is already here. So, Before it's officially pumpkin fall season, at least you need to chop up some watermelon, or some berries and enjoy every sweet, tart, and cool sip Lemonade!
According to Google, The seasons are defined as spring (March, April, May), summer (June, July, August), autumn (September, October, November), and winter (December, January, February). Nonetheless for me, in Indonesia just two seasons either rainy days or hot summer days.
Watermelon lemonade never be wrong if you are looking for a delicious lemonade recipe, this recipe always hits the spot on a hot summer day and it is a simple drink to make. This easy watermelon pink lemonade recipe will quickly become a recipe the whole family calls their favorite. The fresh watermelon and fresh lemons combine for an amazing drink to enjoy on a hot summer's day.
Definitely, it is refreshing and has the perfect combination of sweet and tart with the natural sweetness of the watermelon and the tart flavors from the fresh-squeezed lemons.
Summer is a magical season filled with warm sunshine and longer days, offering a wide array of activities and opportunities for fun and relaxation.
Activities people love to do during the summer:
First and foremost, it's all about embracing the great outdoors. Whether it's lounging at the beach, taking a refreshing dip in the pool, or picnicking in a beautiful park, people love soaking up the sun and enjoying the natural beauty that summer brings. It's a time to bask in the warmth, feel the sand between your toes, and let the gentle breeze caress your skin.
Next, Summer is also synonymous with vacations and adventures. It's the perfect time to plan that long-awaited trip to explore new places, visit family and friends, or simply escape the daily routine.
Let's not forget about the mouthwatering aroma of sizzling barbecues and cookouts that fill the air during summer. Firing up the grill and sharing delicious meals with loved ones is a cherished tradition. From juicy burgers and grilled veggies to tangy marinades and refreshing beverages.
Remember, summertime also sets the stage for vibrant festivals and events that add a touch of excitement to the season. Music festivals, cultural celebrations, food fairs, and outdoor concerts create a lively atmosphere.
Summer is also an excellent time to unwind and find inner peace. Whether it's tending to a colorful garden, finding a cozy spot in the shade to read a captivating book, or simply daydreaming in a hammock, the slower pace of summer invites us to recharge and embrace moments of tranquility.
These are just a few examples of the delightful activities that make summer such a cherished season. So go ahead, embrace the spirit of summer, and create memories that will warm your heart for years to come.
What Inside Watermelon Lemonade
Main Ingredient
Seedless Watermelon; Use a seedless watermelon. If you don't want to spend time picking the seeds out or chancing any getting into the drink use one without seeds. cut into small cubes, acts as a base flavor and sweetness to lemonade ( make sure watermelon is ripe), This is;
How to Pick Ripe Watermelon
Choosing a ripe watermelon is essential to ensure a sweet and juicy eating experience. Here are some tips on how to pick the perfect ripe seedless watermelon:
Look for a yellow spot: Check the underside of the watermelon for a creamy yellow spot. If it's white or green, the watermelon is likely underripe.
Check the surface: A ripe watermelon should have a dull surface, not shiny. Shiny skin indicates that it's not yet ripe.
Tap it: Give the watermelon a tap with your knuckles. A ripe watermelon will sound hollow, indicating that it's full of water.
Check the weight: A ripe watermelon should feel heavy for its size, indicating that it's full of water and has matured properly.
Look for uniformity: A ripe watermelon should have a uniform shape and size. Avoid ones with lumps or bumps, as they may not have matured properly.
Examine the rind: The rind should have a vibrant and consistent color. Look for a deep green or dark green color. Avoid watermelons with faded, pale, or yellowish rinds, as these may indicate underripe fruit.
If you're not buying the whole watermelon, judge a fruit by its color: The redder, the better.
It's also helpful to shop for watermelons during the peak of the watermelon season when they are more likely to be at their best. It might not succeed every time, but at least this is helpful. If you have other proven tricks, pls share them here friends😉 !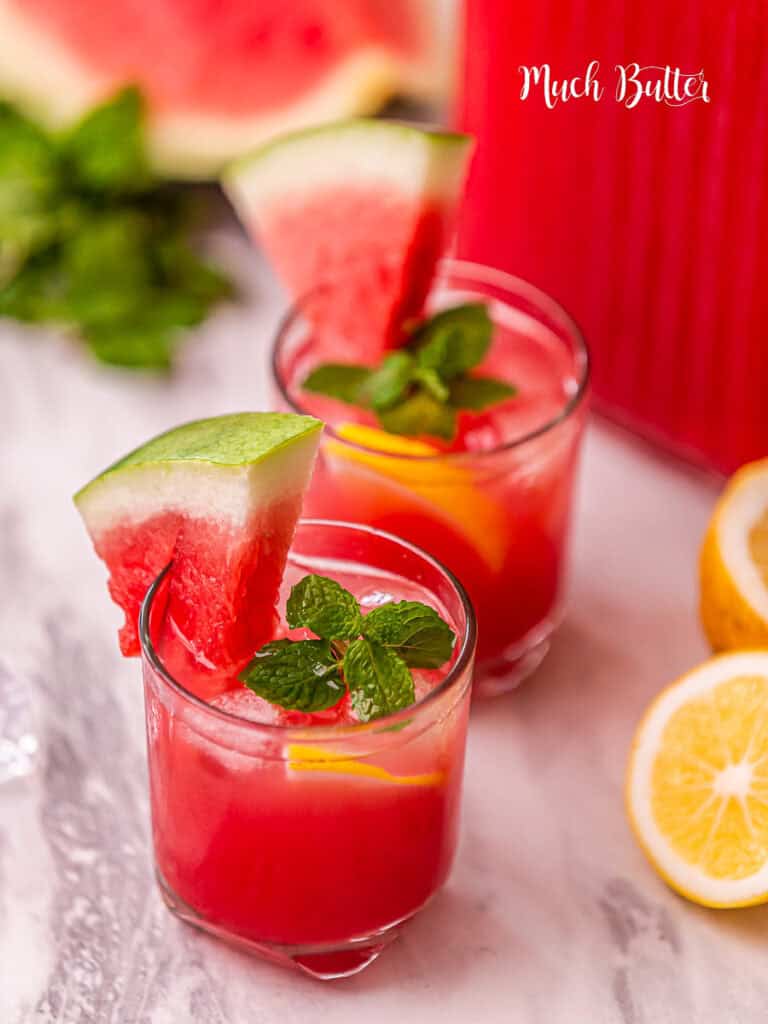 Other Ingredients
Lemon Juice; Provides the base flavor, and also adds a tangy and citrusy flavor to the lemonade.
Simple Syrup; to add more sweetness (it's optional). I prefer simple syrup rather than granulated sugar just to make sure it does not need to dissolve first
Garnish; This is optional, but I highly recommend you use all of these, Fresh Mint, Lemon, and some watermelon slice. Mint leaves are used to infuse the watermelon lemonade with a refreshing and aromatic twist. Mint adds a cool and invigorating element to the drink. Meanwhile, Lemon provides a burst of citrus flavor and helps balance the sweetness of the watermelon. for the last, watermelon slice, I love this! you can also drink a watermelon umbrella too! You can get totally fancy, add watermelon slices on the edges of the glasses for even more flare!
Let's Make Watermelon Lemonade
Here is the briefest and simplest way to serve this watermelon lemonade, blend until made puree, add the lemon juice, add fresh mint, ice cube, and garnish. end of the discussion, isn't it too easy? for more details;
To make watermelon lemonade, start by placing the watermelon chunks and simple syrup into a blender. Next, blend the mixture until it becomes smooth and creamy, ensuring that all the watermelon is thoroughly pureed. This step allows for the extraction of the sweet and juicy flavors from the watermelon. Once blended, pour the mixture through a fine mesh sieve into a separate container.
Next, it's time to add a tangy touch to the watermelon puree. Stir in the freshly squeezed lemon juice, thoroughly combining the zesty and citrusy kick with the sweetness of the watermelon. Ensure that the lemon juice is well incorporated, resulting in a harmonious balance of flavors.
In a large pitcher, fill it halfway with ice cubes to chill the lemonade. The ice cubes will interact with the lemonade, keeping it cool and refreshing when served. Enhance the aroma and flavor by adding a handful of fresh mint leaves to the pitcher. The mint leaves will infuse the lemonade with a delightful herbal essence, elevating the overall drinking experience. Thinly slice some lemons and add them to the pitcher, enhancing the visual appeal of the beverage.
Carefully pour the watermelon lemonade into the pitcher, allowing it to cascade over the ice, mint, and sliced lemons.
Serve for the best
For an exquisite garnish, slice fresh watermelon into small pieces and use them to decorate the rim of the serving glasses. Adorn the top with a few sprigs of fresh mint leaves, adding a burst of color and aroma.
Plus, you can also place a slice of lemon and watermelon slice umbrella on the rim or drop it into the glass, creating an enticing finishing touch.
So, enjoy savoring this homemade watermelon lemonade. Let it transport you to sunny days, laughter-filled moments, and the pure bliss of summertime. Cheers to the simple pleasures in life and the refreshing delight of watermelon lemonade!
Sharing is Caring
Let me know your result by uploading pictures and tagging us on Instagram at Much Butter and Pinterest. Do not forget to see and follow our new Tiktok Account.
For cooking videos, check out and subscribe to our Youtube page. you can join our email for the latest idea menus.
Thank you, your supports are so much appreciated 💕
DO YOU NEED ANOTHER RECIPE FOR YOUR SUMMER TREAT? CHECK IT BELOW:
Written by Silni Asfia
Watermelon Lemonade
Ingredients
7

cup

Seedless Watermelon Cubed

1

cup

Lemon Juice

½

cup

Simple Syrup

¼

cup

Fresh Mint

3

sliced

Lemon
Instructions
Place the watermelon chunks and simple syrup to a blender and puree until smooth. Pour to a fine mesh sieve.

Add lemon juice and stir until well combine. In a large pitcher, fill half of it with ice, fresh mint, and sliced lemon then pour the watermelon lemonade.

Garnish with sliced fresh watermelon, mint sprigs, and sliced lemon before serving. Enjoy!