Start your day with Yoghurt double Chocolate Muffin. Simple ingredients and quick to make. Use Greek yoghurt to make the muffins super soft and moist. These double chocolate muffins are incredibly rich, mega chocolatey, and loaded with chocolate chips in every single bite. Perfect for breakfast, appetizers, desserts, and anytime.
Simple to make but very tasty, Whether you're looking for a sweet start to your morning or a delightful snack to curb your chocolate cravings, these muffins are the answer. In this recipe, we'll walk you through the steps to create these mouthwatering delights.
Muffins have been a beloved baked treat for generations, enjoyed in various forms and flavors across different cultures. The combination of chocolate and yogurt in muffins is a relatively modern innovation, capitalizing on the popularity of both ingredients in contemporary baking.
The incorporation of yogurt into muffin It's a nod to the growing awareness of healthier ingredients in baked goods, as yogurt not only enhances the texture but also offers probiotics and essential nutrients.
This recipe for Yogurt Double Chocolate Muffins takes the best of both worlds, combining the traditional joy of muffins with the contemporary twist of yogurt and double chocolate, creating a treat that's both comforting and exciting.
Why is it called a double chocolate muffin?
These are Double Chocolate Muffins because use chocolate in a double way. First, The muffin batter uses cocoa powder which is the first type of chocolate.
The second chocolate element is the chocolate chunks which doubles up the chocolate goodness.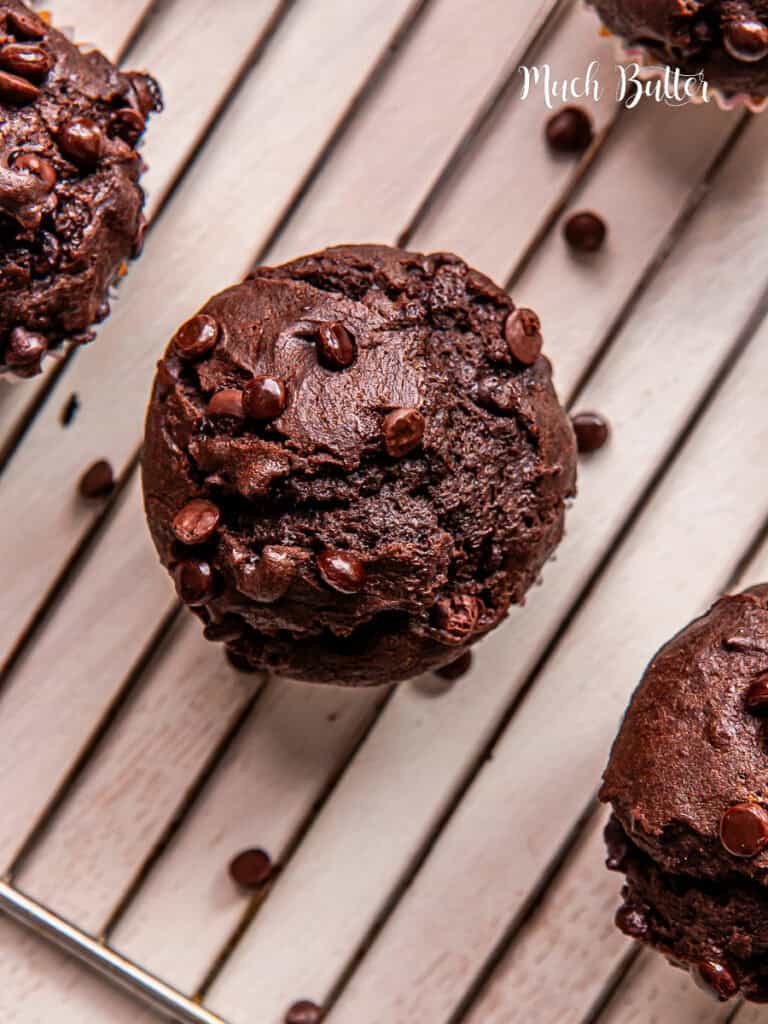 You could easily make these triple chocolate muffins by using a combination of different chocolate chunks. White chocolate would look great against the deep, rich muffins.
Yogurt Double Chocolate Muffins are a delightful and indulgent treat that combines the rich, chocolaty goodness of cocoa with the moist, tangy twist of Greek yogurt. Let's go to the ingredients and how we make these snacks!
What inside of Yoghurt Double Chocolate Muffin
This chocolate muffin recipe utilizes a secret, moisture-packed ingredient to keep dryness at bay: yogurt! It also calls for milk, vegetable oil, and a whole egg — all ingredients that help add and retain moisture.
Yoghurt plain; use Greek yoghurt, My trick to making these muffins moist, without the need for extra fat. Greek yogurt also adds protein. You can change yoghurt with sour cream too!
All-purpose flour; All-purpose flour gives structure to baked goods and helps hold the batter together. For a healthier option you can use whole wheat flour is 100% whole wheat, meaning these muffins are richer in fiber and nutrients
Cocoa powder; For a rich chocolate flavor reminiscent of your favorite brownie.
Vegetable oil; and canola oil would also work.
Brown sugar; adds the perfect amount of sweetness.
Eggs; A whole egg is yet another moisture-implementing ingredient. Also, it helps bind the batter together and gives the muffins a rich flavor.
Milk; Milk moistens the batter, adds flavor, and helps create a soft texture.
Vanilla extract; A must-have in any muffin or any dessert making.
Baking Powder; Helps the muffins rise in the oven.
Baking soda; acts as a leavener, which means it helps the batter rise and ensures a light and fluffy result.
Salt; for balancing profile taste
Chocolate chips; They add bursts of melty chocolate throughout the muffins, making them rich and indulgent. You can use semi-sweet, milk, or dark chocolate chips, depending on your preference for sweetness. why have a regular chocolate muffin when you can have a double chocolate muffin with chocolate chips added?
Let's Make Yoghurt Double Chocolate Muffin
To begin, preheat the oven to 180°C (350°F), and line the muffin pans with cupcake liners.
Secondly, Let's make the batter. In a bowl, mix thoroughly the flour, cocoa, baking powder, baking soda, and salt until they are well combined.
In another bowl, combine the yoghurt, vegetable oil, egg, brown sugar, milk, and vanilla extract. Stir until the ingredients are well combined.
Next, sift the dry ingredients into the wet ingredients and stir until the mixture is well combined and smooth.
Afterward, add the chocolate chips to the batter, and then gently stir them in. Your batter is ready!
Then, fill the muffins start with Carefully spoon the batter into each cup, filling them to the top. Sprinkle additional chocolate chips on top for an extra chocolatey touch.
Now, bake at a temperature of 180°C for approximately 25 minutes, or until a toothpick inserted into the center of a muffin comes out clean with just a few moist crumbs.
Remove the muffins from the oven and allow them to cool in the muffin pans for a few minutes. Then, transfer them to a wire rack to cool completely.
Finally, serve and enjoy these delightful Yogurt Double Chocolate Muffins! They're perfect for breakfast, brunch, or a sweet snack with a glass of milk or a cup of coffee.
How to Store, Freeze, and Reheat Yoghurt Double Chocolate Muffin
You can store, freeze, and reheat these Yoghurt double chocolate muffins as well; Here's how;
For storing, Allow the muffins to cool completely before transferring them to an airtight container lined with paper towels. Arrange them in a single layer, then place a paper towel on top to absorb excess moisture. They can also be individually wrapped in plastic wrap. Seal the container and store it at room temperature for about four days.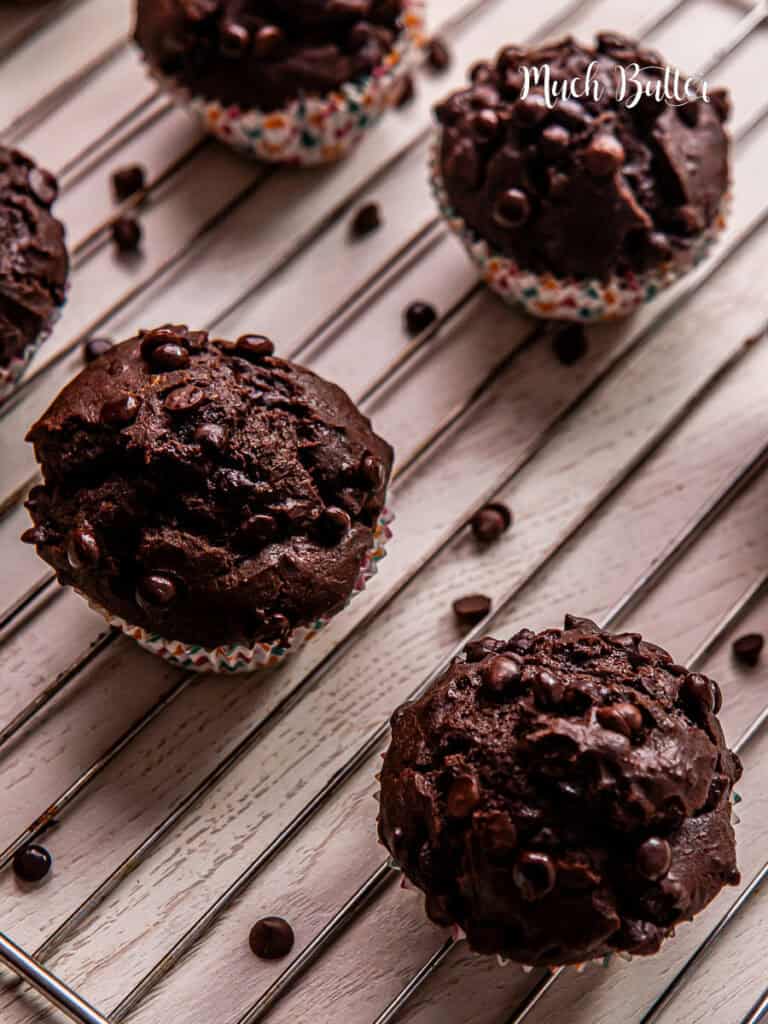 For freeze, These muffins freeze very well. Cool them completely before wrapping each one individually in storage wrap. Place the wrapped muffins in a freezer-safe bag or container. Freeze for up to two to three months. Thaw at room temperature or gently microwave them. wrap before freezing so I can just throw one into a lunchbox or backpack to thaw.
For reheating again, After about 30 to 45 seconds in the microwave or just don't be more than one minute. they're perfectly warm and ready to be eaten.
Try this Recipe
I'm delighted to find an easy and delectable sweet snack like this! I hope you enjoy it as much as mine!
Let me know your results by uploading pictures and tagging us on Instagram at Much Butter and Pinterest. Do not forget to see and follow our new Tiktok Account.
For cooking videos, check and subscribe to our Youtube page. you can join our email for the latest idea menus.
YOU MAY LIKE OTHER HEALTHY BREAKFAST RECIPE IDEAS :
Thank you, your support is so much appreciated 💕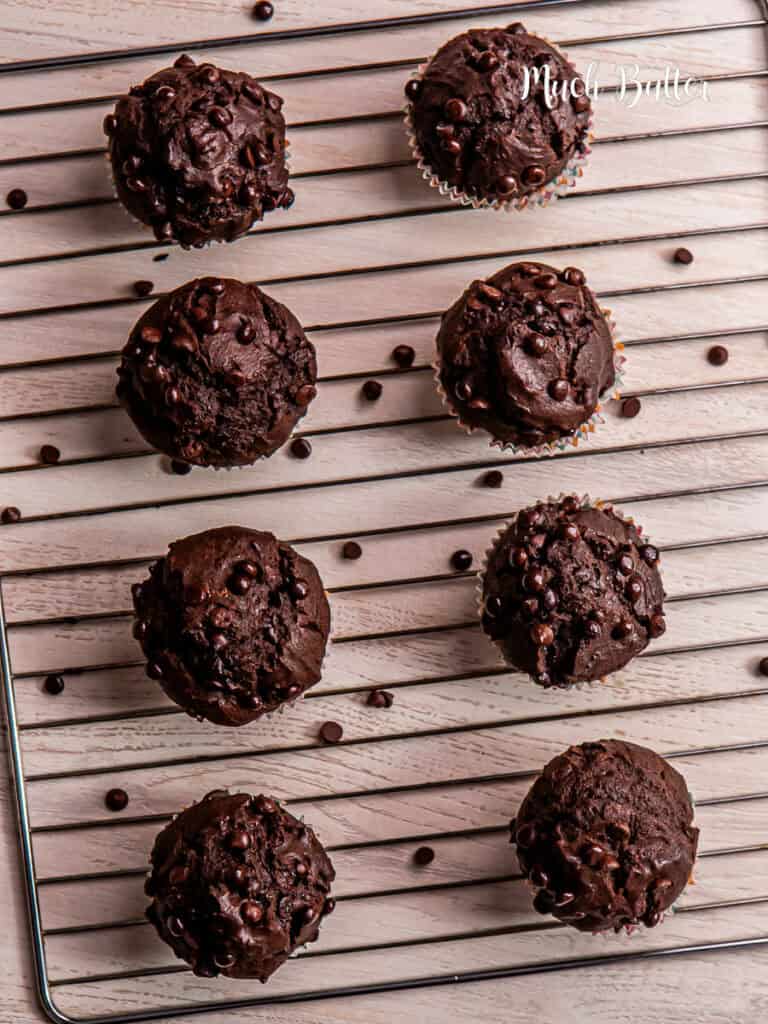 Yoghurt Double Chocolate Muffin
Ingredients
½

Cup

yoghurt plain

2

Cup

all-purpose flour

⅓

Cup

Cocoa powder

½

Cup

Vegetable oil

¾

cup

Brown sugar

2

Eggs

½

Cup

Milk

1

tsp

Vanilla extract

1

tsp

Baking Powder

½

tsp

baking soda

¼

tsp

salt

1

cup

Chocolate chips
Instructions
Preheat oven at 180°C (350°F). Line the muffin pans with cupcake liners

In a bowl, mix flour, cocoa, baking powder, baking soda, and salt until well combined

In another bowl, mix yoghurt, vegetable oil, egg, brown sugar, milk, and vanilla extract until well combined.

Sift dry ingredients into the wet ingredients and stir until well combined and smooth

Add chocolate chips to the batter, then stir.

Spoon the batter into each cup, filling them full. Then sprinkle chocochips on top

Bake at a temperature of 180°C for approximately 25 minutes.