Make this tasty chicken Cacciatore recipe inspired by the classic Italian dish, traditionally enhanced with tangy tomatoes, herbs, onions, and earthy mushrooms. An easy skillet dinner dish that can be served up over either pasta or rice. Your family will love this classic chicken recipe!
Ps; it's a quicker and faster version, it only takes 30 minutes!
Imagine a warm Italian countryside kitchen, filled with the intoxicating aromas of simmering tomatoes, fragrant herbs, sometimes, refreshing lemon juice and tender chicken. This delectable, one-pot skillet is a symphony of bold flavors that will transport you to the sun-kissed view of Tuscany with every bite of pleasure.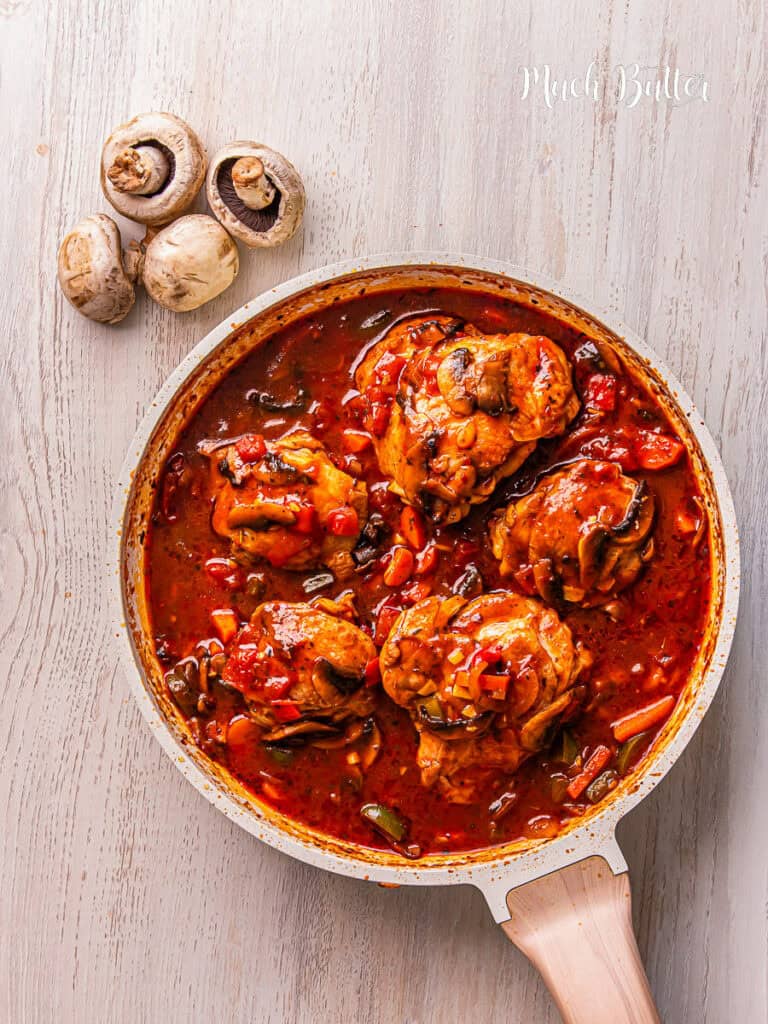 pollo alla cacciatora
History of this Italian hunter chicken style, a.k.a chicken Cacciatore is a rustic Italian dish made of bone-in chicken portions that have been browned then braised, along with sauteed vegetables, in crushed tomatoes, wine, and herbs. Cacciatore is pronounced kah-chuh-taw-ree. Usually, this chicken stew uses plenty of herbs for depth and warmth.
Chicken Cacciatore, also known as "Pollo alla Cacciatora" in Italian, is a traditional Italian dish with a history dating back several centuries. The term "cacciatore" means "hunter" in Italian, and this dish is often associated with hunters who would prepare it using freshly caught game, such as rabbit or pheasant. Over time, it has become more popular with chicken. The dish is believed to have originated in central Italy, particularly in regions like Tuscany and Umbria.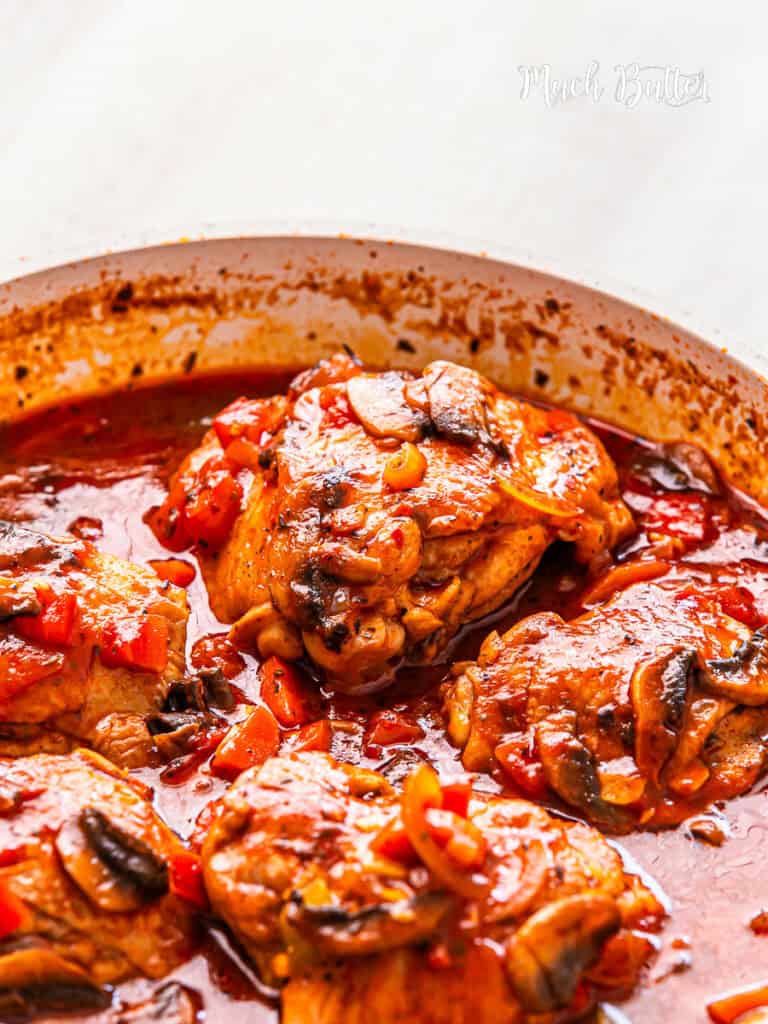 The dish's name is most likely attributed to the fact that alla cacciatore refers to the garlic and rosemary used in the recipe. Any recipe alla cacciatore will include these ingredients and most likely comes from the hunters who would use these ingredients they would find in the woods to prepare their game or hunt of the day.
Experience the rustic flavors of Italy with this hearty Chicken Cacciatore dish, It's a one-pot wonder that'll transport your taste buds straight to the Italian countryside!
Ingredients Chicken Cacciatore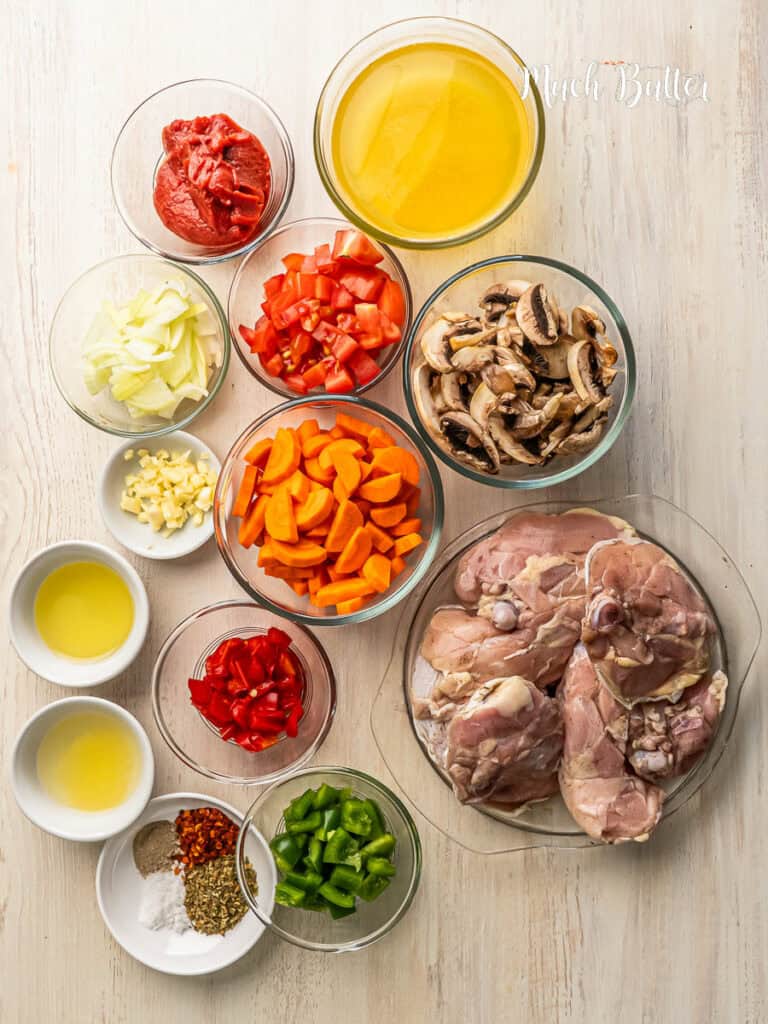 Chicken thigh; we use bone-in and skin-on, but you can use boneless or remove the skin. You can also use chicken breasts.
Lemon Juice; adds a touch of acidity and brightness to the dish
Olive oil; for sautéing and browning chicken
Vegetables & Aromatics: Here I use garlic, onions, celery, and bell peppers (I used red bell pepper and green bell pepper, but any combination will work). I use both Carrots and Mushroom. For the mushroom, I keep things simple here by using either baby bella or white mushrooms, nothing fancy. Mushrooms bring a meaty texture and an earthy flavor, enriching the overall taste and providing a delightful contrast to the tender chicken.
Tomato paste and Tomato diced; Add texture and flavor to the sauce. Diced or chopped tomatoes can be used as a substitute, but tomato paste may be needed. you can also use roasted tomato for more flavor.
Italian herbs, you can swap this Italian herb with oregano or thyme, used to infuse the dish with the classic flavors of Italian cuisine. Ties everything together with a tasty Italian-inspired bouquet of flavors. Typically consists of a combination of basil, oregano, rosemary, thyme, garlic powder, sage, or coriander.
Chili flakes; This is optional, you can add the chili flakes or reduce them based on your spicy level.
Chicken broth; Since the original recipe uses alcohol either red wine or white wine This is a non-alcoholic substitute you can use more low-sodium chicken broth and include 1 Tbsp of balsamic vinegar. If you want to cook this without alcohol, you can substitute low-sodium chicken broth for the red wine. The sugar is optional and is there to balance the acidity of the tomatoes.
Salt and pepper; are essential for seasoning the dish. Salt enhances the flavors
How to Make Chicken Cacciatore
Firstly, begin by preparing the chicken. Take bone-in, skin-on chicken thighs and season them with a touch of salt, freshly ground black pepper, and a splash of lemon juice. This step helps to tenderize it and infuse it with a zesty note.
Secondly, ready a large, sturdy pan or skillet. Pour in a generous drizzle of olive oil.
Then, Carefully place the seasoned chicken thighs into the heated pan, skin side down. Let them sizzle and cook until both sides achieve a beautiful, golden-brown hue. Once the chicken is perfectly browned, remove it from the heat and set it aside momentarily.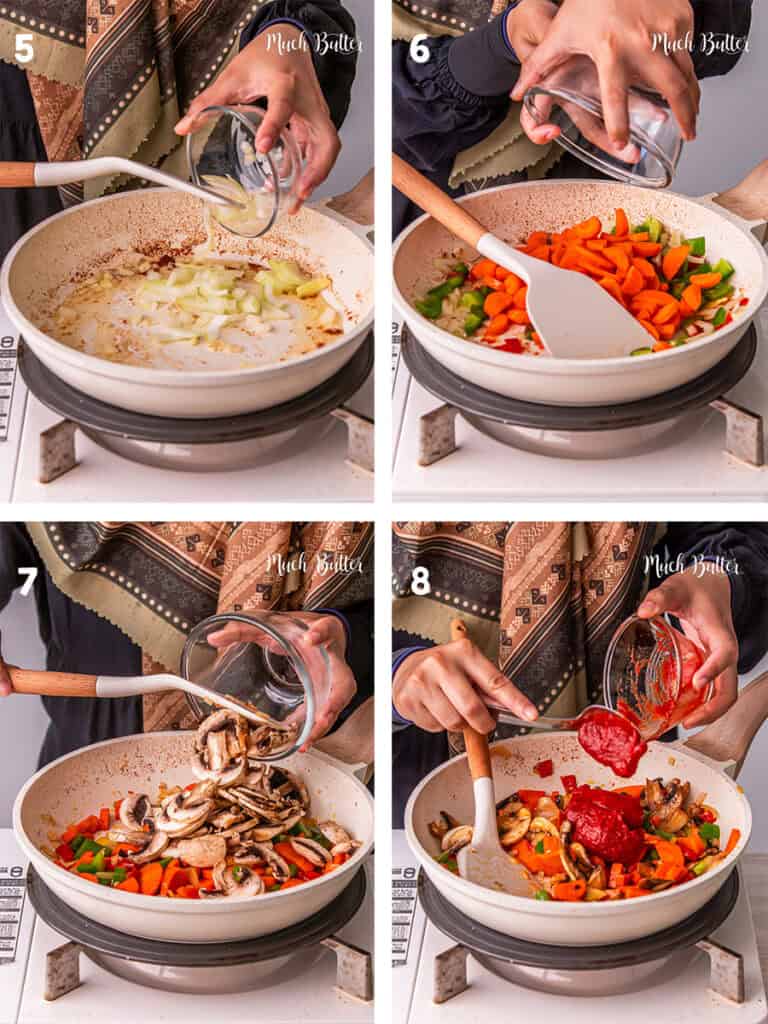 Afterward, it's time to build the aromatic of your Chicken Cacciatore. Begin by sautéing a combination of garlic, onions, carrots, red bell pepper, and green bell pepper
Following that, add depth and earthiness to the dish, and introduce sliced mushrooms to the pan. Introduce a spoonful of tomato paste and a blend of Italian herbs. Stir
Next, Pour in a mixture of chicken broth, chili flakes for a hint of spiciness, and diced tomatoes. The diced tomatoes provide a fresh and juicy quality to the sauce, and as they cook, they will slightly wilt, enriching the flavors.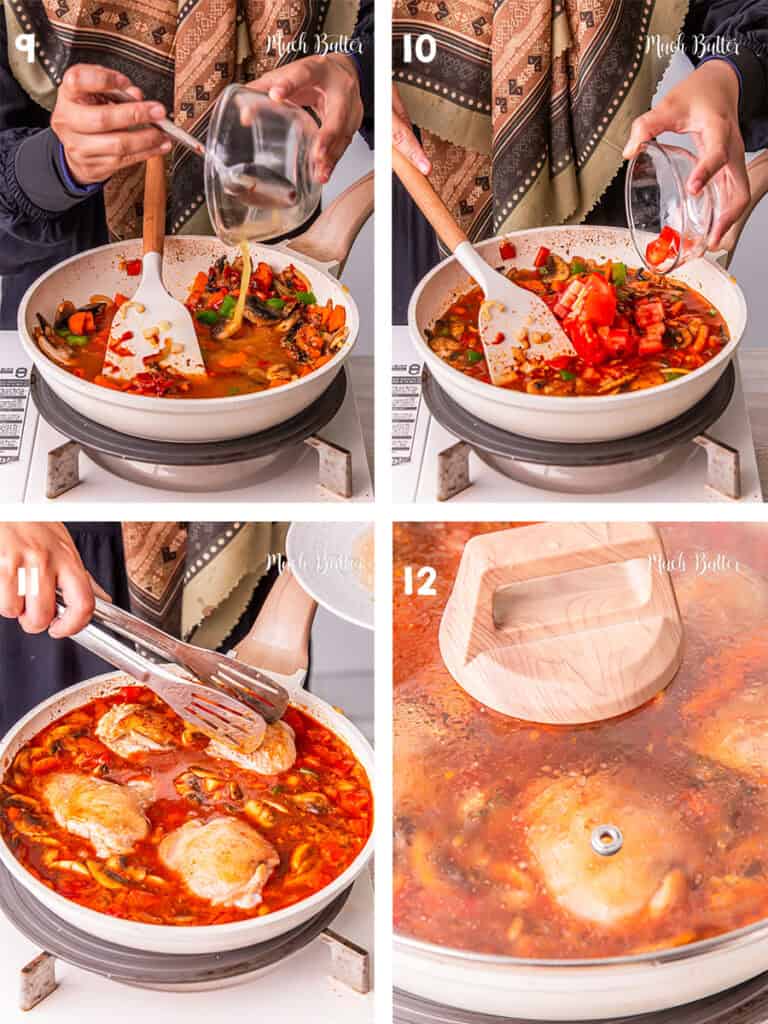 Then, It's time to reintroduce the chicken to the pan. Place the previously browned chicken thighs back into the aromatic mixture. Season them once more with a pinch of salt and a dash of freshly ground black pepper.
Finally for the last step, cover the pan, allowing the chicken and the surrounding spices to meld together. As the cacciatore simmers, the flavors marry. If necessary, boil the sauce until it thickens slightly, about 3 minutes. Spoon off any excess fat from atop the sauce. Spoon the sauce over the chicken, then serve.
Serve and Enjoy
I forgot to add some garnish here. Feel free to add some parsley or basil if you want to!
Serve and enjoy your Chicken Cacciatore! This delicious dish can be savored on its own or paired with a side of rice, pasta, or crusty bread to complement the flavors.
Storage Tips
To Store. Place leftovers in the fridge in an airtight container for up to 4 days.
To Reheat. Gently rewarm this dish in a Dutch oven on the stovetop over medium-low heat. You can also microwave, until steaming, if desired.
To Freeze. Freeze leftovers in an airtight, freezer-safe storage container for up to 3 months. Let thaw overnight in the refrigerator before reheating.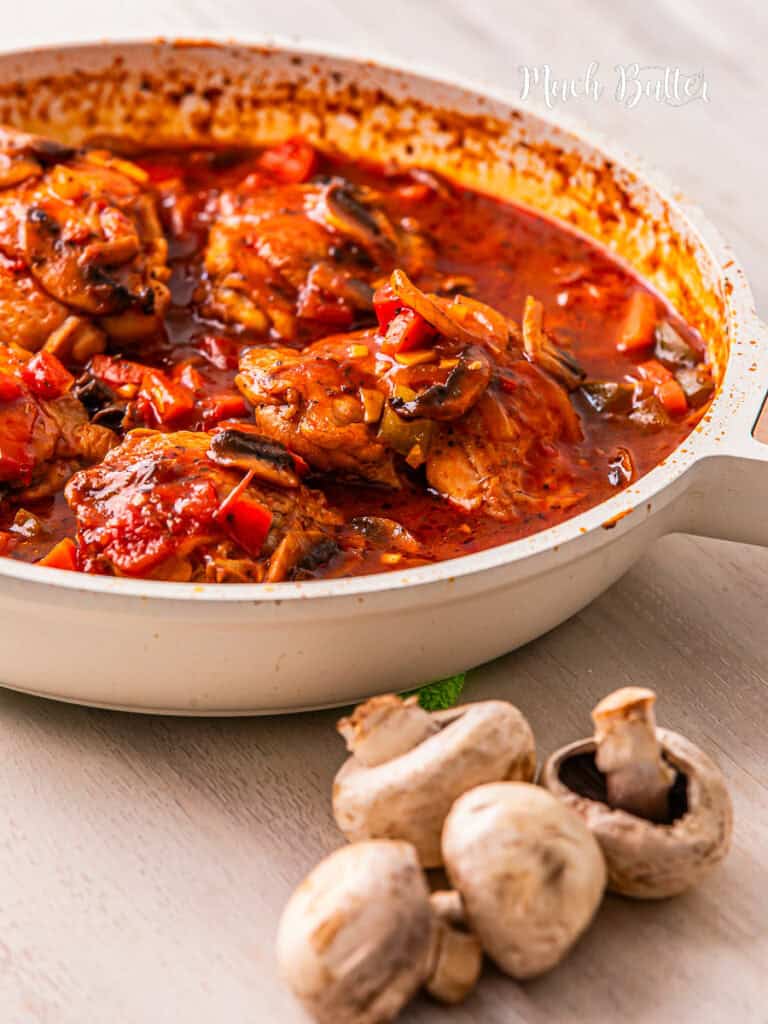 Let's Share
I'm delighted to find an easy and delectable recipe like this! I hope you enjoy it as much as mine!
Let me know your result by uploading pictures and tagging us on Instagram at Much Butter and Pinterest. Do not forget to see and follow our new Tiktok Account.
For cooking videos, check out and subscribe to our Youtube page. you can join our email for the latest idea menus.
YOU MAY LIKE OTHER CHICKEN CREAMY:
More creamy meals;
Thank you, your support are so much appreciated 💕
Written by Silni Asfia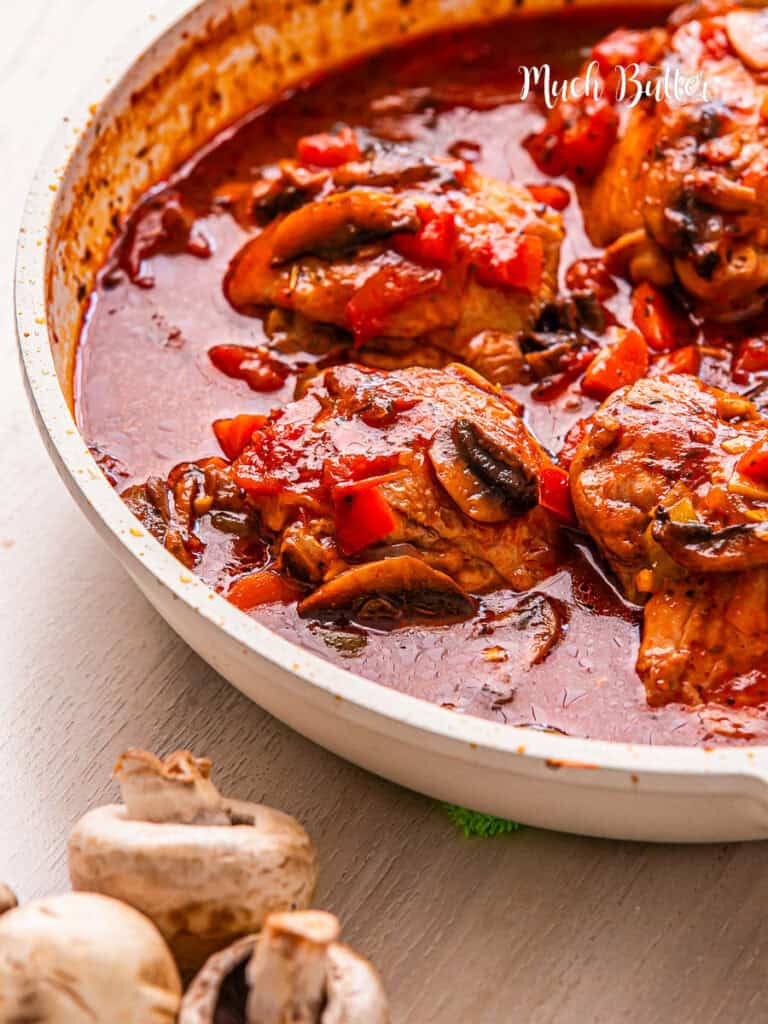 Chicken Cacciatore
Ingredients
1

lb

Chicken thigh

1

tbsp

Lemon Juice

2

tbsp

Olive oil

¼

cup

green bell pepper

diced

¼

cup

red bell pepper

diced

2

cloves

garlic

2

carrots

diced

½

onion

sliced

1

cup

slice mushroom

⅓

cup

tomato paste

1

tomato

diced

½

tbsp

italian herbs

1

tsp

chili flakes

1½

cup

chicken broth

½

tsp

salt

½

tsp

pepper
Instructions
Mix the chicken with a little salt, pepper, and lemon juice. Prepare a pan and add olive oil.

Put the chicken into the pan, then cook until both sides turn golden brown. Remove from heat and set aside.

Sauté garlic, onions, carrots, red bell pepper, and green bell pepper until fragrant.

Add sliced mushrooms and stir. Add tomato paste, Italian herbs, and mix well.

Pour in chicken broth, chili flakes, and diced tomatoes. Cook again until the tomatoes slightly wilt.

Add the chicken, salt, and black pepper. Cover the pan and cook until the spices are absorbed.