Let's make easy veggie stir fry a.k.a Cap cay. The simplest and most healthy everyday menu! Best served with fluffy steamed rice. Nice shot for a busy and lazy week
We have a lot of variety veggies stir fry, it can be anything as long as still vegetable. Basically, how they make and the step is remaining the same. in today's menu, we specifically create a cap cay, and vegetable stir fry this recipe is made with dried beancurd, carrot, broccoli, and Chinese cabbage. Sometimes add some protein such as sausage, or meatballs. It's a Chinese-Indonesian Fusion dish, which you can find at most Chinese restaurants and mostly in street food, fried rice carts (tukang nasi goreng)
I am a big fan of stir-fries, I can never get enough, because this is so simple and delicious. I have made Chicken Bok Coy stir fry, Beef and Broccoli Stir Fry, or one kind of Chinese-Indonesian fusion dish Chicken kwetiau stir fry. This vegetable stir fry is the latest addition to my collection and it's a good one! But what actually is stir fry? Stir-frying is a Chinese cooking technique in which ingredients are fried in a small amount of very hot oil while being stirred in a wok.
Whether you're looking for new healthy recipes, a way to incorporate more vegetables into consumption, or you simply need to cook what is left in your fridge with comfort and tasty flavor, this veggie stir fry recipe is a perfect choice. A quick meal in under 30 minutes.
History of Cap Cay
The term Cap cai, sometimes spelled cap cay, itself is derived from the Hokkien term "chap chai," which means "mixed vegetables." perfectly capturing the essence of this dish. It is a popular Chinese Indonesian and Peranakan stir-fried vegetable dish that originates from Fujian cuisine. The history of cap cay back then made its way to Indonesia through Chinese immigrants, who brought with them their culinary techniques and flavors.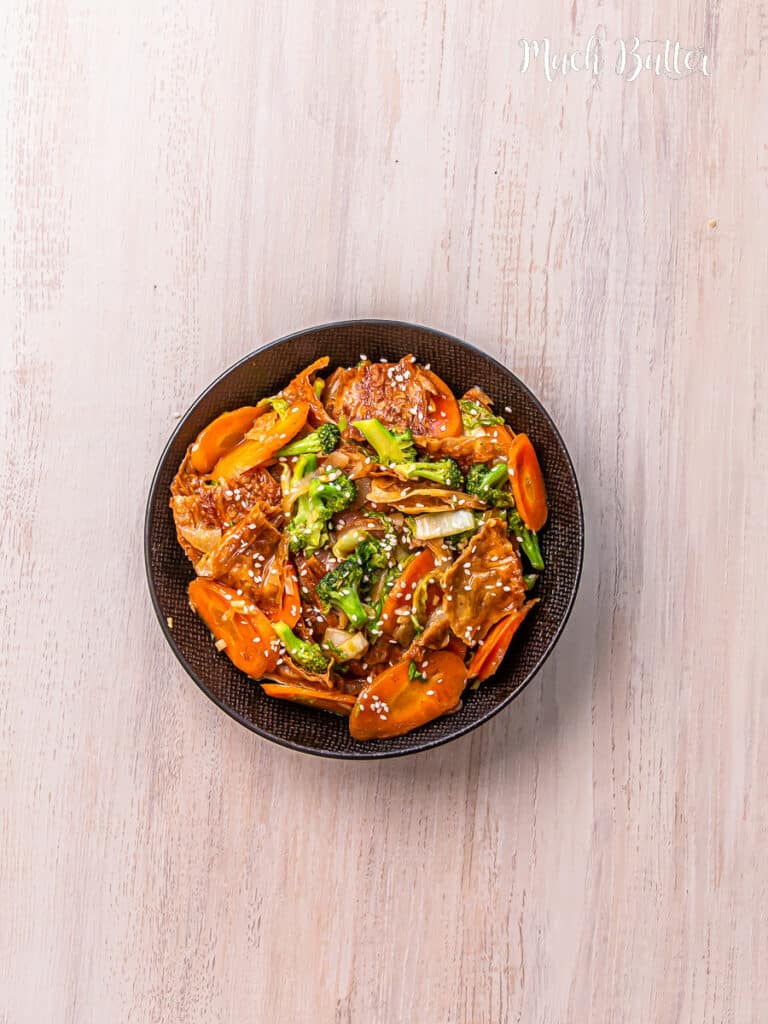 Interestingly, cap cay has its roots in the Qing Dynasty in China, where it was known as an imperial food. Originally, it was a nutritious dish made from a combination of vegetables and offal. However, according to a Chinese culinary expert from Indonesia, Aji Bromokusumo, cap cay evolved from a practice of imperial cooks creating a new dish using leftover foods. Rather than discarding these remnants, the cooks ingeniously mixed them with various vegetables, giving rise to the flavorful and diverse dish known as cap cay.
The immigrants who arrived in Indonesia brought cap cay with them, adapting the recipe to suit the local ingredients and preferences. This was driven by the availability of a wide range of vegetables in Indonesia, making cap cay an ideal choice for creating a wholesome and vibrant stir-fry.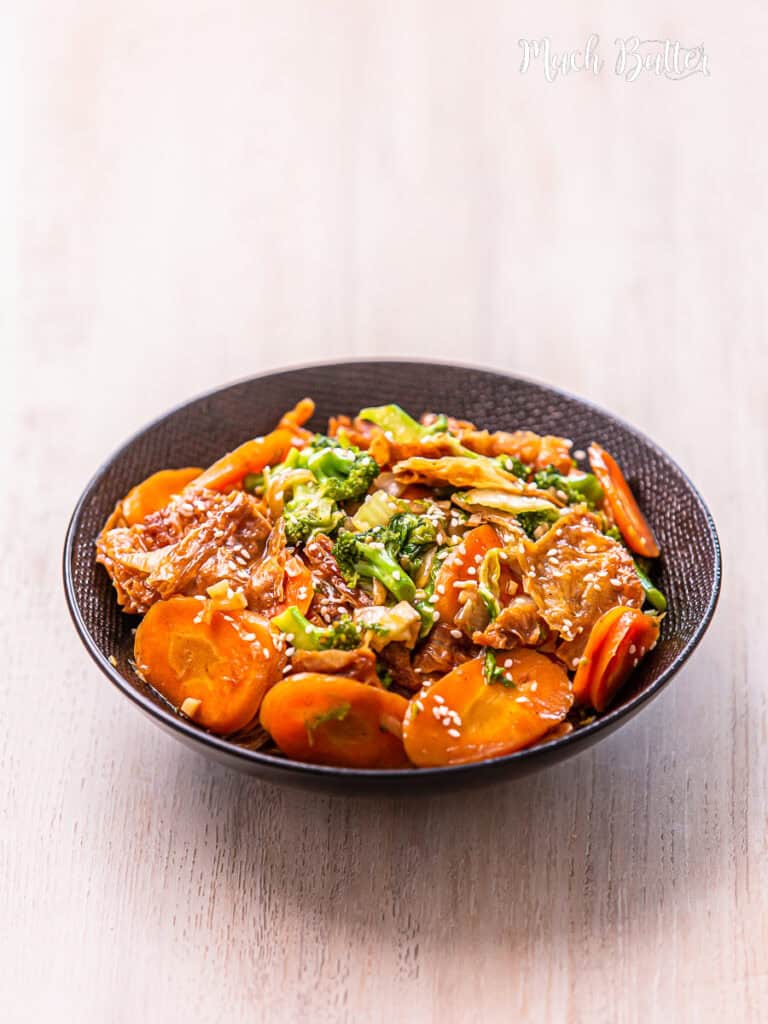 Cap Cay is Everybody's favorite
Today, cap cay has become an immensely popular dish in Indonesia, cherished for its nutritional value and enticing flavors. The classic preparation involves stir-frying a medley of vegetables such as cabbage, carrots, mushrooms, snow peas, and bean sprouts with aromatic garlic. The addition of meat or seafood, such as shrimp, squid, meatballs, or sausage, provides a protein-rich option for those who desire it.
Cap cay is appreciated not only for its taste but also for its versatility. It can be served as a side dish to complement a meal or enjoyed as a hearty main course. Often paired with steamed rice or noodles, cap cay showcases the fusion of Chinese and Indonesian culinary influences, offering a harmonious blend of flavors, textures, and colors.
In summary, cap cay is not just a dish; it represents the cultural exchange and fusion of culinary traditions between China and Indonesia. Its journey from imperial kitchens to Indonesian tables has resulted in a beloved and enduring culinary masterpiece.
You can find cap cay everywhere in Indonesia, with a mix of vegetables, but mostly the basic veggies such as carrot, beancurd, and Chinese cabbage always exist, meanwhile, for the rest veggies or protein it's just an alternative nor bonus. Cap Cay is the same as veggies stir fry in Western called, so yea let's jump to the recipe you can compare is it the same or not? I guarantee it is the Yummy tasty
Ingredients of Veggie Stir Fry
Dried Beancurd; also known as tofu skin or bean curd sheets, is a protein-rich ingredient. It adds a meaty texture and absorbs flavors well in stir-fries. The texture's unique
Carrot; Carrots add a touch of sweetness and vibrant color to the dish. They provide a satisfying crunch and are a good source of vitamins and fiber. You need to cut in the same uniform and thin since carrot is quite a hard texture
Broccoli; the fresher the better, It retains its crispness when cooked briefly and adds a nice green element to the dish.
Chinese Cabbage; has tender leaves and a mild flavor. It adds a refreshing crunch and subtle sweetness to stir-fries.
For the aromatic Onion and Garlic; both of them are key aromatic flavors for stir fries.
For seasoning and sauce, you'll need;
Oyster Sauce; Oyster sauce is a savory and slightly sweet condiment made from oysters. It adds a rich umami flavor
Sesame Oil; use in small amounts to add a nutty aroma and depth of flavor to the stir-fry.
Worcestershire Sauce; Worcestershire sauce is a tangy and savory condiment. It adds a complex flavor profile to stir-fries, balancing the sweetness and providing a touch of acidity.
Pepper and Salt; basic seasoning
Chicken Stock Powder; It adds depth and richness to the stir-fry, contributing to a more flavorful overall dish.
Sugar helps to mellow out the saltiness and acidity, providing a pleasant taste.
Water; just a little amount of water, to create a sauce or to deglaze the pan when stir-frying
How to Make Veggie Stir Fry
To prepare this vegetable stir-fry, start by cutting the dried beancurd, carrot, broccoli, and Chinese cabbage into bite-sized pieces or according to your preference. Make sure all the sizes are even.
Next, Heat some oil in a pan over low heat and cook the diced beancurd for about 30 seconds, then remove it from the pan and drain, setting it aside for later.
Next, in a wok, heat cooking oil over medium-high heat. Sauté the onion and garlic until fragrant, creating a flavorful base for the stir-fry. Add the carrot and a bit of water, cooking until the carrot reaches a limp texture. Then, insert the broccoli and Chinese cabbage, stirring the vegetables to ensure even cooking.
Now it's time to add the sauces and seasonings that will bring the flavors together. Pour in the sesame oil, oyster sauce, and Worcestershire sauce, and sprinkle in the pepper, salt, chicken stock powder, and sugar. Stir everything together, making sure the sauces and seasonings combine together.
Finally, add the cooked beancurd back into the wok, stirring again to incorporate it into the mixture. Allow the stir-fry to cook for another 3-5 minutes, or until the beancurd reaches a soft consistency.
Once the stir-fry is ready, turn off the heat and transfer the flavorful medley of vegetables to a serving plate. For an extra touch, garnish the dish with sesame seeds, adding both visual appeal and a delightful nutty flavor. This veggie stir-fry pairs wonderfully with warm rice, creating a satisfying and wholesome meal.
It is so easy peasy, isn't it? Enjoy your easy veggie stir fry while it is still warm
Reheat and store Veggie Stir Fry/ Cap Cay
The stir fry reheats well just reheated over low heat for a few minutes. Do not overcook it can make the stir fry salty.
Store your vegetable stir fry in the refrigerator for 5 days. It is easier if meal prep!
Make ahead the sauce for this vegetable stir fry. It will last in the refrigerator for 3 days. You can freeze this for later use if needed.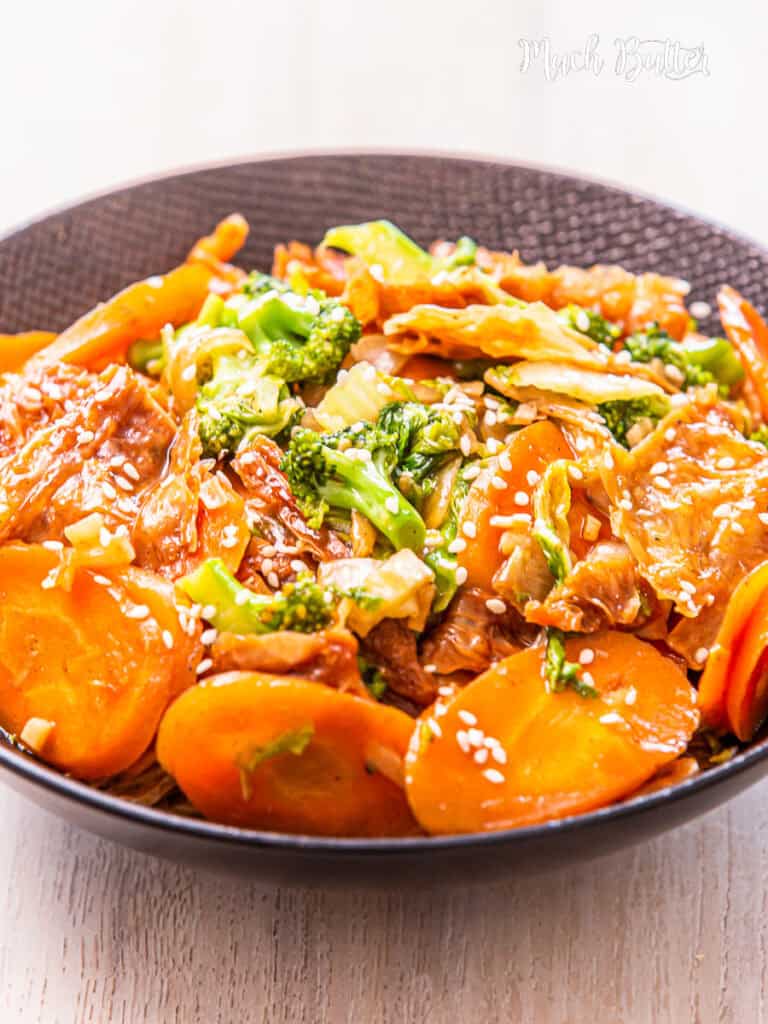 Let me know your result by uploading pictures and tagging us on Instagram at Much Butter and Pinterest. Do not forget to see and follow our new Tiktok Account.
For cooking videos, check out and subscribe to our Youtube page. you can join our email for the latest idea menus.
YOU MAY LIKE OTHER MIX VEGGIES IDEAS :
Thank you, your supports are so much appreciated 💕
Written by Silni Asfia
Easy Veggie Stir Fry
Ingredients
2

sheet

Dried Beancurd

30×15 cm

2

large

Carrot

2

cup

Broccoli

3

cup

Chinese Cabbage

½

Onion

4

clove

Garlic

2

tbsp

Oyster Sauce

2

tsp

Sesame Oil

2

tbsp

Worcestershire Sauce

1

tsp

Pepper

½

tsp

Salt

½

tsp

Chicken Stock Powder

2

tsp

Sugar

⅓

cup

Water
Instructions
Cut the dried beancurd, carrot, broccoli, and chinese cabbage bite-sized or according to your liking. In a pan heat oil over small heat, cook cutted dried beancurd for 30 seconds then remove from the pan and drain. Set aside.

In a wok, heat cooking oil over medium-high heat. Sautee onion and garlic until fragrant then add carrot and water and cook until the texture of the carrot is limp. Add broccoli and chinese cabbage then cook and stir the veggie.

Add sesame oil, oyster sauce, worcestershire sauce, pepper, salt, chicken stock powder, and sugar. Stir until all well combine. Add cooked beancurd and stir again until well combine. Cook for 3-5 minutes or until the beancurd is soft.

Turn off the heat and transfer the veggie stir fry to a plate then garnish it with sesame seeds before serving. Recommended if eaten with warm rice. Enjoy!